Greener Pastors and Go Fish
A national initiative helps local congregations see the connection between faith and fluorescent bulbs.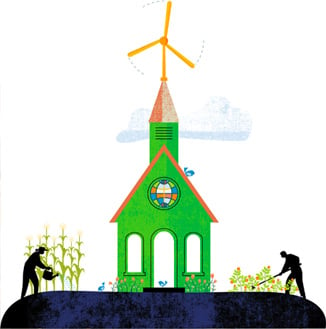 Sinking cities! Extreme weather! Plant and animal extinction! The effects of global warming sound like a mad scientist's revenge against Earth. So what are we to do–look for help from the heavens? Well, sort of. Across the nation, congregations of various faiths are adopting green practices to combat global warming. (Picture solar panels on church roofs and special Sunday screenings of Al Gore's An Inconvenient Truth.)
This progressive movement has hit Honolulu's shores, too. The Hawaii affiliate of Interfaith Power & Light (IP&L), an organization started in San Francisco by the Rev. Sally Bingham to promote renewable energy and conservation practices in congregations, was made official last month. Nationwide, the group has 22 state chapters and its 4,000 participants include synagogues, temples, churches and mosques.
The Rev. David Turner, an ordained minister in Honolulu, as well as Chuck Burrows, a well-known environmental activist, are heading the efforts in Honolulu. "Because we are a community made up of people who participate in many different faiths, this is certainly one of the avenues we should be taking to respond to global warming," says Turner.
How does it work? IP&L's level of involvement is left up to each congregation. Participation can range from an educational sermon at a worship service to the installation of compact fluorescent light bulbs to participating in an IP&L-sponsored energy audit, which looks at how a congregation uses energy so that recommendations can be made. After all, religious structures are sometimes the oldest buildings in the city. Kawaiahao Church and the Cathedral of Our Lady of Peace, for example, were both built in the 1840s.
"We can also provide resources for each faith community in terms of their own scriptural background and the way this issue connects to their faith," says Turner. "It's about awareness and education and grounding that in a spiritual perspective."
Already, more than a half-dozen Honolulu congregations have showed interest in working with IP&L. Jeff Mikulina, Sierra Club of Hawai'i director, supports the new chapter. "Ideally, the group can go beyond greening congregations and inspire widespread change in behavior," he says. "If they can successfully send home the message that individuals' faith values are in line with protecting the climate, folks will start to make a difference in their everyday lives."
Amen to that!
Go Fish
Jenny de Jesús
Photo: ISTOCK
This month is the beginning of one of the three times a year that Nuuanu is open for the weekend public fishing of catfish. Located off the Pali just after Nuuanu Pali Drive, the Nuuanu Freshwater Fish Reserve includes a system of four almost-100-year-old reservoirs. The largest, Reservoir No. 4, is stocked full of channel catfish. The freshwater fish were introduced to the Islands shortly after World War II for sport fishing purposes and continue to be raised and cared for by the Department of Land and Natural Resources Division of Aquatic Resources. A freshwater game and fishing license is required. Visit www.hawaii.gov/dlnr/dar.