There's A New Secret Cocktail Bar at Waikīkī's White Sands Hotel
From the team that brought us Fête and Heyday, The Green Lady Cocktail Room serves up creative drinks with a side of secretive style.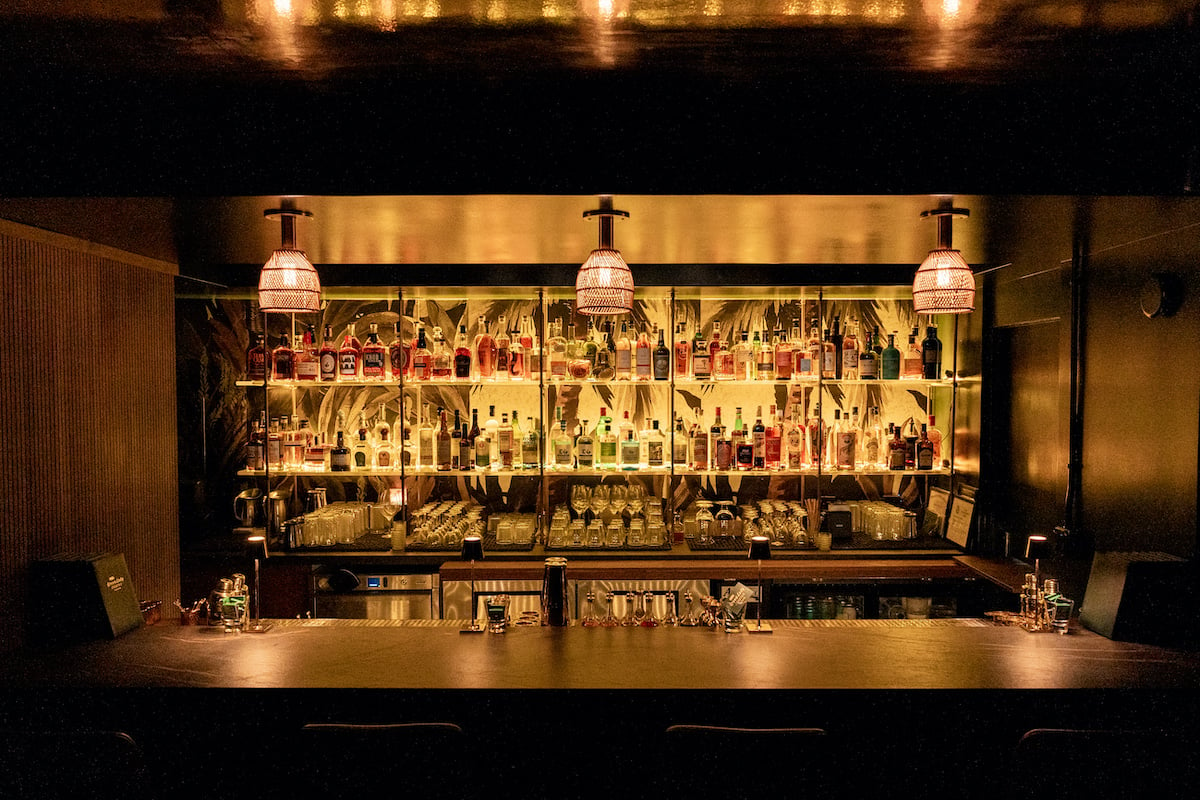 Behind the bamboo wall, Honolulu's newest hidden cocktail bar—The Green Lady Cocktail Room–quietly opened in Waikīkī in March with an inventive cocktail menu that feels like a fun skip back in time.
We went on a Friday night to be among the first to snag a table at 8 p.m. since the Green Lady at the White Sands Hotel serves first-come, first-served. That seemed destined to get us a prime spot in a town that loves new places.
But first, drinks
The interior seats about 20, which helps lend the room an intimate air of clandestine glamor of yesteryear. The drink menu reflects the 1920s and early '30s when Prohibition made the manufacture, sale and transportation of beverage alcohol illegal in the U.S. We consider a French Julep or a Singapore Sling but dive in with less-familiar drinks. We get the '23 in Spring ($19) with aquavit, pernod, absinthe, cucumber, lime and lemongrass. My partner in crime goes for a Golden Age ($16) bourbon, Strega, earl grey agave, orange blossom and lemon—a worthy old-fashioned.
We also order a Speak of the Devil ($17) with tequila, Montenegro, smoke and bitters with a little sidecar of olives. I ask for a bartender's choice with mezcal and citrus ($12). Then my companion stops bartender/server Maddie Finnegan with a request to hold the cilantro. Not to worry, she drily replies: "There's no cilantro in my house."
Green Lady comes from the team that brought us downtown's favorite bistro, Fête, and Heyday, the breezy poolside retro bar/restaurant with the swings, just past the swimming pool at White Sands. So we ask veteran bartender Justin Whiting to fill us in. Whiting oversees the menu as food and beverage director for White Sands Hotel.
---
SEE ALSO: Heyday Throws It Back with Groovy Cocktails and Bites in Waikīkī
---
He appreciates the chance to guide both moody Green Lady as well as tiki-esque Heyday next door with its festive fruity, rum-forward drinks. "A lot of our cocktails are more herbal and botanical, lighter, spirit-driven," Whiting says. He's made a deliberate choice to steer clear of the stereotypic whiskey-driven speakeasy idea that "when you get into a dark room, you have to drink dark spirits."
What to expect
Drinks in hand, we lean back to appreciate the velvet and vintage vibe. We see various ages, a pretty even mix of locals and tourists. The décor comes from The Vanguard Theory with architecture by Workshop HI. We page through menus that look like little leather-bound green-and-gold books that spell out the options: cocktails ($16-20), beer ($8-10) and wine that averages around $12 a glass.
A mysterious woman peers out of a portrait. She might resemble a woman who ran an illicit but wildly popular bar hidden in a Waikīkī hotel room at the height of Prohibition. Lean into the lore and we can imagine we've wandered into our own stylish drama without worrying about cops or mobsters.
It's clear that the wife-and-husband team of chef Robynne Maii and Chuck Bussler nurture the different identities of each space. Green Lady's outdoor patio feels more like a relaxed courtyard hideaway. And it feels destined to be a meet-up after work for bigger groups since it seats twice as many. Whiting says he's adding snacks to the menu soon. And he hopes to attract a late-night industry crowd with specials for food and beverage colleagues.
---
SEE ALSO: Reviving Downtown and Chinatown
---
There's no bar parking at the hotel, but lots of street parking and reasonably priced garages if you eat or shop nearby. Not a bad deal for a bit of time travel. To get in, ask for the Green Lady at the hotel or request Room 8.
Open from 8 p.m. to 1 a.m., Wednesday to Sunday, 431 Nohonani St., @greenladycocktailroom, greenladycocktailroom.com