Good luck scoring Instagram's supah populah pickled cuttlefish
Broke Da Mouth Pupus sells out in tree minutes. Here's how I scored mines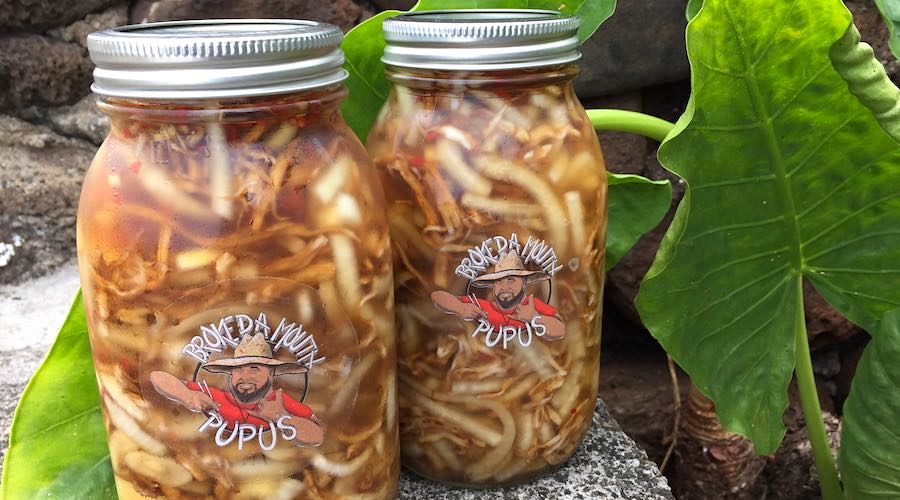 I scored this pickled cuttlefish that's sooo good, my friends asked where I got 'em from. Uh, from one guy I met in one parking lot, outta da back of his van, I told them. And what, they joked, you had to give 'em one password? It's funny they said that, cuz actually I kind of had to. I had for tell da guy my name and wait until he verified that it matched da name that wuz logged inside his composition book. Only then could I pay for and secure da product. Lol.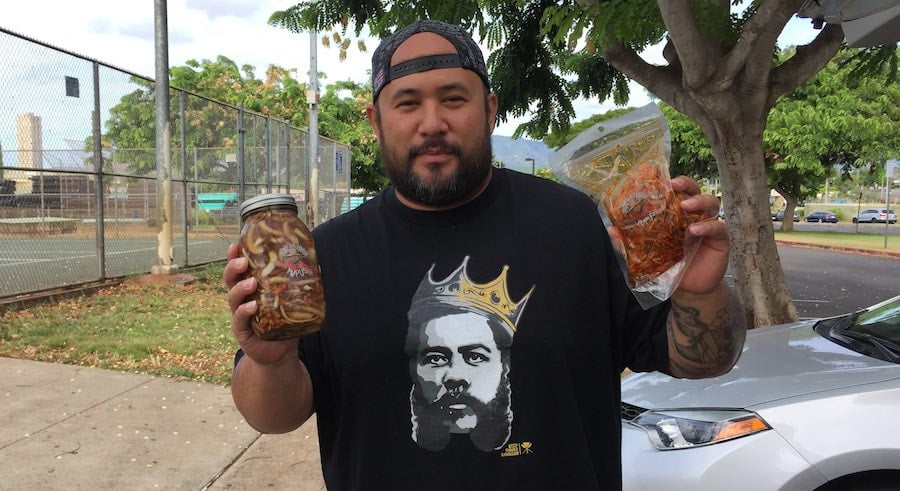 I been super intrigued by Broke Da Mouth Pupus' pickled cuttlefish for awhile now. Cuz I seen how fast da ting sells out. And no wondah: They get 14.2k followers on Instagram. Every time they post that they get one new batch ready, during that couple minutes of lag time for it to show up in your feed, da ting stay sold out already. Always get choke people who comment on how sad they are that they nevah get. Always.
Get so much hype surrounding this ting, brah. People who manage to get some trow up celebratory posts on IG saying how ono it is. And I guess no can blame them for bragging, cuz in a way, it's kinda like they won da lottery.
Our old and dear friend Daris, who we call "Uku's" cuz she so persistent, she'll always keep trying UKU planny times, even she had been unable for get this for super long time. Cuz of that I figgah, I no mo chance right?
No tell Uku's, but I managed for get this on my first try. I go tell you my secret afters.
See also: Dis flower shop get amazing mandoo
So Broke Da Mouth Pupus is owned by da husband and wife team of Samson and Charis Kihewa. Samson is literally da face of da company cuz das his likeness on top each and every mason jar. Samson said his grandmother used to make this pickled cuttlefish for them when they wuz growing up. Then his mom would make it and they'd have 'em at family parties and stuffs. Almost tree years ago Samson and Charis started selling 'em for their son's football fundraisers. Then word started getting out and it's been blowing up ever since.
For $15 you get one pretty tall 32-ounce mason jar of shredded cuttlefish mixed with onions, tomatoes and chili pepper flakes soaked in special pickle juice. It's sweet, sour, salty, spicy, crunchy and chewy. Da in-gre-da-ments is seemingly simple, but da taste is so complex, brah. Once you pau da jar, you no can resist drinking da juice after. It's super addicting.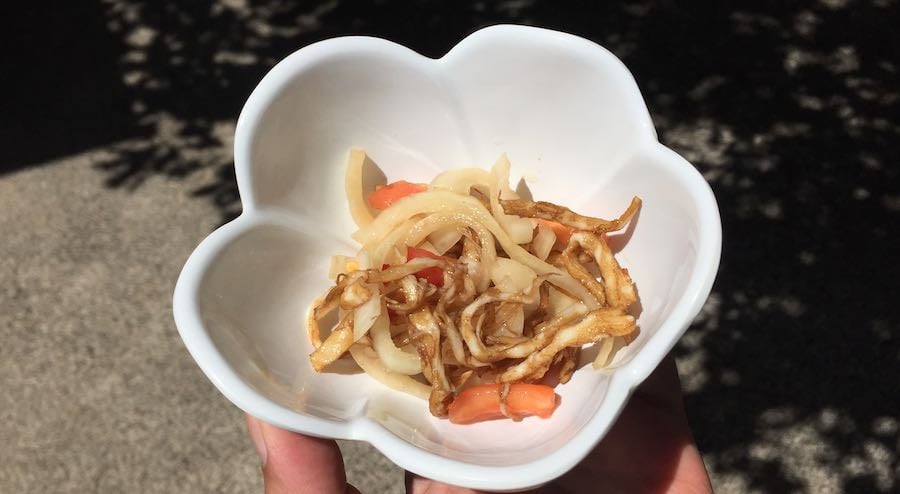 Only get Samson, da wife and da mom preparing their pickled cuttlefish (they also make taegu with or without opae), so they been having hard time keeping up with demand. Normally they make about 350 servings of each dish a week. And he said yeah, it usually sells out within tree or four minutes. (He being humble but. I seen 'em sell out even faster.)
For get da chance to get 'em, you gotta follow them on Instagram at @brokedamouthpupus. Normally pre-orders is on IG on Mondays. When you see their post saying they get one new batch, you gotta DM them with your name, order and phone number. Da limit is two per item, per IG account. Da first lucky people get one message back. You gotta pick 'em up that week at pre-determined times and locations in da Pearl City area. Maui peoples is lucky that Samson's faddah-in-law lives up dea and helps them distribute on da Valley Island. But they no sell 'em on Maui every week like on Oahu.
See also: Does 'lechon sushi burrito' speak to your soul? Head to Maui
So my secret? Look for da pattern for when they post da announcement. I noticed wuz Monday evenings. Keep your phone on top their IG page so you see their thing as soon as it posts. If you wait till it shows on your feed, das too late already, going be gone. And my last trick, since I not one millennial and I no can type at warp speed with my thumbs, I pre-typed my direct message to them. As soon as their ting posted, I just pressed send.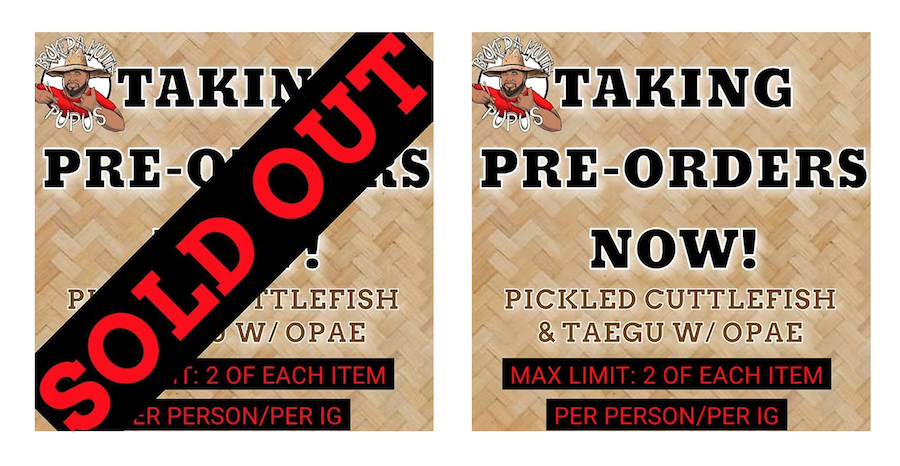 Why am I sharing my secret with you? Cuz small kid time I never used to like to share. But when I came older I seen how much my friend enjoyed sharing and how happy it made HER to share ono food with oddah people. So if you do score some of these awesome pupus, I encourage you for share too. I shared mines with Uku's and it brought such one wonderful smile to her face!
P.S. This is totally random, but I just realized Uku's' boyfriend is bolohead. So if we introduced and said this is our friend Uku's, people would probably assume HE'S Uku's. But that would be stereotyping. And kinda mean. Lol.
#sharingstaycaring #nomonomoono
See also: Da Spam power rankings