Going to La Vie? Here's what you should order
Two perspectives on the new fine dining restaurant in The Ritz-Carlton Waikiki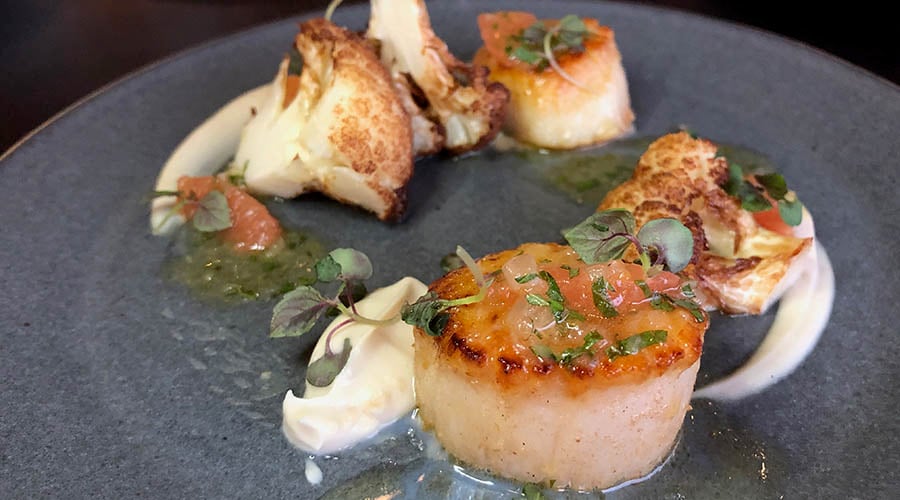 Kelli: Let's get one thing straight — this isn't my typical dining scene. La Vie, the new French restaurant at The Ritz-Carlton Waikiki, is fine dining. The three-course menu is $79, and the five-course menu is $119. It's upscale and ultra posh. Basically, it's a destination I'd only consider if I were dining for a special occasion. For me, attending a media event here was the epitome of luxe.
Melissa: I wouldn't say that La Vie is my typical dining scene, either, but I guess after a dozen or so years covering the restaurant industry, it's not a place I'd consider intimidating. Actually, with its sunset view and open-air ambience, I might go there if I wanted to have a fine dining experience in a relaxing atmosphere.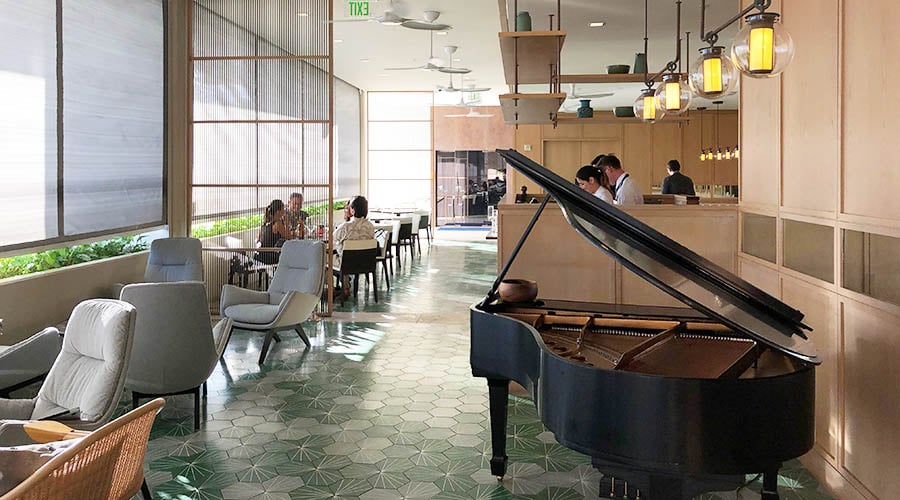 La Vie has an interesting set-up. It's the open-air space that looks like a lounge when you're on your way to Sushi Sho. There's a separate bar menu, but the open-air space is the perfect spot for catching Waikiki at sunset, or for viewing the fireworks on a Friday night. The panoramic views are gorgeous, especially as the sun's going down.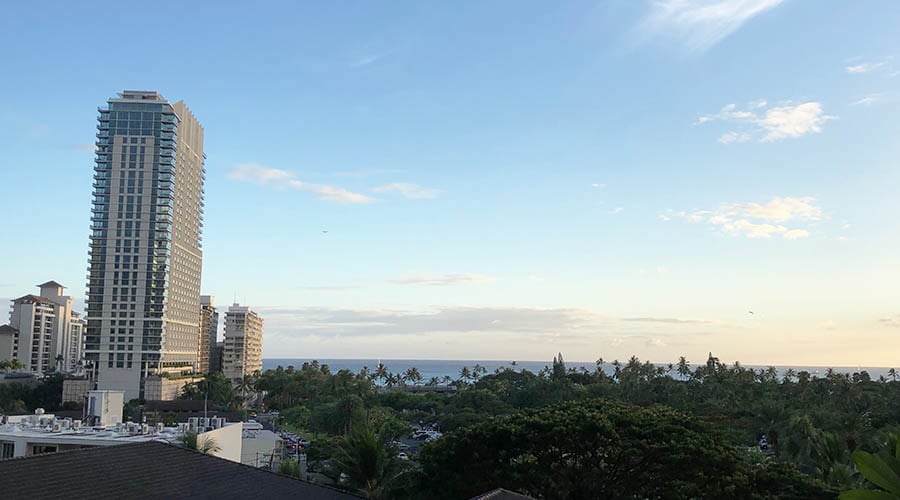 Kelli (KS): La Vie's menu would have been intimidating if I didn't come prepared with recommendations from friends. Dishes run the gamut from familiar to exotic, with choices like 21-day aged duck breast, American wagyu steak and asparagus and poached egg to American caviar and Kona abalone, escargot dumplings and lobster remoulade.
Melissa (MC): I got recommendations from friends, but was in a group of four, so didn't worry too much about what to order. We went in planning to taste each other's diehes so that we could turn around and make recommendations to others. But it's definitely a place in which you need to know what to order.
KS: Here's how to order: Whether you get the three-course or the five-course option, you don't have to pick an appetizer, entrée and dessert. You simply choose three or five dishes, and you pick the order you want them. (So if you wanted to, you could order three desserts.) This playful twist on the traditional course menu makes La Vie less pretentious. The fact that I can literally have dessert first is totally appealing.
Melissa and I both went to the media dinners at La Vie on different nights, and we tried a variety of dishes. If you're going — whether for a special occasion or just because fine dining is part of your regular lifestyle — here's our take.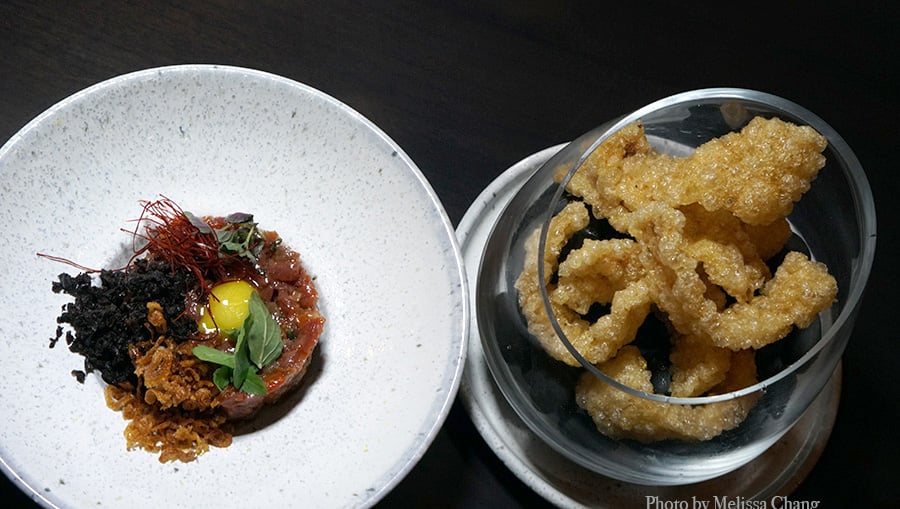 KS: My stomach churns at the thought of antelope, but this tastes like any other delicious steak tartare. I didn't know what antelope is supposed to taste like, but if I didn't read it on the menu, I wouldn't have known otherwise. The eggplant chips are addictive, but the fact that they're gluten free makes them even more appealing. Days after my meal, these chips are still on my mind. Is there any way La Vie can sell these by the bag?
MC: I love variety meats! I was looking forward to trying the tartare, since it sounded like a local, sustainable alternative to beef. On one hand, I was pleasantly surprised to find that the tartare wasn't gamey — it just had a very clean taste, and the spices and olives provided a nice savoriness that went well with the chips. But for us — I'm not sure if they ddin't grind the meat fine enough — the pieces of meat were slightly tougher than the usual beef tartare, so we found ourselves chewing a little longer. It wasn't bad, though.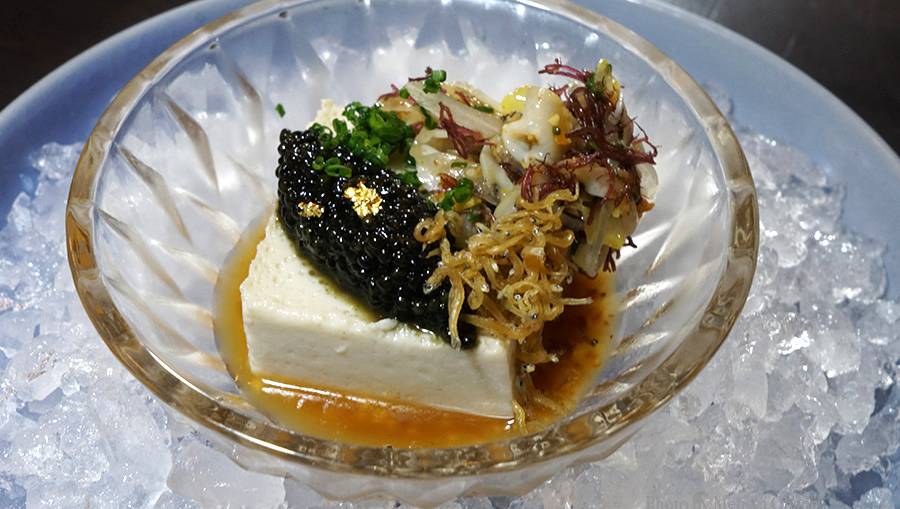 MC: If you're willing to splurge just a little bit more, I recommend this appetizer. It's a generous serving of caviar atop sunchoke tofu with shredded Kona abalone, inamona, limu, and seasoned infant fish. I was intrigued by the sunchoke (the root vegetable of a sunflower plant) and how La Vie made it into a custard that went so nicely with the swanky, salty toppings. And even the toppings had a range of textures that comnplemented each other in a surprising way, from the pop of the caviar to the crunch of the abalone and the chewiness of the fish. I recommend you try to get each item in one bite for the best effect.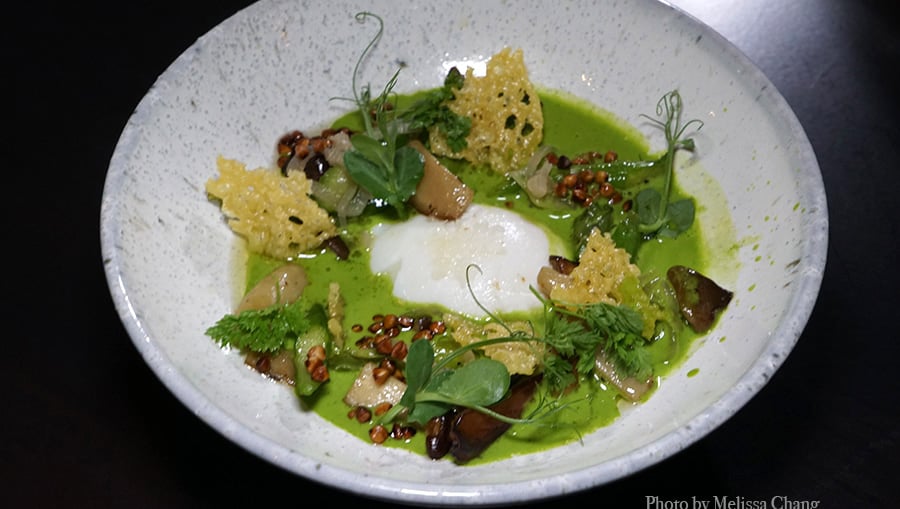 MC: We were so surprised that the asparagus "salad" was one of our favorite things — so much, we ordered it again when we went back. It seemed so random, like something you can get at any restaurant, but it was actually very specia (I would say the same for their beet salad, as well)l. The dish comes to the table with bite-sized pieces of asparagus, ali'i mushroom, chervil, buckwheat, parmesan crisps, poached egg and pea shoots, and they pour the chervil nage (a flavored broth that's reduced and flavored with butter and cream) in a very instagrammable way over it.
This asparagus dish sounds basic, but it's actually very tasty. It's got wonderful contrasting textures, especially with the mushrooms and buckwheat, that make it very addicting. The delicately rich nage elevates it so nicely, you don't even realize you're scraping the bottom of the bowl until you look up, and your appalled friends are staring at you. Um, so I've heard.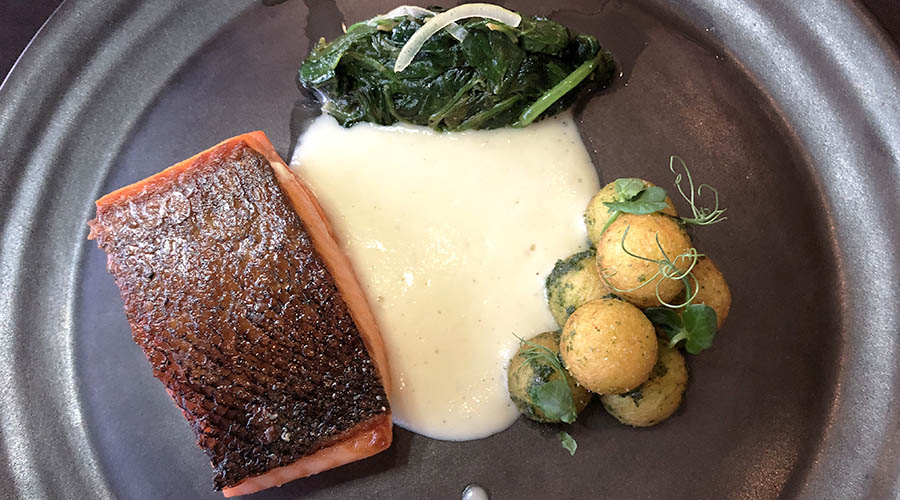 KS: The ultra-moist King Salmon is a show stopper. That melt-in-your-mouth texture has me swooning with each bite. The flavorful, savory spinach makes me want to finish all my greens, and the perfectly round, smoked potato balls are the perfect accompaniment. They finish the plate at the table with a light, creamy, indulgent potato-leek puree in the middle that gives the salmon an added depth of flavor.
MC: My companions found this dish to be a bit salty, but I was okay with it. I like salty food, and like Kelli, I enjoyed the moistness of the salmon. I think I would have enjoyed this much, much more with the bread/babka they served, since that had a sweet flavor to complement the savoriness. (See next dish description.)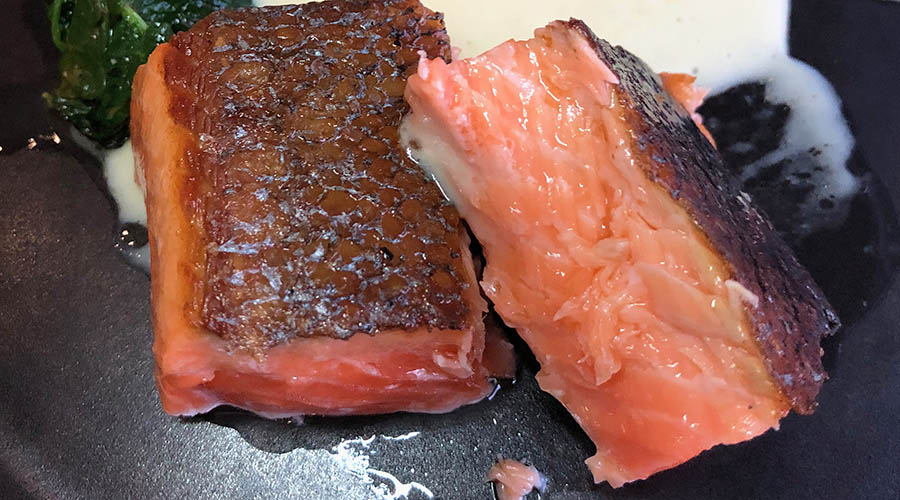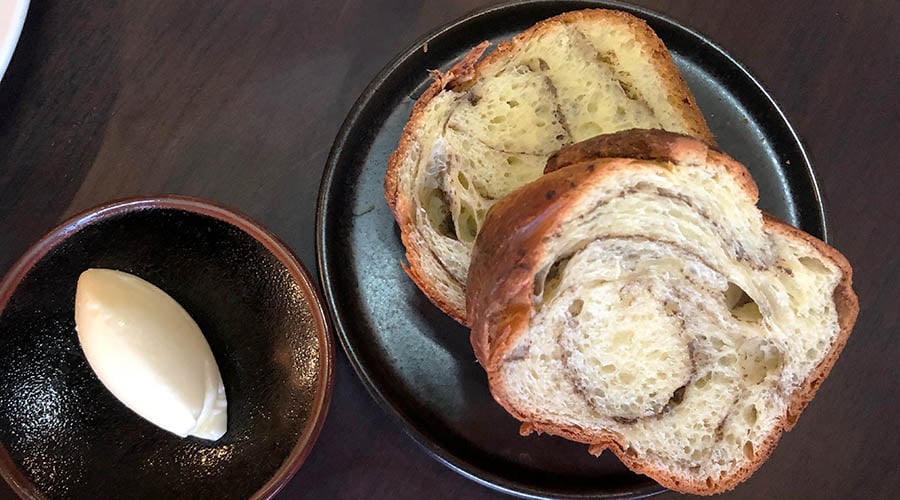 KS: This babka was one of the night's highlights. I take my carbs seriously, and the last time I had babka was during a trip to New York. The soft, buttery layers are sheer bliss. If La Vie sold babka by the loaf, I probably would have bought two right then and there.
MC: The first time I had this, at the media tasting, it was super dry, like it had been sitting out for two days. I thought maybe it was dry on purpose, to showcase the butter, but that didn't help. I actually walked away saying the babka was the worst part of the meal! But when I went back, the babka was as soft, buttery, and delicious as Kelli had described. So two out of three times, the babka was good, and hopefully this is a consistency issue that has been fixed.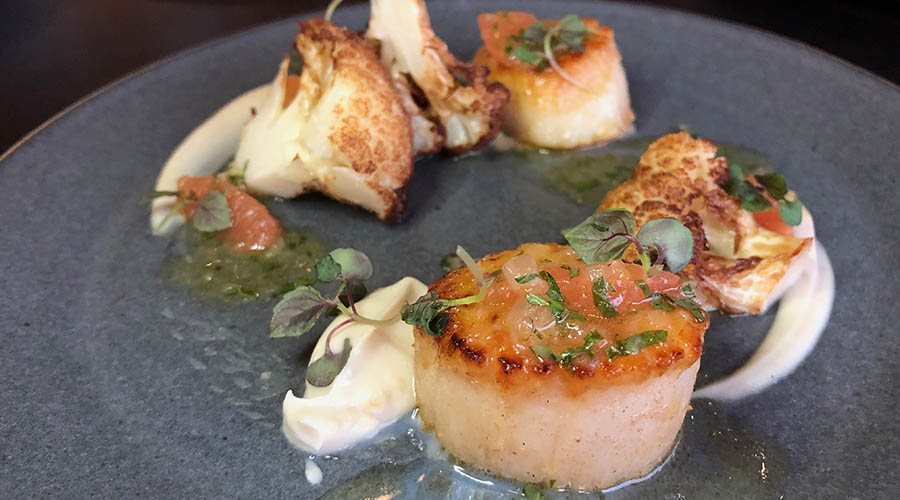 KS: I love scallops, and these are fresh and succulent, with a mild grapefruit flavor. La Vie's vegetable game is strong; I actually wish there was more cauliflower on my plate.
While these scallops are tasty, I need more than two in my entrée. What can I say? I'm a hungry girl.
MC: I assumed that La Vie used Maine scallops as a nod to executive chef Shaymus Alwin, who hails from Kennebunkport, ME. There was no question that these would be cooked perfectly and served in a way that would showcase their flavor, and this did not disappoint. The grapefruit and bergamot added a nice, bright accent to the scallops without overpowering them. On the night that we went, we had three scallops on our plate, but I'm not sure if that extra scallop would have satisfied a hungry Kelli Shiroma.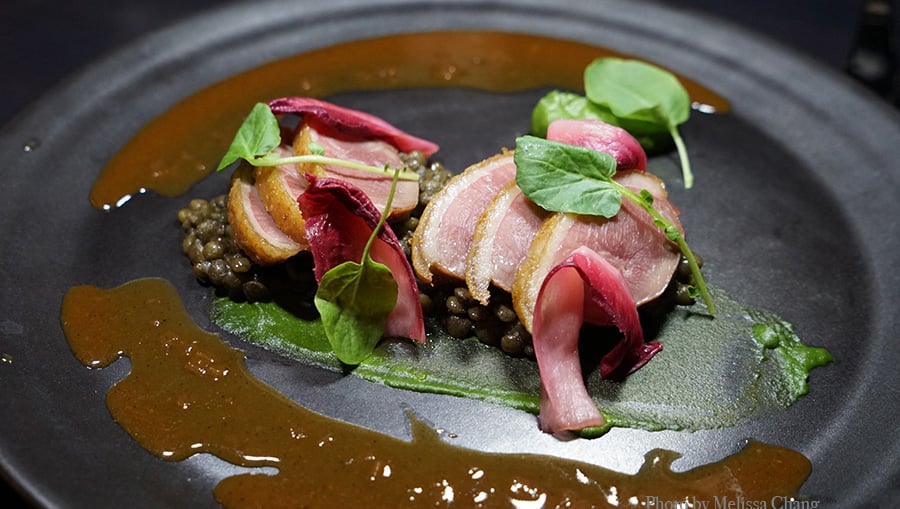 MC: The duck is another dish that may need some consistency checks. The first time I had this, I liked the flavor, but it did seem a little rubbery; I thought that was due to its being aged for 21 days. The next time I had it, however, it was exponentially better! And I have to believe that the way I had it the second time was how it should be, since one of the managers said that this was his favorite item. The second duck had more pronounced flavor, and the meat-to-fat ratio was perfect. The lentils are tender and nicely spiced, so I ate my share easily. Hey, it's healthy, right?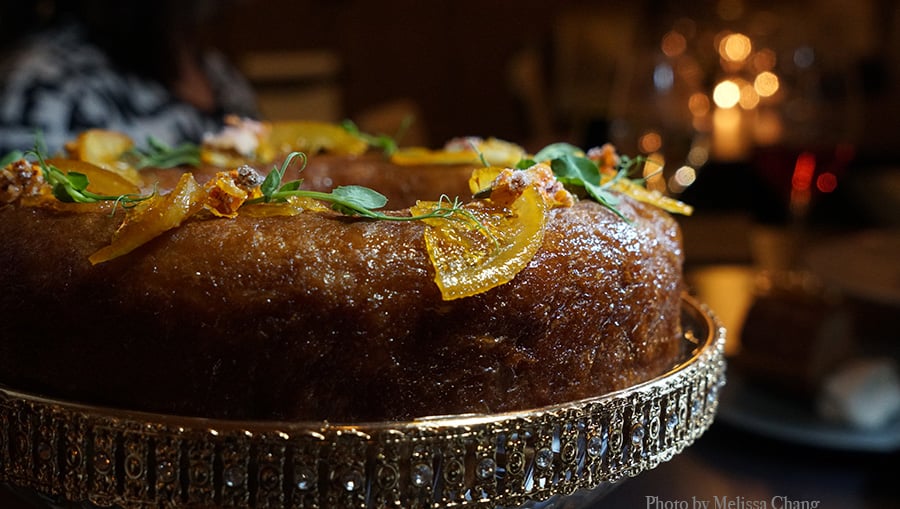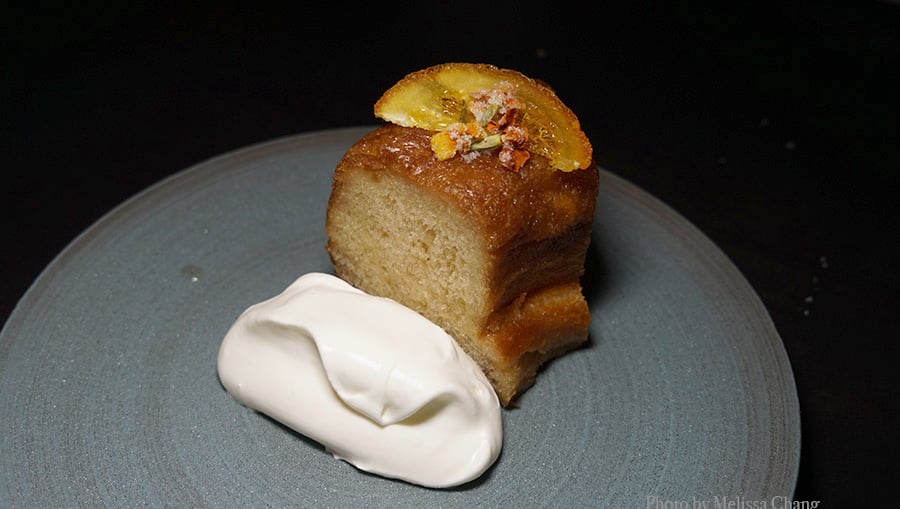 MC: My favorite dessert was actually the gateau savarin, which is basically a kind of rum cake. Since this is Hawaii, La Vie of course used Kohana Rum agricole, then served with an orange slice and creme fraiche chantilly. The orange flavor, for me, provided a light but sweet way to end our meal, and the cake was moist but not too heavy. I still think about this dessert and would have ordered it the second time we went, but we had other things to eat!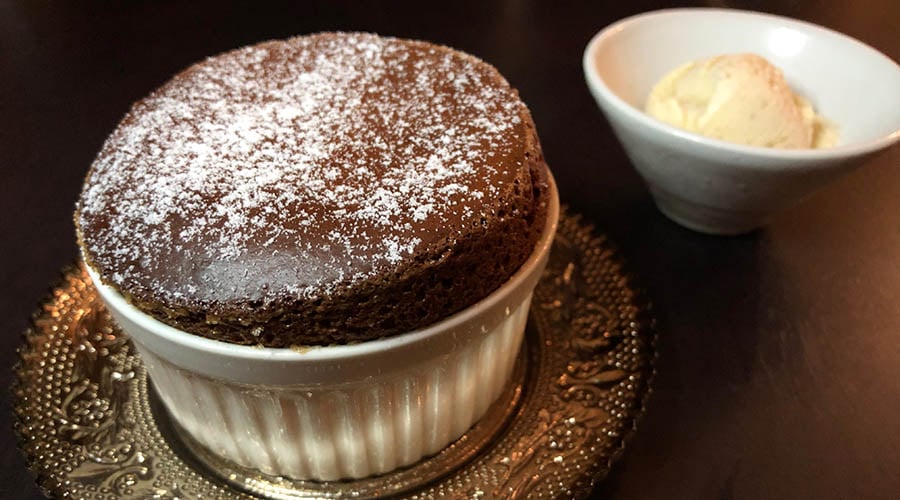 KS: My first question: What is tonka bean? Our server says it's similar to vanilla, in terms of fragrance, and she highly recommends this dessert. I already love chocolate, so this doesn't disappoint. The souffle is light and airy, and our server is right — that tonka bean ice cream is like the more fragrant version of vanilla. The petite scoop is barely enough to share, and I almost like the ice cream more than the souffle. I'm totally ordering this dessert first next time. Maybe even two of them, since La Vie's menu breaks all the rules.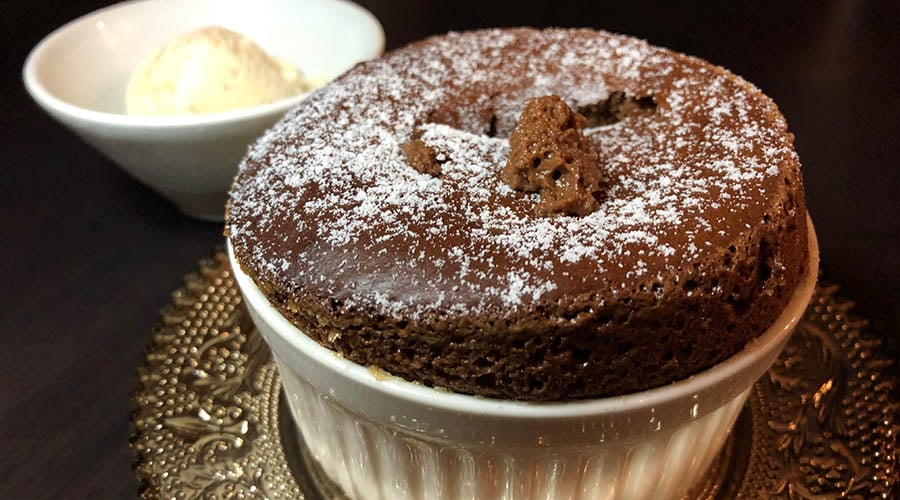 La Vie 
The Ritz-Carton Residences, Waikiki Beach
383 Kalaimoku St.
Waikiki
922-8111
Open daily, breakfast 6:30-11 a.m., dinner 5-9 p.m.
https://www.ritzcarlton.com/en/hotels/hawaii/waikiki/dining/la-vie