Give Big Hawai'i: Who Benefits from Nonprofits? Hui Mālama i ke Ala 'Ūlili
Hui Mālama i ke Ala 'Ūlili helps a local college student find his way.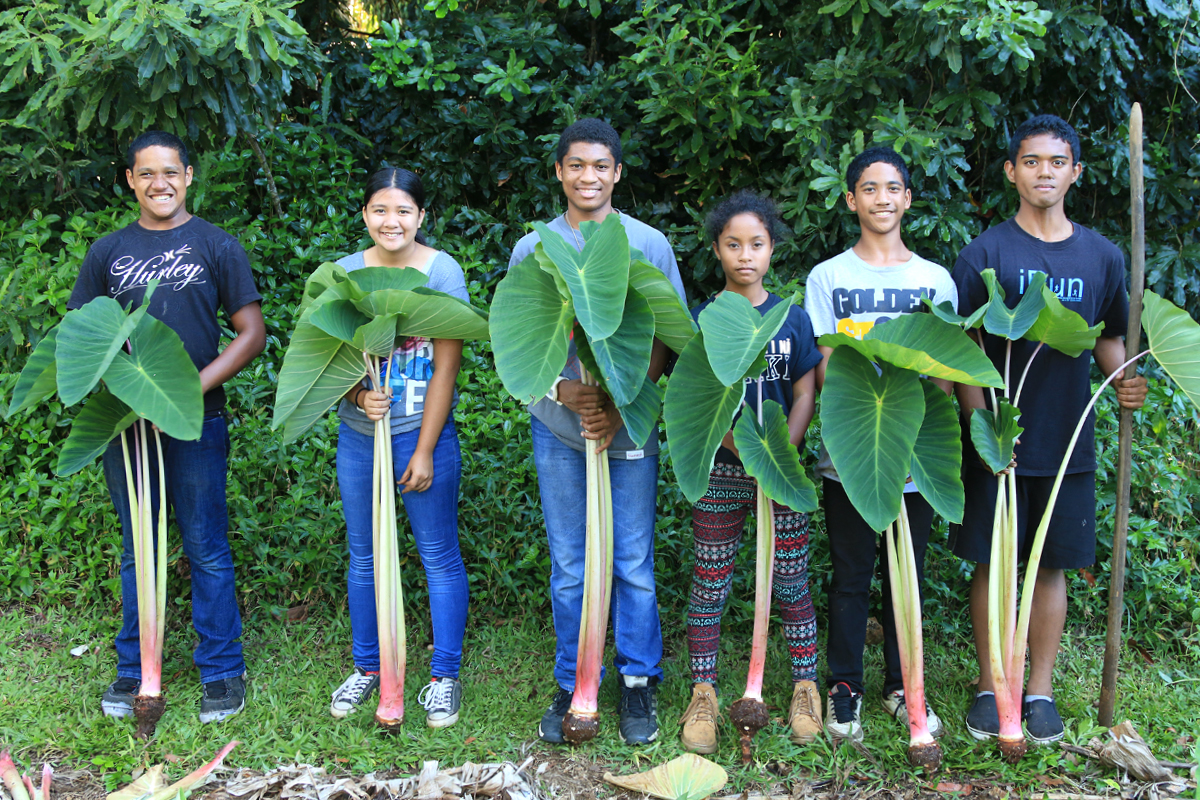 Community-based nonprofit Hui Mālama i ke Ala 'Ūlili, or huiMAU, located in Hāmākua on Hawai'i Island, is committed to cultivating safe, regenerative spaces that foster place-based ancestral knowledge, healthy food and ecosystems, and strong 'ohana with the capacity to thrive in the district for generations.
Lucon Route, a part-time employee at huiMAU, has been connected to the organization since he was a child.
"When I first got involved with huiMAU, it was via a Boys & Girls Club, at the after-school program in Pa'auilo," he explains. "After they closed down, huiMAU initiated an after-school program under their organization—and I was fortunate enough to be a part of it."
That was when Route was in the eighth grade. Most of the activities he took part in, he says, were influenced by
Hawaiian culture, with many specifically related to Hāmākua. "A lot of the lessons were very 'āina- or historical-based," he says. "They were really orienting us kids to where we live within this community."
From cultivating small kalo gardens to making lei with ti leaves, he explains, everything was hands-on, educational and immersed in Hawaiian culture.
Today, Route is a student at the University of Hawai'i at Hilo, majoring in agroforestry and Pacific Islander studies. His collegiate path was heavily influenced by his involvement with huiMAU—he originally planned to join the Army after high school.
"I come from Pohnpei, which is one of the Federated States of Micronesia," he says. "Usually, our community members there will enlist in the military or serve in a state work environment. I was going to join the Army, but … huiMAU shined a different light for me."
His experience with the organization, he says, set him up on a path that's more connected to his former everyday life in Pohnpei. "A lot of the work we did was cultivate food in our community and help feed others," he recalls. "Basically, we were surviving off an independent type of workspace. And huiMAU provided a foundation for me to build upon what I already know from my background."
Route says he used to feel disconnected from his own culture, as much of Pohnpei has been westernized and many people there—including Route and his family—were raised Catholic. "I don't hold anything against it," he explains, "but huiMAU … really helped me to appreciate my culture and build a stronger connection to my family."
The welcoming environment of huiMAU played a large part in why he continues aiding in its mission. "Everyone here that I had an experience with hasn't shown any kind of hate or animosity toward me because of my different culture," he says. "And that's very valuable, especially nowadays."
Route is currently a senior, wrapping up his bachelor's degree. Upon graduation, he hopes to obtain a full-time position with the nonprofit. "I don't see myself ever living anywhere else, because the community is so well protected," he says.
"Culture is valuable, however small your community is."
–Lucon Route
And while huiMAU has played a huge role in Route's educational and career trajectory, he says it's been even more influential in shaping his outlook on history and culture.
"Culture is valuable, however small your community is," he says. "Culture will help you connect with your history and the people that helped you get to where you are now. I wouldn't be in this position if it weren't for the people within this community. They helped me become the person I am today and have a better perspective on what I want to be and what I want to do as an individual."
He adds that huiMAU helped him figure out what he wants for his future, and he hopes to be able to guide local youths to do the same. "I want to help paint a better picture for them," he says, "so they can see where they want to be as well."
Hui Mālama i ke Ala 'Ūlili's mission is to reestablish the systems that sustain our community through place-based educational initiatives and 'āina-centered practices that cultivate abundance, regenerate responsibilities, and promote collective health and well-being.