Giovedi, A New Pop-up Italian Restaurant with Asian Sensibilities
The team that opened Mad Bene pops up in Kaka'ako with a rotating $95 prix fixe menu.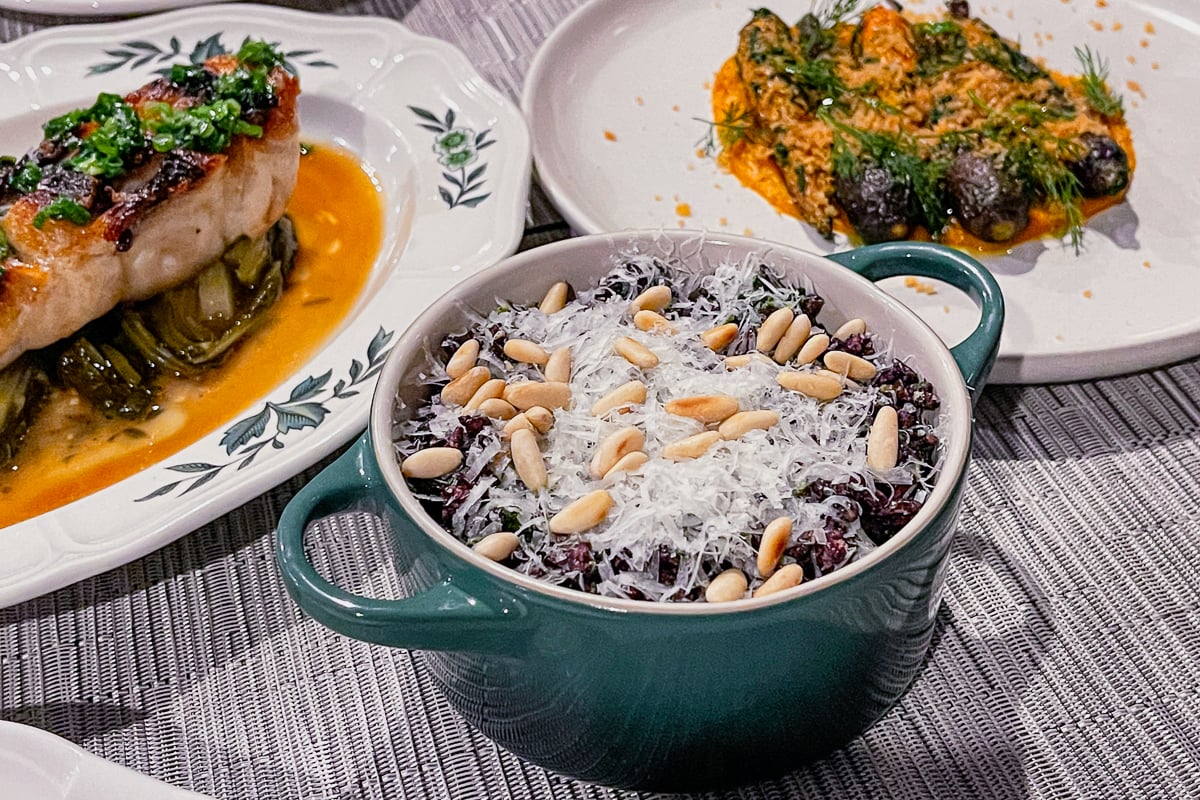 It takes a bit of searching before you stumble across a tiny sign that marks the parking structure entrance to Giovedi Italian Restaurant. It's almost by design: Jennifer Akiyoshi, Bao Tran and Jake Saito are not in any rush to splash onto the scene. If they sound familiar, it's because this team opened Mad Bene in Kapolei, and word of their food, Italian juxtaposed by glimmers of Asia, is making ripples among foodies in the know.
The space in the upstairs dining room of Island Sausage, aka the former Vino at Restaurant Row, is temporary while they search for a permanent spot. It's cozy, with seating for around 20. My forever eating buddy Maria Burke brings a bottle of wine, as should you. Or bring a few, since there is no corkage charge. Giovedi provides glasses and a giant ice bath nearby to chill your bottle.
The rotating prix fixe menu is $95. It begins on a high note with a basket of golden Hokkaido milk bread and dreamy saffron butter. The pillowy rolls are addictive, but you'll want to save your second one to eat with a later course.
Next, we share a plate of fresh crudi: 'ahi with charred eggplant, marlin with Calabrian chile crisp and boiled Spanish octopus with garlic, olive oil and sansho pepper. This trio, or some form of it, deserves to stay on the menu for as long as possible. We love the chile crisp so much we ask for more to lob onto everything.
---
SEE ALSO: 7 Gradi's Italian-Style Gelato and Sorbetto Are Churning Up in Kaka'ako
---
If you're worried about spice level of the dish, Akiyoshi says, "if you can handle eating a pepperoni, you can handle the heat."
The heat kicks up with the pasta course. Spaghetti Vietnam-atriciana is Tran's take on the spicy Roman specialty amatriciana. He marries imported Martelli pasta to a sauce made with minced lup cheong sausage—widely popular throughout Vietnam—along with pecorino Romano cheese and pepperoncini. The pasta, dry spaghettini from Italy characterized by its rough and porous texture, absorbs sauce like a sponge. After a few sighs of delight, we finish our pasta in silence.
As for your bread, now would be a good time to sop up the remnants of sauce.
Between courses, Tran brings us a taste of his experimental char siu Colorado lamb belly with slivers of pepperoncini. It's tender, smoky and sweet. Stalk Giovedi's Instagram to see when it makes it to the menu. The lamb is followed by tiny cups of orange Italian ice to cleanse our palate for the main event.
The final course comes in three dishes rather than on a single platter. Pan-roasted grey snapper is served family style over wilted mustard greens and a pool of umami-rich 'ahi jus. On the side, a cocotte of dueling rices: Japanese Nanatsuboshi on the bottom and Italian Venere black rice on top, finished with pine nuts and a snow cap of nutty pecorino Romano cheese. For vegetables, we have purple Kahumana Organic Farms carrots three ways: roasted, puréed and dressed with a carrot top pesto.
---
SEE ALSO: Lance Kosaka Brings His Greatest Hits to Mariposa's Sunset Lounge Menu
---
Akiyoshi tells us they work with divers directly to source seafood, a sustainable approach that supports independent fishermen. So not only does the selection tend to change by the day, it can vary within the room: Some tables could get grey snapper, while others might receive mū or kampachi.
Dinner ends with large caramel budinos and vanilla whipped cream. We back them up with decaf cappuccinos expertly pulled by Akiyoshi. Although a bit sweet for our palates, we can't stop digging into our puddings which have slivers of preserved lemon in the caramel—another subtle nod to Tran's Vietnamese heritage. As folks who can put it down, we're shocked at how full we are. This is a generous meal, so we take much of it home.
So, why the name? Giovedi, or Thursday in Italian, was Tran and Akiyoshi's night off from work. At dinner parties at their flat in Honolulu Chinatown, the couple handled the food while friends brought wine and booze. (When Akiyoshi returned home to Hawai'i, she brought Tran with her.) I first met them when they worked for Michael Mina in Waikīkī, first at Stripsteak and then at The Street food hall. In 2019, they opened Mad Bene with DB Restaurant Group. Akiyoshi managed restaurant operations; Tran and chef de cuisine Saito built a solid reputation for Mad Bene's New York-inspired fare. For Tran and Akiyoshi, the name Giovedi is an homage to their independence.
From the introductory menu, it's obvious this is about more than independence from working for others. Giovedi offers a new culinary point of view, one rooted in a familiar Italian framework but with unexpected tendrils of bright and familiar Asian flavors. When the current menu changes over, I'm setting my alarm to book my next reservation.
Open Thursday to Sunday, reservations only. 500 Ala Moana Blvd. #6F, (808) 723-9049, giovedihawaii.com, @giovedirestaurant