Fujiyama Texas Izakaya Now Serves Japanese Breakfast in McCully
Start your day with tonjiru soup, pork belly kakuni and grilled menpachi with rice and sides.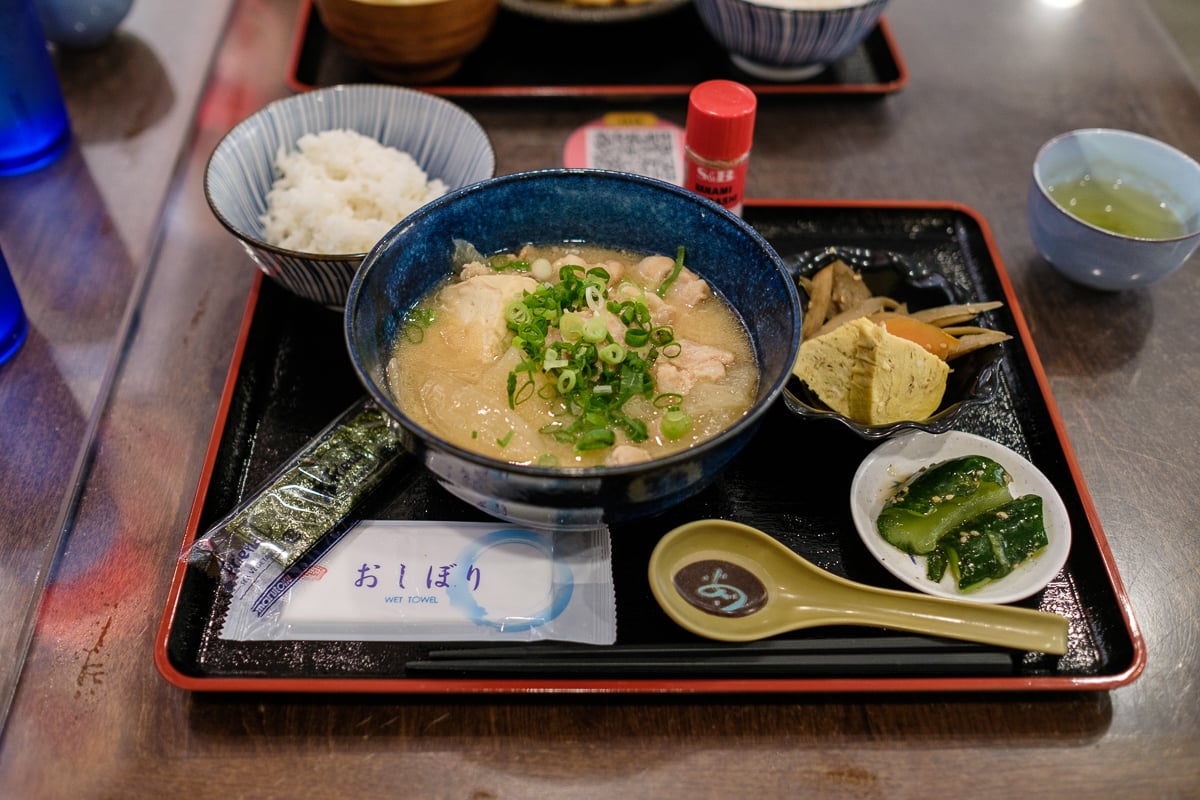 Mention Japanese breakfast to people in Hawai'i and you'll often get a response about obaachan's cooking. It conjures up images of old-school wabi sabi dishes always anchored by rice and miso soup, a feast for the eyes and the tummy. It is also exactly what you get at Fujiyama Texas, the South King Street kushikatsu izakaya now serving breakfast six days a week.
Japanese washoku meals are based on the foundation of ichiju sansai, meaning one soup, three dishes. Ichiju sansai is best exemplified in a Japanese breakfast, which will have miso soup, white rice, protein like grilled salted salmon, and smaller dishes of pickles and slices of rolled omelet—a meal that balances protein, starch and vegetables. If you're wondering if these breakfasts are as oishii as they are photogenic, they are.
Tonjiru, pork miso soup, sits at the top of the menu. Fujiyama owner Koichi Sato tells me they prepare the broth by sweating onions instead of using only water, lending a sweeter profile to the soup. Savoriness kicks in with the addition of pork belly, miso paste and other veggies. The result is a hearty soup accompanied by rice, pickles and sides of dashimaki tamago and gobo kinpira ($13). For $2, you can swap out the standard miso soup for tonjiru on other sets.
---
SEE ALSO: Rinka's Lunch Sets Are One of the Best Deals in Town
---
At $9.80, the most affordable set features two yakionigiri, grilled rice balls. You have the option to add more sides to your square meal, including natto ($4), grilled or raw tarako cod roe ($4), or kim chee ($3).
The bulk of the sets feature a variety of grilled fish for $11. A handwritten sign on the bar lists the locally caught fish available that day. Today it's akule, ta'ape, menpachi and opelu. Behind, a blue mesh drying basket containing the salted fish hangs from the night before. This is the kind of stuff you only see at small neighbor restaurants in Japan. For diehard traditionalists, salted or miso salmon ($13) and misoyaki butterfish ($15) are there for you, too.
Carnivores have options like simmered pork belly kakuni ($13), garlic ponzu prime steak ($22) and teriyaki beef ($13). Portions lean more towards skipping lunch with the possibility of a kanak attack, if you're not careful. The kakuni is served as a huge chunk, simmered for three hours until it's chopstick tender. I prefer my pork belly sliced or cubed, but this presentation is jaw-dropping. On second thought, you are taking a nap after this one.
---
SEE ALSO: My Top 5 Favorite Restaurants on O'ahu Right Now
---
Sato says the thought of offering breakfast never crossed his mind until a friend asked for a Japanese breakfast recommendation. Prior to the pandemic, it was a staple at restaurants like I-naba and Yoshitsune. Today there are even fewer, so Sato decided to bring it back starting in January. He says they will eventually stay open longer to offer lunch, too.
While it's understood we can't get those 600-yen breakfasts that you find at Yoshinoya or Sukiya in Japan, we can get a legit taste of traditional Japanese morning meals at Fujiyama Texas. Just don't take it for granted and let them disappear, like obaachan's breakfasts may have.
Served daily from 7 to 10 a.m., except Tuesdays. 2065 South King St., fujiyamatexas-hi.com, @fujiyama_texas_hawaii