Frolic x Foodland: Date Night Cooking Battle
(Sponsored) Two couples use an item from Foodland's new Chef Essentials to create a winning dish for date night at home.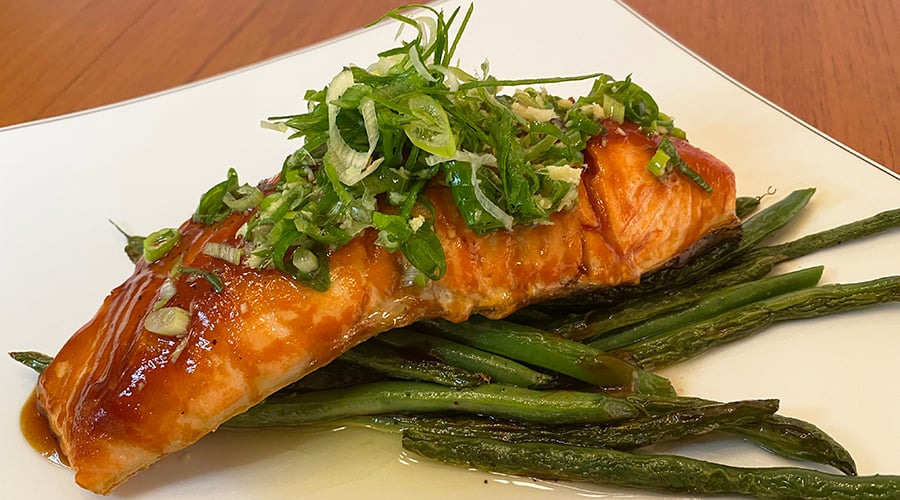 W
hen you want to cook or barbecue like an expert, Foodland's new Chef Essentials line of stocks, dressings, spice rubs and marinades is the way to go. Made in-house by Foodland Farms chefs, everything is designed to up your home cooking game with fresh, flavorful meals. Top sellers include shiitake-based Hot Pot Broth, Cantonese Secret Sauce, Basil Arugula Pesto and Lilikoi White Balsamic Dressing.
To show how easily Chef Essentials add freshness and flavor, Foodland challenged Kelli Shiroma Braiotta and Marisa Heung to a date-night-at-home cook-off. One was given Ginger Scallion Sauce and the other, Lemongrass Ginger Garlic Marinade. Each followed a simple recipe using their Chef Essential item and made the dish on camera. So who created the winning dish?
Scroll below to see what we came up with, and vote for your choice on Frolic's Instagram. Go to the bottom of this post to see who Foodland's corporate chef Keoni chose as the winner, and who you our readers chose!
---
SEE ALSO: Our 5 favorite things at Foodland Farms Ka Makana Alii
---
You can find Chef Essentials at Foodland Farms Ala Moana, Foodland Farms Pearl City and Foodland Farms at Ka Makana Alii in Kapolei.
Note: All ingredients were purchased at Foodland Farms Ala Moana and Foodland Farms Pearl City.
Roasted salmon with ginger-scallion sauce and charred green beans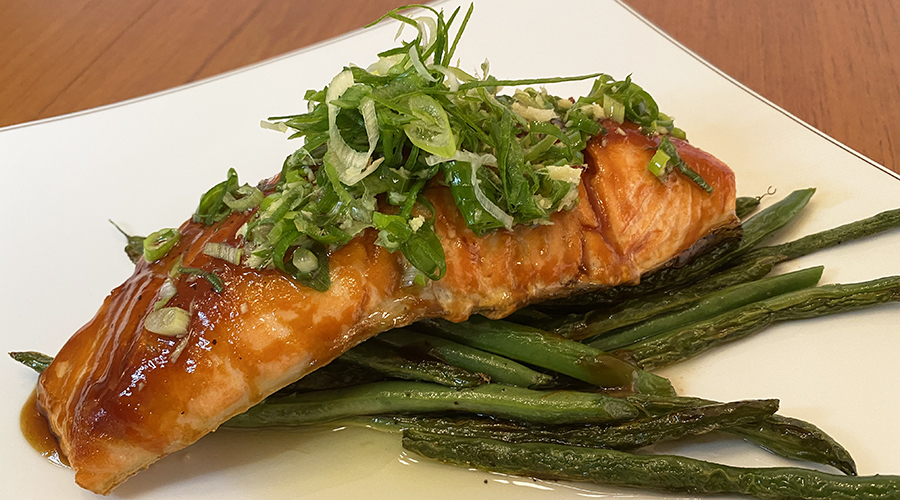 Prep and cook time: 25-40 minutes
Recipe adapted from homechef.com
Ingredients
Green onions
8 oz. green beans
2 salmon fillets
1/2 T toasted sesame oil
2 oz. teriyaki glaze per fillet (you can add more or less, depending on how much you like teriyaki)
Foodland Chef Essentials Ginger Scallion Sauce
Olive oil
Salt and pepper to taste
Preparation
Preheat oven to 400 degrees F
Rinse and pat dry any fresh produce you are using
Line a baking sheet with foil and coat with cooking spray
Instructions
Trim ends off green beans.
Slice green onions.
Take bones out of salmon and pat fillets to dry. Season with 1/4 tsp salt and a pinch of pepper.
Sear the salmon: Place non-stick pan on medium-high heat. Add 2 tsp olive oil. Place salmon skin-side up in hot pan. Cook for 2-4 minutes, until one side is browned.
Roast the salmon: Transfer salmon to prepared baking sheet, seared side up. Drizzle teriyaki sauce on top as desired. Roast in oven for 4 to 5 minutes.
Cook green beans while salmon roasts. Wipe pan clean, then place on medium-high heat. Add 2 tsp olive oil. Add green beans, 1/4 tsp salt and a pinch of pepper to taste. Drizzle sesame oil on top. Stir for 4-5 minutes until beans are beginning to char. Cook for shorter period of time for crisper green beans.
Remove beans from pan and begin plating. Take salmon out of oven and transfer to plate.
Spoon Ginger Scallion Sauce onto salmon. Add extra green onions for garnish. Enjoy!
---
SEE ALSO: Foodland's Calabash meal kits = restaurant-quality meals at home
---
Lemongrass pork stir-fry
Ingredients
1 lb. ground pork
1/2 yellow onion, thinly sliced
4 red chiles, sliced
1 red bell pepper, thinly sliced
2 T shoyu
2 T fish sauce
1/2 T distilled rice vinegar
2 T brown sugar
4 T Foodland Chef Essentials Lemongrass Ginger Garlic Marinade
Juice of 1/2 lime
1/2 cup mint, chopped
1/2 cup cilantro, chopped
Instructions
Season ground pork with salt and pepper.
Heat a pan over medium-high heat. Once hot, cook ground pork until just browned. Set aside.
Combine the shoyu, fish sauce, rice vinegar and brown sugar in a small bowl. Mix with a spoon to combine, then set aside.
Heat some canola oil in a pan over medium-high heat. Once hot, add the onion. Saute for 2 minutes or until fragrant. Then add the red bell pepper, chiles and Lemongrass Ginger Garlic Marinade and stir-fry for another minute to combine.
Add the ground pork back into the pan and mix in.
Add the sauce. Toss briefly to combine, then simmer for 2-3 minutes or until most of the liquid has cooked off.
Season with lime juice. Add in half of the cilantro and half of the mint leaves. Give everything a good final toss to combine.
Serve immediately over steamed rice and garnish with the remaining cilantro and mint leaves.
Watch below to see Chef Keoni's verdict:
Here's how our Frolic readers voted: