8 Chinese New Year Foods and Where to Get Them in Honolulu's Chinatown
So many tasty ways to ring in the Year of the Tiger.
Editor's Note: This article was originally published Feb. 10, 2021. It was updated in January 2022.
Gong Hei Fat Choy! The Lunar New Year or, as it's commonly known in Hawai'i, Chinese New Year is upon us once again. While Vietnamese, Korean and other cultures are celebrating the Year of the Tiger with all kinds of delicacies, those who are Chinese or Chinese at heart can welcome the new year by grabbing these traditional foods from Chinatown restaurants and vendors.
Since eight is a lucky number in Chinese culture, here are eight of our go-to Chinese New Year must-haves:
Gau
A.k.a. nian gao, sweet sticky rice cake
Where to get it: Sing Cheong Yuan Bakery, 1027 Maunakea St., @singcheongyuanbakery
This popular sweet, usually round and wrapped in red paper, pops up at offices and family dinners and is sold everywhere during Chinese New Year season, even at Long's. One of the best in town is at Sing Cheong Yuan Bakery, whose New Year candied fruits and vegetables and expanding dim sum offerings also create long lines at this time of year. Tip: Skip the lines and call in your order—a separate (and uncrowded) space is reserved for pickup orders.
Made of glutinous rice flour, gau or nian gao were used as offerings to the gods long ago, but became popular as a special treat associated with the Lunar New Year festival. And because the word gao also means "tall" or "high," it symbolizes a wish to be successful, or go higher each year. My Chinese grandmother used to tell me that eating gao would make me grow taller.
SEE ALSO: Two-Minute Takeout: Golden Duck's Jai for Chinese New Year 2022
Whole fish
Where to get it: Legend Seafood Restaurant, 100 N Beretania St., Chinatown Cultural Plaza, legendseafoodhonolulu.com
In Mandarin Chinese, the pronunciation for "fish" is the same as the word for "surplus." The symbolism of having a whole fish at your Chinese New Year's table is a wish for an abundance of wealth or food. The tender, melt-in-your-mouth whole steamed fresh fish at Legend, topped with ginger, green onions and soy sauce, is a crowd favorite for special celebrations like weddings, birthdays and especially Chinese New Year. Fun fact: When serving a whole fish, you should turn its head toward the eldest member of the party, or a distinguished guest, as a sign of respect.
For a spicy version, try the whole broiled fish at Hunan Cuisine (53 N Beretania St.), smothered in a red chili Sichuan sauce with green onions and bean sprouts.
Whole roast chicken or duck
Where to get it: Nam Fong, 1029 Maunakea St.
As with many foods served whole at this time of year, eating a whole chicken or duck as a group or family symbolizes unity and togetherness. As my father used to tell me, the chicken is also representative of the Chinese phoenix, a symbol of reunion and rebirth (that's why chicken feet are sometimes listed on Chinese restaurant menus as "phoenix claws.")
Longtime Chinese barbecue shop Nam Fong only accepts cash, and there are just a few things on the menu (which is not online), but around Chinese New Year, they're packed with people picking up roast meats for family parties and celebrations. Mouthwatering whole or half roast ducks and chickens with thin, crispy skin and tender flesh hang in the window, and inside you can also buy roast pork, pig feet, chicken feet, char siu and spare ribs. Our advice: Call in your order ahead of time.
SEE ALSO: Comfort Eats: Nam Fong, Home of Chinatown's Best Roast Duck and Pork Spareribs
Jai
A.k.a. Buddha's Delight, monk's food, lo han jai, zhai
Where to get it: Tai Pan Dim Sum, 100 N. Beretania St., Chinatown Cultural Plaza, taipandimsumtogo.com
Vegetarians, this one's for you. Traditionally consumed by Buddhist monks, who don't eat meat, this vegetable stew and its ingredients varies from place to place, but every good jai has one thing in common: eight ingredients or more. Ingredients can include mushrooms, bamboo shoots, bean curd, lily buds, ginkgo nuts, lotus seeds, napa cabbage, peanuts, tofu, water chestnuts, red dates, lotus root, snow peas and leeks. If you want to try your hand at making jai—a process that requires patience and preparation—ingredients are sold at many Chinese grocers around Chinatown.
If you'd rather let someone else do the work, try the jai at Tai Pan Dim Sum. Tai Pan's jai is popular this time of year—and according to Kristie Ou, whose family runs the restaurant, it's a family recipe created by her mother.
SEE ALSO: Where to Find Jai in Chinatown for Chinese New Year
Dumplings
A.k.a. jiaozi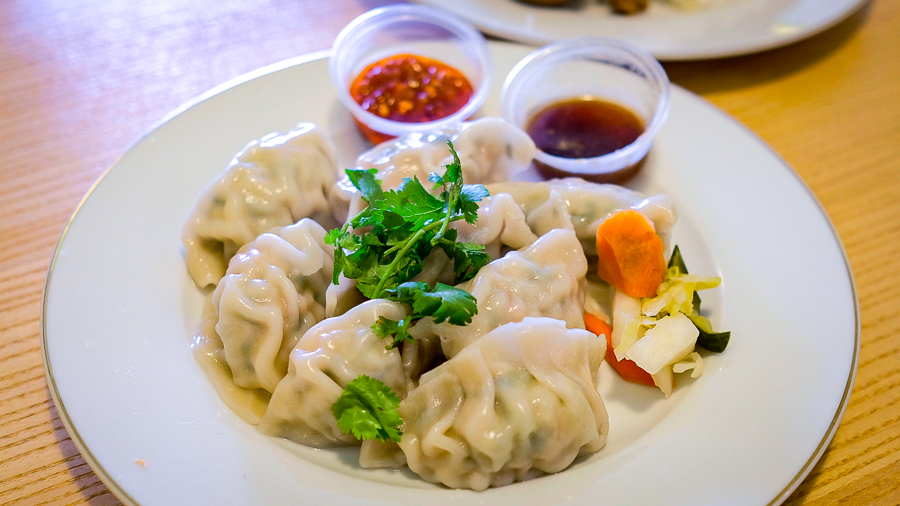 Where to get it: Old KC Kitchen, 100 N. Beretania St., Chinatown Cultural Plaza, oldkckitchen.com
A classic lucky food for the new year, these boiled dumplings are often made to resemble oval, boat-shaped ingots, a currency used in Imperial China. Tradition has it that the more dumplings you eat during Chinese New Year, the more money you'll make that year. There are lots of different fillings, but it doesn't matter what kind of dumpling you're eating. The plump, juicy pork dumplings at Taiwanese staple Old KC Kitchen are legit, and they come with tasty dipping sauce.
Longevity noodles
Where to get it: Little Village Noodle House, 1113 Smith St., littlevillagehawaii.com, @littlevillagenoodlehouse
On the Lunar New Year, eating long noodles represents a long life. Traditionally, longevity noodles are longer than regular noodles and served uncut, either fried and served as cake noodles or boiled and served with broth. In modern times, any egg noodles will do, and one of the best places in Chinatown to get a variety of noodle dishes is Little Village. The crispy pan-fried cake noodles with mixed vegetables, beef broccoli or minute chicken are simply addictive.
SEE ALSO: How to Celebrate Chinese New Year in Hawai'i
Lucky candies and New Year snacks
Where to get it: New Hong Kong Market, 135 N. King St.; Sun Chong Grocery, 127 N. Hotel St., sunchonghi.com; Sing Cheong Yuan Bakery, 1027 Maunakea St., @singcheongyuanbakery
Growing up, my Chinese grandma would always give me lucky milk candy in the red and gold wrapper, red money envelopes and crunchy, sweet dried red dates to munch on during Chinese New Year. Red is a lucky color in Chinese culture, tied to prosperity, and you'll find a lot of the same snacks around at any celebratory occasion, like festivals, weddings, or housewarming parties.
Other popular New Year snacks include peanuts (boiled or raw); baked seeds, symbolizing good wishes to the next generation (sunflower or watermelon seeds are especially popular); sweets like malt candy, sugared ginger, coconut strips, lemon peel snacks or anything in a red/gold wrapper, which, according to custom, signifies a sweet start to the new year.
For candied lotus root, water chestnuts and other sugar-coated dried fruit and vegetable New Year treats popular among Chinese and non-Chinese locals, head to Sing Cheong Yuan on Maunakea Street. Did we mention you might want to call in your order ahead of time?
SEE ALSO:
Oranges, tangerines and pomelos
A.k.a. "Good fortune" fruit
Where to get it: Any Chinatown vegetable stand
Round out your Chinese New Year meal by buying some oranges, tangerines or pomelos, popular as "good fortune fruit" for both their roundness (symbolizing prosperity) and their orange color (symbolizing wealth). It's also a homonym: Did you know that the Chinese word for oranges sounds like the one meaning success?