Comfort Eats: Nam Fong, Home of Chinatown's Best Roast Duck and Pork Spareribs
Glistening roast ducks and spareribs like pork candy.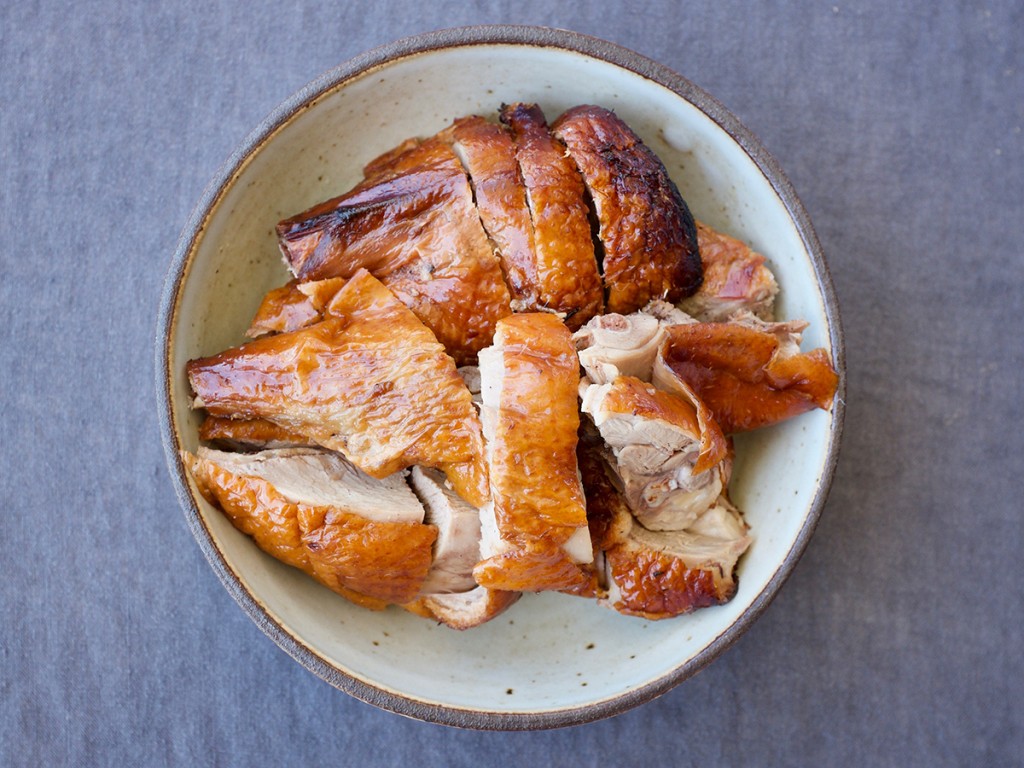 Photos: Martha Cheng
It gets me every time. I can never step foot in Chinatown without submitting to Nam Fong's siren call. I tell myself I will head straight from the parking lot to Kekaulike Mall to get my groceries, and then I find my feet leading me to Maunakea Street. I just want to look at the roast ducks hanging in the window, I say, as if I were visiting Times Square's Christmas displays. I stand outside for a bit, admiring the ducks in their glistening skin, inhaling the warm aroma of star anise, and listening to the thwacks of the cleaver inside. I try to summon the willpower not to go in. But in I go. Always.
Throughout the pandemic season, I've ordered takeout at Nam Fong more than any other place. Sheltering at home has me leaning hard into Chinese comfort foods, which necessitates frequent trips into Chinatown. During these times, I'm trying to keep my budget lean like a good roast duck, where most of the fat has rendered away, but roast duck is my kryptonite, my favorite food. And so, I go in and order a whole one ($26)—because I never go halfway. So far, I haven't found a place in Honolulu that does roast duck better (though the new Mandarin Kitchen comes close)—juicy but not too much fat below the skin, scented with five spice to pair with duck's dark meat, but not overwhelming.
---
SEE ALSO: Find Fresh Roast Duck and Char Siu at Mandarin Kitchen in Kāhala
---
But then, one day, I discovered something better. Nam Fong's spareribs. I'm not usually tempted by Nam Fong's other offerings, which include roast pork and soy sauce chicken, but on that day, the woman who took my order suggested the spareribs ($12.75/pound)—I took a look at the burnished glazed ribs, and I was done for. So now I get roast duck and those spareribs, which are basically like pork candy, sticky with honey and punctuated with crunchy, caramelized bits. You can get them as a slab, as in Southern style barbecue, but I prefer them chopped up, which makes them even more fun to snack on.
Since April, the ducks hanging in Nam Fong's window have served as a barometer of business in Chinatown—from just a few ducks during the first lockdown, to a full rack of almost two dozen a week before the second shutdown. The woman guesses Nam Fong has been around for 40 years. Who knows its fate—or any of ours, really—in upcoming years. We just take each duck (and rib) at a time.
1029 Maunakea St., (808) 599-5244