Frolic Does Dalgona Coffee
Our team's twists on the viral it-drink of quarantine.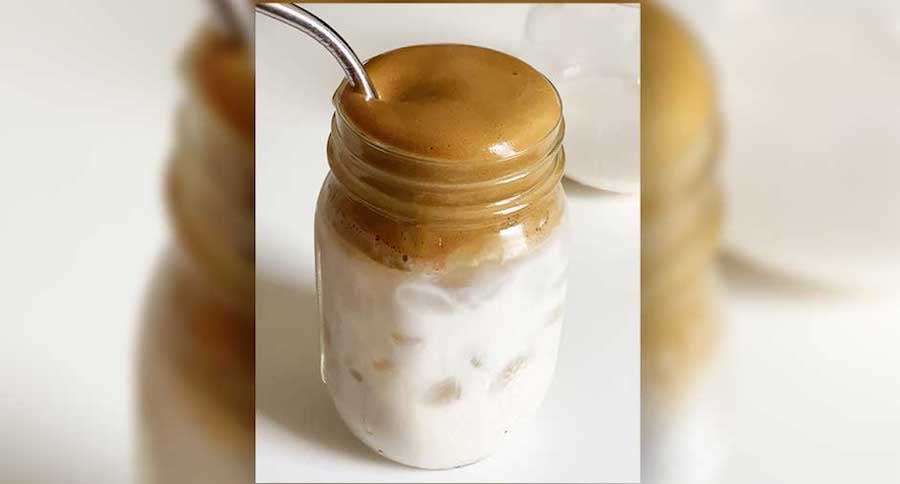 You've seen it all over the internet. Dalgona coffee, the unofficial drink of quarantine, is a simple mix of instant coffee, sugar and water whipped up into a luscious foam that you spoon atop your favorite milk. It took over South Korean social media earlier this year and quickly spread to pretty much everywhere.
So what the heck is dalgona and why is it so popular? Turns out dalgona is a Korean honeycomb toffee that's light and airy. When a South Korean actor tried the coffee drink and likened the taste to dalgona, the name stuck. Soon Dalgona was a viral sensation on Instagram and TikTok, usually in the form of mesmerizing how-to videos.
As for why every other person we know is whipping up dalgona? Besides needing only equal parts of instant coffee, sugar and boiling water — and your favorite milk — all you need is a milk frother, a mixer or a good old-fashioned silicone whisk. If you go that last route, be prepared for four or five minutes of serious whipping until you get stiff, spoonable peaks; even longer if you're going for a mousse-like texture (yes, still worth it. Every day).
Bottom line: Dalgona coffee is delicious. And it turns out there are umpteen million easy ways to take it up a notch with stuff you already have in your kitchen because seriously, who's not looking for any type of distraction in week 6 of stay-at-home? Here's how the Frolic team whisks up their variations on the viral drink.