First Look: Kaimuki Superette and Ed Kenney's Upcoming New Restaurant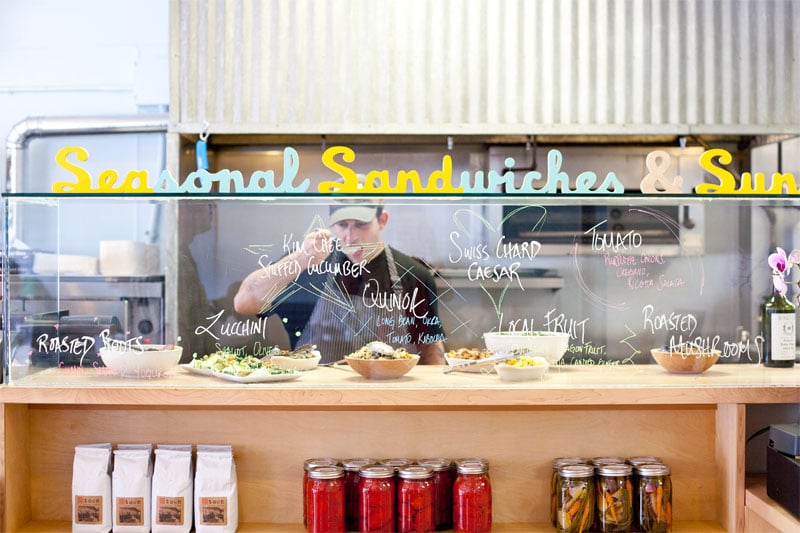 Kaimuki Superette is a reincarnation of Ed Kenney's popular Downtown at the HiSAM, except this new spot sports a sunny, beachy vibe with corrugated metal, bright whites and Hawaii's summer turquoises. (And the best slogan ever: SEAsonal SANDwiches and SUNdries. What didn't make it in: SURFace.)
Here, you'll find sandwiches that are a step up from what Downtown offered at its takeout counter. There's a he'e roll ($14), a local take on the New England lobster roll—chunks of octopus in a classic, split-top bun, buttered and toasted—and an open face porchetta sandwich ($13) with crackly roast pork, of the sort you'd find at the Chinese butcher, but seasoned with Italian herbs. Sides might include a zucchini salad, cucumbers stuffed with kimchee, or roasted roots.

He'e roll (left) and take home fridge of Shinsato pork, MAO greens, and other fun stuff like guava membrillo, like a firm jam, made for slicing, to be paired with cheese.
Kaimuki Superette is also a superette—a convenience store—in the loosest definition of the term. You can buy coffee beans, pickles and tomato sauce (all made from locally-grown produce) and everything you need to make a quick dinner: MAO salad greens, cuts of Shinsato pork and housemade pork sausage, and the same, fresh housemade pasta served at Town.
One of the first things people notice about Kaimuki Superette are the prices. Adding up the cost of a sandwich and sides (not included with the sandwiches), prices appear to be almost 50 percent higher than at Downtown's takeout counter. But Kenney says, "We're in line with our ingredient cost. Whole Shinsato pigs, whole Hawaii Lowline cattle, ahi, local he'e, MAO [produce] … I'm hoping that there is a large enough market that sees the value in what we provide."
Kaimuki Superette isn't the only new project on Kenney's Kaimuki corner right now. He's also bought the building next door, where he plans on serving small plates supplemented with craft beers. Expect a range of Hawaii and local flavors, which means it'll be something different from the Italian, shoyu-and-rice-adverse menu at Town. There's still a lot of construction that needs to happen, though—Kenney plans on opening up and renovating the entire first floor, which housed Champa Thai and some offices, and hopes to turn the alleyway between the building and Kaimuki Superette into an outdoor dining space. Target opening date: mid-next year.
Kaimuki Superette, 3458 Waialae Ave., open 11 a.m. to 7 p.m. Monday through Saturday