Hello, Feast Has a $10 Magic Menu in Mānoa
Everything from hamburger steak, fried chicken and chili to a mini lobster roll.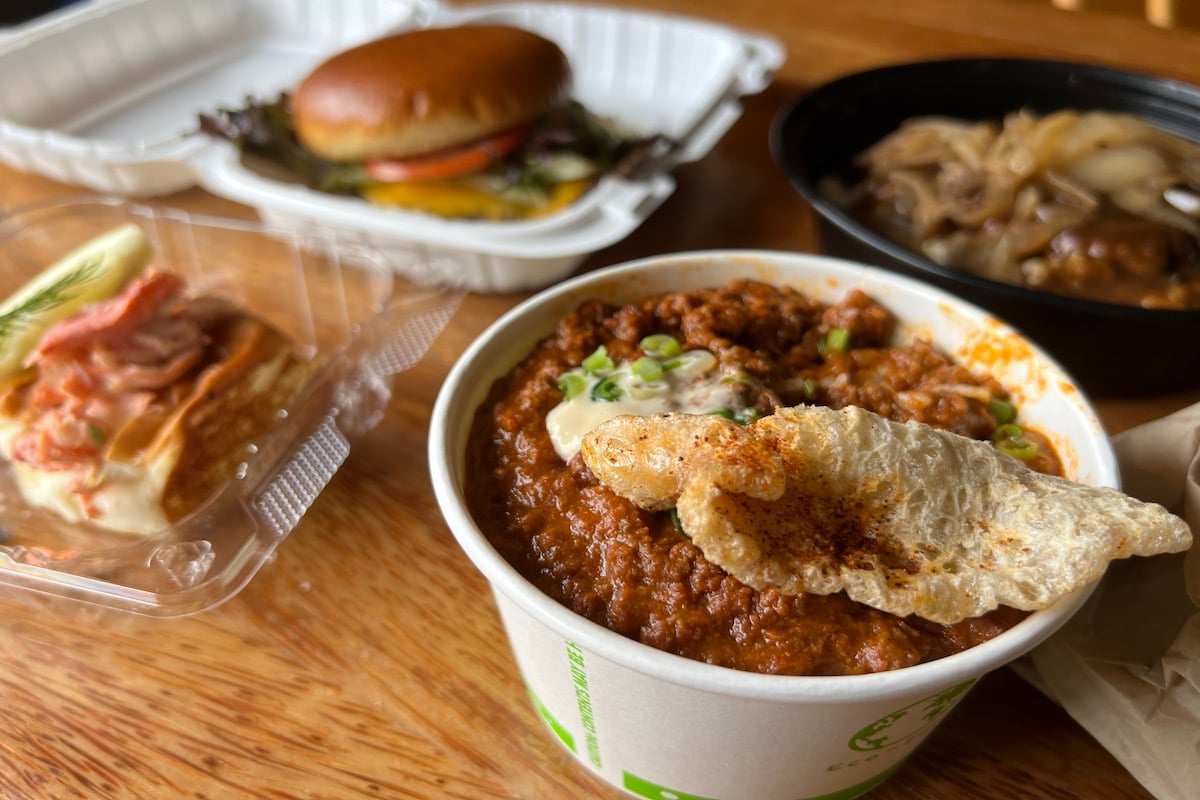 I'm a UH student who gets around mostly by moped, so I'm always looking for good deals near the Mānoa campus. After hearing about the $10 menu that Feast offers, I had to check it out.
Chef Jon Matsubara opened Feast after working at high-end restaurants in New York (Jean-Georges, Tabla) and Honolulu (Alan Wong's, Azure, Bloomingdale's Forty Carrots). At Feast, he creates local dishes with a twist. The counter-service restaurant is most famous for its lobster roll, which is $30 ($32 if you get it with a salad), salt beef watercress soup with Big Island beef and chile pepper bouillon ($19), the Jon Lechon crispy pork belly plate ($17.50) and fish of the day with sauvignon butter and ginger scallion sauce (market price).
---
SEE ALSO: How a Lobster Roll Changed the Game at Feast in Mānoa
---
The Feast Magic Menu is all about comfort food that's less than $10. It's available at lunch and dinner. With dishes like Jonny's Fried Chicken, smash burgers and chili—and even a mini version of the lobster roll—you'll probably find a delicious option for your craving. Here's what I tried.
Mini JFC, $9.50
The JFC plate comes with four huge pieces of fried chicken, a bed of fries and mouthwatering mushroom gravy. It is definitely the most loaded item on the menu and extremely filling. The chicken has a light and airy batter and is not overcooked at all but juicy and tender. The fries are shoestring and crisp with the perfect crunch, and I have to admit, they are better than McDonald's.
---
Petite Lobster Roll, $9.99
The petite lobster roll is one-third the size of the regular one and comes with umami mayo and lobster on a sweet bread roll with a slice of lemon on top. The umami mayo adds creaminess to the lobster, which tastes fresh with no fishy aftertaste. It is a perfect bite-size snack and a must-try, especially if you have never had a lobster roll.
---
Chili & Rice, $7
My favorite lunch on the Feast Magic Menu is the simple yet flavorful chili and rice. It is a thick and rich chili with tons of Big Island beef, a good ratio of rice and a crunchy spiced chicharrón chip. This is a mini portion of the regular size chili ($17.50); it looks small but is filling. If you're a bigger eater, you can get two orders and it would only cost $14, which is still a good deal.
---
Feast Smash Burger Deluxe, $9.99
Two garlic butter brioche buns are loaded with a quarter-pound patty of rib eye and chuck, tangy sauce, pickles, cheese, lettuce and onion. The patty is seasoned to perfection and yes, the buns are toasty warm. The perfect side for this burger would be the delicious shoestring fries for $3.50.
---
SEE ALSO: You May Want to Eat at Chinatown's New Burger Bar Daley
---
Mini Hamburger Steak, $9.50
This is a classic hamburger steak served with a generous amount of mushroom gravy—the same one that comes with the fried chicken—and a good layer of rice that makes for a filling lunch. If you added an egg (which Feast doesn't offer, probably because it doesn't serve breakfast), it would be a great loco moco. The patty is rich and juicy and the savory gravy complements the beef and rice without drowning the plate. One of our favorite parts are the caramelized onions that top the dish. Combining all of these flavors in one bite is scrumptious.
---
Mcbara Deluxe, $9
The Mcbara's juicy grilled patty is seasoned with kabayaki, the sweet soy sauce that can be found on unagi, and it matches the flavors of the beef well. It goes well with the umami mayo, which tastes like a thousand island dressing, and the toppings of crisp lettuce, tomato, pickles and cheese all come together to make a very good option to the smash burger.
---
Secret Chili Cheeseburger, $9
The third and last burger on the Feast Magic Menu combines the flavors of a classic cheeseburger with the spice of Feast's chili. A generous scoop of it oozes out under a local beef patty capped with melting cheese. We eat this burger with a fork and knife, it's so stuffed. Also hidden under the bun is a dollop of umami mayo, which adds another dimension to this toasty burger. I'm just not sure why it's a secret when it's printed right on the menu?
Open Tuesday to Saturday from 11 a.m. to 2 p.m., Tuesday to Thursday from 4 to 6 p.m., Friday and Saturday from 4 to 7 p.m., 2970 E. Mānoa Rd., (808) 295-5864, feastrestauranthawaii.com, @feast808