Fat Kid Friday: Kahuku's HI-CHIX
When it comes to fried chicken, this truck is the mother clucker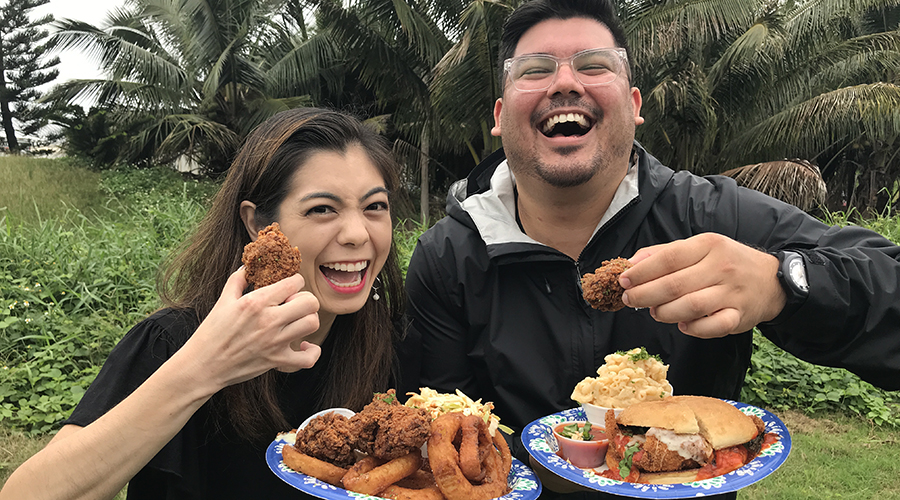 Fat Kid Friday is a video series spotlighting exuberant dishes across Oahu. Crazy, ginormous or over-the-top luxe, these are the broke-the-mouth dishes we push across the table and tell our friends, "Try this. TRY IT."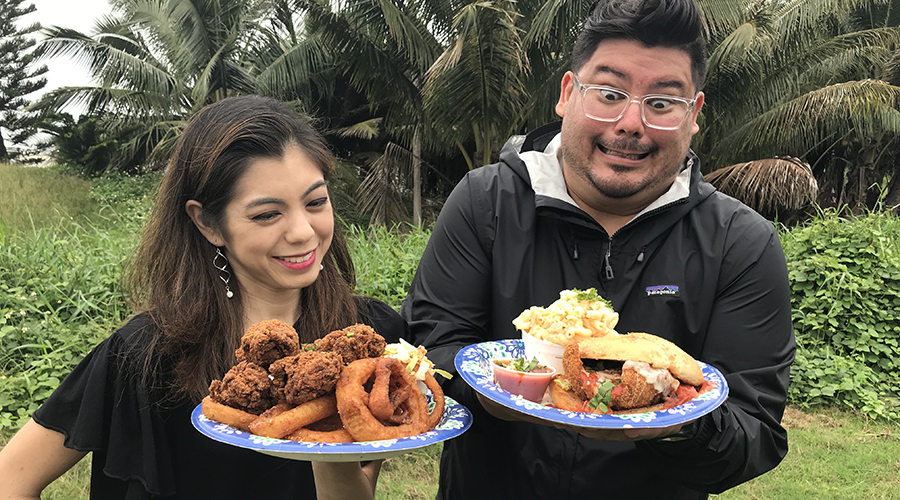 No summer is complete without a North Shore road-trip. Last summer, we took "backyard barbecue" to the next level with a visit to the HI-BBQ truck.
Since then, a few things have changed. HI-BBQ moved from its former Haleiwa location to the Kahuku Sugar Mill. And this past January, they launched a sister truck named HI-CHIX that specializes in — yup, you guessed it— fried chicken.
How we knew this fried chicken was legit — Thomas drove out to Kahuku from Makakilo three weekends in a row for it. So, it was time for another North Shore adventure, but this time, we broke out our one day-trip into two episodes. (Yes, there was too much food to include in one Fat Kid segment).
When it comes to HI-CHIX's fried chicken-centric menu, you'll have no shortage of choices. Case in point: in true Fat Kid fashion, we order three. Most entrees come with one side (sweet apple coleslaw, bacon, crinkle cut fries, baked beans or mashed potatoes), but you can always upgrade for just $1 more. And trust us, the upgrades are soooo worth it (three words: beer-battered onion rings. End of story).
Our fried feast included:
Hangover Helper ($13): Fried chicken chunks, mashed potatoes, gravy and cranberry spread on ciabatta, with seasoned fries side. Aka, Thanksgiving on a plate (and you can enjoy it all year long).
Chicken Breast Chunk Meal ($13): Fried chicken chunks and two sides (beer-battered onion rings, sweet apple coleslaw). The chicken's taste, texture and garlic seasoning is consistent with our Hangover Helper order, but these thick-cut onion rings steal the show. Not only are they huge and hearty, but they're also wonderfully crispy.
Chicken Parm Sandwich ($13): Tender slab of chicken coated with a katsu-like Parmesan crust, provolone, mozzarella and Parmesan cheeses, fresh basil and housemade marinara sauce on ciabatta bread. Served with one side (we upgrade to smoked gouda mac n cheese). The crunchy Parm crust makes this sammie extra cheesy, and we mop up any leftovers with that hearty marinara (be sure to ask for extra for dipping).
Warning: Bring a designated driver on your road-trip, since fried chicken overdose results in an immediate food coma. But that ain't a bad thing.
HI CHIX
56-565 Kam. Hwy.
Kahuku
Open Thurs-Sun, 11 a.m.-7 p.m. (or until sold out)
– Fat Kid Friday concept and title by Brandon Lee
– Video by Kai Kojimoto 
Missed our last Fat Kid Friday video? Watch the series:
Common Kings and Big Ronin gourmet hot dogs
Mauka to Makai poke nachos
Fat Kid gives thanks 
XXL double-wide Maui Onion cheeseburger
Opulent black truffle roast duck and grand macaron
Fat Kid Friday hits the North Shore
Extra beefy Pho-strami burger
Jumbo-sized Korean-style shave ice
Kalua pig nachos
Green tea warabimochi parfait
Churro waffles
The Heavy D and Royale with Cheese
The Mega-sushi rito
Pocho wraps and E-mochi balls
The $65 Ultimate Loco Moco