Explore the History of Hawai'i's Sculptures in Cheryl Soon's New Book
The author of Reflections in Stone and Bronze will be at da Shop in Kaimukī on Saturday, Aug. 6, for a talk and book signing.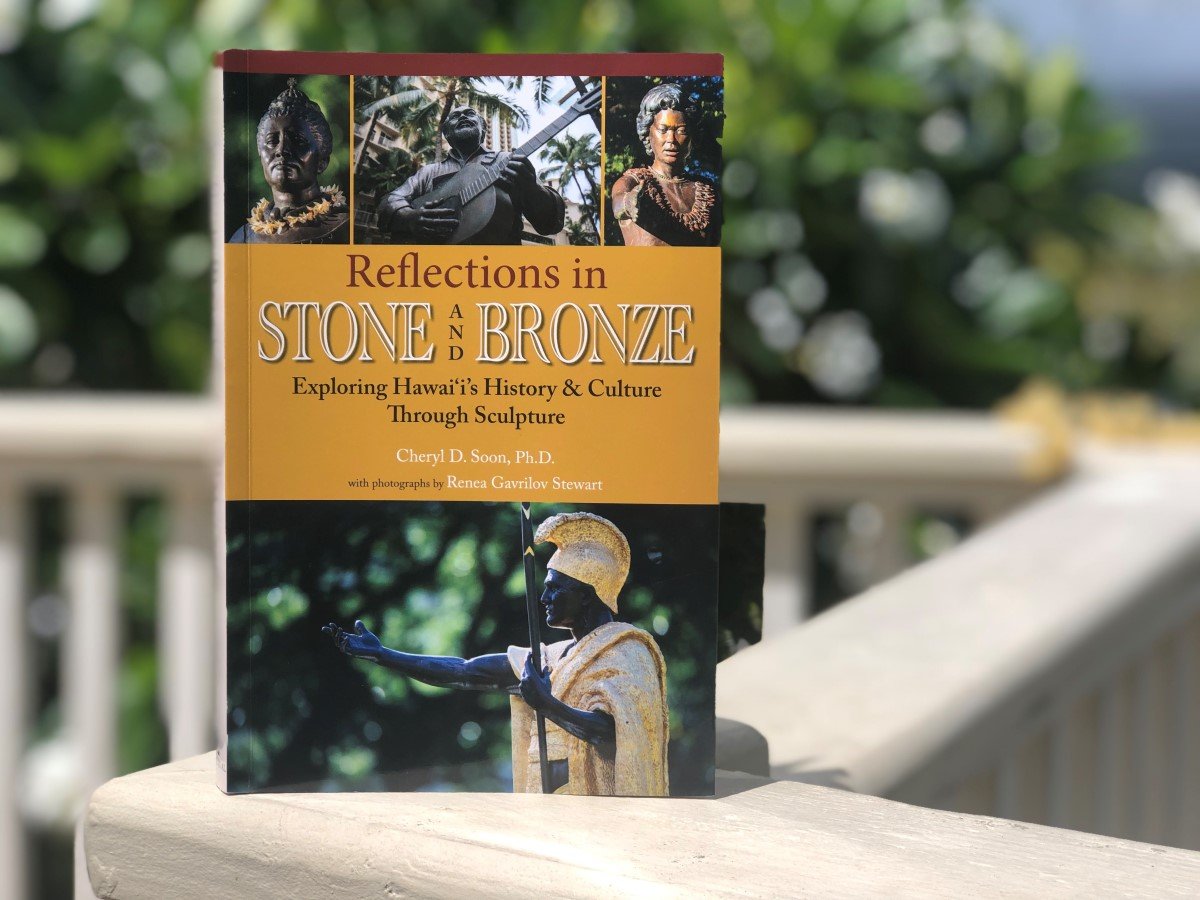 As a traveler and self-described "curious person by nature," Cheryl Soon in her new book, Reflections in Stone and Bronze: Exploring Hawai'i's History & Culture Through Sculpture (Mutual Books), investigates 60 Oʻahu statues and their origins and makers, from the first (of King Kamehameha, erected in 1884) to the most recent (of Kamehameha III in Thomas Square and Patsy Mink at the State Library, both erected in 2018). In sharing the story of each statue, Soon weaves a rich and overarching tapestry of history in our midst. This book invites readers to don their walking shoes and join her on a journey of rediscovery.
Soon's fascination with statues began with pre-COVID travel in Europe (Queen Victoria, she notes, was everywhere) and grew as contemporary stories related to the removal of Confederate and other statues in the U.S. started to air on news channels around the world.
She brought her curiosity home to Hawai'i, where she and her husband began visiting Oʻahu statues during weekend explorations. She started documenting everything she learned. "I spent a lot of time trying to decide [how] to organize the material, by geography or chronologically," she says, "but settled on, 'Who's the subject? Who chose to erect it? What kind of place making was occurring?'" Her interest began to feel encyclopedic, and she realized she had the makings of a book on her hands. As a city planner, Soon is an accomplished writer and the stories she uncovers in the book, with photography by Renea Gavrilov Stewart, are accessible and fascinating.
Every statue has a story, Soon says. Her audience, she says, is "people who live in Hawai'i who are curious about their surroundings," and she is gratified when they're drawn in by the stories and excited by familiar figures.
However, John de Fries, president and CEO of the Hawai'i Tourism Authority, says the book's audience extends far beyond Hawai'i residents. "In Reflections in Stone and Bronze, each statue that is depicted serves as a unique portal into Hawai'i's history and traditions. The author has found and elevated the voices of these ʻsilent storytellers,'" he says.
Soon's silent storytellers fall into four categories: royal, religious and spiritual, music and entertainment, and national and international. Examples include King Kamehameha the Great (commissioned by King David Kalākaua), Queen Liliʻuokalani (sculpted by international artist Marianna Pineda), Father Damien and Mother Marianne Cope, waterman Duke Kahanamoku, and musicians Don Ho and Israel Kamakawiwo'ole. Lesser known but equally interesting are the statues of Joseph Kekuku (Father of the Steel Guitar) and Hamana Kalili (the Lā'ie native attributed with popularizing the shaka sign), both at the Polynesian Cultural Center.  Revered Mākaha waterman Richard Kaloloʻokalani "Buffalo" Keaulana was notably buried in a sand pit on the beach in order to be cast in a composite of fiberglass, resin and sand to create the statue "Buffalo's Cloak" by artist Joe Yamakawa Hadley.
SEE ALSO: What to Read in Summer 2022: 5 Hawai'i Books to Bring to the Beach
During her research for the book, Soon came to appreciate the void left in the 19th century following the elimination of the kapu system, a void quickly filled by Christianity and later, with more immigration, Eastern religions. "I realized," she says, "how significant the 19th century was in Hawaiian history. So many of the institutions we have and our sense of ourselves as a people began then."
King Kalākaua commissioned the first Western-style statue, to honor King Kamehameha I (1884). As a world traveler, Kalākaua introduced new things, blending the old with the new. The Kamehameha statue is modeled after one of Caesar Augustus. Visitors will note the sandals are Roman sandals. Once Kalākaua immortalized Kamehameha, statues of other royals followed.
Great and controversial figures are presented in the book, among them Captain James Cook, Abraham Lincoln, Admiral Chester Nimitz, Mohandas Gandhi, Qin Shi Huangdi (founder of the Qin dynasty), Siddhartha Gautama (considered to be the original Buddha), Jose Protacio Rizal and Syngman Rhee (heroes and patriots in the Korean and Filipino communities) and others, reflecting Hawaiʻi's ethnic, linguistic and religious diversity over centuries. Elvis, says Soon, may be an outlier, but he authentically loved Hawaiʻi and fresh lei are placed on his statue at the Blaisdell Center daily.
More controversial is the statue of President William McKinley, who played a key role in Hawaiʻi's annexation to the United States. The principal of McKinley High School declined to grant permission for a picture of the statue to be included in the book. An artist's rendering was made by Hitoshi Hida.
Soon doesn't hold a single fixed view about whether statues such as McKinley's should remain. The McKinley statue could be brought inside, she says, and a variety of perspectives explained. Europe has many examples of preserving, contextualizing and reinterpreting history while not celebrating it. But the McKinley conversation has become a battle. Conversely, at the base of the Damien statues, new plaques acknowledge the Hansen's disease patients he served. One of the Kamehameha statues has been relocated from Kauaʻi to Hilo, and the dates of Queen Lili'uokalani's sovereignty have been adjusted on her statue at the Capitol to reflect that she was queen until she died.
SEE ALSO: Afterthoughts: Let Our Monuments Tell Lesser-Known Stories
Soon interviewed all of the living sculptors profiled in the book, exceptional artists including Sean L.L. Browne, Holly Young and Kim Duffett. She also uncovered some fun facts. When Duke Kahanamoku's widow first saw his statue, she informed sculptor Jan Gordon Fisher that his shorts were too long. The artist adjusted the length of the shorts and her original line is still visible on the statue.
Soon's next book is about statues on the Neighbor Islands. "I hope some of the stories will lead [people of Hawai'i] to visit what we have bypassed. Aren't we lucky to have this history available to us?"
Interested readers can learn more when Soon joins State Librarian Stacey Aldrich in conversation Saturday, Aug. 6, at da Shop in Kaimukī from 2 to 4 p.m, with music by Peter Apo. The event is free. RSVP here. The book is available to purchase online in advance if you'd like to pick it up at the event.
da Shop: Books + Curiosities, 3565 Harding Ave., (808) 421-9460, dashophnl.com, @dashophnl