Eating Okinawan: Sunrise Restaurant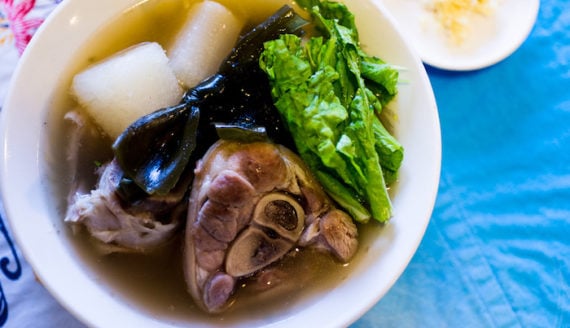 By Shari Tamashiro

Special to Frolic Hawaii
Shari Y. Tamashiro is a Cybrarian who loves all things Okinawan, especially the food (Uchinan-chew!). She's passionate about history, telling stories and bacon. Follow Shari on instagram (@pigsfromthesea) or on Facebook (okinawanfestival)
There's a HUGE difference between Okinawan and Japanese food. Okinawa was a kingdom that traded heavily with China and Southeast Asia, and our food reflects this rich history. For instance, from China we got pork and we happily eat every part of the pig, from snout to tail.
Years ago there were over 350 Okinawan-owned restaurants in Hawaii — but none of them offered Okinawan food on their menus, only American and Japanese dishes. Today we are so lucky to have a number of restaurants serving really good Okinawan cuisine! Some are literally run by just a husband-and-wife team. Once they decide to retire, we'll lose these gems because there is no next generation to take over. All the more reason to go and eat!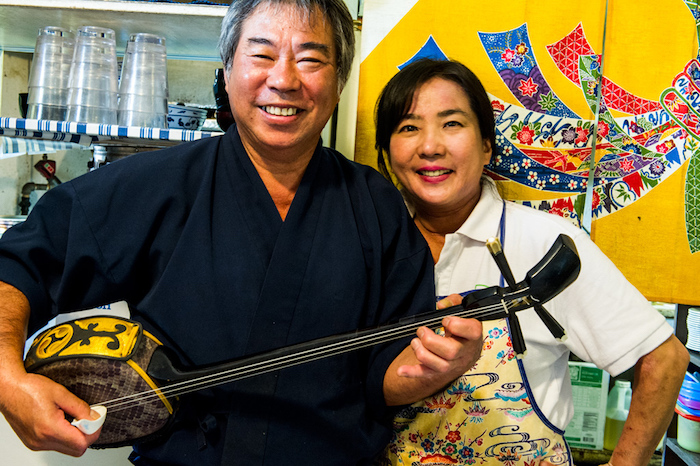 Sunrise is a gathering place for the Okinawan community. It is run by Chokatsu and Tomoko Tamayose, who keep the place full of good food and music. Chokatsu opened Sunrise Restaurant with his Aunty Kiyo Irei in 1999.
Chokatsu's big personality is a major part of Sunrise. He runs things from his sushi counter and loves to interact with his customers, setting up dates between single customers and singing for the restaurant.
Insider tips:
Definitely order family style and share dishes.
Sunrise is BYOB. They only offer water and hot tea, so I just haul in my own cooler. It is also BYODessert. I always make sure to give some to Chokatsu, who has a sweet tooth.
Birthdays are fun! Chokatsu turns off all the lights and leads the entire restaurant in singing Happy Birthday.
Chokatsu loves playing the sanshin and singing when he is done cooking. He uses an old saimin spoon as his pick. Okinawan musicians eat at Sunrise and will usually perform afterwards. If you're lucky enough to be there, definitely stick around for the free show.
Also:
It seats only 30 people, so call 737-4118 to make reservations and expect to be crammed in. I usually end up talking to the people at the other tables and offering them some awamori drinks and dessert.
There's usually live music on Saturday nights. If I'm there, ask me to teach you how to dance Kachashii to the music!
If you have 15 to 30 people, you can book the place on Sundays. There'll be a set menu.
It's pretty much street parking. If I can't find a space, I park in the First Hawaiian Bank lot after hours and walk over.

Aunty Kiyo's Yakisoba, $9.50
This fried noodle dish uses Sun Noodle Okinawa Soba, Spam, cabbage, mushrooms, bean sprouts, and lots of red ginger. Okinawa Soba is thicker and chewier than Japanese yakisoba noodles. I always order this dish. Tip: There are bottles of awamori chili pepper on the table. Add this to your soba for an extra kick! Sunrise is the only local place you can get Okinawan yakisoba.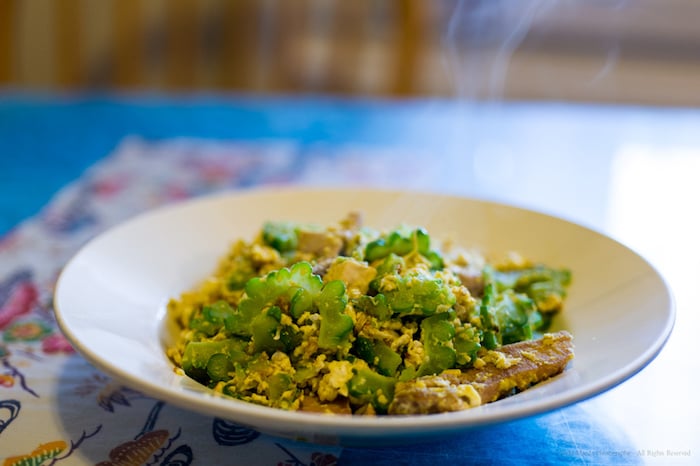 Goya champuru, $9.50
Okinawans love bittermelon (cos healthy). They put it in ice cream, juice, cheese, chocolate and of course the famous champuru or stir fry. I always feel virtuous when I order the goya champuru. I find it not overly bitter at Sunrise. Chokatsu says there's no cooking trick involved, he just knows which goya to buy. This version has goya, pork, tofu and egg. You can switch to Spam or tuna if you're feeling more salty.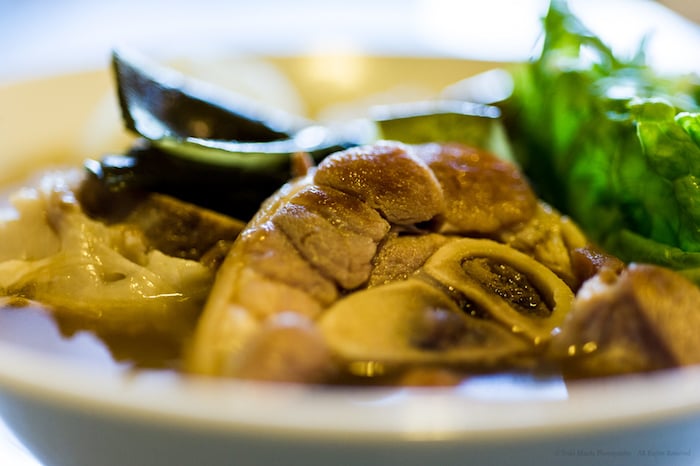 Ashitibichi (pig's feet soup), $10
This soup comes with generous portions of pig hock, mustard cabbage, daikon and konbu. Interestingly, at Sunrise the base of the broth is katsuo dashi. Really nice flavor combinations. My dad always orders this.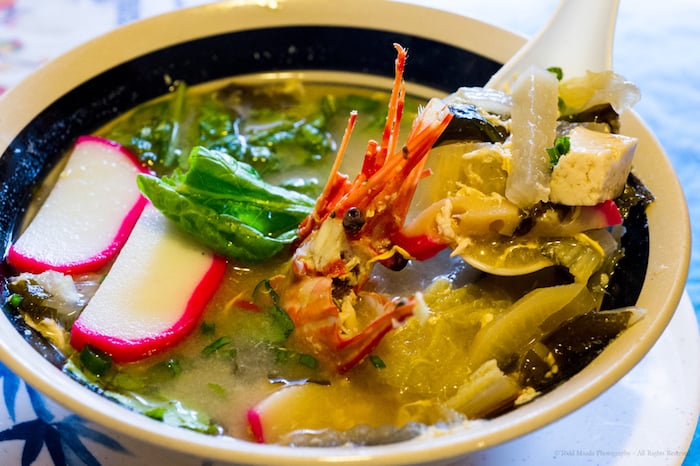 Special miso soup, $10
This is not your ordinary miso soup. The broth has a shrimp base and there is even a shrimp head sticking out of soup which has Chinese cabbage, Spam, tofu, egg, mustard cabbage and daikon! I usually end the meal with this soup.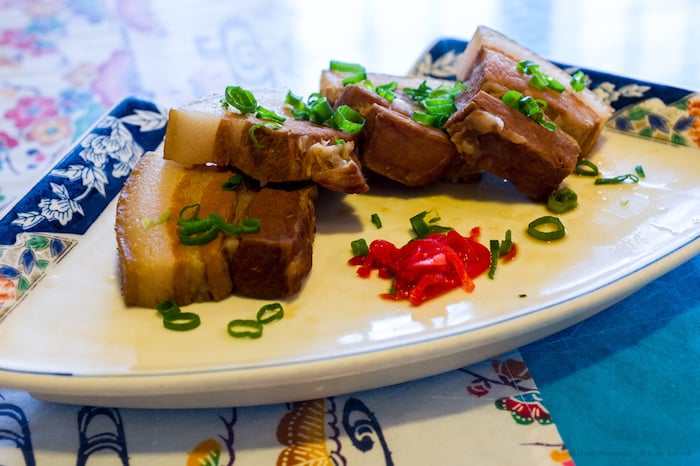 Rafute (shoyu pork), $10.50
Okinawans got this dish from China. Rafute = super soft pork belly. At Sunrise, rafute is not always on the menu. You need to call at least a day in advance to put in an order. Most days they offer spareribs because customers were complaining about the fatty pieces of pork. Cue my rant: Chokatsu boils the pork belly in water, then drains it to help render out the fat. He does this three times! He then simmers it with shoyu, dashi, ginger, garlic, sake and a slice of lemon. The long simmering process helps render out the fat. If done right, you get pork that will just melt in your mouth with layers of fat that has absorbed all those lovely flavors it was simmered in. So yes, there is a lot of fat in rafute slices but savor this fat!
Sunrise is a hole-in-the-wall restaurant run by a couple who treats regulars like family. It's not trendy or fancy but it's someplace I keep going back to because the food is like grandma's cooking, there's a feeling of community with people randomly handing me glasses of awamori or striking up conversations, and guests often start playing impromptu concerts. Sunrise makes you feel like you are someplace really special.
Sunrise Restaurant
525 Kapahulu Ave.
737-4118
Monday, Wednesday, Thursday 11:30 a.m. – 2 p.m.
Monday to Saturday 5:30 to 9:30 p.m.
Photos courtesy of Todd Maeda