Dude, you made that? Spicy Korean chicken pizza
Is pizza + spicy gochujang chicken good for the s(e)oul?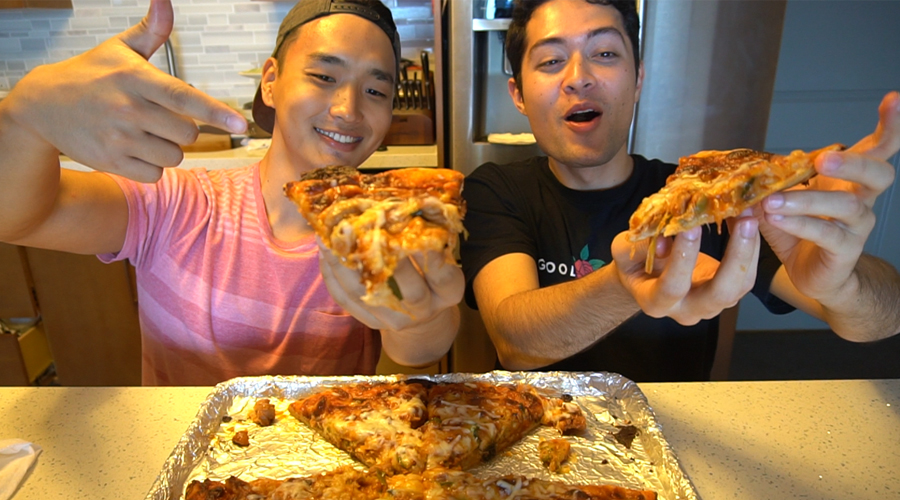 Dude, you made that? follows the cooking adventures of two hungry millennials. 
Chicken is huge in Korea and it's prepared in a variety of ways. In this video we're focused on spicy stir-fried chicken (a.k.a. dak-gal-bi) and incorporating that onto a pizza. We've never seen the two together, so we had to ask ourselves, why not? Watch as we attempt to satisfy our curiosity (and our appetites!).
What you need:
chicken thighs (4 servings or 1 lb)
premade pizza dough (1 lb)
¼ head of cabbage
½ onion
5-7 stalks of green onions
½ cup – ¾ cup of tomato sauce
2 cups of shredded mozzarella
1 jalapeno pepper (you can choose a milder or hotter pepper if you'd like)
1 bulb of garlic
Spicy Korean Sauce
1 tablespoon of red pepper powder
2-3 tablespoons of Korean red pepper paste (gochujang)
2-3 tablespoons of sugar
1-2 tablespoons of shoyu
1 tablespoon of sesame oil
What to do:
Roughly chop up the cabbage
Julienne the onions
Roughly chop up the green onions in 1-inch pieces
Cut the jalapeno in half, scoop out the seeds and slice into thin strips
Finely chop the garlic. Feel free to use a blender as shown in the video
Cut the chicken thighs into roughly 1-inch pieces
Lightly season with salt and pepper
Put everything aside and make the sauce
Add all sauce ingredients into a large bowl and mix
Add chicken into the sauce and mix
Heat a pan on med-high heat with olive oil
Add chicken into the pan with all of the sauce
Add all of the chopped vegetables and stir-fry for about 1 minute
Cover the pan and let it sit for about 3-5 minutes, checking periodically to make sure it doesn't burn
You'll notice a lot of water (probably from the onions) but don't worry about that
Line your pizza pan or baking sheet with foil and oil it
Spread your pizza dough into a flat circular or rectangular shape
Using a ladle, evenly spread the tomato sauce onto the pizza dough
Drain as much liquid as you can from the spicy chicken stir-fry with vegetables (tongs or a strainer might be a good idea), then spread it on top of the pizza.
Add 1½ cups of mozzarella on top
Stick the pizza in the oven (preheated to 450 degrees Fahrenheit) for 30 minutes or until cheese starts browning
Take the pizza out carefully, and add the remaining ¼ cup of mozzarella on top
Enjoy your freshly made Spicy Korean Stir-fry Chicken Pizza!
Hungry for more?
Dude, you made Fourth of July honey toast?
Dude, you made ramen burger?
Dude, you made salmon skin roll?
Dude, you made spicy ramyun carbonara?
Dude, you made kimchi fried rice?
Dude, you made melona soju? 
Dude, you made Doritos grilled cheese?