Dude, you made that? Salmon skin roll
The dudes tackle a supreme sushi roll...with zero waste!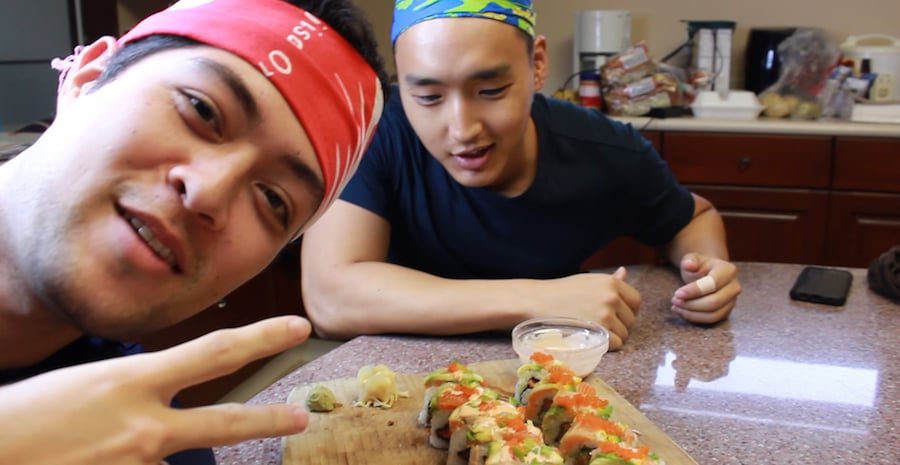 Dude, you made that? follows the cooking adventures of two hungry millennials.
SALMON SKIN ROLL
What you need:
2 sheets of nori (1 per roll)
sushi rice
sesame seeds
salmon fillet, skin-on
masago (fish roe)
1 avocado
1/2 lemon
1 broccoli bunch
green onions
What to do:
Cut off broccoli heads

Julienne or cut broccoli stalks into matchsticks

Slice skin from salmon

Slice salmon into small slabs, aiming for a parallelogram shape to go on top of sushi roll (roughly 1-2 inches long, 1/2 inch wide)

With the peel on, slice the lemon as thin as possible. Remove seeds as you encounter them

Chop onions as small as possible

Slice avocado in half and peel

Slice avocado into slices about 1/4 inch thick (to go on top of roll)

Add lots of oil in pan on high heat, and fry salmon skin until crispy

Spread rice on nori, it's okay if some nori is still showing

Flip over and sprinkle sesame seeds on rice

Flip back over, rice side up, add broccoli

Add fried salmon skin

Roll, and make sure that you roll it tight and firm

Layer lemon, avocado and salmon slices on top

Saran wrap above the roll, and roll again

Remove Saran wrap and cut into 8 pieces

Drizzle lemon spicy mayo sauce (Sriracha, mayo, lemon juice)

Add masago
Hungry for more?
Dude, you made spicy ramyun carbonara?
Dude, you made kimchi fried rice?
Dude, you made melona soju? 
Dude, you made Doritos grilled cheese?
Learn more about Aloha Harvest by visiting www.alohaharvest.org.