Dude, you made that? Ramen burger
The Dudes create the ultimate twist with their two favorite foods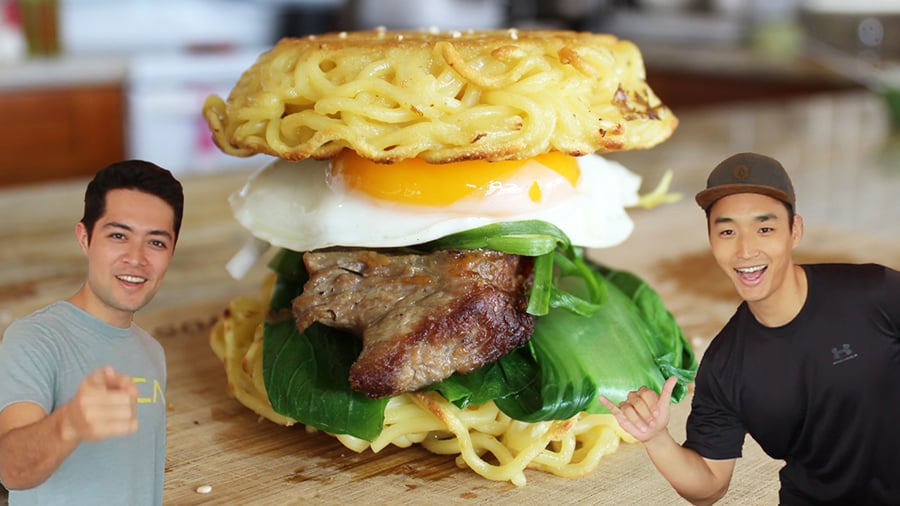 Dude, you made that? follows the cooking adventures of two hungry millennials.
RAMEN BURGER
What you need:
2 green onions
3 eggs
1 thick-cut pork belly slice
2 leaves of bok choy
Sesame seeds
1 pack of miso ramen (2 servings)
What to do:
Cook the noodles until al dente (still slightly firm)
Strain the noodles and mix with 2 eggs (1 egg per serving)
Separate the noodle-egg mixture into 2 bun-sized bowls
Refrigerate for 20 minutes (or more)
Cut green onions into thin strands. They will begin to curl on their own
Boil the bok choy for 1 minute
Lay bok choy leaves on paper towel to drain
Mix 2 Tablespoons of miso paste that comes with the ramen with 1 cup of water and bring to a simmer
Add the pork belly and simmer in the broth for 10 minutes until completely cooked
Take the pork out and sear both sides on high heat
Take the noodles out of the refrigerator and pan fry both sides of each noodle-bun
Fry one egg, sunny side up
Assemble bun, bok choy, pork belly, dab of miso paste, green onions, bean sprouts, fried egg, bun
Sprinkle sesame seeds on top
DONE!
Hungry for more?
Dude, you made salmon skin roll?
Dude, you made spicy ramyun carbonara?
Dude, you made kimchi fried rice?
Dude, you made melona soju? 
Dude, you made Doritos grilled cheese?