Deep-fried Spam musubi is back on Oahu
Da Kitchen has returned — here's how you can get Maui's famous fried musubi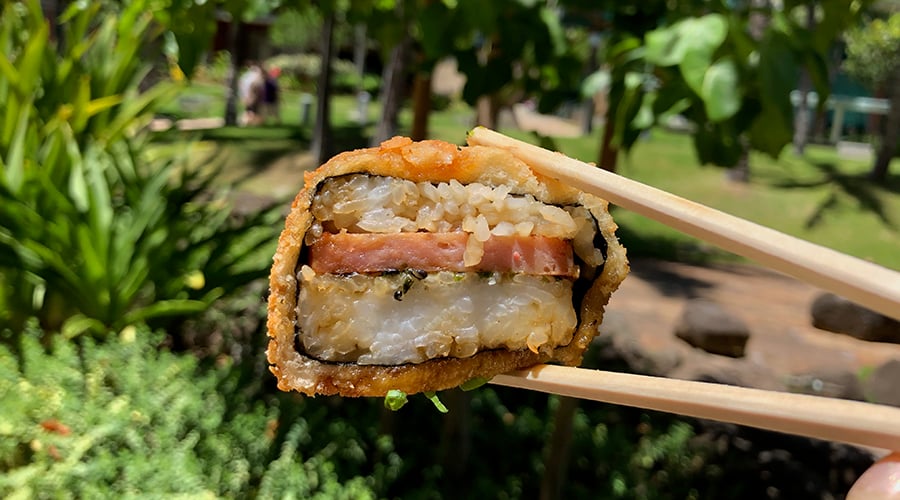 Guess what, Oahu — you can now get deep-fried Spam musubi in Kakaako.
These fried musubis have a cult-like following at Da Kitchen on Maui. Da Kitchen was also in Moiliili for a while, but that spot closed in 2013 and you had to fly to Maui to get your Spammy GBD morsels. I still remember my first time. I missed Da Kitchen when it was on Oahu, so this musubi from the Kahului restaurant was a bucket-list item — I had been following Da Kitchen on Instagram long before my inagural visit.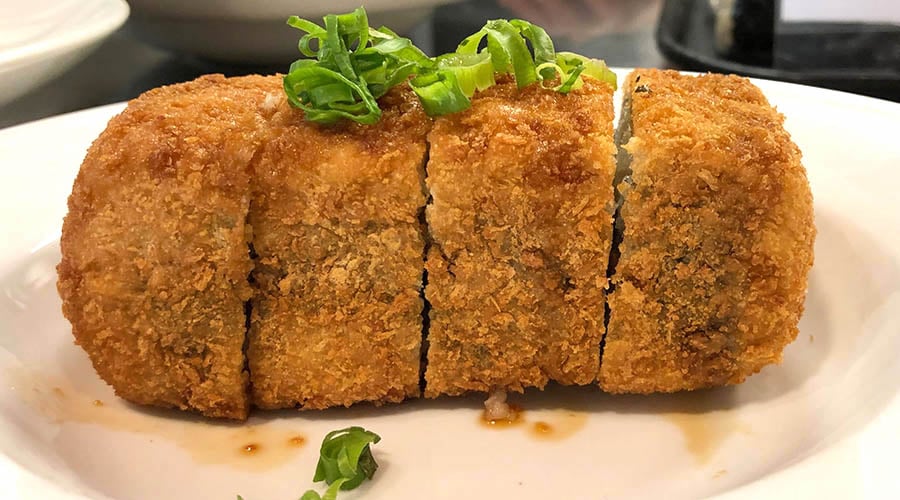 It was worth all the anticipation. This glorious concoction turned out to be a well-flavored musubi with a good Spam-to-rice ratio that's crusted in panko and tempura batter and deep-fried. So simple, but mind-blowing. The fact that it's deep-fried makes it wondrous, with a crunchy crust that gives way to a delicious soft interior.
Imagine my excitement when I found out I could get my hands on these on Oahu. Da Kitchen Kakaako is a hidden gem in the UH Medical School cafeteria. Literally, there's no signage or anything. Just look for the cafeteria or the sign 'Café Waiola' on the glass doors. It opened quietly a few months ago, known mostly to students and UH faculty, but recently word started getting out that Da Kitchen is back.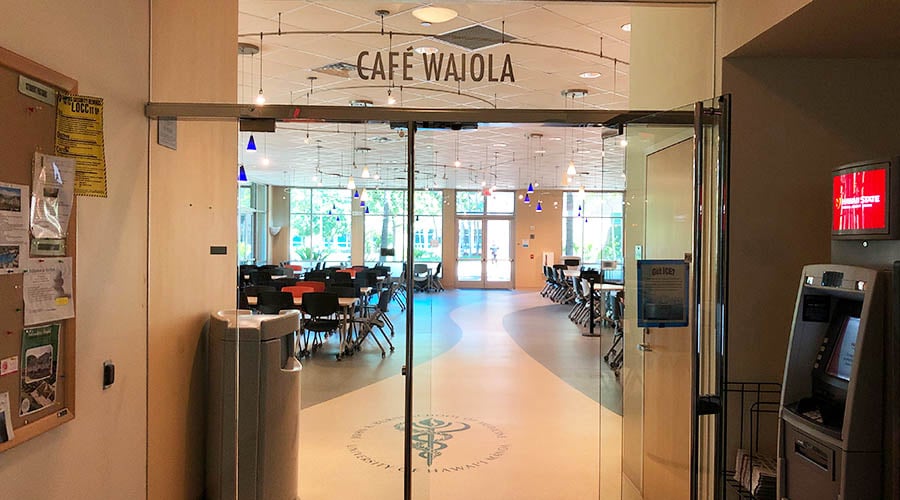 Da Kitchen Kakaako is different from the Kahului restaurant. One, it's a fast-casual, counter service spot, so there's no wait staff. There are plenty of grab-and-go for UH students, but also gourmet plate lunches. You can order online in advance from Da Kitchen Kakaako's website, and they also deliver.
If you're familiar with the Kahului restaurant, you'll know the humongous portions and prices that match — like gigantic loco mocos that cost $19.99 to $21.49. While you won't find larger-than-life plates in Kakaako, portions are still generous, but the prices are friendlier. Most bowls and mini plates cost $6 to $7.50, and plate lunches are $10 to $12.
Chef-owner Les Tomita flies over from Maui every weekday. He says the Kahului location still dishes out more than 1,000 orders a day. Luckily the Kakaako location doesn't have the outrageous lines or wait times that go with that kind of volume.
But on to what I know you're wondering about — that deep fried Spam musubi.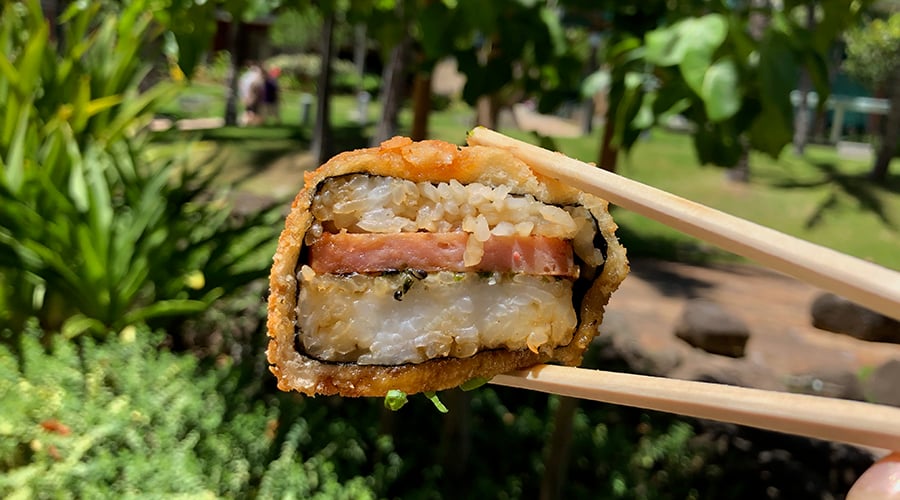 Since it's time-consuming to make, you can only get this through pre-order. That may change by the time this post comes out. Tomita says the musubi will eventually be on the in-store menu, but if you want to guarantee one, definitely pre-ordering (I did that twice). Whenever Da Kitchen makes these addictive rice balls, they sell out quick.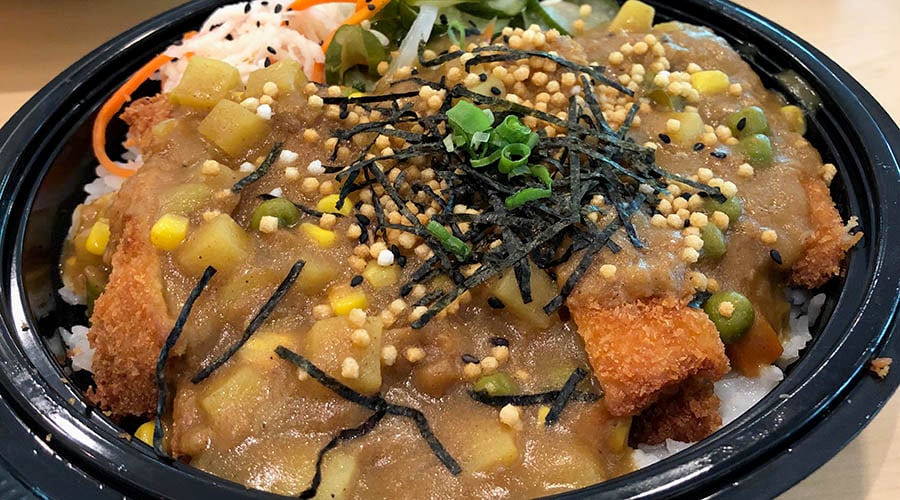 Other recommends include the chicken katsu curry. The katsu is thick and tender, with a gloriously crispy crust, but it's the flavorful curry that takes it to the next level. This is life-altering. I like it better than the regular chicken katsu plate, and that's a bold statement. I usually prefer to eat my katsu and curry separately, but this is a killer combo. It's no surprise that this is one of Da Kitchen's signature dishes.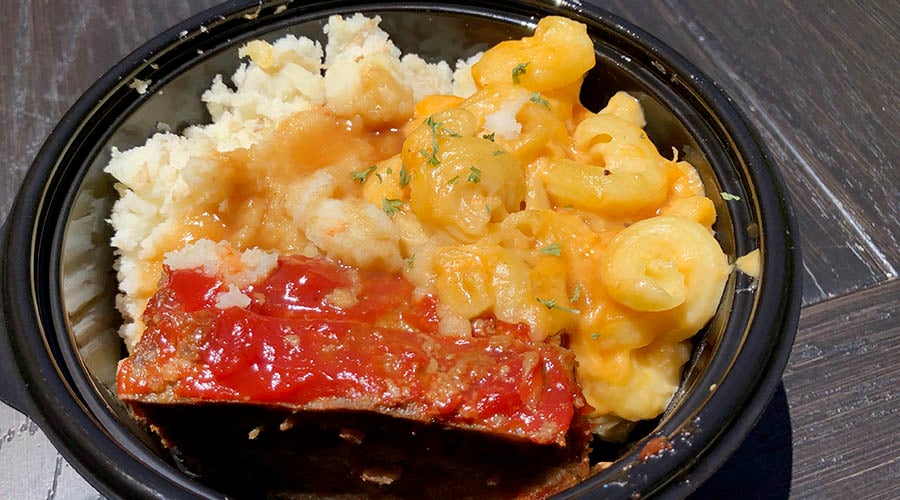 This isn't the most photogenic dish, but I have to make a case for the meatloaf. Next to the katsu curry and fried Spam musubi, this stays on my brain. The meatloaf, like all other entrées, is made in-house, and it's super moist and flavorful. When it's paired with ooey, gooey mac and cheese and mashed potatoes, it's comfort food nirvana. Next time I'm getting the regular portion, which comes with Molokai toast in addition to everything else. I'm all about that carb life.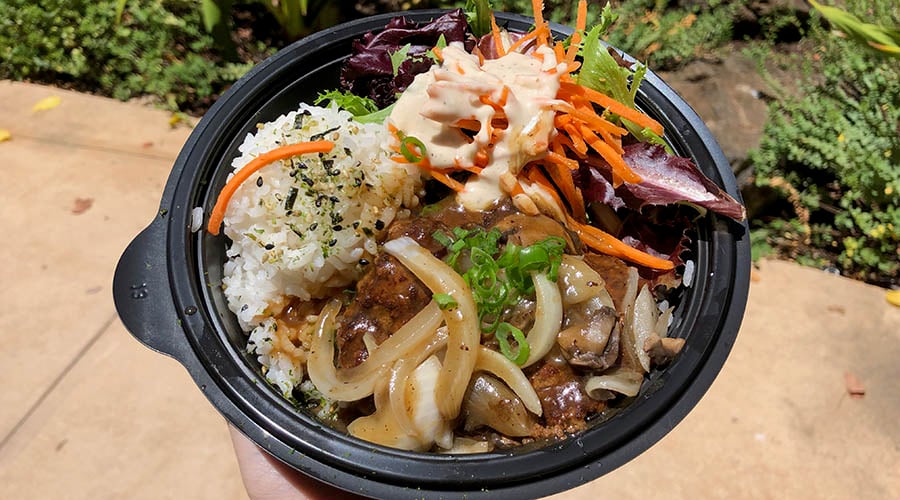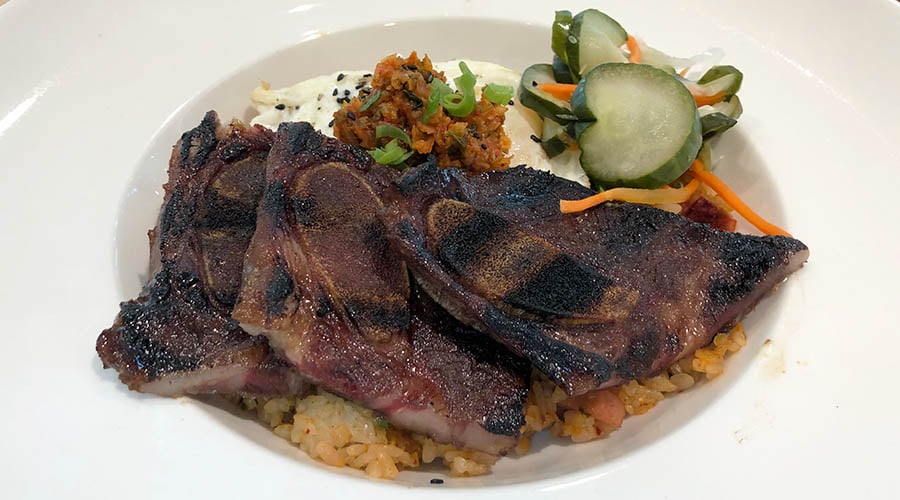 If you're in the mood for traditional plate lunch, go for the hamburger steak ($11 regular, $7.50 mini), kalbi ribs ($13) or daily bento ($12). The gravy on the hamburger steak is downright addictive, and the kalbi ribs are super tasty and the meat isn't tough or chewy. The kim chee fried rice that comes with gives it added zing. If you want a sampler, order the daily bento. Its contents change daily; on a recent visit the combo had hamburger steak, teri beef and teri chicken.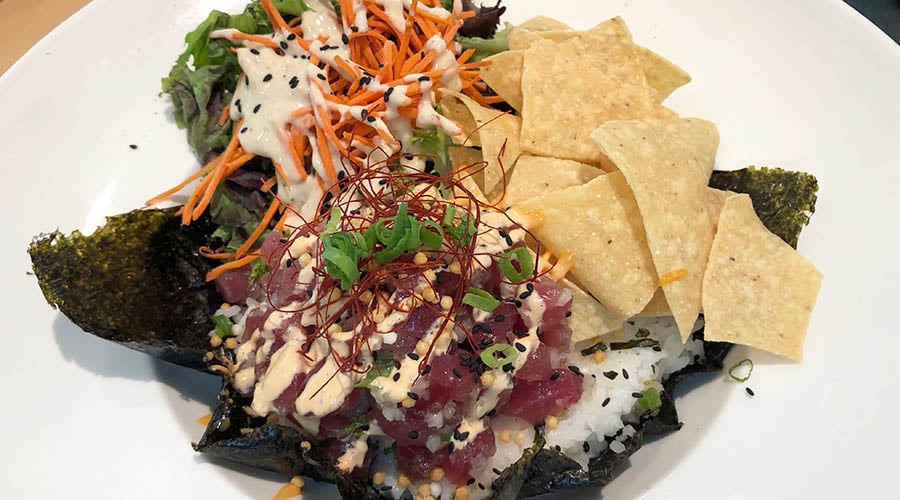 The regular lunch menu already has a good variety; throw in the daily specials and decision-making gets harder. I love fresh fish, and this ahi poke bowl with bubu arare doesn't disappoint. Other popular specials include Korean braised short ribs ($13) and fried rice loco moco ($10). They aren't on the regular menu, but they're so popular that they'll be added soon.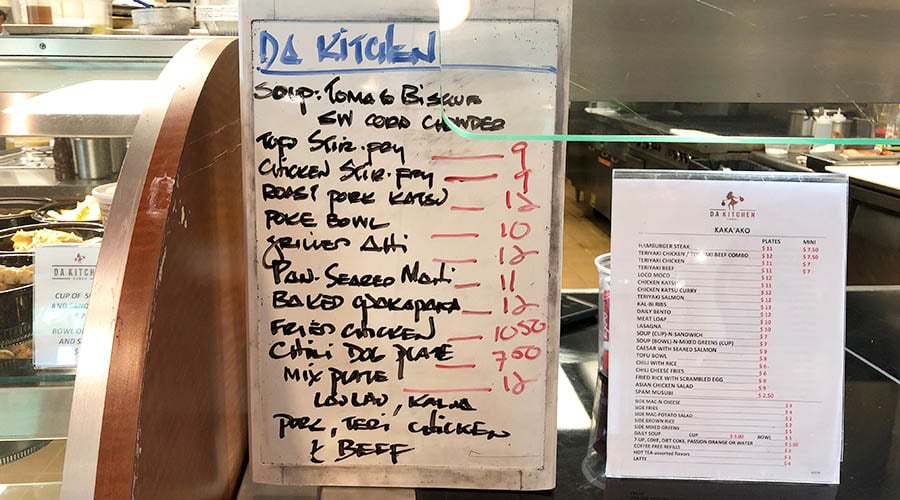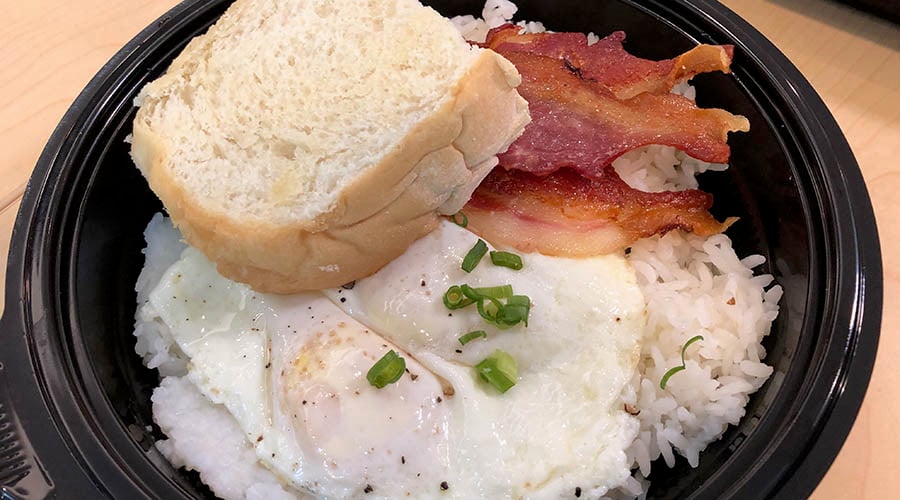 Breakfast is available on weekdays with filling breakfast bowls for $5.50 or $7 with bacon, Portuguese sausage or Spam plus eggs and rice.
For me, the fact that they have delivery to Downtown and Kakaako from 12 to 3 p.m. via ChowNow might be a dangerous thing. I work Downtown and this puts my beloved deep-fried Spam musubi just one computer click away from the comfort of my desk. On the other hand, I won't have to wait in line for my next order.
Da Kitchen Kakaako
John A. Burns School of Medicine (JABSOM)
651 Ilalo St.
Kakaako
888-3488
https://dakitchenkakaako.com/
Mon-Fri 7:30 a.m.-2:30 p.m.
For fried Spam musubi orders, email dakitchenkakaako@gmail.com
Paid parking in Visitor Lot C at JABSOM or metered street parking