Da Zippy's fried chicken sandwich hack
Little bit DIY but da results stay so ono!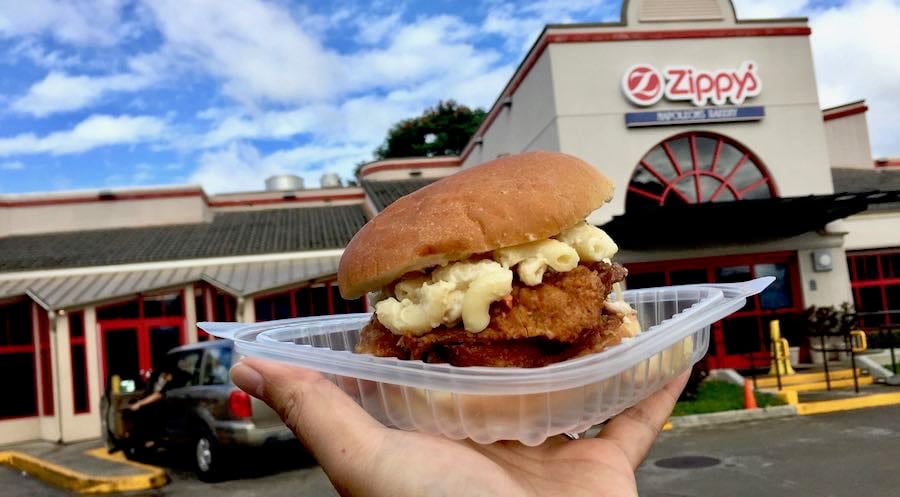 Mac Salad Chicken Sandwich? If you look da menu at Zippy's, you probably tinking, Eh, no more one Mac Salad Chicken Sandwich, Leeeeeeee! Are you tricking us? Did Frolic accidentally run your April Fool's writeup in December?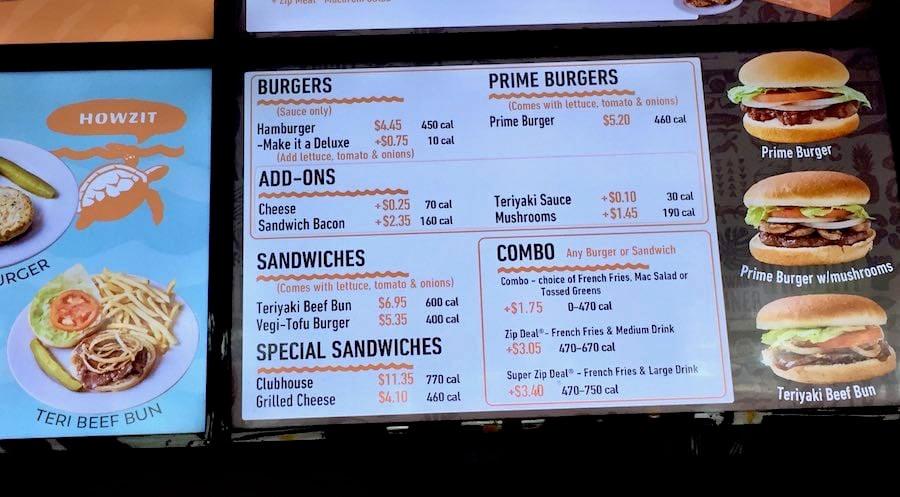 Trust me, this is all for reals. K, so, Frolic reviewed da Popeyes chicken sandwich when it came out. An'den we listed oddah places in Honolulu with noteworthy chicken sandwiches. Some of these had cole slaw, Asian slaw or egg salad on top. But I wondered, how come we no can have one even MORE LOCAL-ER chicken sandwich? And I thought to myself, what would that look like? Well, every local plate lunch comes with mac salad. And da local-est fried chicken is Zippy's chicken. Zippy's should have one Mac Salad Chicken Sandwich!
But they don't.
So I just made one, sitting at one table in Zippy's takeout section, using their own in-gre-da-ments.
And you can too!
See also: Best fried chicken: Our Top 5
Step 1
Order one Chicken Mini-Pac ($7.95) with side order hamburger bun ($1.35).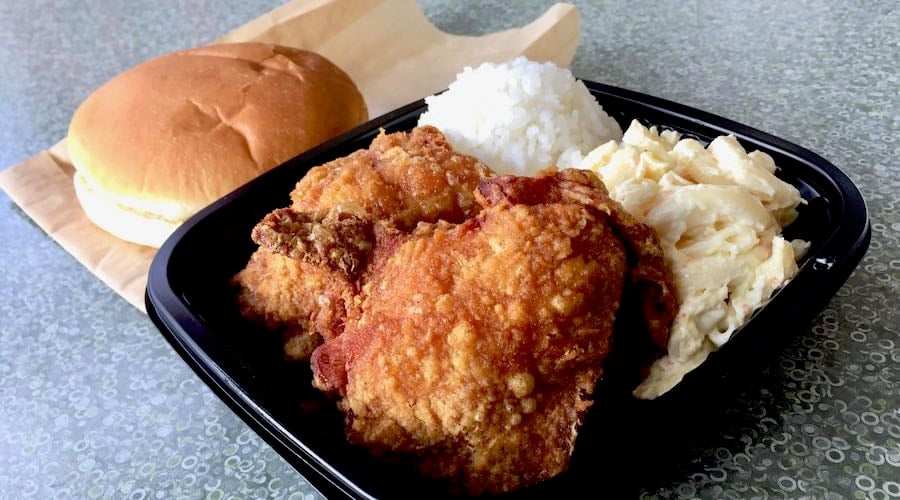 Step 2
Strip da fried chicken off da bone and place da meat on da bottom bun. (Tip: Bring wipes or ask for lotta napkins, cuz this can get messy.)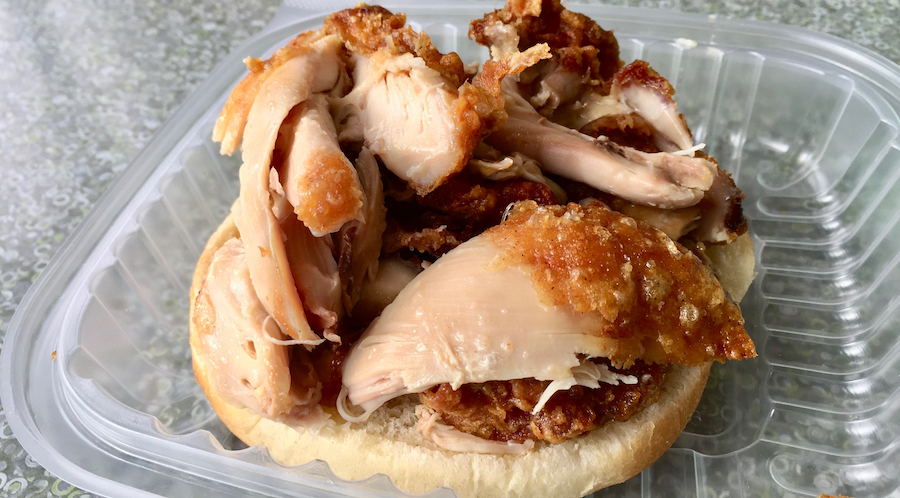 Step 3
Put da skin on next. (Tip: I kinda kept da skin intact, cuz I thought it would look nicer for da picture, but it's actually easier for eat if you break da skin up a little.)
See also: Is Popeyes chicken sandwich worth all the hype?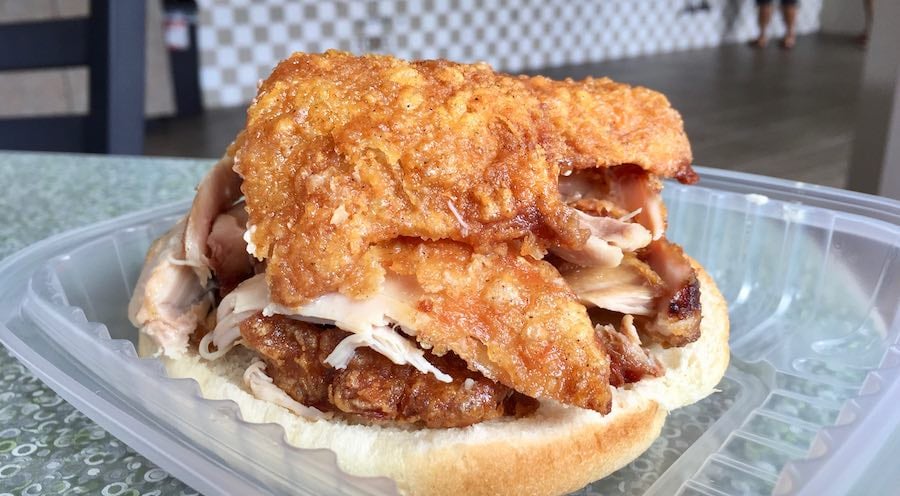 Step 4
On top da top bun, place da mac salad.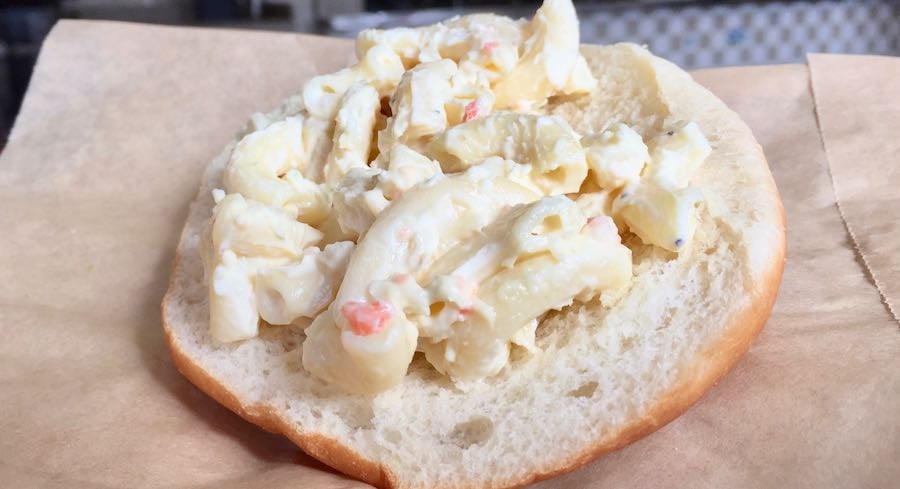 Step 5
Place da top bun with da mac salad on da bottom half of da sandwich. Den it's time for grine!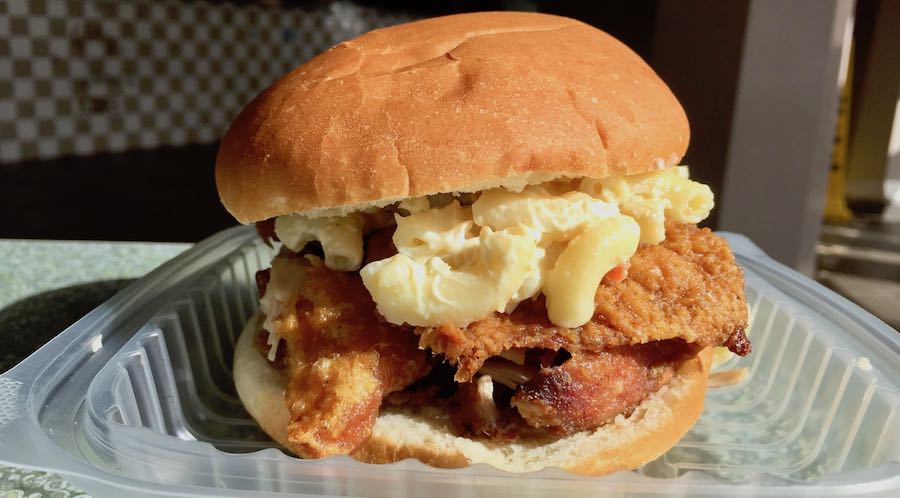 How is dis hack? I tink da Mac Salad Chicken Sandwich is da bomb. It doesn't rely on gimmicky sauces or pickles. It's just pure classic Zippy's goodness between two buns. It's pretty much crispy, juicy chicken perfection smothered with one scoop of local umami. But if we talking crazy, maybe da next time, I might get this with one side order chili and make this da Mac Salad Chili Chicken Sandwich. Then we'd have my complete Zippy's trifecta, my three favorite Zippy's tings all in one sandwich.
See also: Here are Honolulu's OTHER fried chicken sandwiches
That might actually be one good idea, cuz I dunno what for do with da leftover rice. Cuz for da mini pac, I tried for see if I could get two scoop mac salad. Cuz you can sub out da mac salad and get two scoop rice. But apparently no can do 'em da oddah way around. Da lady said it would cost extra. So I said ne'mine den.
For this picture I used most of da chicken and most of da mac salad. But this ting is so huge that I tink you could actually make two sandwiches with just one mini pac. So if you going chance 'em with a friend, you might consider ordering one chicken mini pac and getting two sets of hamburger buns for make two sandwiches!
Lemme know what you tink, yeah! I tinking mac salad in your sandwich might actually become a thing. After my Mac Salad CHILI Chicken Sandwich, da next one I wanna try make is one Zippy's Mac Salad Teriyaki Prime Burger! Zippy's, you listening? #nomonomoono #nomonomomessytoo