Da Ruth's Chris of hamburger steak
Everybody said you gotta try Dot's. Dey wuz right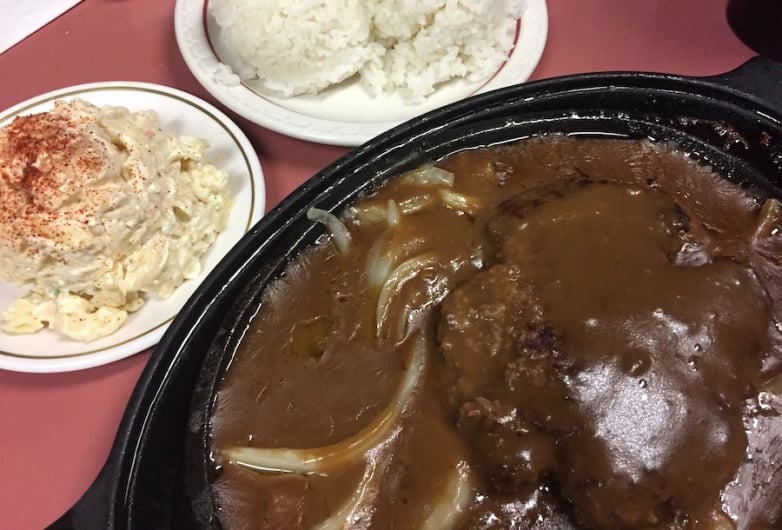 In order for determine if one local restaurantʻs any good, my friend David Miyashiro has devised what he calls The Hamburger Steak Test. When he goes to one restaurant for da first time, das what he orders. And if it tastes good, den he'll go back again. He reasons dat if dey can make one good, basic Hamburger Steak, den surely dey can make more complicated stuff taste good too.
Da main criteria for decent Hamburger Steak is da ting gotta be made with homemade patties. Kinda surprising how many places try for use premade patties and just throw some gravy on ʻem and then have da nerve for call that Hamburger Steak. Nuh-uh! And while many places might be able for put together one competent Hamburger Steak, it's really hard for find any place dat makes it truly outstanding.
Das why I polled all my friends, "Where get da best Hamburger Steak?" and many of dem said, "Ho Lee, you GOTTA try Dot's." I thought Dotʻs Restaurant in Wahiawa wuz more known for their Japanese food, so da couple times I went before, it nevah occurred to me for try their Hamburger Steak. But since so many people was telling me I gotta chance ʻem, I figured I bettah go. Mostly I was going for satisfy my own curiosity, but I was also going because I knew if I didn't go, den my friends would keep nagging me, "So Lee, did you go to Dot's yet? Did you go to Dot's yet?" So irras.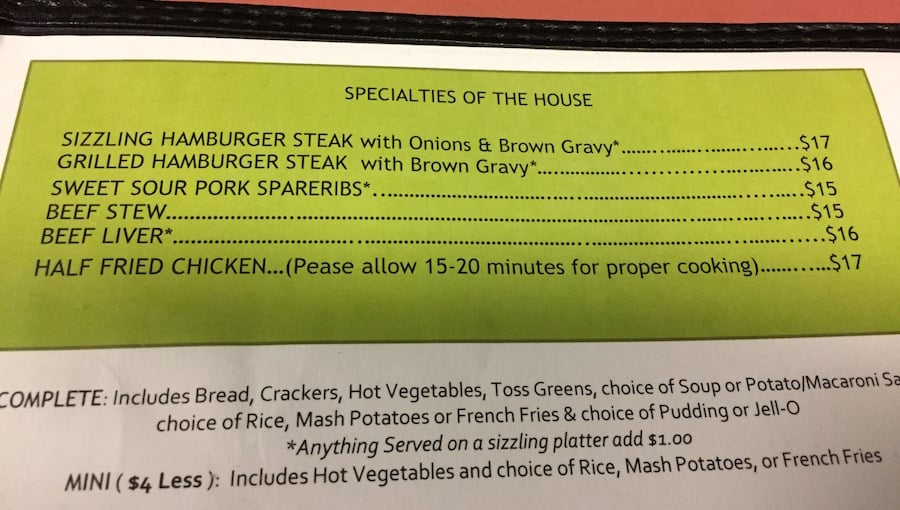 You know how when you go Ruth's Chris Steak House, da steak comes on top one sizzling plate, now try imagine that with Hamburger Steak instead. At Dot's dey call ʻem Sizzling Hamburger Steak with Onions and Brown Gravy. It's interesting cuz Dot's charges dollar more for sizzling platters. So dey do offer non-sizzling Grilled Hamburger Steak. But I wuz dea for da full on pomp and circumstance, so saving dollah on da regular one really wuzn't one option.
Most impressive was da fact that I didn't have to look around to see when my order was coming, because I could HEAR it coming. Da restaurant is very safety conscious. When they bring this Sizzling Hamburger Steak, it comes with one piece wax paper on top to prevent oil and gravy splatter. Warning: Dis dish is so sizzle-ly, da noise might scare your little keiki. It made da little ones in our vicinity cry.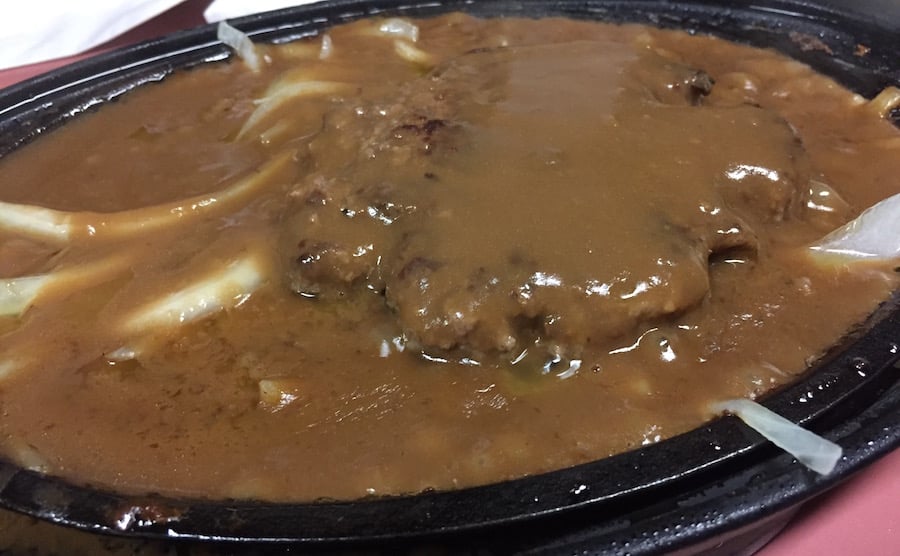 I got mines with rice and potato-mac salad. But you can get french fries, toss greens, hot vegetables, mash potatoes or soup instead. Da patty was one nice size patty. Definitely homemade.  I liked dat dey gave choke-planny gravy and da Hamburger Steak itself wuzn't dry. Some places tink no matter if it's dry, cuz when you put gravy on top, no can tell. But CAN tell.
Dot's one wuz really quite tasty and bettah than 90 percent of da Hamburger Steaks out dea. While da gravy wuz plentiful, it wuz a little rich for me. I asked da waitress, "Eh, I know how come your Hamburger Steak taste so good. Your gravy, get lotta butter inside, ah?"  She laughed and confirmed dat it did indeed. I tink so das their secret — everything tastes better. . . with butter.
As for The Hamburger Steak Test: Dot's passed it with flying colors. But dis experience has revealed one inherent paradox within da test. Da purpose of The Hamburger Steak Test is to see if everything else at da restaurant might taste good. But what happens when da Hamburger Steak tastes so good that you don't even wanna try anything else da next time you go?
Dot's Restaurant
130 Mango St.
Wahiawa