Chorizo or chili? Bratwurst or Chicago? Ranking Hank's haute dogs
Yup, we tried them all
Opened in 2007, before the earliest inklings of the redevelopment that's still enveloping Kakaako, Hank's Haute Dogs manages to feel both nouveau and like it's been there for ages. It takes the humble hot dog of our youth and elevates it into foodie fare without foodie pretension. Best of all, it embodies the all-American cheerfulness of its prime product.
Owner and sausage maestro Henry "Hank" Adaniya may have shifted locations—from his previous low-ceilinged curbside shop to a green industrial box—but his "haute" dogs are still a popular and celebrated institution and destination for visitors and locals alike. For this installment of HONOLULU's Taste Test, contributing editor James Charisma and senior editor Don Wallace went mano a mano against the entire lineup, with a couple of nonwiener surprises thrown in.
The Rankers:
James is from God's hot dog country: New York City's Upper West Side, where he grew up two blocks from the famous 72nd Street Gray's Papaya. This ignited a lifelong passion for meaty tubes—from the sport pepper, poppy seed and celery salt likes of Portillo's in Chicago to the bacon-wrapped, bean-and-onion-topped decadence of Sonoran-style hot dogs in Tucson. Near James, no sausage is safe.
Don claims hot dog chops (who doesn't?) going back to boyhood (of course) and especially baseball games (duh). Born and raised in Long Beach, he wolfed his first wiener at Ron Fairley's Dugout, dodged gangbangers to get to Dooley's Hardware, drove through Der Wienerschnitzel in high school, played hooky to hit Joe Jost's (where he had his first beer), and attended Dodgers games with his grandfather, who introduced him to the Wallace Way of Wiener: "We only order Hebrew National All-Beef Kosher Dogs." (A 23andMe test 40 years later maybe explained why.)
James and Don ordered every dog option on Hank's menu, staggered in groups of three. Adaniya himself came by with our first flight, during which he filled us in on his sausage sensibility: born in Los Angeles, moved to Chicago—enough said. The Chicago-style hot dog is royalty.
10. Andouille ($6.95) — tie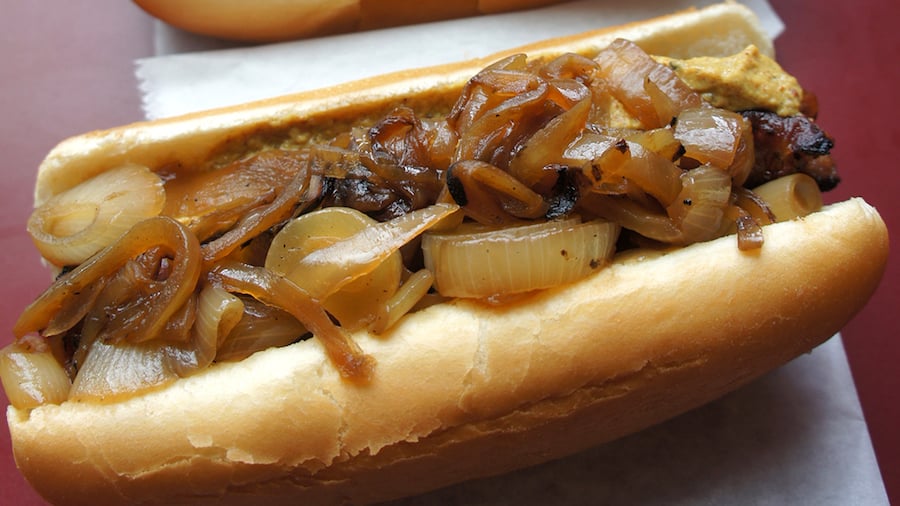 Don Wallace: It's funny how andouille is pronounced. An-doo-weee!
James Charisma: An-doo-way!
DW: In France, it's an-doo-ya and it's disgusting, a cross-section of layered intestines that smells like it sounds. But here, it's Cajun and savory. I'm not a fan of mustard on chorizo or andouille. But this hits a bright note. It's bright yellow.
JC: I love the caramelized onions. The paprika—I think it's paprika?—is a little heavy.
10. Chorizo ($7.75) — tie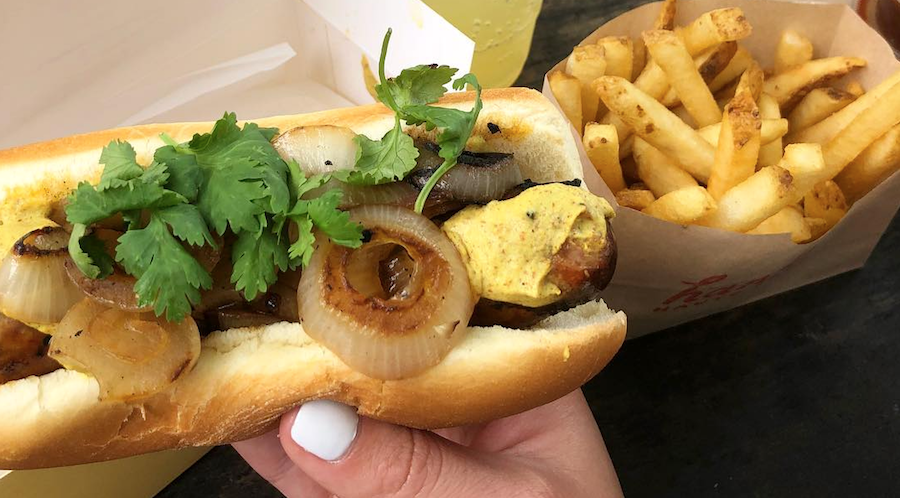 DW: I love chorizo, either the dry Spanish kind or the wet Mexican kind. This chorizo is trying to split the difference. I don't know.
JC: It's peppery, which I appreciate. But very lean. It needs to be fattier. Then again, I say that about all the food I eat. It's actually putting me in the mood for a Seattle dog, the kind with sliced jalapeños right on top. Gimme that fire.
DW: The flavor is chorizo-esque. Here, I refer to my touchstone chorizo torta from Taqueria EL Grullense in Palo Alto on El Camino Real. Its chorizo torta is guaranteed heartburn for me, but I got to have it. Here's why: sour cream and guacamole. You get the heat of a wet Mexican chorizo cooked until it's slightly crispy, then you get the cool blanket of cream and guac. You tell yourself it's moderating the chorizo and you won't get heartburn. But you will, after you finish, of course.
JC: You magnificent sadist.
8. No Dog ($5.50)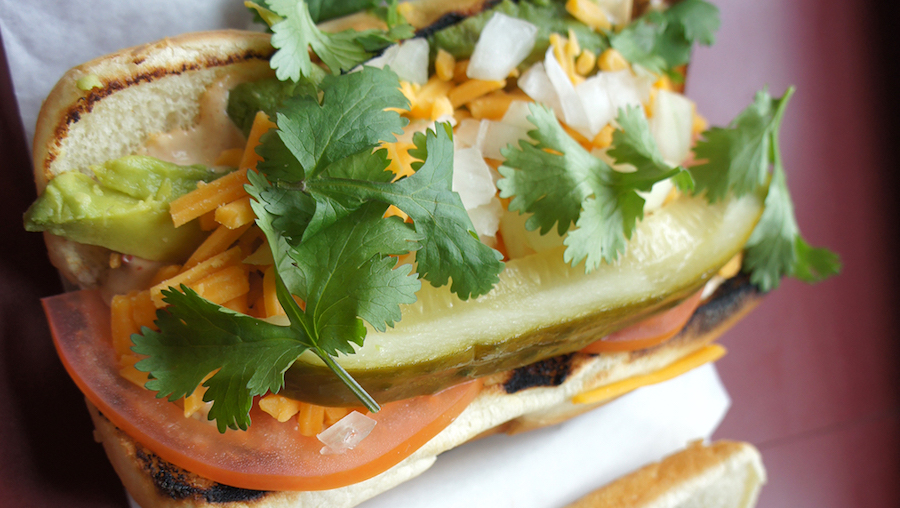 JC: You know, I originally tuned out when Hank said "no meat," but I'm coming around. This is tasty.
DW: Well, whaddya know. It is.
JC: It's not just the obligatory vegetarian option. Hank said the pickle was meant to be the dog. I guess it's sorta hot dog-shaped. But it's really the avocado and cheese that's at the meatless core of this one.
DW: I've never had a pickle-avocado pairing, but it's working for me. Love the raw, white onions, too. Lot of snap. I could see ordering this as a palate cleanser. A bite of hot dog, a bite of No Dog.
7. Chicken Dog ($8.95)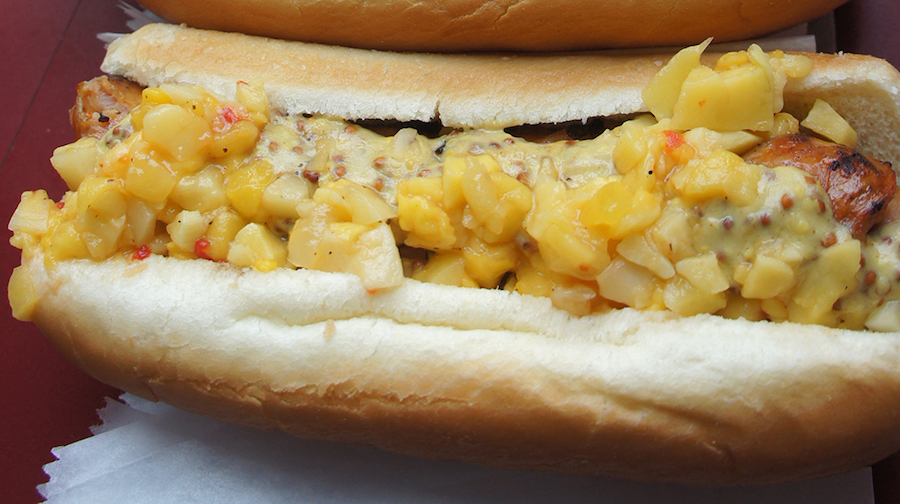 JC: Looks like it's covered in corn chowder, but it's some sort of fruit? Jeez, and I call myself a writer. Let me read the damn menu. "Sweet mango chutney." Beautiful. Very light and pleasant.
DW: Agreed. It's a chicken sausage, Jake. A nice one.
6. Bratwurst (temporarily unavailable)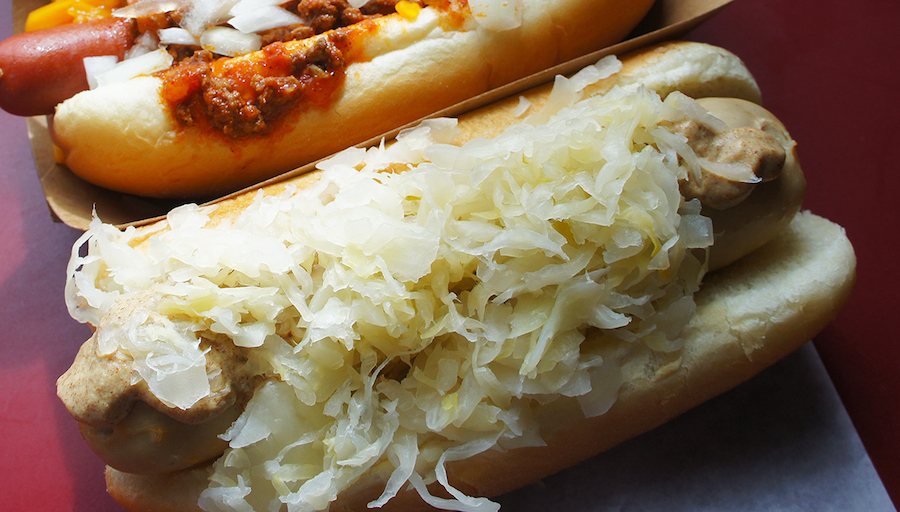 JC: Look at the girth on this bastard! This baby's an inch thick, quite the bang for your buck.
DW: Very solid. Sheboygan-esque. We should be having a Dusseldorf brown beer with this. But let it be noted it's 11:30 a.m. and I'm sticking to Hank's excellent sweet-tart liliko'i lemonade.
5. Hawaiian ($6.50)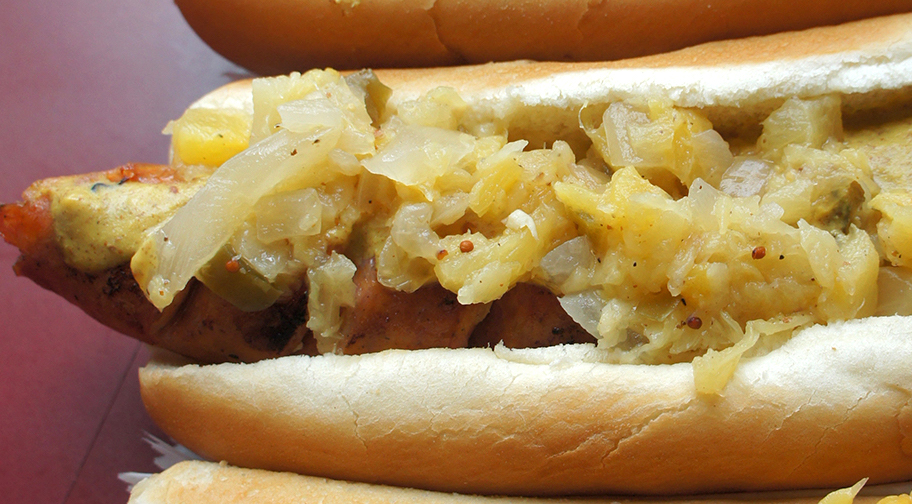 DW: Except for carnitas, I generally dislike pineapple on stuff—particularly pizza. But this is good. The sausage doesn't overwhelm, it's more compact, less fatty.
JC: Agreed. Usually pineapple is too intense as a topping on anything, but this meat is strong enough to hold its own. Very nice. Very refreshing, as "refreshing" as hot dogs go.
DW: (examining the cross-section) This is more like the linguiça you get in California, in San Pedro. That's where the Portuguese sardine fleet docked. My dad would take me to Trani's to hang out with L.A. Rams players who used it as their clubhouse. So, for me, Trani's in a bun is a good thing. It's Proustian.
JC: Really? Because I'm feeling distinctly Faustian, sinning hard with all this pork and fruit.
4. Hank's Frank ($5.50)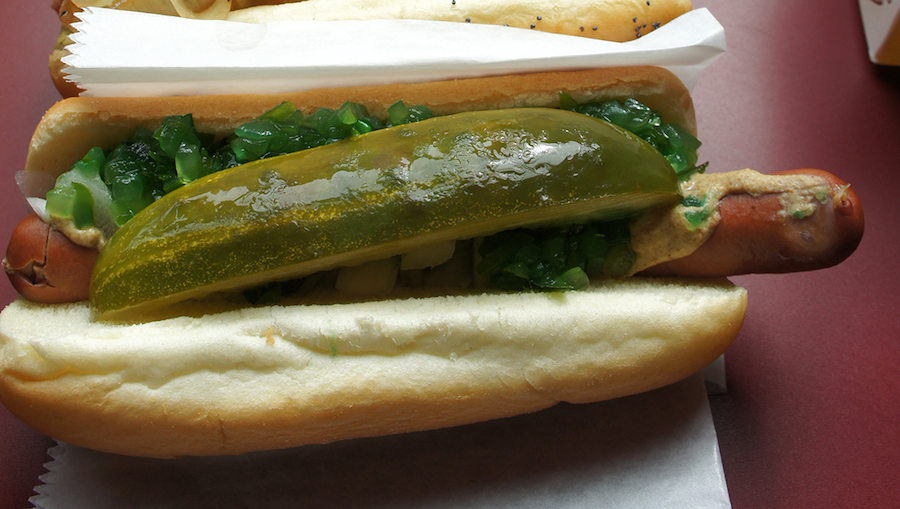 DW: Hank talking about the 10-cent dog that inspired this reminds me of Dooley's Hardware growing up. It took a long bike ride to get there and you went through gang territory, but it was worth it. So is this. Look at that fluorescent green relish.
JC: We're like moths to that green glow! My favorite dog so far. These sautéed onions are something else—in a good way. The wiener may be skinny but it's meaty and satisfying. I'm not used to this hybrid, of the Chicago-style relish and pickle balanced with the East Coast-style onions and mustard. But Hank makes it work.
3. Chili Dog ($6.30) — tie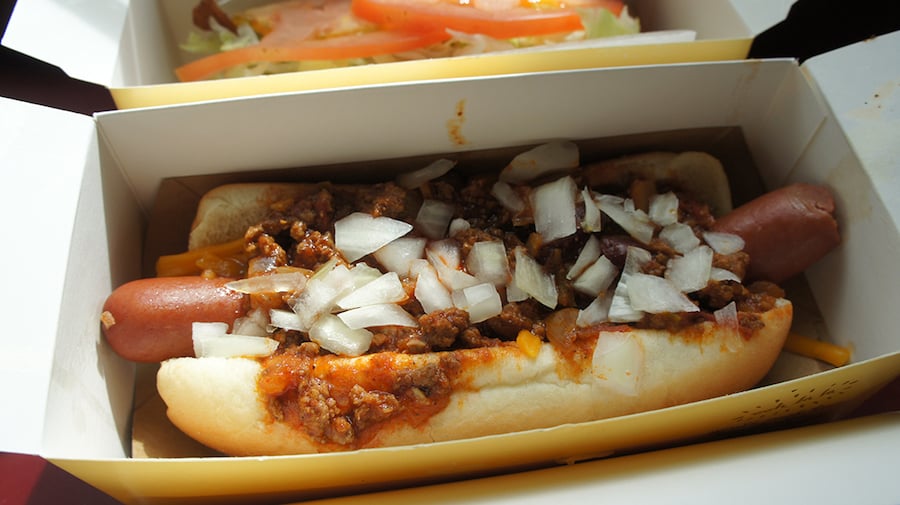 JC: (food snarfling sounds) This is it. The best.
DW: OK, lemme at it.
JC: Hank's a genius. He layered the cheese in between the chili and the hot dog to keep the bun from getting soggy. I suffered through a chili dog in Chicago just last spring that literally dissolved in my palm.
DW: You definitely can't have the bread disintegrating. I remember eating five of these from Der Weinerschnitzel before picking up my high school girlfriend, poor thing. Chili dogs were our high school date food. You take your girlfriend to the drive-thru and get chili dogs and she's looking at it, like, oh no.
JC: Oh yes.
DW: Damn, this is good. Hank's chili is good. Look out, Zippy's.
3. Fat Boy ($7.95) — tie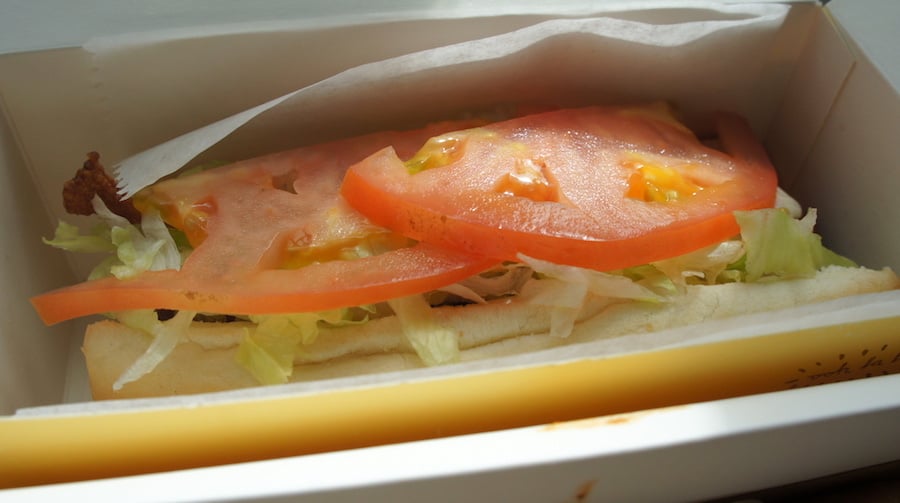 JC: (eyeing the thin wide tomato slices covering the Fat Boy) Not a looker. But, wow, this does taste just like a BLT. Finally, a BLT where the bread doesn't scrape the hell out of your soft palate.
DW: God, it really does register as a BLT. Amazing. With that beef bottom note, the shredded lettuce and tomato—I'm stoked. Diner classic here.
1. Chicago ($8.50) — tie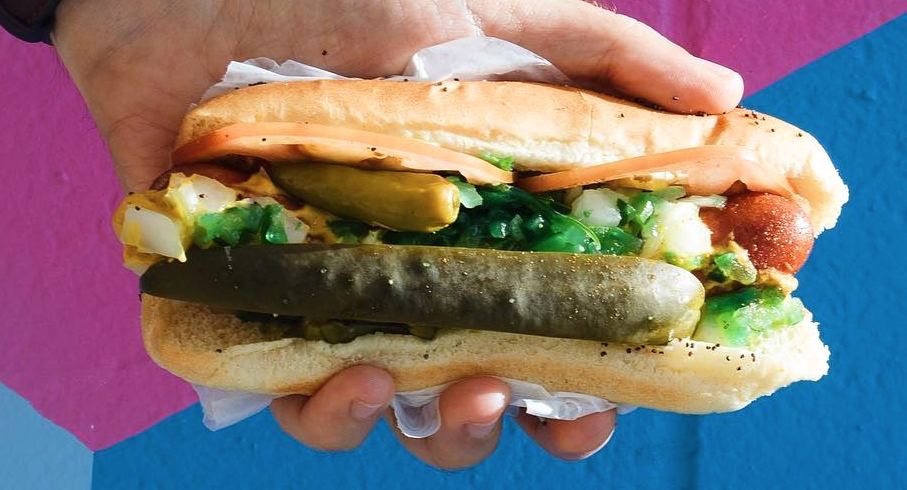 DW: Great first bite of sausage comes through the jungle. The Chicago dog, it's often something you're ordering as a last resort at 10 p.m. in Illinois. But this tastes really good. I could say, game over. But let's suspend judgment for the nonce.
JC: I'm not a fan of sweet relish, which is usually that watery, sugary crap from a jar. But this tastes bright and fresh. Not overly sweet. The sport peppers are crisp.
DW: This is a classic Chicago, which is perhaps unfair to the rest given its lavish garden of toppings.
JC: You're getting your money's worth in ingredients alone.
1. Polish ($8.50) — tie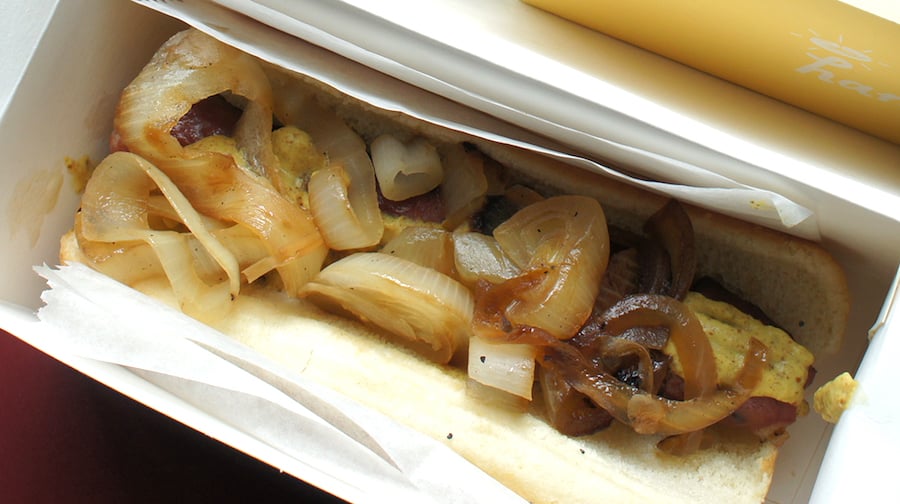 DW: The Polish one is dog-first, very meat-forward, with heaps of grilled onions. The mustard is upfront; with the other dogs, you're not really tasting mustard immediately. I took a bite and immediately spilled on myself, which I think is critical. The best hot dogs are the ones where, after you eat them, you have to change your shorts. This Polish did it.
JC: This is the hot dog of my dreams. Slightly caramelized onions nestled atop tangy yellow mustard on a very beefy dog. This is the kind that you order on the street, piping hot, from a guy with a food cart. And yes, definitely the same kind that ends up spilling everywhere, especially pants. I love it.
324 Coral St., (808) 532-4265, hankshautedogs.com