Chef's picks: What to eat at Rangoon Burmese Kitchen
Everyone's had the tea salad. So we asked Khun Sai to take us next level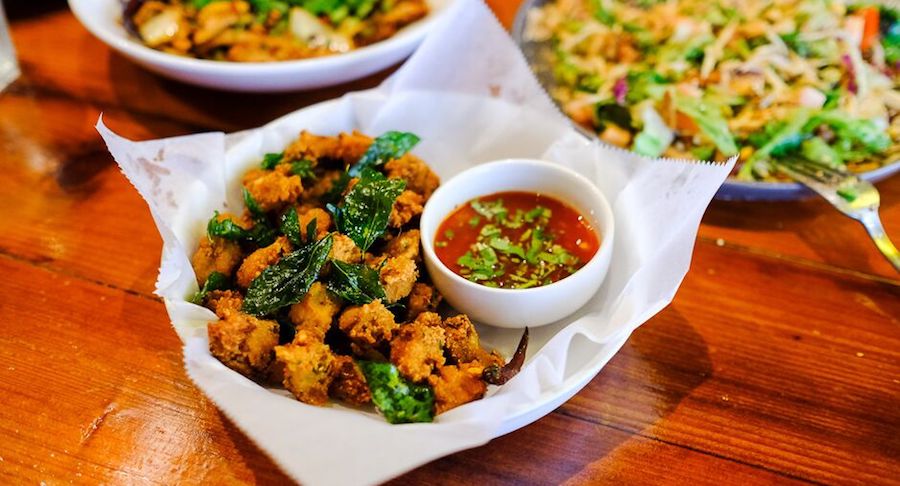 I met Khun Sai, chef-owner of Chinatown's Rangoon Burmese Kitchen, at last month's Hale Aina awards. Or rather, Sai had just won Best New Restaurant – Editor's Choice, one of only two awards selected by the top eaters on the Honolulu magazine staff, and I cornered him at a cocktail table and went all fangirl. I gushed about how I'd eaten at Rangoon three times in six days when it opened last summer, how I've been numerous times since, but every time with the same problem: I like the same five dishes so much, I can never order anything else.
Poor Sai looked shell-shocked. Can you help? I said. What should I get? What?
Let me know when you come in, he said. I'll recommend for you.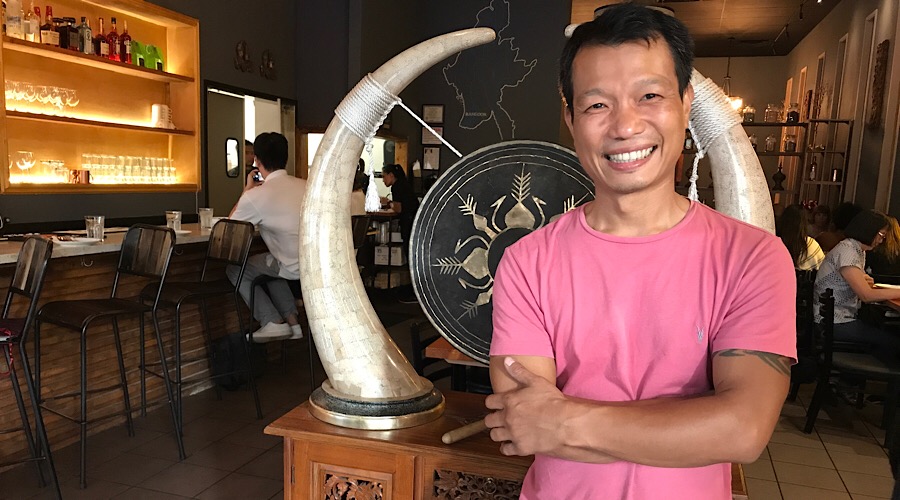 In retrospect he may have been trying to get away, but at any rate I was very excited. I took him at his word and showed up the next week with four friends. And I have to say, the flavors that woke up our palates that night, in dish after dish I would never have thought to order, made me go back the next week to discover more.
So here they are, for you who've had the famous tea leaf salad and samusas and maybe even the lamb curry and the garlic noodles and fragrant biryani — and now you're ready for more. Here are the dishes Sai loves from his native Burma, and that I've come to crave now, too.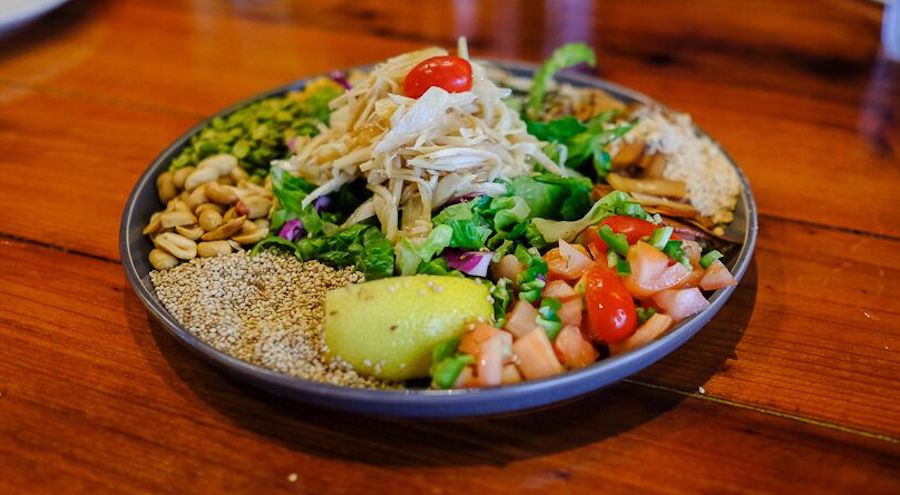 Sai mentions this, but I already know it: Rangoon's improbably swoonworthy ginger salad ($13). Ever since a server named Mai recommended this a few months ago I've gone evangelical, converting everyone I get to try it. This is way beyond tea leaf salad, beyond even my beloved mango salad: Softly crunchy strips of ginger, its fresh sting muted but still vibrant, permeate a mix of nutty, citrus-tart freshness and crunches from dried legumes.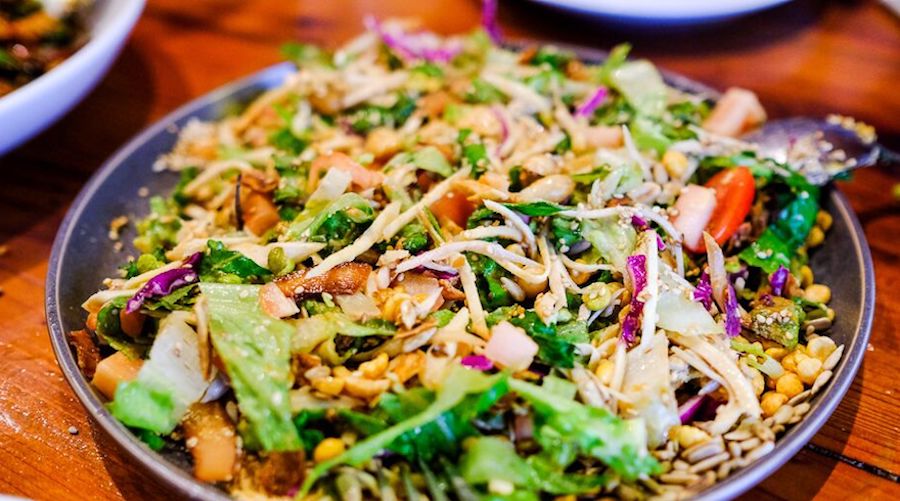 You get this once, you'll never look back. Great with any rich or meaty dish.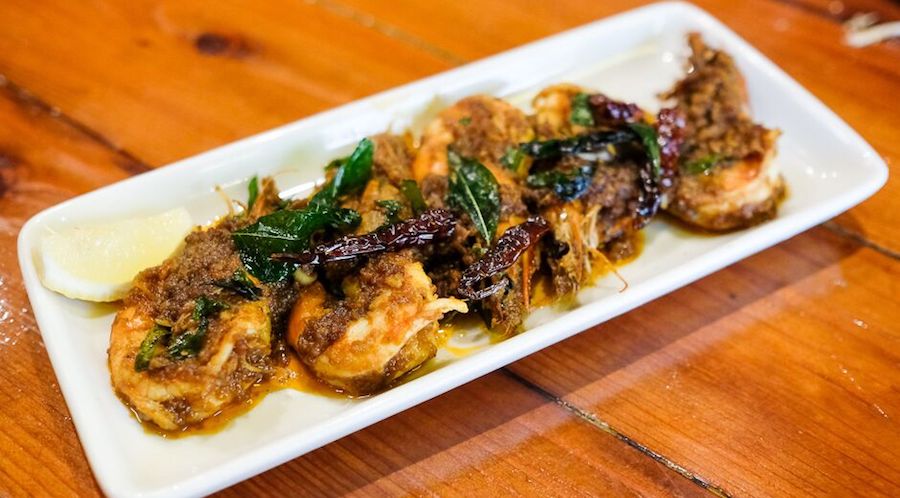 The fragrance of lemongrass wafts across your palate, then you realize the rich depth of the sauce on the lemongrass prawns ($14) is more than the sum of its garlic, onion, ginger, lemongrass, dried chili and dried shrimps. Not wow in appearance, way wow in flavor.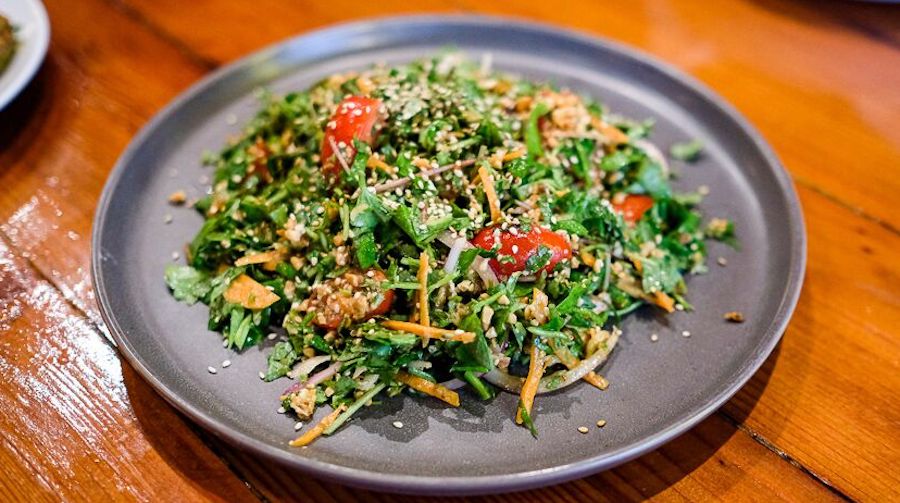 Pennywort salad ($10), Sai says, is the first thing he looks for when he gets off the plane in Burma — and then he has it with a cocktail. The flavor is one part zingy with depth, two parts mysterious. It's a new green to me whose flavor is hard to describe. But it makes you feel light and elegant.
And by the way, people, there's another reason I write this now: Rangoon, one of the city's best spots for BYOB, recently got its liquor license. Sai says it will likely remain BYOB only for another week or two. He already has beer and wine ready to serve and is finalizing his cocktail recipes. When that happens, there will be a corkage fee, so if you're fond of bringing your own sake, beer or wine, go now.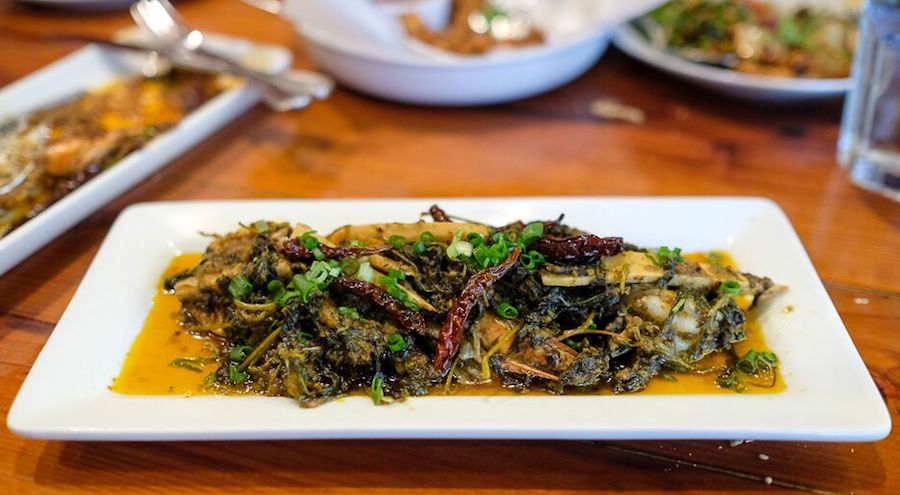 This may look murky, and a description like sour leaf prawns ($18) may not make you drool, but if you're a fan of tang and spice and umami, get it. Roselle leaves, widely eaten in Burma, are dried in the sun by Sai's mother in California and mailed to him at Rangoon, where they're fried with chilies and bamboo shoots. So good with a full-bodied ginjo or a gentle daiginjo sake.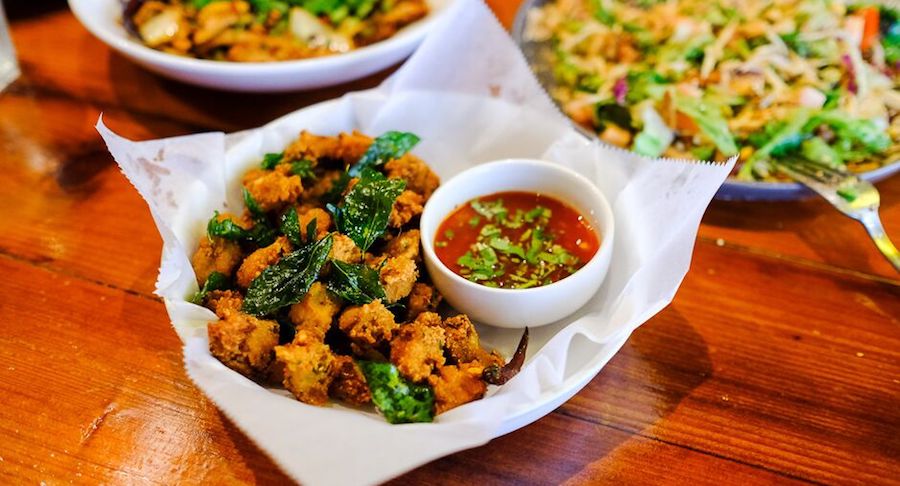 Baya kyaw ($10), split pea fritters mixed with onion, garlic, ginger and mint, are deep-fried and sold as snacks in Rangoon, the capitol city, in rolled-up paper cones. The sauce on the side is garlic-chili; the garnish fried curry leaves. I'm the only one who doesn't care for this, finding it mealy and dry; when I say so it gets taken away from me and devoured by the rest of the table.
You will love the eggplant curry ($15) if you don't think of it as curry and if you don't mind oil, which can be pronounced in some Burmese dishes, but it's always deliciously flavored. Eggplant in brown sauce is hard to photograph, but that sauce is reminiscent of long-cooked tomato sauce with an umami depth from seafood, and you will want to take it home and toss it with buttered noodles or just spoon it over rice.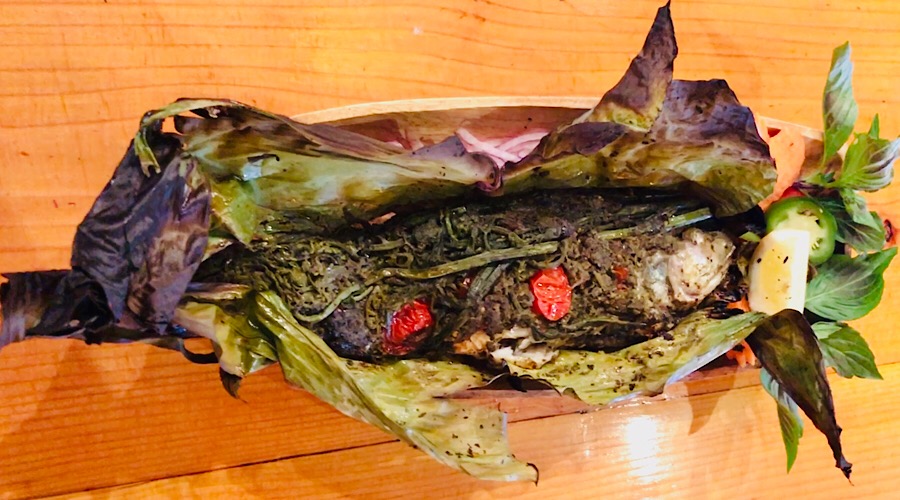 Kachin fish ($24) is from Sai's home tribe. Under the blanket of lightly tart, tea-flavored fermented ferns is a moist whole moi. Those ferns hide a chili heat that contrasts well with the sweet fish. So good with wine, beer or sake.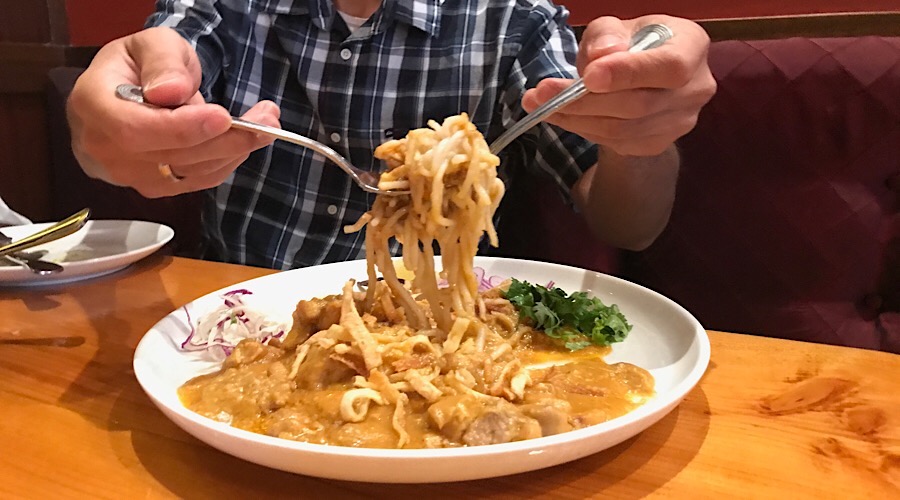 Homey nan gyi thoke rice noodles ($16) are gently sweet in a mild coconut sauce thickened with bean flour, egg, fried onion and cabbage. There's plenty of tender chicken here, so while it's goopy and unexciting, this dish is pure comfort.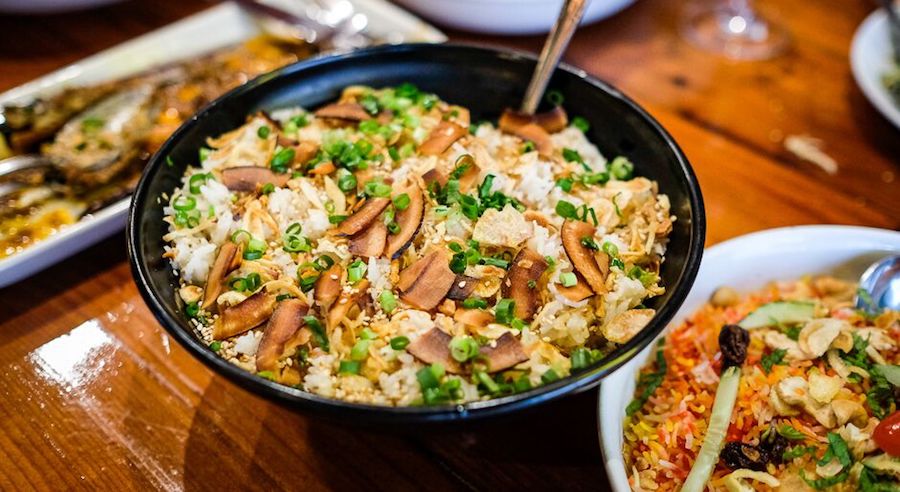 I'm just reminding you to get the coconut rice. It's a $5 side (I think this is two portions). Those are dried and roasted coconut strips but the flavor scents the grains and goes with every meat, curry and sour dish.
I'll be back soon. Mai, the server, has two more dishes she swears by that we were too full on two visits to even try. I think both will go with a nice bottle of junmai ginjo, so I'll be back very soon.
Rangoon Burmese Kitchen
1131 Nuuanu Ave.
367-0645
Daily 11 a.m. – 2 p.m. and 5 – 10 p.m., closed Sunday