Chef Mavro is now the less pricey M by Chef Mavro
A new name for an upscale French bistro concept and an a la carte menu.
With elegant prix-fixe tasting menus that ranged from $95 to $195-plus, Chef Mavro restaurant was the epitome of fine dining. A lot has changed since Jeremy Shigekane became the eatery's new chef-owner in March. His vision: a French bistro that's more casual and accessible than what Chef Mavro was for most, a destination for extremely special occasions. The same levels of service and cooking are there, but a new a la carte menu has a modern twist and more emphasis on locally sourced ingredients. Thus the new name, M by Chef Mavro.
My first and only taste of Chef Mavro was when I ordered a three-course takeout dinner for $30 during O'ahu's first lockdown. Up until then, the restaurant was too pricey for my budget. But times are changing and restaurants with them. I got a taste of the new direction at a recent media dinner.
---
SEE ALSO: Two-minute takeout: Fine dining from M by Chef Mavro
---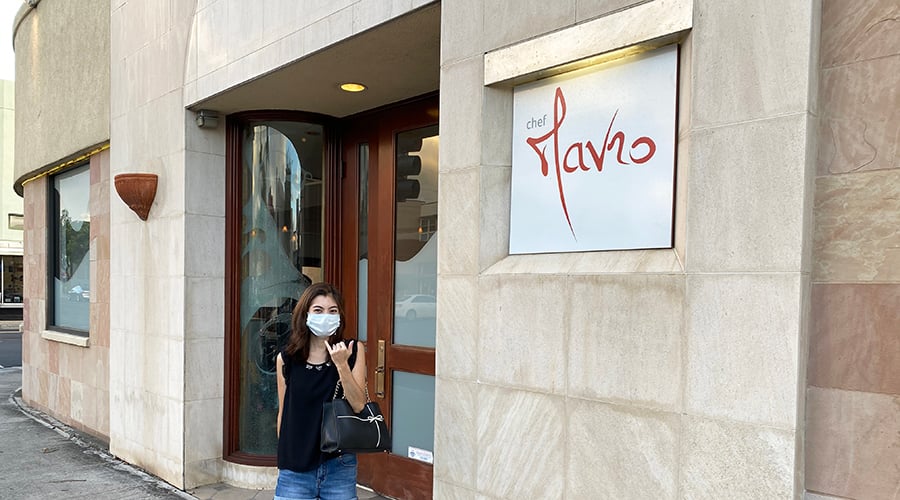 After a renovation, the interior now has a brighter look and new upholstery. The white tablecloths are gone. And you'll see a small garden as soon as you enter.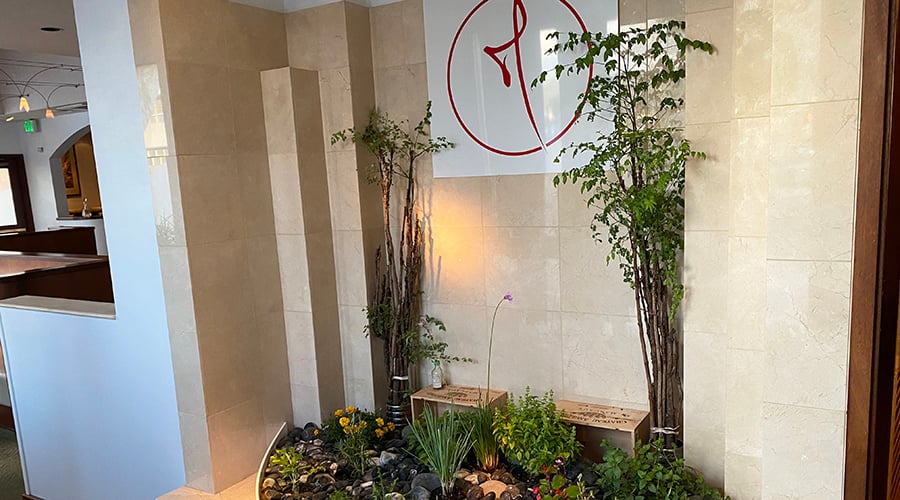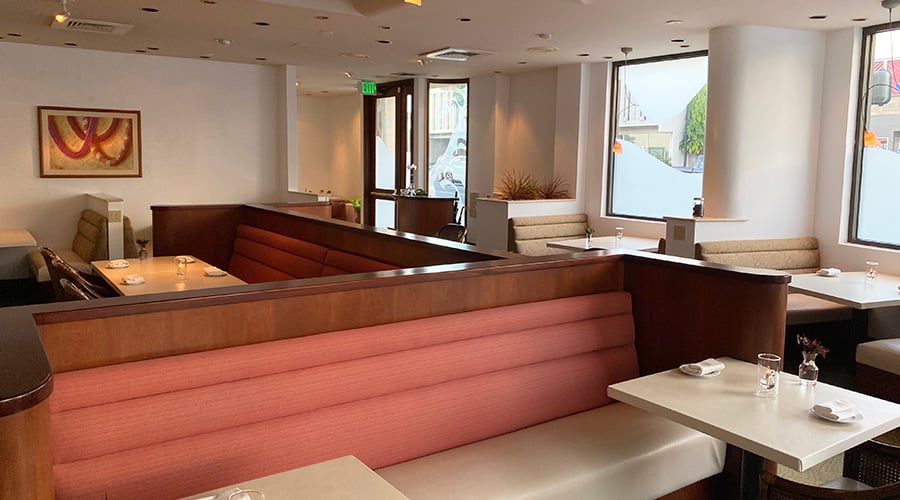 You won't get a paper menu; instead, you can view your choices online. Tables and booths are spaced farther apart.
Those who dined at the old Chef Mavro will notice some of the favorites are back with a modern twist, including the famous Petersons' Upland Farm egg.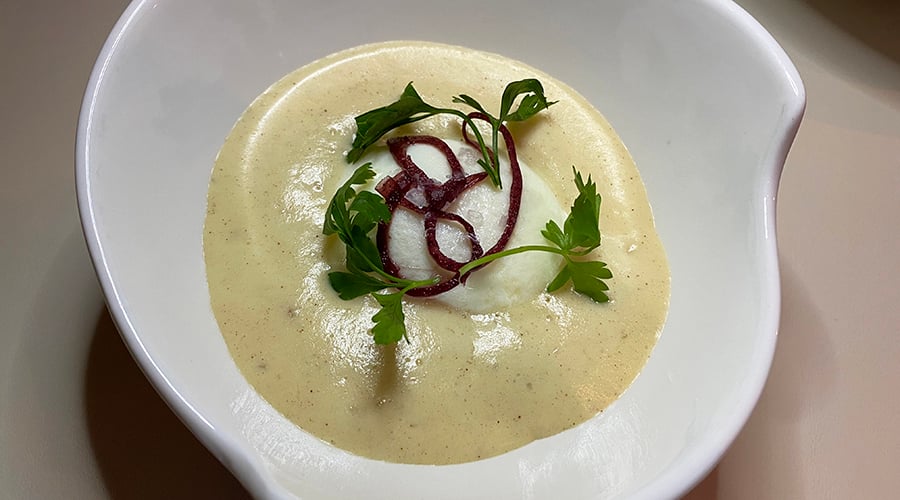 This photo doesn't do the dish justice. Green beans are hidden in the bottom of the bowl with the prosciutto for added saltiness and crunch. I temporarily forget about them because I'm so transfixed by the egg. It's soft poached and enveloped in a pillowy potato mousse flavored by a creamy, house-made yuzu brown butter sauce. I was expecting a contemporary take on potato soup, but this dish is mind blowing. It's like eating a savory cloud with the occasional crunch from the veggies.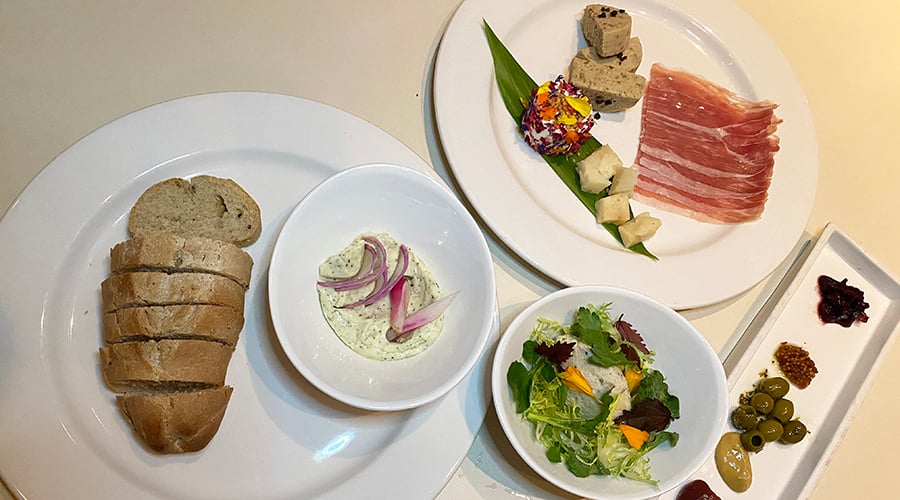 The $40 charcuterie is portioned for two people. Its components come on separate platters: chicken and foie gras pate, ono rillette, San Danielle prosciutto, chevre, house-seeded baguette, wakame seaweed butter and radishes. The selection may change slightly each week, but it will always have four proteins and two cheeses.
Everything is made in-house except for the ham. The pate and creamy ono rillette are my favorites. The ono is spreadable like an aioli, and its savoriness is balanced by a creamy, delicate goat cheese from Sweet Land Farm in Waialua, though this could change, as Shigekane plans to rotate the cheese selection.
That wakame seaweed butter is addicting, with the perfect amount of salt. I have to resist filling up on bread and butter to save room for the other courses.
---
SEE ALSO: Pau hana at home with charcuterie boxed to-go
---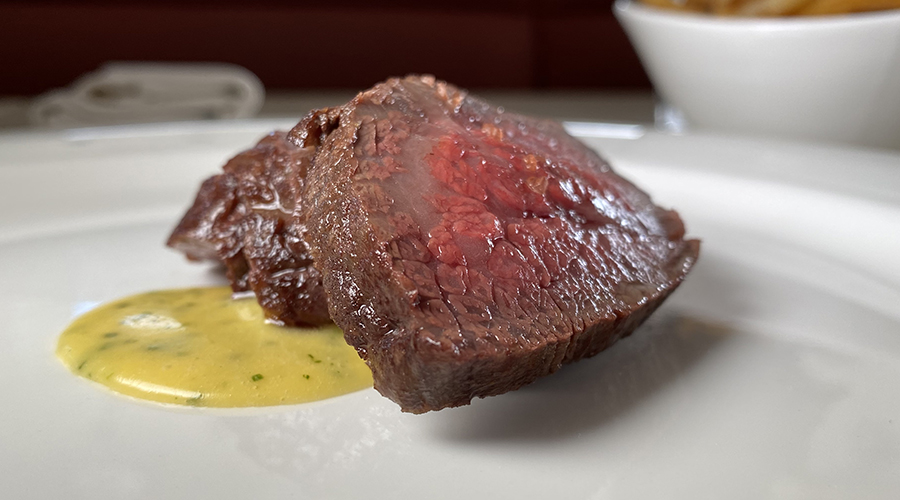 Steak frites are a brand-new menu option and feature American wagyu tri-tip, bearnaise and french fries. The bearnaise with its hollandaise and tarragon is thick, creamy and the perfect accompaniment to the steak. We get extra bearnaise on the side because we can't get enough of it.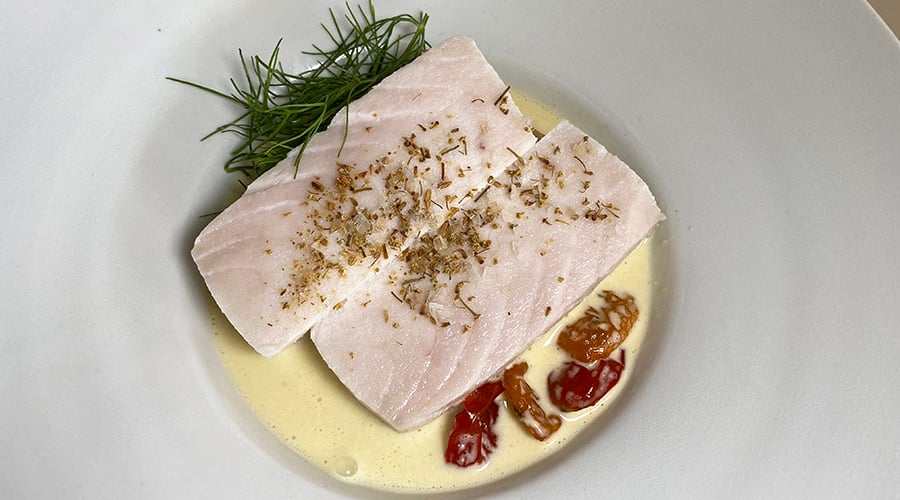 Shigekane's bourride is a deconstructed version of the classic fish stew. The fish here is ono and it comes with lemon aioli and confit tomatoes, with a slice of country bread hiding underneath. The ono is moist and delicious, and the soupy aioli makes it refreshing. The country bread is perfect for mopping up all that aioli.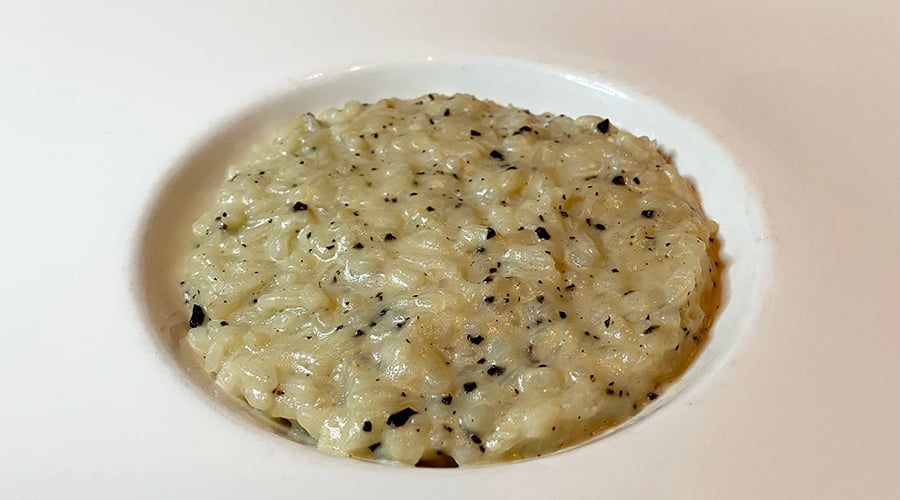 The risotto is another classic from Chef Mavro. Shigekane's rendition features the same duxelle preparation of cooked chopped mushrooms, shallots and herbs, but the mushrooms are cooked with sherry and fenugreek to create a more complex flavor.
This dish is all about texture. I love the earthy flavor and creamy texture. There's a distinct chewiness in the individual grains and an occasional crunch from green beans hiding again at the bottom. Stir before eating so you taste each component in the first bite.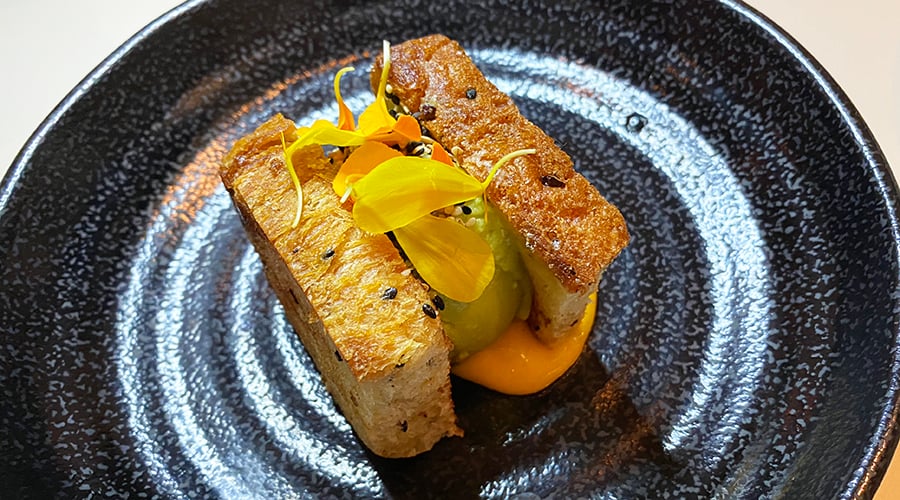 The avocado ice cream is made in-house and has the same creamy, smooth mouth feel as if you're eating the fruit. It's light and refreshing with the perfect hint of sweetness from the sabayon. This is a play on an ice cream sandwich and the bread-to-ice cream ratio is on point: The brioche is pillowy, spongy and swoonworthy, and there isn't too much of it.
The champagne gelee is festive and fun, since the sparkling wine is drizzled on tableside so you can enjoy the full fizzy effect. The refreshing watermelon flavor from the sorbet is dominant with a subtle minty aftertaste.
While the menu will change every week, depending on what local ingredients are available, the changes will be minor. I'm crossing my fingers that the avocado ice cream stays for a while—that is, until Shigekane comes up with a dessert that's even more enticing.
Also, stay tuned: From Dec. 10, dine-in dinner service will expand to include Thursday nights, and outdoor dining on the patio will start Dec. 11.
Open for dine-in Fri–Sat 5:30 to 8 p.m. 1969 S. King St., (808) 944-4714, mbychefmavrorestaurant.com