Channel Chaser
A local long-distance swimmer preps for her biggest challenge yet.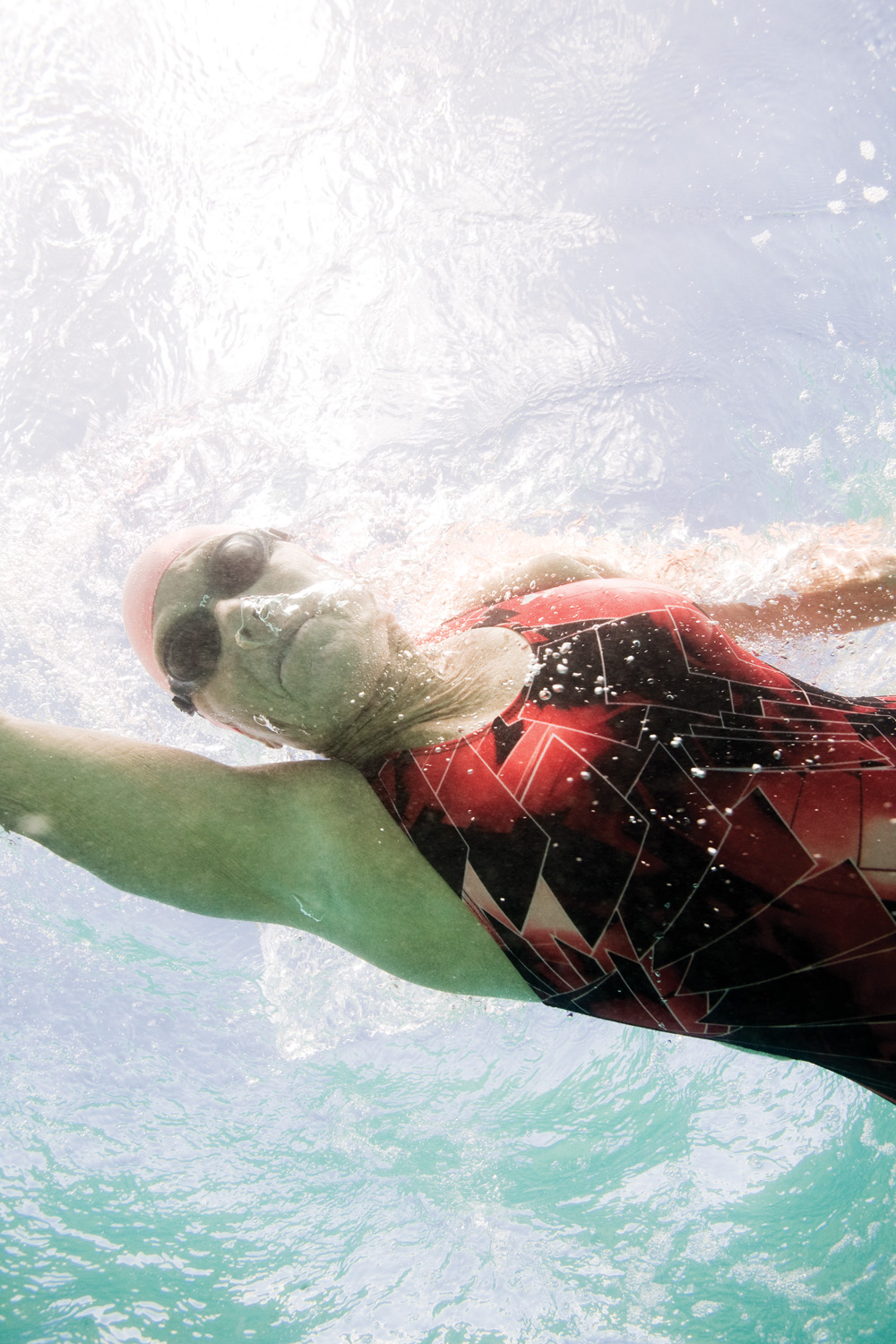 LINDA KAISER WAS ONLY A FEW HOURS into her 1990 swim across the Palilolo Channel, the 8.5 miles of Pacific separating Maui from Molokai, when she noticed a dark shape in the water beneath her. No larger than a fist at first, the shape was growing quickly and racing straight for her.
"All of sudden I thought, 'Oh, that's a shark,'" Kaiser, now 57, remembers with a big laugh. "He just kept coming straight up, and I said to myself, 'Ooh, this may not be good.'"
Kaiser hurried over to her swimming partner, and the two shared several anxious moments together, watching the 12-foot-long predator circle a number of times beneath them before diving again into the deep blue below.
The Molokai to Oahu Menu

Swimming channels at Kaiser's pace burns nearly 400 calories an hour, so how does she keep her energy up? Foods, lots of it. Kaiser stops hourly to eat from a circular life buoy thrown by a "feeder" on the boat. During her 15-hour Kaiwi channel swim, for example, Kaiser's diet consisted of:
---
Several 20-ounce bottles of water-each containing Amino Vital and two scoops Carbo Pro
---
Several tubes of Hammer Gel or Goo (carbo energy boosters)
---
Several bottles of "defizzed" Coke (opened, left out over night)
---
Fig Newtons in plastic bags
---
Canned peaches in plastic bags
---
The close call with one of nature's most feared creatures is just one of the many adventures Kaiser has had over the past 30 years as one of Hawaii's most prominent channel swimmers. She is the first woman to swim across four of Hawaii's eight channels, including the first crossings between Kauai and Niihau and Kahoolawe and Lanai.
The ocean doesn't put up with any wimps.
"It's a great feeling of accomplishment," Kaiser says about her love of the sport. "And I don't do it for anybody else. I do it for me."
Last September, Kaiser swam the 26-mile Kaiwi Channel between Molokai and Oahu in just over 15 hours. She spent months training for the swim, doing laps at the Oahu Club pool for up to six hours on weekdays. On Saturdays, she'd do a seven-hour ocean swim and then back off a little on Sundays, spending only four hours in the waves.
"You've got to respect the ocean," Kaiser says. "You've got to come prepared. If you're not serious, and you're not focused on what you're doing, you're bound to have trouble. The ocean doesn't put up with any wimps."
What's next for Kaiser? She's planning her longest swim yet this fall.
This time, she hopes to cross the 32-mile stretch between the Big Island and Maui in 20 hours. If successful, she'd be only the second person—and the first woman—ever to complete the swim.