Changes you'll see when you eat at restaurants again
Social distancing and face masks will be standard, but many eateries are going beyond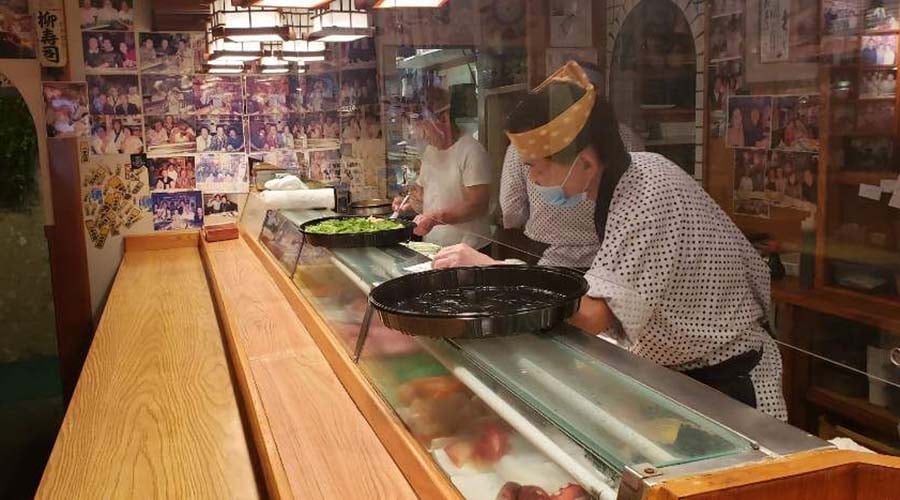 You dove into cooking at home in March, then stepped up the restaurant takeout and deliveries, and even experimented with DIY food kits for hot, fresh food with minimal effort. And now, at last, the day we've been waiting for is almost here: June 5, when Oahu restaurants start reopening their dining rooms and we can eat at our favorite spots again.
But the new world of restaurant dining will be different. Guidelines from the Hawaii Department of Health require that tables be spaced at least six feet apart, guests wear face masks except when seated at tables, and front-of-house staff wear face masks as well. Menus and other high-touch points of contact must be sanitized regularly. Up to 10 customers from the same household can sit at the same table; for customers who don't all live together, the limit per table is six people.
That's a mouthful, and that's just for starters. Beyond that, many restaurants are taking extra measures. Scroll on to see what else Oahu restaurants are doing to make customers feel safe.
See also: These Oahu restaurants are reopening for dine-in
22 Kailua
Minimum of 4 and maximum of 7 people at the sushi bar. Groups of 4 to 7 people must be of the same party
Two seatings at 5 and 8:30 p.m.
Three omakase tiers: $80 base price per person, $120 per person or $150 per person. Whole party must choose the same menu tier
For reservations, text 22 Kailua with the number of people in your party and preferred dine-in dates and times. Direct-message 22 Kailua for the phone number and they'll get back to you about availability
For parties of 2, a day of the week will be be set aside to hold two slots for first seating and second seating.
All staff will be wearing masks
See also: Two-minute takeout: 22 Kailua
Amuse Wine Bar
No more self-serve drink or food stations
Same guidelines as Stage Restaurant
Reservations required due to limited number of seats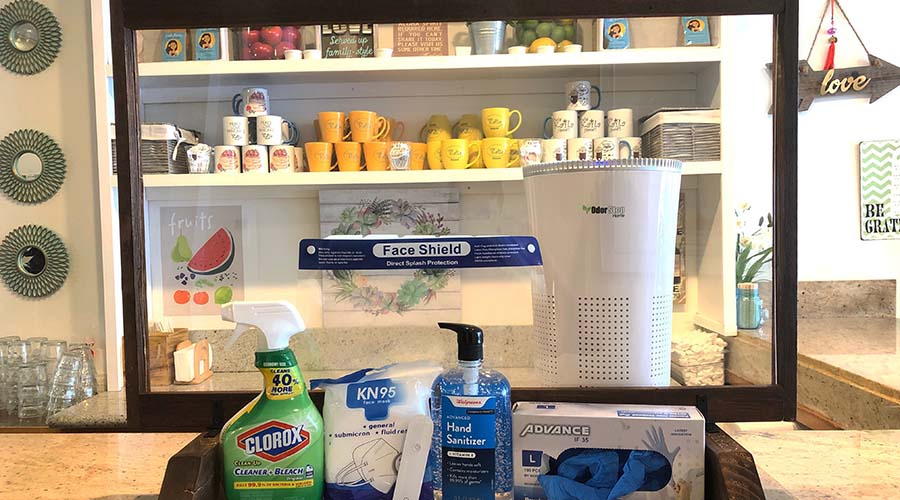 Cafe Kaila
Clear markers to ensure social distance measures of 6 feet apart
All employees and customers provided with hand sanitizing stations
Air purifiers will be running throughout the restaurant
All front-of-house staff members will wear face masks with safety shields. All employees will wear gloves
Maximum six guests per table
First come, first serve basis for dine-in service. When seating is filled, Cafe Kaila will take down customers' names and phone numbers, ask customers to wait in vehicles and call them when their tables are ready
Entire party must be present to be seated
Menus thoroughly cleaned after each use
Counter seating limited to two customers to allow for social distancing. There will be plexiglass partitions at the counter to limit contact between staff and customers.
Cash register station will also have plexiglass partition
Increased sanitation efforts, including use of UV sanitation wand, will be used to thoroughly clean tables
For more details on restaurant sanitation, visit Cafe Kaila's Instagram
Fete Hawaii
Restaurant will be operating at 50% capacity
Chefs' counter seats taken out and replaced by two-tops
Limited outdoor seating (8-10 seats) on Hotel Street side of restaurant. With confirmation from Honolulu Liquor Commission, Brick Fire, Encore Saloon, Fete Hawaii and Yakitori Hachibei will be permitted to have outdoor seating. Outdoor dining will be first come, first served
Groups of up to 10 allowed for private dining
Reservations highly recommended by calling 369-1390; walk-ins accepted if space permits
Customers are required to wear masks until seated at tables
Single-use menus will be available; customers will also be encouraged to view menus on their mobile devices
New menu for lunch and dinner service will combine half of the original lunch menu and 2/3 of the dinner menu
Some of previous featured dinner items will be served as specials (market fish special, chicken liver mousse)
Normal drink menu is available but there will be no draft beer. Only wines are on draft; beers available by bottles and cans
For this initial dine-in phase, last seating is at 8 p.m. Mon-Thurs and 9 p.m. on weekends
Tables will be sanitized between customer use, front-of-house staff required to wear masks at all times. Staff will be wearing gloves when delivering food and drink items to tables
All staff members required to have temperature checks, which will be logged
Frequent handwashing enforced and the restaurant will undergo a deep clean every night
Takeout and delivery service will still be available
G. Lion restaurants: Hy's Steak House, La Vie, Quiora
All employees are required to test negative for COVID-19. The test must be administered by a certified hospital or clinic
Prior to entering restaurants, all staff will undergo daily mandatory temperature checks. Daily log will be filed. Anyone with a fever of 100 degrees F or higher or COVID-19 symptoms will be sent home
All staff will be required to wear gloves and face masks at all times
Customers will be required to wear face masks when up from their tables
Complimentary disposable face masks will be available for customers
Redesigned dining room layout allows 6 feet of social distancing between tables
Immediate sanitation and deep cleaning of high-touch surfaces (escalators, stairways, host stands, doors, elevator buttons, etc.) after any contact is required and logged. Sanitizing of all shared surfaces is scheduled every hour or less
Physical contact between employees and customers and employee to employee is banned
Single-use menus will be printed daily. Digital menus for customers to upload onto their personal devices will also be available via QR codes
Dine-in guests can order ahead of time to limit the amount of time spent in the restaurant; pre-payment options also available
Waiting areas will be outside restaurants; customers must adhere to social distancing protocols while waiting for tables and reservation times
Bar counter seating will be closed
Physical barriers or partitions will be installed at cash registers, bars and other areas where maintaining 6 feet distance is difficult
Pre-setting tables with napkins, glassware, etc. will be discontinued. These will be supplied individually to each customer
Shared items like condiment bottles will be supplied as needed to diners and disinfected after each use
Areas including restrooms, elevator lobbies, host stands, valet drop off and pickup will be marked for social distancing
Hand sanitizer and wipes will be accessible throughout the restaurant
See also: Waikiki parking deals just in time for Friday's restaurant reopenings
Hau Tree Lanai
New hours: Limited brunch menu available from 10 a.m. to 1:30 p.m.; dinner service from 5:30-8:30 p.m
Dine-in reservations recommended via OpenTable; customers can only book groups of six people maximum. Limited walk-ins accepted
Customers must check in five minutes before reservation time
Only credit/debit cards accepted for payment; no cash
Masks are required to be worn at all times except while dining
Hand sanitizer stations available for staff and guests
Contactless ordering system
Takeout available for brunch menu only from 10 a.m. to 1:30 p.m. Takeout orders must be placed by phone and contact info and payment provided
Pre-payment with credit/debit card is required for takeout; no cash accepted
Liliha Bakery
Kuakini restaurant will close off two counter seats between each party, which equates to six feet of distance. At behind-the-scenes tables, all parties will be seated one table apart
Nimitz restaurant will close off two counter seats between each party. Table seating will be at every other table
Ala Moana Macy's restaurant will close off two counter seats between each party. Table seating will be at every other table
All three locations have markings on the floors to facilitate traffic flow control
All registers have plexiglass barriers in place
All staff will wear face masks as part of their uniform
Sanitation stations will be available at entrances, exits and throughout the bakery and coffee shops
Staff will be wearing gloves and frequently replace gloves
Condiments will be removed from tables and served in ramekins or portion cups
Table utensils will be pre-rolled up (not exposed on the tables)
Coffee accessories like cream and sugar will be brought to tables upon order
Moke's Bread & Breakfast
All tables, chairs and surfaces touched by customers will be thoroughly sanitized after each use
Only one-time-use condiments and flatware will be used for the immediate future
Menus will be optional. Customers will be encouraged to view the menu online via the restaurant's website
Full dine-in menu will be available
Safe, socially distanced waiting area with option for customers to to wait in their cars and receive a text when their tabe is ready
Morning Brew
All employees reporting for work must be free of COVID-19 symptoms
Increased sanitation at high-contact areas like door handles, restrooms, etc.
Employees must wear personal protective equipment like face masks and gloves
Full food and beverage menus available; some items may change due to limited supplies available
Cafe interior restructured for one-way traffic flow to avoid individuals crossing paths
Increased signage to help maintain proper social distancing
Disposable utensils will be used to minimize exposure
All staff and customers will have access to face masks and hand washing stations with soap and water or hand sanitizers
Nico's at Pier 38
Only lanai seating available
45-minute time limit for dine-in service
Seating limited to 30-35 seats
Cocktails, wines and beers will be available
Masks required for all customers
Restaurant still featuring takeout service
Only the lunch menu will be available during both lunch and dinner service
Pancakes & Waffles
Individual one-time-use condiments only will be used
One-way traffic flow (one designated entry, one exit on other side of restaurant)
Hand sanitizer readily available for customers
Select number of tables will be open for dine-in, but all food will be packaged in takeout containers to ensure safety
Full dine-in menu and specials will be available
Designated staff member will be responsible for sanitizing everything throughout their shift
If customers dine in, they are required to leave their table numbers and trash at the table. This alerts staff members to thoroughly sanitize the tables and chairs after customers leave
Pizza Press
Six-foot distance markers will be clearly labeled in the line
Masks are supplied for all employees and disposable masks are available for customers, if needed
Interior has been restructured to leave a large space in the middle to facilitate traffic in and out of the restaurant
Two sanitizer dispensers will be located at entrance and near cash register. Signature iPad used for payment will be wiped down and sanitized after each use
Tables and chairs will be cleaned and disinfected after each use
High-traffic areas like pizza line sneezeguards, cashier area, restrooms and door handles will be disinfected each hour
Staff is provided with a free Serve Safe food handler certification class, with staff training provided by Sysco Hawaii chef Jackie Lau
All staff members will have mandatory temperature checks before start of shift
Entire restaurant will undergo a deep clean for two days before opening for dine-in
Two staff members will be designated in the restaurant lobby to ensure all areas are clean and safe
Reservations are encouraged by calling 744-7771, but walk-ins are still available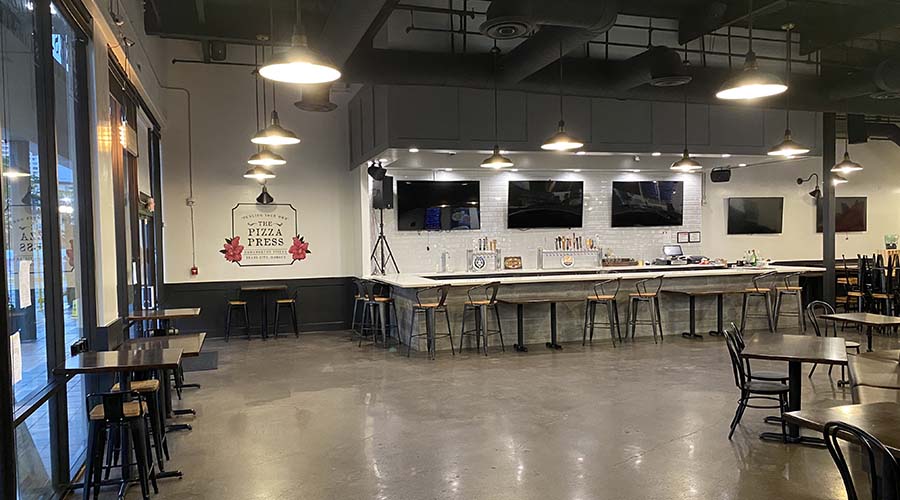 Redfish Poke
Reservations are recommended by calling 532-6420 or via OpenTable. Reservations will be given priority
Walk-ins are limited as space permits
Maximum of four guests per group
The entire group must be present to be seated; no add-ons are allowed
Redfish Poke will call or text when your table is ready after your group checks in
Guest wellness checks like touchless temperature readings are required
Customers are required to wear masks until initial food or drink orders are delivered to the table
90-minute time limit per seating
Updated cocktail menu will be featured that includes many of Redfish Poke's most popular drinks
Daily specials will continue for both takeout and dine-in service
Must purchase meal to order alcohol. For more info, visit Redfish Poke's website
Updated hours: Mon-Fri, 11 a.m.-10 p.m.; Sat-Sun 10 a.m.-10 p.m.; last seating at 8:30 p.m. to allow for new 90-minute dine-in policy
Revised seating plan to account for social distancing
All staff will be wearing personal protective equipment like masks
Touchless hand sanitizer will be provided at the Redfish Poke entrance and tableside, as requested
All contact areas will be cleaned between seatings
Restaurant-wide deep cleaning will take place overnight
Restaurant XO
No paper menus provided; menus accessed through QR code that diners can view on their digital devices
All customers' hands will be sanitized when they enter the restaurant
Only one server total
Paper napkins and no pre-set table settings
No standard wine service
Bookings spread out; only three seatings per half-hour
Staff limited to 3-4 members during dine-in service
Full food menu available
Shokudo Japanese Restaurant & Bar
Overall restaurant capacity is reduced by half
Reservations are recommended to reduce crowds
Maximum of six people per group if they are from different households
Maximum of 10 people per group if they are from the same household
Contactless ordering and payment is accessible from your smartphone. You can browse the menu, order and pay without contacting a server
Frequent handwashing and no bare-hands contact of ready-to-eat foods is strictly enforced
Customer-facing employees must wear a mask or face covering
New limited menu that focuses on Shokudo's popular dishes like fried appetizers, nigiri, sushi rolls, noodles, hot stone bowl dishes and their signature honey toast
Neighboring restaurant Kapiolani Spaghetti House will also serve their most popular spaghettti options and chicken karaage out of Shokudo's dine-in service
Kapi Spa's salad bar is closed indefinitely
Increased sanitation efforts with constant cleaning of all high-touchpoint surfaces
Hand sanitizer gel will be placed at the restaurant entrance
See also: Oahu's new restaurant reality: How Shokudo will look when it reopens
Signature Prime Steak & Seafood
Seating will be at every other booth or table
Happy hour guests will be directed to seats by host (before, it was self-seating for happy hour guests)
Water and wine glasses will not be pre-placed on tables; will be brought upon order
Silverware will be pre-rolled in linen napkins instead of being exposed on tables
Check presenters will not be used; staff will just present paper and pens
Pianists cannot come in and play for live entertainment right now
Guests will box their own leftover food unless they request that servers do it
Guests will pour their own wine once the bottle is opened by servers in gloves, unless the guest wants the server to pour
Straws will be served fully wrapped instead of inserted in drinks
Limited-time frontlines/first responders/tribute menu available. This is a three-course prix fixe menu for $29.95. Kamaaina can also order this menu for a limited time at a discounted price of $49.95
Featured wines are half-price
Happy hour is still in full effect
Stage Restaurant
Reservations required; limited number of seats available
Maximum of 10 people per table
Masks are required for guests until they reach their tables. Masks are required for any time guests leave their tables
Single-use menus will be used; menus will also be available online and viewable on mobile phones
Staff is required to wear face masks and provide daily temperature checks prior to reporting to work
Staff members will keep a safe distance from each other and customers
Increased sanitation every hour of tables and chairs between seatings and all high-contact touch points like elevators and bathrooms
No one showing any signs of illness will be allowed onto the premises
Sanitizers and hand-washing stations will be available for all employees and customers
Sushi Sho
Reservations only; no walk-ins allowed
Two seatings at 5 and 8 p.m.
For this month only, Sushi Sho's $300 omakase course will be discounted to $200
Restaurant limited to 10 seats for each seating to allow for social distancing
Restaurant space redesigned into two rooms accommodating six people and four people, with space between groups
Call 729-9717 for reservations. Phone calls only taken from 12-5 p.m.
Takeout will resume June 6 by reservation only
Takeout reservations must be placed at least one day in advance. Pickup time is at 4:30 p.m. only. Takeout menus available include the $50 Sushi Sho special, $40 futomaki roll, $30 deluxe bara chirashi, $20 sukeroku
Taormina Sicilian Cuisine
Restaurant operating at 50% occupancy: 35 seats maximum
Reservations highly encouraged by calling 926-5050 or via OpenTable; limited walk-ins will be accepted
Full food menu will be available for dine-in service
Sanitation routines will be implemented every 30 minutes
Staff will undergo mandatory temperature checks. Temperature checks are also required for guests
Single-use menus will be used. Menus can also be accessed online using QR codes from mobile devices
For all of June, kamaaina customers get 15% off food items and BYOW (bring your own wine) with no corkage fee. Must show Hawaii ID
Free valet parking at Club Wyndham at Waikiki Beach Walk for dine-in during lunch and dinner
Wagaya Hawaii
Operating at 50% capacity
Hourly sanitation of high-touch areas and constant sanitation of tables and chairs
Full menu and lunch specials available; happy hour not available at this time
Laminated copies of menus will be posted on Wagaya's walls and exterior with QR code link to restaurant menu
The restaurant no longer has a waiting area
Guests can add their names to the waitlist through an online Google link (usual waitlist kiosk will be placed outside the restaurant)
Contactless payment option available: Guests can pay via a QR code link on their mobile devices
Modified dine-in hours: 11:30 a.m.-1:30 p.m., 5-9 p.m.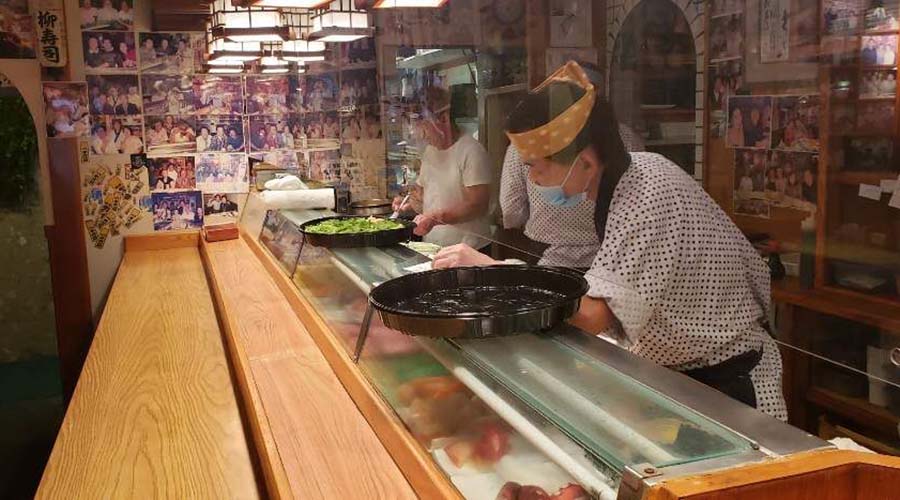 Yanagi Sushi
Reservations encouraged; limited walk-ins based on availability
Reduced dining capacity of 50% to allow for social distancing
All employees will wear face coverings and be required to do pre-shift screenings and temperature checks
Increased sanitation for all high-traffic touchpoints like menus, equipment, screens and restrooms
Reservations required for private room dining. Group dining is limited to a maximum of 10 people per group
New acrylic shields have been added to both sushi bars. Sushi bars will have limited seating but can seat up to 10 people from the same party
Acrylic shields can be placed in between groups at the sushi bar. Seating will remain 6 feet apart even with the partitions; seating capacity will vary based on guest reservations
Late-night happy hour will resume Monday, June 8 from 10:30 p.m. to 2 a.m. Walk-in customers will be welcome, but reservations for this time are strongly encouraged
Takeout menu will still be available