Cat Chat 24: Mavro's summer menu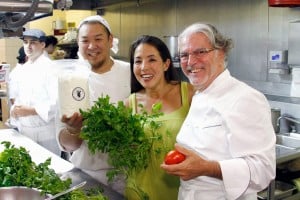 Change can be a good thing.
And that's definitely the case at the award-winning restaurant Chef Mavro, which recently unveiled both a new chef de cuisine and a new summer menu.
Back in May, chef/owner George Mavrothalassitis (@chefmavro) hired Paul Feng — who has worked at Wolfgang Puck's famed San Francisco restaurant Postrio and at the now-closed Tabla in New York City — as chef de cuisine. The two collaborated on a new summer menu with innovative dishes like a tako (octopus) ceviche with a tomato granite and a Keahole lobster a la Thai with coconut cream froth atop rice noodle cake.
I was salivating just reading the menu.
So we had to check it out for ourselves.
Chef Mavro graciously let us hang out in the kitchen before dinner last week to watch his staff prep this menu, about 80 percent of which uses locally grown ingredients. (Chef is big into the local farm-to-table movement.)
So here's your sneak peek into the restaurant's latest offerings and a chance to meet the new chef de cuisine. Sorry, there are no subtitles.
Tako ceviche
Picture 1 of 7
This is the tako (octopus) ceviche with a tomato granite and juice seasoned with espelette (a kind of chili pepper), red and green jalapeno, cucumbers and red onions shavings. Atop the tomato shave ice was frozen olive oil. It was refreshingly different from anything we've ever had before. Sweetness was subtle and went well with the tako and tomato granite.
To see more photos from Mavro's summer menu, visit my blog, The Cat Dish.
The menu is offered in three courses ($75, $48 more with wine pairings), four courses ($85, $55 more with wine pairings), six courses ($128, $63 more with wine pairings), or the Grand Degustation, which is all of the dishes in tasting portions ($165, $85 more with wine pairings).
Chef Mavro, 1969 South King St. Phone: (808) 944-4714