Broke da mouth: Ulu chips and ulu poi!
Old skool ulu classics and new skool ulu innovations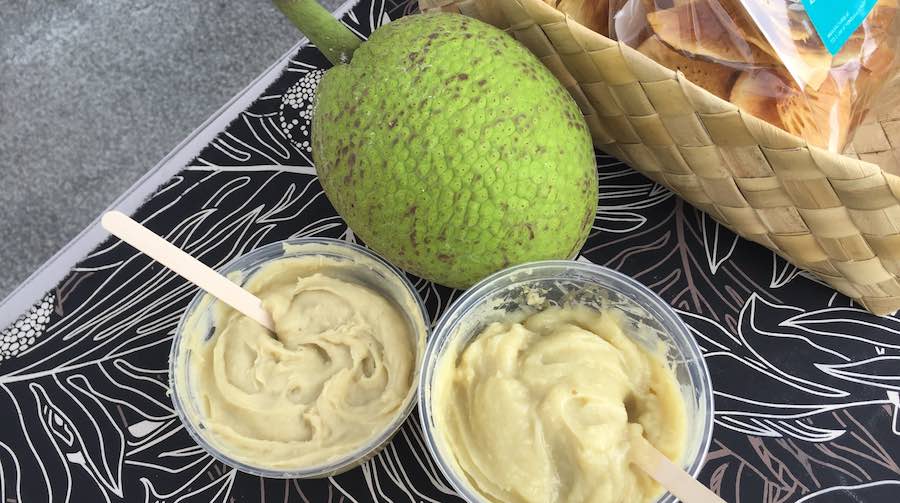 When Kanani Keliipuleole and her husband Rooke had their first child, they took their baby's piko or umbilical cord and planted one ulu tree on top of that in their yard. Why one ulu tree? Cuz of its cultural significance.
Ulu or breadfruit is one of da original canoe plants that da early Polynesian voyagers brought when they first came to Hawaii and wuz once one staple of da Hawaiian diet. Over time it kinda faded into da background, but in recent years ulu's been experiencing one resurgence as people recognize its astonishing yields and how it can contribute to da security of Hawaii's food future.
Four children later, Kanani wuz able for use da fruit from that single tree for make ulu baby food using various fruit and vegetable purees for allllll her keiki. I wuz kinda amazed that one breadfruit tree wuz enough for feed five kids. Kanani wuz quick for educate me, "That's how much fruit ONE ulu tree can produce." And she looked at me all like, "Brah?!" like how come I dunno.
Once da kids outgrew their baby food, Kanani wondered what she wuz going do with all their ulu. Her husband insisted that anything can be made with ulu. Kanani calls her husband da idea guy. Cuz he comes up with all kine ideas of what "they" could make, but "he can't actually cook anything," she said. Her husband's first suggestion wuz ulu chips. So Kanani did trial and error. She finally decided that frying 'em in canola oil gave da best results and das how her company HI Five Ulu wuz born, named after her five childrens all raised on ulu.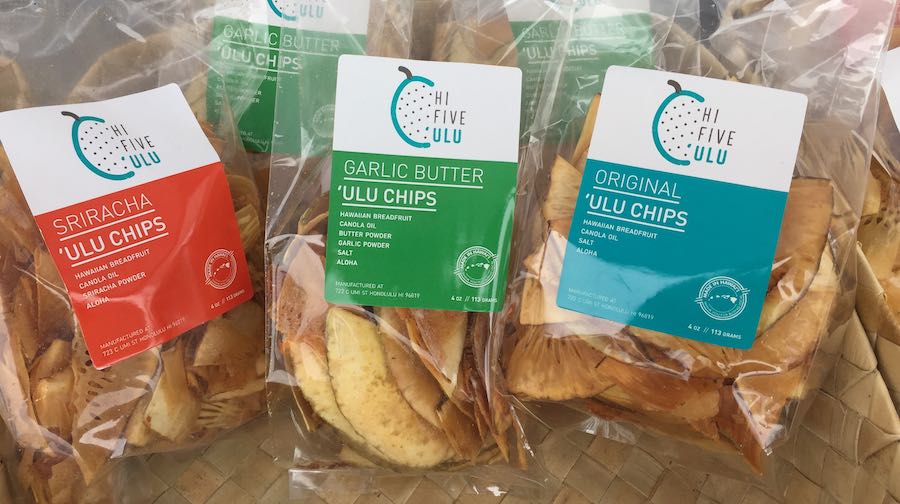 That was the start of one whole line of ulu products that Kanani now sells at da farmers markets at Ka Makana Alii every Wednesday and Pearlridge every Saturday. And because their mission was breadfruit products with one purpose, they decided to donate 10 percent of sales to local charities. As da company grew, they had to reach out to ulu farmers, cuz their one tree wuz no longer enough for supply da demand. Garlic Butter Ulu Chips became by far their top seller, but they also get 'em in Original and Sriracha flavors (all $6 a bag). At her booth you can sample all three. Garlic Butter is winnahs!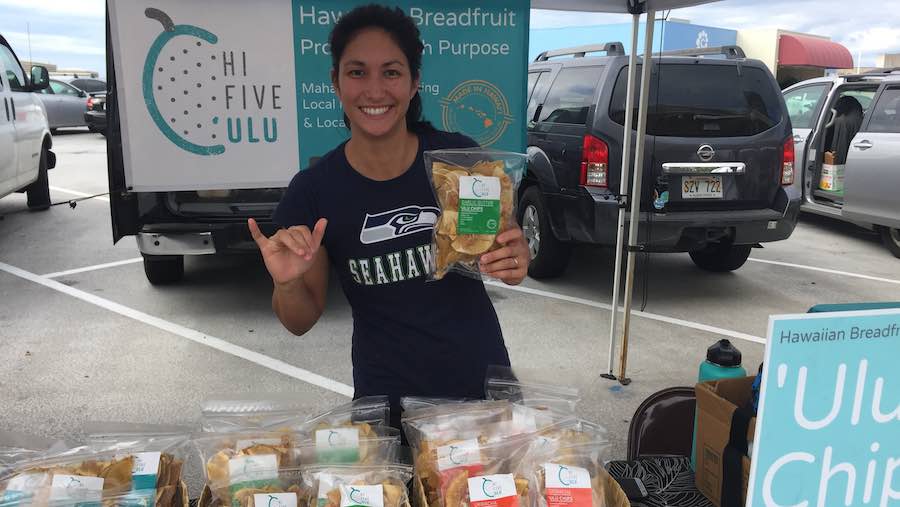 I wuz joking around that if Kanani had one more kid she wuz going have to change da name of her company to Hi Six Ulu, which isn't really all that catchy. I eagerly bought one bag of chips and asked if she had any more ulu products in da works. Turns out, indeed she did. Recently she invited me to her new product unveiling.
Ulu poi. Cuz lotta old timers wuz asking for it, she decided for make this old school classic. But Kanani worries that ulu poi ($6 a bag) might be too bland for modern consumers and she wonders if only da old timers will like it. I tried it. I agree. Ulu poi no more da tanginess that poi has. It's like regular poi without any flavor. But I think ulu poi would go really great with pretty much anything that you would pair with poi, like lomi salmon or kalua pig. Kanani's not sure if ulu poi will catch on with da local people of today, but she has great hope ulu poi will catch on with tourists. She said, "It works for haoles who don't like the taste of poi." I suppose she might be right because ulu does kinda taste like potato.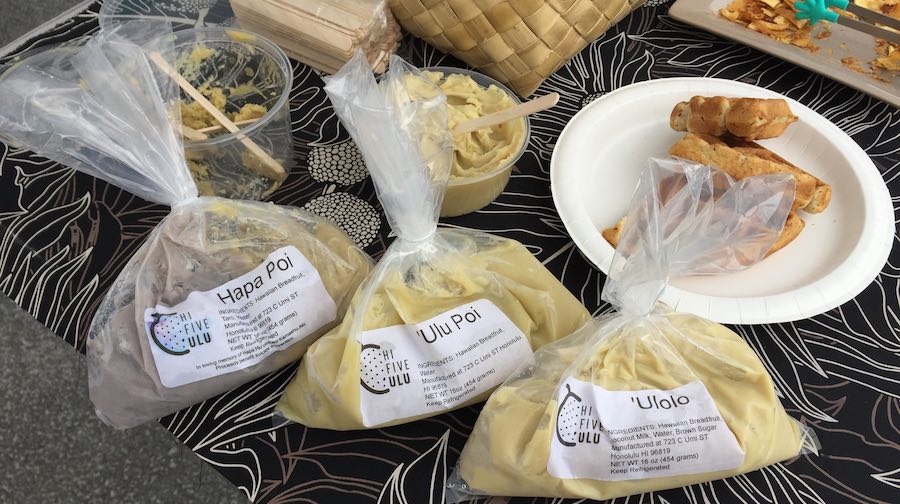 Hapa poi. Das one noddah classic, half taro and half poi ($6 a bag). Kanani said her grandma used to make it for her mom, but her mom nevah made it for her. Her mom grew up in one big family and when times wuz lean, for stretch da poi, they used to mix it with ulu.
An'den two new school ideas came from her idea guy. Why don't you make ulu waffles? he said. So she did. Why don't you make kulolo out of ulu? he said. So she did.
Ulolo ($7) is like kulolo, but it uses ulu instead of taro. This wuz probably my favorite. It's not as sweet as one western style dessert, but it has sweetness to it from da added brown sugar and da coconut milk. Good stuff.
For her ulu waffle recipe she uses half da wheat flour and adds in some ulu poi. Kanani nevah ask me if I wanted for sample some of her ulu waffles ($7) so I just took one picture. I did see lotta people buying it though. So you can ask them if wuz good.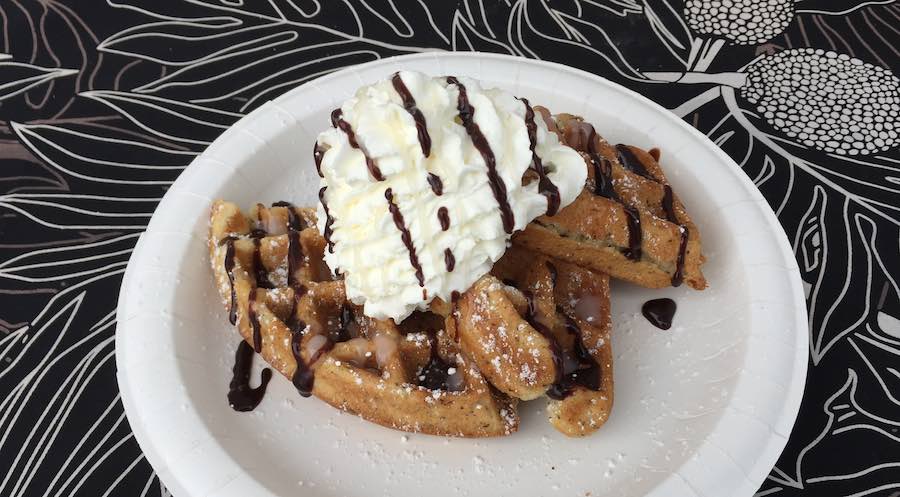 In case you nevah know, ulu be making one comeback, baby. Kanani nevah really have no ulu when she wuz growing up. And she knows there's a lotta people like her. She thinks it's kinda interesting how it skipped a generation (or more), so das part of da reason why she wants to help bring back this culturally important food. By sheer coincidence, I seen this in action. Just as I wuz about for leave, one young Hawaiian mom wuz taking great interest in da ulu poi. Outta curiosity, I asked Jamie Perry how come she wanted her baby, Tatum, for eat ulu poi. She said for one thing, ulu poi is hard to make. An'den she explained how Tatum wouldn't drink milk from her, how Tatum wouldn't take da bottle, and how da only thing Tatum would eat is regular poi. So we all looked on with great anticipation as Jamie gave Tatum some ulu poi. At first Tatum wuz uncertain as it touched her tongue. Then it went in her mouth and her joyful expression signified it wuz indeed delicious! One bag of ulu poi sold. (And your ulu poi customer wuzn't one tourist, Kanani. Lol.)
For da latest farmer's market updates go to www.hifiveulu.com.
Hapa poi only available at Ka Makana Alii Farmer's Market.
Ulu waffle only available at Pearlridge Farmer's Market.
Ulu chips also available at Hawaiian Chip Co., 1928 Republican St., Kalihi.
Ka Makana Alii Farmer's Market
Wednesdays 4-8 p.m.
91-5431 Kapolei Parkway
Kapolei
Pearlridge Farmer's Market
Saturdays 8 a.m.-12 noon
98-1005 Moanalua Rd.
Aiea