Broke da mouth: Da airy, purple Taro Mochisada
Da mo bettah malasada
When I first saw Hauoli Pastry's Mochisada at da Aiea Family Fun Fair I wuz doutful. I mean, could it really taste any different from any old regular mochi donut? Cuz I tink that market's kinda saturated. Everybody selling mochi donuts nowdays. Even 7-Eleven get.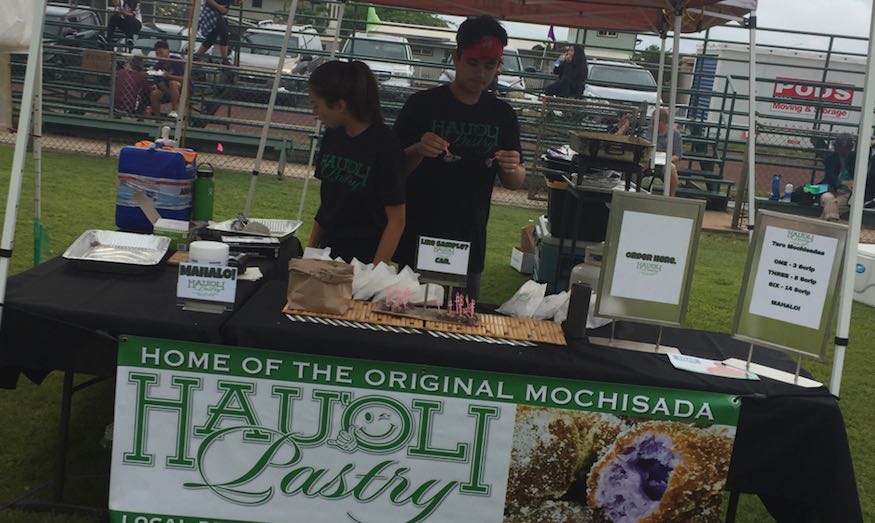 Wuz funny cuz my Oahu friend Julia Ishado went Hawaii Island and she came back raving about KTA's ball-shaped mochi donut. But den when I asked my Big Island friends about KTA's one, dey looked at me quizzically. "Really?" they asked. "Don't you Honolulu guys have better kine?" Cuz their preference wuz for da more ringular poi mochi donuts from Liliha Bakery on Oahu. Basically what it comes down to I think is da more harder it is for you for get, da more cachet da ting get in your eyes.
For da uninitiated, it might be confusing cuz get so many kine poi pastries available now. Get Liliha Bakery's kinda new, but already one classic Poi Mochi Donut (and also get lotta places that sell mochi donuts sans da poi too), get Kamehameha Bakery's so pretty and delicious Poi Glaze Donuts (which isn't billed as having mochi inside), an'den also get Uncle Lani's fried Poi Mochi (which is just poi and mochi). To me dey all taste different, but our natural inclination is for compare so I gotta say Taro Mochisada trumps alllll da various poi/mochi/donut variations out there, at least in my opinion.
I so glad I decided for chance this Taro Mochisada. Anticipation wuz building as I wuz waiting in line to get some, cuz I overheard customers asking da owner man if he had one storefront, which meant they wuz liking it so much that they wanted to get more later! Da owner said they just do fairs and open markets, but his dream is for have his own bakeshop one day. Da thing came in bite-size packs of various quantities. And if you think about it, it wuz kinda pricey. But who wuz doing any thinking? All I could do wuz devour.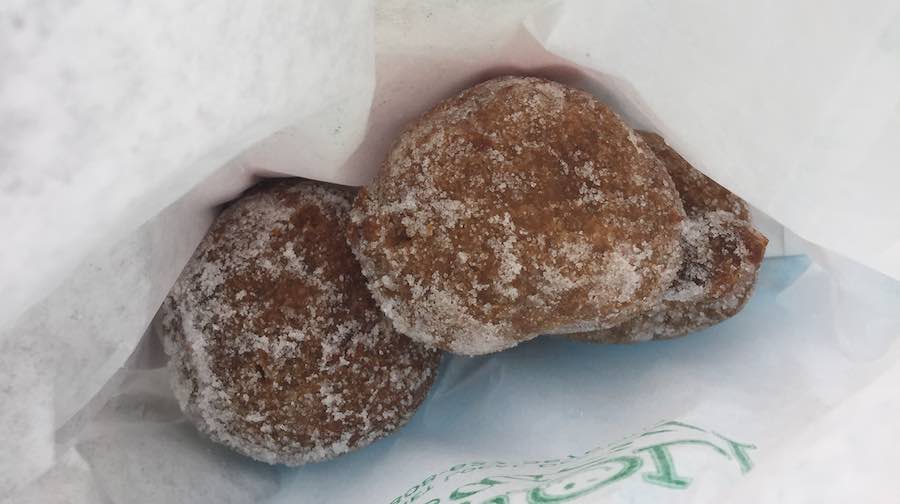 It tasted even more fabulous than I could've ever dreamed. It tasted like. . . one mochi malasada! Wuz more airy than one mochi donut and less chewy than poi mochi. It achieved that perfect heavenly balance of density and texture. And though I couldn't really taste da taro, I can't usually taste da poi in any of these things. I think da poi's more there for looks and for marketing to da tourists anyway.
I found out later when researching that this tastes so good cuz da creator guy stay super eju-ma-cated, brah. John McGough is one local boy, Moanalua '91 grad who went to da prestigious Le Cordon Bleu (Las Vegas campus). Ova dea he graduated summa cum laude and he wuz da Top Toque, das da top overall student of his class. Inspired by all da kine fancy shmancy donuts that wuz coming out, John wanted for try make his own, how he himself would like it. Incredibly only took him like 10 batches for perfect this recipe.
When I asked him about da secret to his Mochisada, he said, "It is not a yeast-raised donut. I use baking powder, and it does not require time to proof. That's the main difference. So the flavor and texture is different. I roll it in taro sugar in the style of Malaysia and when you bite it, the inside is mix between a cake donut and the fried mochi you see many people doing." He make 'em sound so easy, but I know take skill for make this. When I asked how he managed for capture that airy malasada quality, he said, "I think that's the magic of my product. I studied oil smoke points, absorbtion and flavor. So I believe really knowing how to fry, it helps." I tink das chef speak for, No even tink you can copy me, brah. Lol.
Aftah my initial purchase I told everyone who I ran into that night at da fair that they had to try this thing. And I went back to buy more again before we left so I could get some for share with people. I did manage for save one pack for myself, but when I tried eating 'em da next morning for breakfast, it seemed more dense. And it tasted nothing like da little bit of heaven I had da night prior. If you wait too long for eat 'em, it might end up tasting like … one regular mochi donut.
Da Taro Mochisada, what can I say except … Nomono'mo'ono!
Onsite prices: 3-pack for $5, 6-pack for $9, 12-pack for $14
For large order inquiries message Hauoli Pastry on Facebook or Instagram or call them at 808-627-5676.
Follow their social media to see where they'll pop up next.