Broke da mouth: 3 offbeat loco mocos you gotta try
Dey could've bombed — instead, dey be da bomb!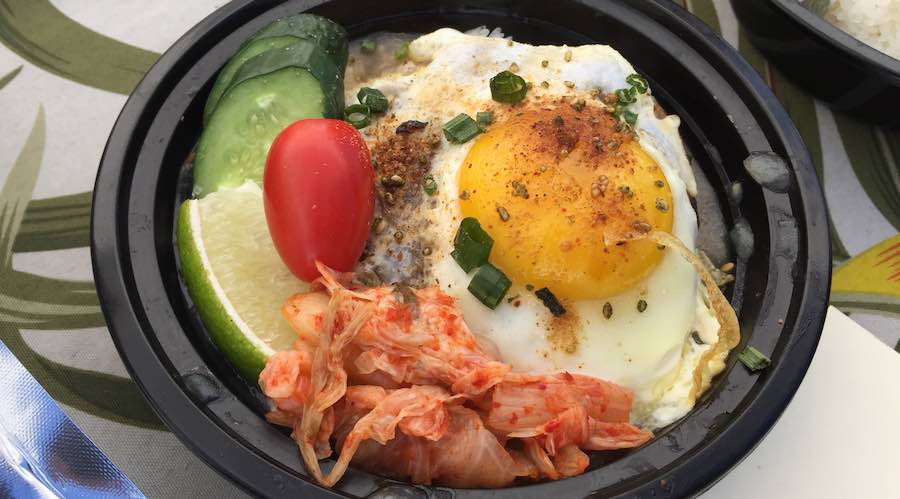 I love creativity, so I'm always down for trying one unusual take on da classic loco moco. Most times it means just subbing out da meat portion with some oddah kinda meat besides one hamburger patty. But chef people do try make fancy with da oddah ingredients too. Like maybe they put fried rice instead of regular rice. Or maybe they put quail egg instead of chicken egg. Or maybe they add mushroom to their gravy or even use some sauce other than brown gravy, which is borderline sacrilegious to some.
While I personally no mind trying something new, I get some foodie friends who rather stay with da tried and true. They be da hardcore loco moco purists. And I can see where they coming from. Cuz experimentation no always work. If turn out junk then lose money, brah. I know they been burned before when they say stuff like, "For waste brah, put fried rice. No can taste 'em when you smother 'em with gravy." Or "Prime rib need au jus sauce, not gravy. Maybe if they made one special au jus/gravy then might've worked." So lotta times they right. You hope it's going be da bomb, but instead it just flat out bombs.
See also: Best loco mocos in Hawaii: Our Top 5
As for me, I smile up when I come across da winning experimental loco moco that makes up for all da epic fails. Da following is one small sampling of da ono possibilities that might await you if you brave enough for chance 'em. Here get three offbeat loco mocos that I tink turned out really good.
Fish patty loco moco, AmaEbi HI: Wild Hawaiian Seafood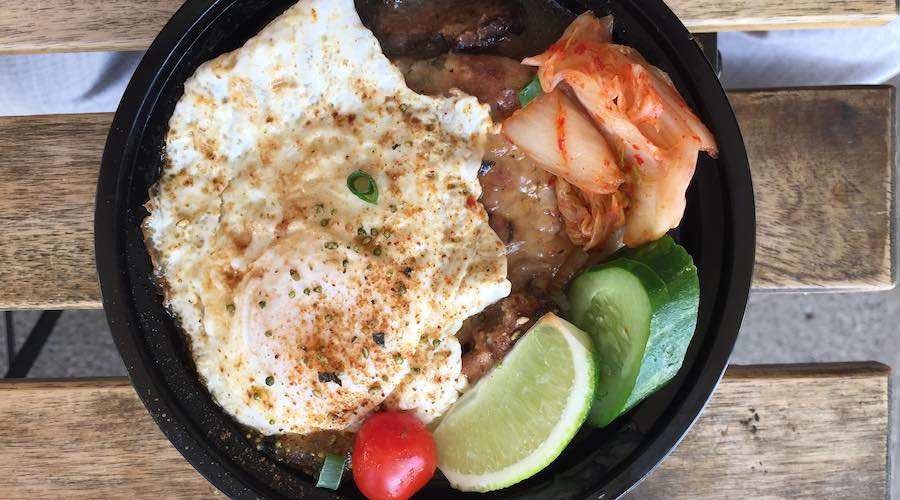 Not too many places do one loco moco with fish. Pictured here is da mini ($9, $12.99 regular). This one's cool in that da chef, Patrick S. Malone, said they use da fresh catch of da day, so could be marlin, ahi, ono, opah or even one combination of various fish. I tink for this particular day I had one ahi patty. I wuz doubting this would work cuz in my mind I never think fish would work well with brown gravy. But I wuz pleasantly surprised, cuz while da sign said brown gravy, da ting nevah taste like no brown gravy I ever had. So I asked what it wuz exactly and Braddah Patrick said, "I start the gravy with either fish patty crumble or smoked fish or both. Then throw in onions and mushrooms. After those have softened a bit, I scoop in some of the fish head/bone aspic I make. When nice and soft I add two beef bouillon cubes for salt and a little extra flavor. Then it's black pepper, more water, bring to a boil. Add thickening agent!!"
Da term brown gravy doesn't do 'em justice, brah. It's like one special fish sauce. Da vegetables really add one colorful pop to this one. I love this healthy take on da loco moco.
152 N. Pauahi Street, Suite B • Chinatown • 762-7610 • M-F 10am-6pm, Sat 8am-12 noon, Sun 8:30am-12 noon • www.aehi-whs.com
Also at Saturday Pearlridge Farmers' Market 8am-12 noon, Sunday KailuaTown Farmers' Market 8:30am-12 noon
Chili loco moco, Anna Miller's Restaurant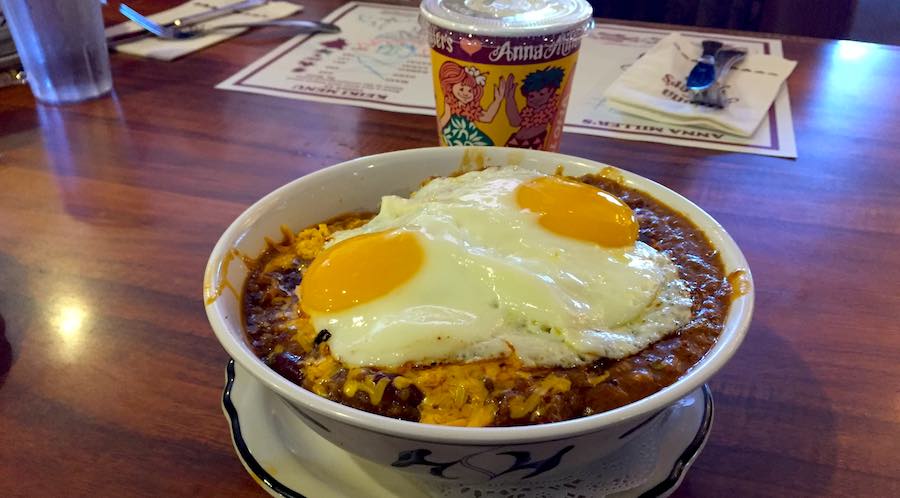 I tried oddah places' chili loco mocos before, but da success of this version depends on how good da chili is, right? Cuz if da chili sucks then das automatic fail already. In all my years of going Anna Miller's I no tink I ever had da chili. Several people told me they like Anna Miller's chili better than Zippy's chili, so when I saw chili loco moco on their menu recently and it said NEW, I figured this would be one good opportunity for evaluate how good their chili really is.
I gotta say, I wuz super impressed. Wuz kinda creamy like Zippy's one, but less beany. Cuz I hate when chili get too much beans and all you taste is beans. And as good as it wuz, I tink da cheese made 'em even better, brah. Da cheese wuz optional; I advise you opt yes. This came in one good size bowl, and you no can see 'em under da two eggs, but under there get one third-pound hamburger patty!
Normally when I eat, I nibble and get one sense of da taste first, in case I gotta write about it. But this wuz so good that I kinda forgot. I dug in and devoured 'em completely. Das why when I wuz pau scarfing 'em down, I wuz all like, Hmmm, this ting had beans or what? I wuz unsure so I had to ask. Da waitress confirmed it did have some kidney beans. Lol. Initially I kinda balked at da $12.99 price. But I tink it's worth, cuz I ate this for lunch and I wuz still so full that I never even eat dinner that night.
98-115 Kaonohi St. • Waimalu • 487-2421 • annamillersrestaurant.com • daily 24 hours
Chicken katsu loco moco, Ruby Tuesday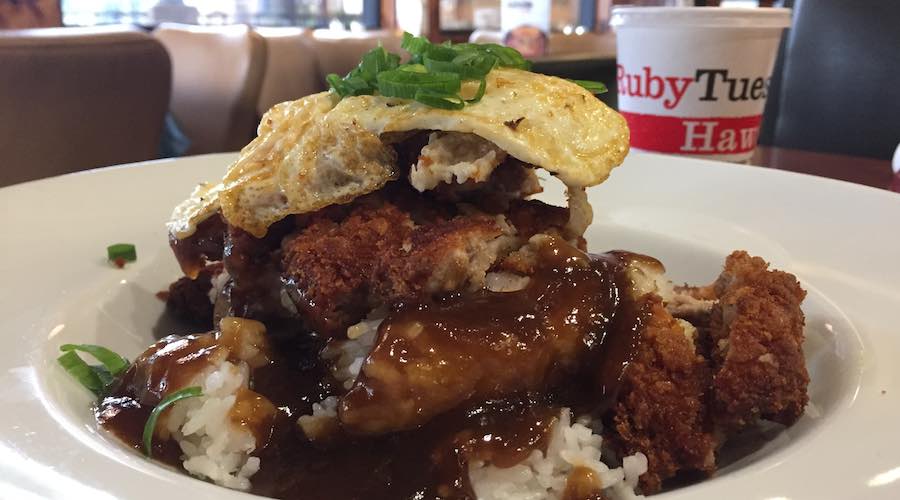 I tink it's so interesting how "mainland" chains gotta adjust their regular menus for cater to local tastes. So I wuzn't surprised for hear that da Ruby Tuesday's in Hawaii had one loco moco, but when I went wuz dinner time and I nevah see 'em on top their menu. I wondered if maybe I had heard wrong, or maybe wuz something they only served for breakfast. So I asked da waiter if can get one loco moco or what, and he just smiled at me and said, "Can!"
But then he caught me off guard when he asked, "Which loco moco you want?" So naturally I had for ask, "Why, what kine you get?" Das when I found out they had one Chicken Katsu Loco Moco too ($12.99)! So then naturally I wanted for try this little bit more jazzy one. I wuz worried da katsu would come soggy so I got em with da gravy on da side so I could pour my own gravy. When my order came I noticed da gravy nevah look like gravy so I asked da guy and he said it's one demi glace. Even more intriguing, cuz I had regular loco moco with demi glace before, but I wondered how chicken katsu would taste with one demi glace.
Da demi glace really elevated da katsu and da katsu added one new, crisp element to da loco moco, which I really appreciated. So ono! Sometimes you like get one plate lunch, but you no can decide if you want chicken katsu or loco moco. Das why I love how this dish combines probably da top two local favorites into one singular dish.
Various locations • www.rubytuesdayhawaii.com