Breakdown: "Live in your Light"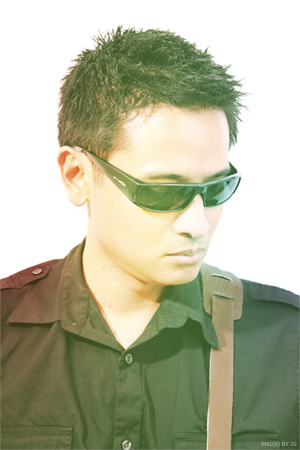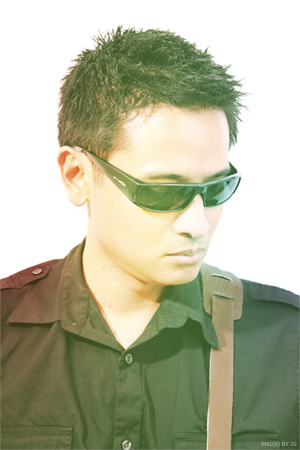 Ryan Gonzalez is a cool dude. Talented designer, accomplished musician and he just so happens to be my co-worker at Kamehameha Schools.
It was in late 2009, Ryan, also known as Gonzo from here on out, approached me to take some cover photos for his new project, "Live from my Living Room" — an album inspired by life's experiences, emotion and feelings. It was an important project for Gonzo and it was important for me as a photographer to capture the essence of what would become his first solo album.
Months have since passed and Gonzo was deep into production; polishing tracks, playing with cover design options and posting behind the scenes content on his blog to share with the world. His project seemed to be going smoothly and I was looking forward to seeing what the finished product would look and sound like.
It was late June, 2010 when a new revolution was born. The iPhone 4 was released on June 23rd and techies, news reporters, content producers and Apple Fansboys rejoiced. The first smartphone capable of not only shooting video, in HD, but editing that same video in the palm of your hand, complete with titles, transitions and background music.
Shoot, edit, export and post, it was just that easy, and the iMovie app was $4.99. Truly a game-changer and like all iPhones past, I had to get my hands on one. On launch day.
After getting my iPhone 4 and playing with the camera, applications, even editing and posting video footage to YouTube, I was ready to push the limits of the device, and I knew just the project to do it with. Seeing others shoot video with the iPhone 4 made me think of ways that we could take it a step further. A grand idea was born. (wish I could find the tweet!)
I shot an e-mail to Gonzo that day and pitched the idea of shooting a music video for one of the tracks off his new album. I knew he had something in the can and I wanted to shoot it with my new iPhone 4. Multiple takes, synced music, stable shots, maybe even some dolly movement. Gonzo could sing to the track playing on speakers and I would have a good audio reference for a clean sync. It was the perfect plan. After some brief pre-production and brainstorming (lunch), we made it happen.
A shoot was scheduled for the following Saturday, July 3rd, 6 a.m. at the Makapu'u Lighthouse trail. It was early for a Saturday but I knew this would be an in-and-out shoot.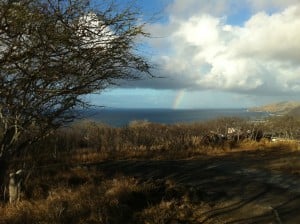 I'm sure you've probably heard "Live in your Light" by now, but as you know, it's not exactly fun and games. I wanted the shoot to be calm, serene and personal. The thought was to show bits and pieces of the main character as he climbed a path to the light. Makapu'u worked out perfectly, especially at sunrise, as it starts off as a desolate trail and finishes with a beautiful summit.
With the sun rising upon us, we would "live in the light" as we shot the video. Plus, if none of this worked out, it was a great excuse to go for a brisk hike.
Upon arrival, Gonzo and his girlfriend Kiele were ready to roll. We quickly got to shooting b-roll, quick takes, walking back and fourth in front of the iPhone. In the bushes, on the trail, standing still, looking out. As we slowly progressed up the hill, I would choose different locations to shoot in, pick angles as we went and started an EDL in my head.
Knowing the limitations of the iPhone and iMovie app, the shoot had to be simple and cinematic. The images needed to speak for itself and lend to the words and the melody of the song. Twenty minutes later, we reached the top. We began to set-up for a quick dolly shot with an old piece of equipment that I've used in the past for "real" video shoots called the Glidetrack. With the iPhone mounted to the dolly, I knew it would create a clean look with subtle movement to push production value over the top.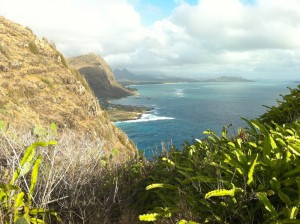 By 7:30 a.m., we were in the car and heading to Zippy's for a quick bite. Loco moco and hot cakes were on the mind. Gonzo's treat.
While sitting in Zippy's Hawaii Kai, I launched iMovie and begin a quick edit of the footage. I knew that if executed correctly, we could quickly and easily gain some local buzz and quite possibly become one of the few iPhone 4 music videos at that time.
The idea was to edit the entire music video in phone and possibly become the first iPhone 4 music video, both shot and edited completely in the iPhone. At least in Hawai'i.
A week had past and other iPhone 4 music videos were popping up left and right. "Shot with iPhone 4", first iPhone 4 music video, but none of them were shot and edited in phone, so I knew we had to quickly finish and launch so we could show-off what we've done. And that we did. Here's how it turned out:
One-month in and Gonzo has gotten over 60,000 views to his YouTube video, multiple features and mentions with National exposure. Front page spotlight on Coldplay's Official Web site and a killer feature on CNN.com as the day's Technology lede.
Traffic to rvaughnmusic.com shot up 7,142% on the day the CNN.com story broke. YouTube and Coldplay.com were also large referrals followed by social networking sites Facebook and Twitter.
Prior to the story, Gonzo was getting about 20 uniques a day, 50+ visits. At peak, that rose to over 4000 unique visitors daily. Now that things are settled, he's getting about 60 uniques a day and 200+ visits. Hawaii's Reel Stories will be airing a segment on Gonzo and his iPhone 4 music video on Labor Day evening on OC16 — be sure to tune in!
The moral of the story is, if you're passionate about something, you should go out and do it. There's really no secret recipe to gaining national exposure — if you have a project that you feel good about and the gusto to go out and execute, people will notice and you will be recognized. And if national exposure doesn't come knocking the first time, make sure you have a good breakfast (I recommend the Loco Moco) and try again.
iMovie view: "Live in your Light" edit on iPhone 4