Best Loco Mocos in Hawai'i: Our Top 5 (2018)
Two self-described food nerds rank the classic dish across the state.
Perhaps one of the most iconic comfort foods of Hawai'i, the humble loco moco satisfies like no other. Without getting into the debate over its origins, let's just agree that the genius combination of rice, hamburger patty, gravy and a fried egg is delicious. We took a statewide tour of some of Hawai'i's classic spots and picked out our favorites.
Nerding out over food is one of our passions, so naturally, we have some criteria for the best loco mocos. Not too sweet, not too rancid, but juuust right. The patty is the heart of the dish and needs to have great flavor and texture. Only over-easy eggs, to keep things classic and consistent. The rice must be cooked well (not too mushy or sticky), providing a stable base for everything that's piled on it. And it must be classic diner brown gravy—apologies to the $20 loco moco places, but no fancy demi glace for us. No add-ons, no fried rice. Just rice, hamburger patty, gravy and over-easy egg.
---
SEE ALSO: You Voted: Here's Your Top 5 Saimin Spots on O'ahu
---
The patty was the one aspect that had the greatest variations, which you should expect from any item made from scratch. Some were all beef, others had more fillers. Some were well-seasoned and flavored while others were simpler. Char-broiled versus cooked on the flat top is an area of debate too.
After visiting dozens of restaurants on three islands, we found more than a few excellent takes on this classic dish. Here's our ranking of Hawai'i's best loco mocos.
No. 5: Pine Tree Café, Kona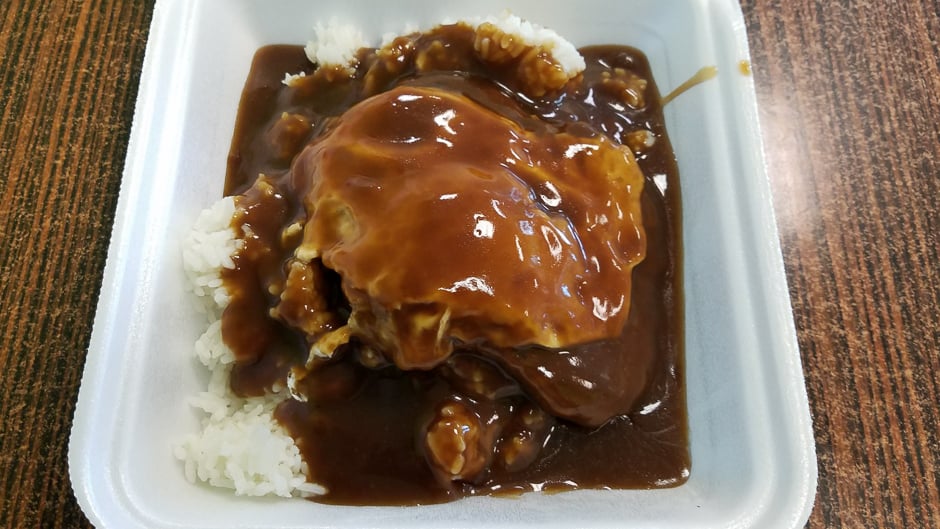 Located in a nondescript strip mall five minutes south of the Kailua-Kona International Airport, this version offers the beefiest gravy of the bunch. It's dark, rich and generous over a firm, mildly seasoned 8-ounce patty with a significant amount of rice to match. The impact of the other components overwhelms the properly cooked egg. For those up to the task, there's a larger version with an additional patty and egg.
74-4038 Hulikoa Dr.,  Kailua-Kona, (808) 327-1234, pinetreecafe.com
---
No. 4: Café 100, Hilo
From the city that created the loco moco, Café 100 keeps it humble, honest and true. With the best cooked rice of all the contenders here, this dish presents hamburger patty, egg and gravy in a solid, no-frills fashion, offering diners a warm embrace of culinary history. Café 100 is an icon and the beauty of its loco moco is how it doesn't deviate from its origins, delivering a straightforward, hearty snack and a perfect balance of flavors.
969 Kīlauea Ave., Hilo, (808) 935-6368, cafe100.com
---
No. 3: Original Pancake House, Kalihi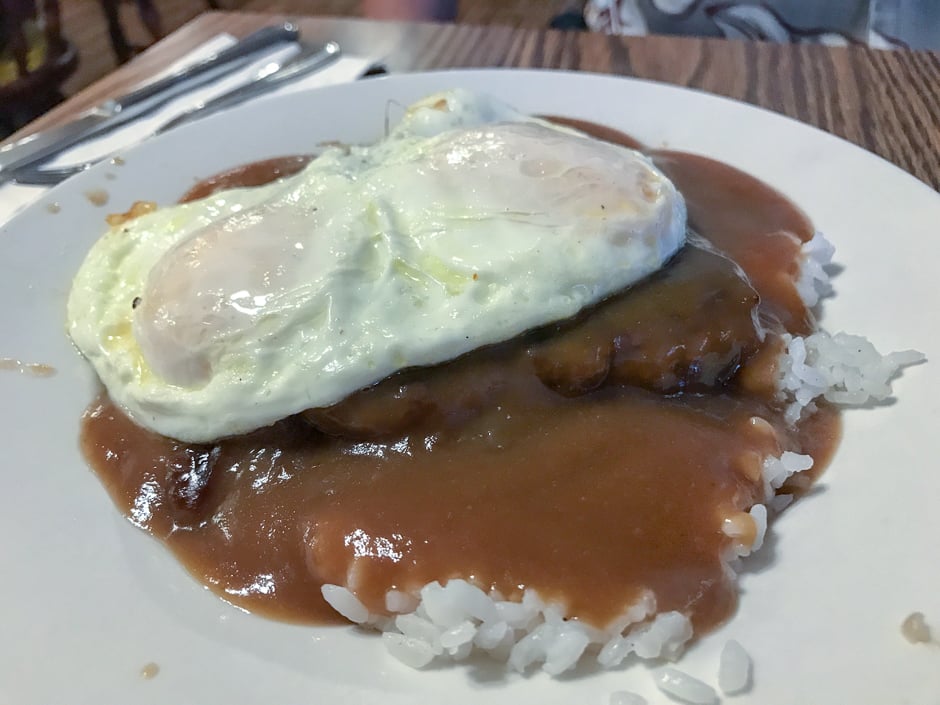 One of the state's best loco mocos isn't the menu per se, but adding gravy and eggs to the hamburger steak makes the loco moco available by request. Original Pancake House is known for (surprise!) its pancakes, but one bite of the loco moco elicits a quick "Whoa!" The patty is tender and well-flavored, though it might need some salt. The gravy and eggs are good. Rice is a bit dry but forgivable because there's lots of gravy all over. And the noticeably better quality of the patty  is what launches this loco moco into third place.
1414 Dillingham Blvd., Kalihi, (808) 847-1496, originalpancakehouse.com
---
No. 2 (tie): Tasty Crust, Wailuku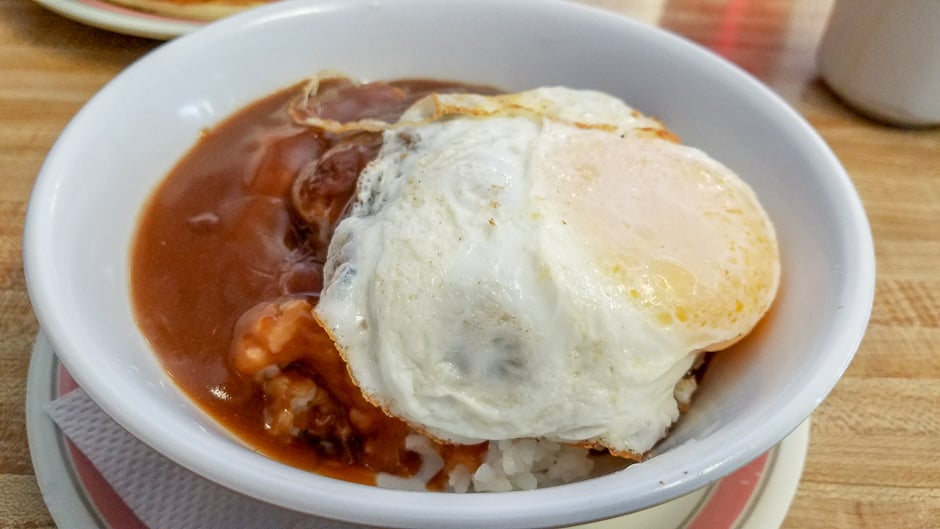 This place is jammin' all hours of the day. It seems like nothing has changed in the last 40 years, and we like it that way. Don't change! And can we get a shout-out for breakfast served all day? The loco moco comes in two sizes here, so don't get confused when you see two different prices. The breakfast loco moco is smaller than the one on the lunch and dinner menu. If we're in the mood for pancakes but want a little loco moco on the side, the breakfast one is perfect.
Think classic diner burger: The patty is beefy and well-cooked without trying to be anything more. Eggs and rice are perfect. The gravy is as good as it gets and brings back childhood memories of eating gravy and rice at the Nuʻuanu YMCA. Its flavor is familiar and comforting. Straightforward and delivering every component at a level rising above most, Tasty Crust definitely earns the No. 2 ranking.
1770 Mill St., Wailuku, (808) 244-0845
---
SEE ALSO: We Compiled Your Top 5 Poke, Gau Gee, Meat Jun, Loco Moco
---
No. 2 (tie): Like Like Drive Inn, Honolulu (closed)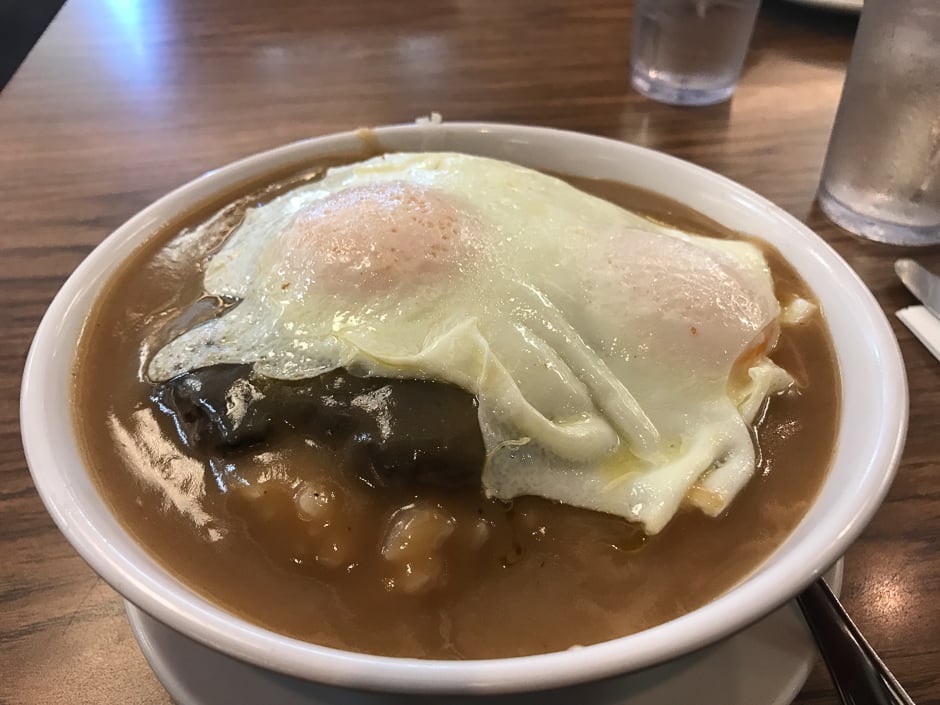 I (Jason speaking) was honestly set on Tasty Crust being my solid No. 2, but upon checking out Like Like Drive Inn's loco moco for the first time in decades, it was difficult to decide which was better. The most solid aspect is the patty, which scores high for crust, flavor, texture and doneness. The rice and egg are well done. The only qualm is the gravy seems to be lighter in flavor—maybe cut with chicken stock. It's the impressiveness of the patty that makes this loco moco worthy of a tie with Tasty Crust. One of Honolulu's classic institutions delivers on a really great classic dish.
---
No. 1: Liliha Bakery, Honolulu, original location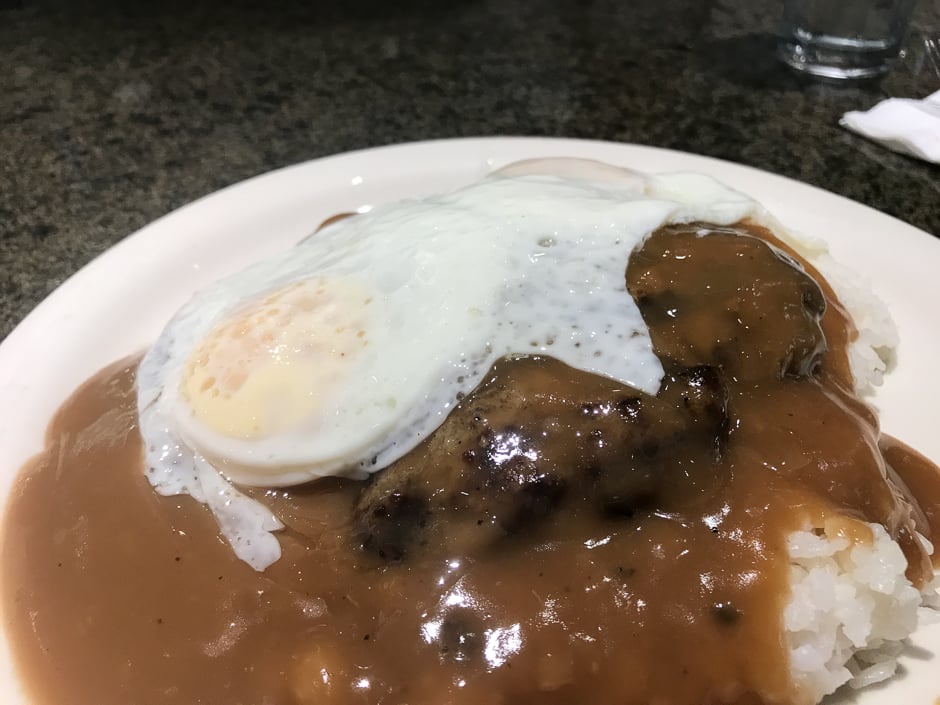 Go for the Coco Puffs, stay for the loco moco. As a kid, we always saw people lining up to eat at the counter. Years later we gave it a shot, and found out why. If you go with more than two people, you're unlikely to get seated, but we love the original Liliha Bakery. Maybe it's nostalgia or maybe it actually tastes different.
First, they char broil the patty, unlike many other places. You also have a choice between different size patties at the original location. It's utter perfection: well-seasoned, tender, charred—everything we want. The gravy is as good as it comes and comforting. Eggs and rice are just right, too. Hands down, this is our champion, the best of the best loco mocos in Hawai'i. The wait is worth it. Oh, and don't pass on those grilled butter rolls and the radioactive strawberry jelly.
515 N. Kuakini St., (808) 531-1651, lilihabakery.com
---
Food is the cornerstone of Jason and Gregg's friendship. Whether trying to top each other's Instagram posts (Jason always wins) or trading tips, the topic is almost always cooking, eating or drinking. Music educator Jason's taste is rooted in his travels and Japanese and Chinese heritage. Sushi, noodles and fried potatoes are his weaknesses. With a job in outside sales, Gregg sees himself as Hawai'i's answer to Japan's hit series "Kodoku no Gurume" and favors sushi, fried foods and izakaya bites.