Arabic Cuisine Finds a New Home on South King Street at Habibi Tasty
The former late night Waikīkī food truck expands its menu with stuffed falafel, meaty kababs and a slew of appetizers.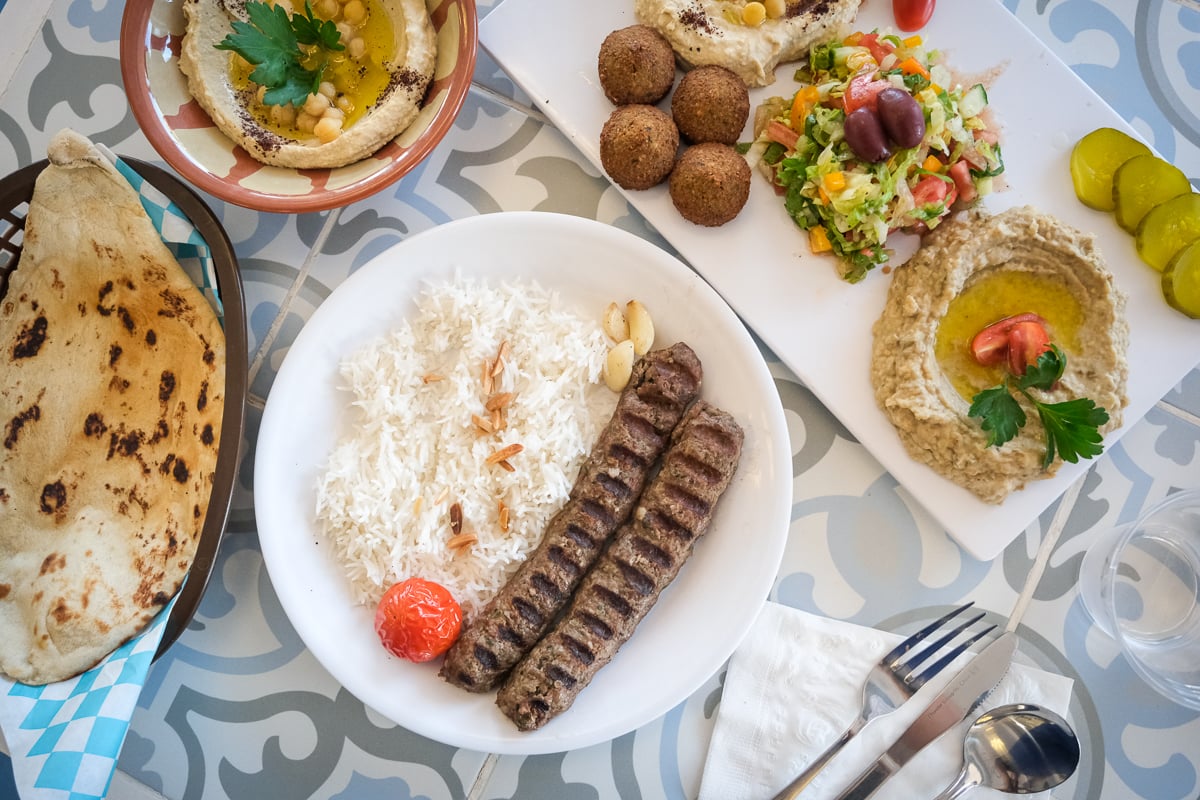 "Everything in here was done by hand." Inside Habibi Tasty, Suzen Alkatib proudly points to a white table inlaid with tiles in Mediterranean hues. A pillar, covered floor to ceiling in cerulean blue glass, "took a long time, but we did them ourselves. Everything but the plumbing and the electricity, we did."
Alkatib and her partner, Moha Arekat, have resurrected the quirky Jordanian food truck I happened upon in Waikīkī back in December 2019 as a brick-and-mortar on the corner of Isenberg and King streets in Mōʻiliʻili. They've had the space, a former moped outlet, for a year, adding a huge open kitchen and building out the dining area with seven tables and rustic decor from their homeland. Habibi Tasty opened at the end of June, joining an eclectic mix of businesses that include everything from Japanese izakaya pubs to an Indian restaurant and a New York-style pizza bodega.
---
SEE ALSO: Tasty Middle Eastern Fare Comes From a Van in Waikīkī
---
With the additional space, they've expanded the menu. One side is dedicated to appetizers, while the other covers entrees served with rice, grilled vegetables and hummus or salad. The prices are higher, but that comes with the territory of having more overhead. The expanded appetizer selection is enough for me to plan my next visit.
You'll find more crispy falafel options, including a mix plate ($16) with six medium-sized falafel and two large falafel, one stuffed with red onion and sumac, the other with cheese. You can also have a falafel sandwich ($12) and appetizers like cheesy potatoes ($8) and stuffed mushrooms ($8). Vegan options, in addition to the falafel, include hummus ($10), grilled eggplant baba ganoush ($10) and the Arabic salad ($6).
The chicken sheesh ($20), marinated chicken breast turned into nuggets of poultry gold bursting with flavor and boasting an ideal amount of char, are a good starting point. As are the lamb kababs ($32), full of aromatics like paprika, cumin and loads of garlic. For the plates, I suggest adding a side of saj flatbread (two for $5), baked to order on a hot stone. The lamb mix plate ($65) is made for sharing, with two lamb kebabs, two lamb chops, a lamb sheesh skewer, two saj breads, rice, grilled veggies, hummus and salad. It's a literal feast.
My friend and I order an appetizer sampler ($20) with hummus, baba ganoush, Arabic salad, falafel, pickles and a flatbread, and a beef kabab plate ($28) to share for a light dinner. The bright flavors play off the spices and herbs in the grilled meat. Marrying them on a piece of saj bread is equivalent to building the ultimate ssam Korean lettuce wrap or an over-the-top hand roll, where the elements come together in a flavor crescendo.
The meal is just enough for us both to take home a bit of leftover hummus, an easy late night snack.
---
SEE ALSO: 2021 Hale 'Aina Award Winner: Istanbul Hawai'i Wins Best Mediterranean Restaurant
---
When I first encountered Habibi Tasty operating out of a converted van on a quiet street behind the Ritz-Carlton in Waikīkī, it was a charming scene. Curious residents walking their dogs and peering at the menu, tourists in various stages of sobriety looking for a bite to eat, and myself sitting in a random chair waiting on my kababs as a Europop remix of the "Macarena" blared. It was comforting in a way words can't describe. If you weren't there, you missed out on some prime people-watching, but the delicious Arabic food lives on. In the future—I suppose when Alkatib and Arekat find the time to build more tables—outdoor seating will flank the King Street side of the restaurant.
The new Habibi Tasty has the same hand-built charm of the old panel van, but with the benefits of ample street parking, a larger menu selection and proper seating. I can see myself venturing here a bit more often.
Open Wednesday to Sunday from 5 to 10 p.m., 2346 S. King St., @habibitasty