Tasty Middle Eastern fare comes from a van in Waikiki
Habibi Tasty brings Middle Eastern falafel, shawarma and kebabs back to Kuhio Avenue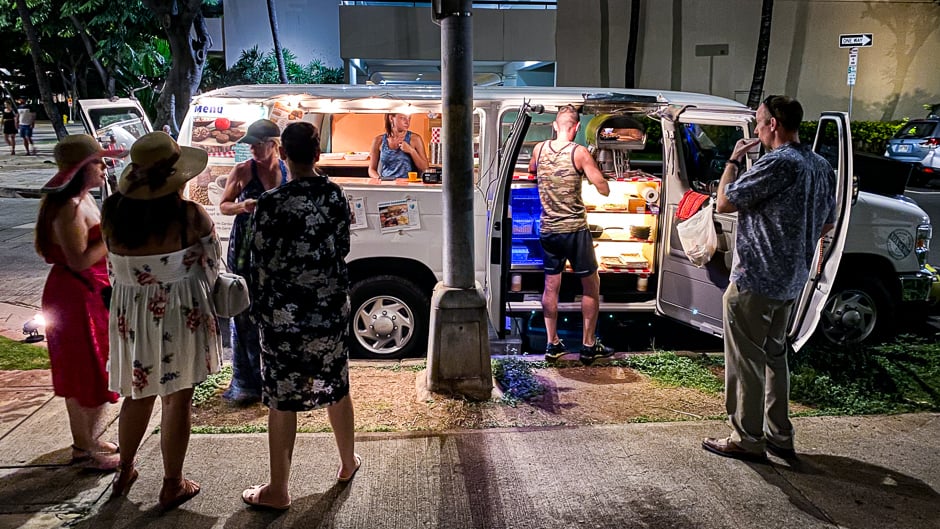 Editor's note: As of July 24, Habibi Tasty now pops up at 210 Kapuni St. and Kuhio Avenue.
Do you remember Zanzibar, the nightclub in the former Waikiki Trade Center? Well, I don't, but I do remember Da Falafel King, a cart that posted outside until 4 a.m. They served up incredible falafel, sabich (eggplant and egg) and kebab pita sandwiches piled with pickles and tahini to passersby and clubgoers that needed a sobering meal before heading home.
Da Falafel King's Waikiki cart was where I had my first falafel and it forever remains etched in my food memory. Sadly, the family left Hawaii in 2013. Kuhio may have cleaned up since then, but it remained devoid of Middle Eastern food until recently.
Enter Habibi Tasty Middle Eastern Kitchen, a converted Ford Econoline van that parks near the corner of Kuhio Avenue and Kaiolu Street. Look for the bright lights and the "Macarena" playing on the stereo. Inside you'll find a woman named Suzen taking orders, preparing cups of Turkish coffee and frying falafel while her partner, Moha Arekat, tends the kebabs and skewers of chicken roasting in the oven.
The aromas of grilling meat draw a crowd of visitors and neighborhood residents walking their pups. Trust me, it's a scene.
See also: Where locals eat in Waikiki
The dinner menu is concise with a focus on plates that range from $10 to $15. Torn between the falafel plate ($10) and the chicken thigh shawarma plate ($10), I asked to order a few falafels a la carte, but Susan threw a couple on my plate. The chicken shish kebab uses chicken breast, while the shawarma is made with dark thigh meat. They're both marinated for 24 hours in lemon juice, olive oil, onion juice and spices.
The thigh meat is skewered and cooked to order, resulting in beautifully tender pieces that have a slight char. Plates include fresh homemade pita with a side of hummus dressed with olive oil and zaatar seasoning, and pickles, oven-roasted tomatoes, onions and corn. The corn was mushy and my least favorite thing on the plate but the generous container of garlic sauce made up for it.
For $10, I was very full and probably could have stretched two meals out of it if It hadn't been so delicious.
See also: Where to park in Waikiki
The following Friday night, I ordered the lamb kebab ($15), which seemed to cook much faster than the chicken shawarma. I went to an ABC Store to grab a drink and only waited a few minutes before collecting my order from Susan.
Lamb sausage mixed with cumin, paprika and other aromatic spices form the main event on a warm, puffy pita. The plate includes a side of creamy hummus and roasted tomatoes and onions, which have an incredible sweetness only heat can coax out. Arekat's kebabs linger on the brain: I've already decided to get them on all future visits.
On weekends, Habibi Tasty opens from 10 a.m. to 10 p.m. with fresh baked manakeesh bread ($5) with eggs, cheese and herbs for brunch in addition to their regular offerings. Although it will be hard to entice me away from the kebabs, I discovered you can order the bread and lamb chops on the side for $3 and $5 each. You can even take homemade pita, hummus and falafel mix to go. A bag of five pitas costs $5, and a 17-ounce container of hummus goes for $7.
Habibi Tasty is now further down Kuhio Avenue, in a moped rental lot home to Hula Dog and an ice cream shack. They just acquired a shawarma machine and have added sandwiches to their menu. Crispy and tender bits of chicken comingle in a melange of creamy garlic sauce and dill infused pickle spears on a pressed pita bread. There are now socially distanced tables and a couple of parking stalls right upfront.
Middle Eastern food is difficult to find as it is, so when it's this good, you can find me hanging out on a Waikiki street corner waiting for my lamb kebab from Habibi Tasty.
Habibi Tasty Middle Eastern Kitchen
210 Kapuni St. corner of Kuhio Avenue)
Thurs. – Sun. 5 – 10 p.m.
728-4115