Aloha oe: What Real Gastropub meant to Hawaii's beer scene
A pioneer of the local craft beer movement has closed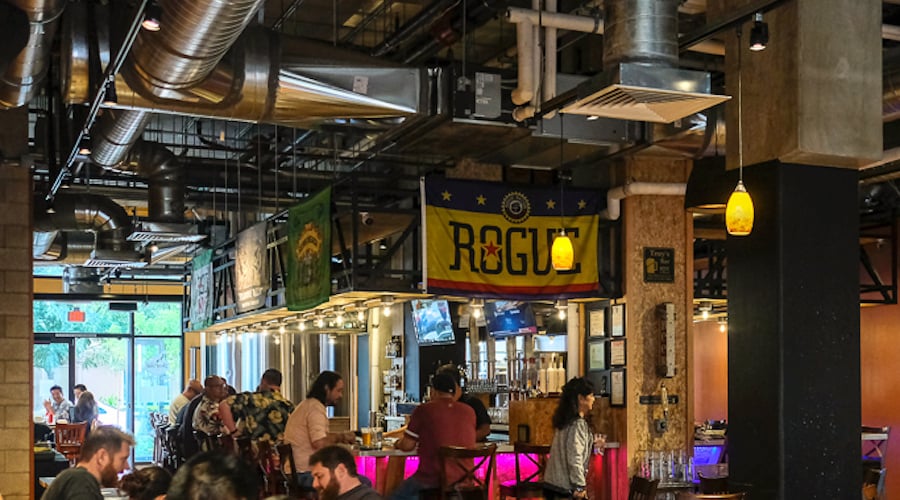 Businesses in Hawaii are slowly reopening, but not all will still be around to pour you a pint. Last week Real Gastropub announced that stay-at-home orders have been too much to bear and it will not be reopening. For many, Real holds a special place: "It was an exciting craft beer experience like nowhere else in Hawaii," remembers Joshua DeMello, founder of IslandBeerUnion.com. "They brought beers and serving styles commonplace elsewhere [to Hawaii]. It made Real a legit beer place for beer geeks." Real Gastropub is often credited as the first restaurant in Hawaii with a focus on craft beer.
Troy Terorotua, a chef by trade, saw a craft beer hole while working as a beer buyer for Whole Foods Kahala. "I wanted to develop beer-friendly food and a cool craft beer program," he says. In 2012, he and his life and business partner, Lisa Kim, started Real a Gastropub in Kakaako near Consolidated Ward Theatres. "I hired beer geeks as the staff and we had no idea how it was going to go. But we opened to long lines. People were open to going beyond the green bottle."
Real became a place to discuss and try new beer. A regular, John Williams, remembers on Real's opening, "I immediately understood that Hawaii was getting something that it hadn't had before." The gastropub's portfolio of European beers was meant to hook locals, visitors and military members — who could reminisce about their past travels, knowing this was the only place to get that special pour for thousands of miles. "You can come to Hawaii and not have to drink a pina colada or fruity drink," jokes Terorotua. Being known for a selection of worldwide beers also fostered local relationships, and Real brought in kegs from around the state.
See also: Beermap: Where to drink craft beer on Oahu
Beer fans on Oahu often credit Real with really kicking off the island's beer culture, though Terorotua says "Big Island Brewhaus and Maui Brewing were already producing great quality beer, Honolulu Beerworks was in the planning stages. I just wanted to showcase true craftsmen. I was honored to be a part of it."
Real would become much more than just a restaurant with a killer tap list. Zwanze Day, a worldwide celebration of Lambic beers from Brasserie Cantillon in Belgium, stands out among the memories made there. Real was one of a few hundred venues in the world selected to participate. "The first year only around 10 people came; by the last year hundreds came," Terorotua says. "Friends would share so everyone got to try it if we ran out."
Real also helped spearhead Oahu's first beer festival. The Honolulu Brewers Festival began in the parking lot outside the gastropub and expanded rapidly over the years. Over four years, the festival raised $110,000 for the Hawaii Agricultural Foundation. Ultimately, though, corporate festivals prevailed and the Honolulu Brewers Festival was no longer sustainable.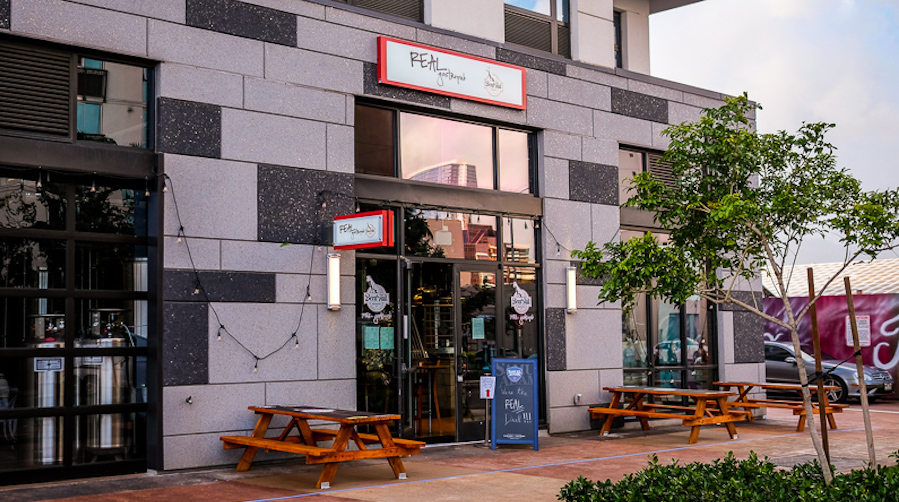 With continued development in the Ward area, Real closed in September 2017. "It wasn't what we wanted to do, but we used the opportunity to come up with new ideas. We wanted a brewery but there were questions on how we could fit in and grow a brand," says Terorotua. Real reopened at Keauhou Lane in early 2019 with a brewery attached, with Tom Kerns, owner of Big Island Brewhaus, overseeing brewing. "It wasn't Hawaii-named or based. It was named after aspects of my dog," Terorotua says. And so: Bent Tail Brewing Co.. The Bent Tail IPA was voted as best IPA in the Battle of the Townies competition hosted by Honolulu Beerworks.
See also: Welcome back, Real Gastropub
But there were the realities of business. "It's challenging and trying; it's not an easy business," he says. "There's lots more competition now. [About reopening] I always asked, 'Does this benefit our staff?' You can't keep doing the same—you need things that make you excited to get up in the morning."
The good news is that BREW'd Craft Pub, another venture by Terorotua and Kim, will reopen in Kaimuki sometime July. "That is the focus now, it's the neighborhood bar," he says. And don't be surprised if Bent Tail Brewing returns, eventually. "It's a temporary stoppage, let the wounds heal and come back. We'll keep the name, and if the opportunity comes again, I'd love to make our beers again if there's a time and place."
Terorotua says since Real opened, the quality of Hawaii-brewed beers has improved and the industry saw the formation of the Hawaiian Craft Brewers Guild and beer awards, created by  Steve Haumschild, owner of Lanikai Brewing Co. "Things like that would've never been possible when we started. I wish the best to all the guys in the industry: Make strides, make a difference, get your name out there and make Hawai'i famous."