Afterthoughts: Who Mourns for Koreamoku?
Here's to Heinekens and beef bulgogi.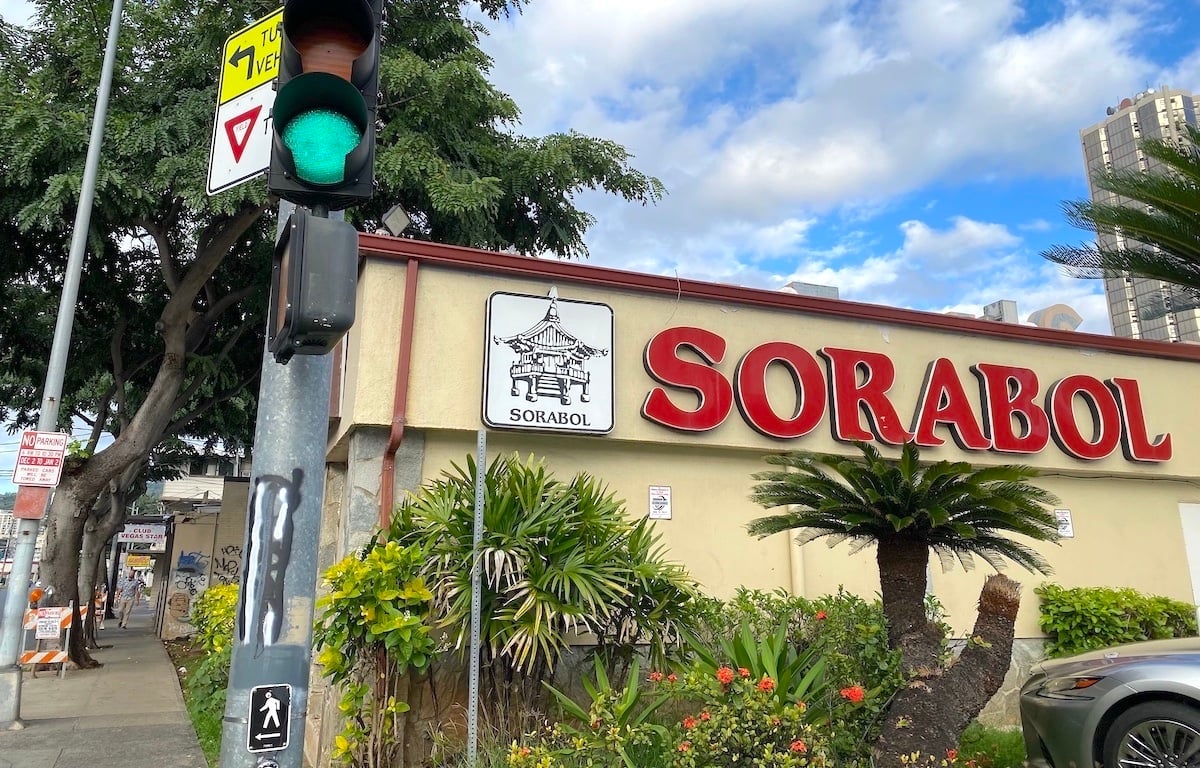 When I learned that Sorabol, Menchanko-Tei and a dozen or so assorted eateries and small businesses around the 800 block of Ke'eaumoku Street were suddenly scheduled to close back in January, a buddy and I decided to explore the area. It was partly a final send-off, and partly because, aside from the occasional late-night rally for fried chicken and beer at Chicken Factory, this area of "Koreamoku" wasn't one I frequented. There were always newer, cooler and, frankly, cleaner looking places in neighborhoods such as Kaka'ako and Kaimukī. Yet even if I had only gone to hot spots like Ireh or Imua Lounge a handful of times over the years, it seemed impossible to imagine Ke'eaumoku Street without this medley of low buildings where anyone could enjoy yakiniku, score cheap drinks, or sing karaoke at seemingly any hour of the day or night. Thanks to the imminent construction of two new condo towers, this was my last shot to explore a part of the city that would soon be gone forever.
SEE ALSO: Here's the New Sorabol, Just Opened Inside Pagoda Hotel
Areas like this stretch of Ke'eaumoku are tricky. Although some of these businesses have found homes elsewhere not every business here will survive.
I don't know what we expected to find—maybe the so-called secret watering hole rumored to exist somewhere above Samstco Discount Store where various folks I've encountered over the years have alleged that it was possible to drink, gamble and solicit other services from midnight until well past dawn. Not that I was looking to get involved in any illegal activities, but at the very least, I figured my friend and I could visit a few of Honolulu's most storied haunts and possibly meet a few shady characters.
We started at Yakiniku Don-Day for yogurt soju and beef bulgogi, then ambled to Chicken Factory for whiskey shots and spicy chicken wings. The pool hall King's Billiard and a husband-and-wife-owned sushi joint, Michinoku, had shuttered, but we could sing and drink beers at the still-open New Seoul Karaoke. Everywhere we went, we found hardworking bartenders and business owners who were unhappy at having to close but still willing to sell us a drink or one last meal and talk about the changing personality of the neighborhood. We asked questions like: If the new residential tower being built at the corner of Ke'eaumoku and Makaloa streets will be called "Midtown Ala Moana," does that mean Ala Moana Center is now considered "Downtown Ala Moana"? (And how does Downtown Honolulu feel about all this?)
SEE ALSO: Local Haole Never Feels More Local Than When He's Scrolling Through Posts on "Da Bullehtin"
I even poked my head into the wide open doors of Club Vegas Star, a strip club with no strippers, just a lone Filipina named Maya who was serving Heinekens to a tired-looking man sitting at the neon-lit bar. An old terrier named Kolohe ran around underfoot and slept in a wooden baby's crib in the middle of the room. Which would be weird to see in a strip club, but this wasn't really a club anymore. It was just a place where people reminisced after two years of restrictions, and now, only for about another week or so. None of these places would be spared from the wrecking ball, not even the makeshift memorial wall in the driveway connecting the two parking lots near 88 Pal Pal Supermarket, where friends of Nehlia-Ann Scanlan wrote messages such as "Rest in Love" and "4eva Nene" in honor of the 19-year-old who was run over there last August.
Areas like this stretch of Ke'eaumoku are tricky. Although some of these businesses have found homes elsewhere not every business here will survive. And that may not be a bad thing, depending on who you ask. At the same time, many of these longstanding haunts meant something to the regulars who worked and lived here. A business can set up shop somewhere new; memories don't always relocate as easily. The high-rise going up on this block represents an opportunity for this area to gain some new neighbors. Yet I can't help but feel like Hawai'i is losing something immeasurable, even if some of these places—like Club Vegas Star—are literally going to the dogs.
At the end of my night on Ke'eaumoku, I told Maya that I liked Kolohe and she told me that the little dog isn't hers. But it doesn't mean he doesn't belong to someone.