Afterthoughts: Riding the Crest of a High and Beautiful (Radio) Wave
Left of the dial.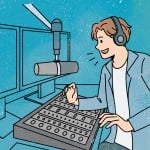 This month marks an anniversary for me: For the past 10 years, I've been moonlighting as a radio DJ on KTUH 90.1 FM. Every Wednesday, I trek up the hill to Hemenway Hall on the University of Hawai'i at Mānoa campus and play music—"pop music from the 20th century and new music from the 21st," as I say on air—from 3 to 6 p.m. Three hours adds up to 40 or 45 songs, a decent playlist, depending on the length of each track (and how much I ramble).
When current Hawai'i Public Radio program manager Nick Yee first showed me the ropes at KTUH in 2012, he advised all DJs to hop on the mic every few tracks to announce what they're playing or talk about music. "People aren't just tuning in for songs, they also want that connection," he said.
SEE ALSO: This Local Radio Show is Beaming Vintage Hawaiian Music Across the Globe
I didn't believe him at first. I imagined your average radio listener was somebody stuck in rush-hour traffic. All they want to hear is music to get them through their drive, not some 20-something droning on. But whether or not I announce the station's on-air request line—it's (808) 956-7261—I still invariably receive a half-dozen random calls each week from listeners. They're more eager to talk than I am, so I just listen as they tell me how a particular song I played reminds them of the past or what album changed their lives. Usually, people will also ask to hear certain songs. (If their request has profanity or is already regularly blasted on other Top 40 stations, I'll play "Just Give 'Em Whiskey" by Colourbox.)
Otherwise, the calls are often a mixed bag. A guy named Big Chuck once called in, upset that I played Dion's "The Wanderer," because his girlfriend heard the song on the air and became convinced that Chuck was also the type of guy who "likes to roam around." For a while, a group of local guys calling themselves the 'Nalo Boys would ask for "any kine Andrew Lloyd Webba" songs in the heaviest Pidgin I ever heard. One time, a guy told me he was secretly Marvin Gaye's fourth child. Another time, a woman sent me a Papa John's pizza.
SEE ALSO: Harry B. Celebrates 40 Years of Vintage Hawaiian Radio Show "Territorial Airwaves"
It's like Forrest Gump's mama used to say: "You never know what you're gonna get."
To be fair, I also never know what I'm going to play each week. Maybe my eclectic musical mix—which ranges from Frank Sinatra to Frank Ocean, Pink Floyd to Pink Martini—encourages listeners to reach out and suggest songs. A lot of KTUH's other DJs, like smooth talking Jonny Baby or blues man Steve Stoddard, plan carefully curated set lists in advance. Sadly, I don't have the same musical chops.
Instead of tuning in to radio, I grew up watching movies. When I'm in the studio, I picture myself scoring the soundtrack to some action film that's happening in Honolulu. I'm Wolfman Jack reading caller dedications in American Graffiti. I'm Zack Johnson on AFVN, asking all GIs to hang their laundry indoors ("Keep Saigon Beautiful!") and playing the Rolling Stones' "Satisfaction" in Apocalypse Now. I'm Debi Newberry on WGPM, contemplating my 10-year high school reunion in Grosse Pointe Blank. In the movies and in real life, people are going on adventures. I like to think my music helps them get there.
SEE ALSO: Afterthoughts: Who Mourns for Koreamoku?
Amid COVID cutbacks and the rise of streaming services such as Spotify, some may wonder if interest in traditional AM/FM radio is fading out, no pun intended. If my listenership is dwindling, I can't tell. People also declared that vinyl was dead—until LP records made a voracious comeback in recent years, even so far as outselling CDs for the first time since the 1980s. According to a 2019 survey, KTUH was the third-most-listened-to radio station in Honolulu from 7 p.m. to midnight, Monday through Friday, and that's not nothing.
KTUH also celebrated its 50th anniversary in 2019, so I guess some favorites have a way of sticking around. As long as people want to hear unique tunes (from real humans), there will be DJs like me to make it happen. Just ask the 'Nalo Boys.