A New Ramen Restaurant Just Opened in Kaimukī
Noods Ramen Bar has tan tan, yuzu shio, truffle shoyu ramen plus poke bowls and killer garlic fried rice.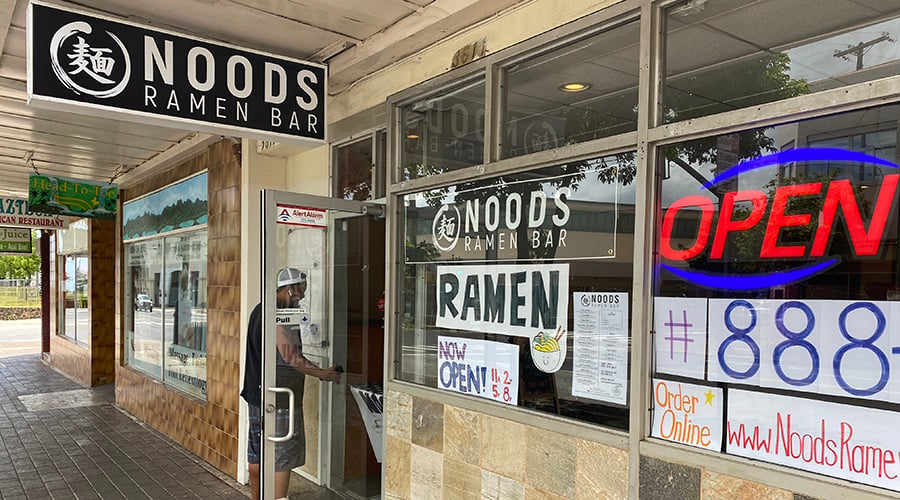 A ramen restaurant has opened for takeout in Kaimukī—yup, in the middle of quarantine. Noods Ramen Bar caught my eye when foodie friends posted delicious-looking bowls. Curious, I clicked on Noods' Instagram and immediately saw bowls I wanted to try like black garlic miso ramen, miso pesto ramen and truffle shoyu ramen. There are more than 10 ramen bowls, all between $10 to $14 with the majority in the $11 to $12 range. Budget-friendly ramen with parmesan cheese? I was sold.
Formerly a weekend pop-up at Osoyami, Noods opened in late April right next to Broken Rice and across Pipeline Bakeshop & Creamery on Waialae Avenue. It's a good add in a foodie neighborhood with multiple options for pho and dessert, but no standalone ramen restaurant except for Hokkaido Ramen.
SEE ALSO: Our go-to: Ramen
While ramen is the specialty, sides include garlic fried rice, kimchi potstickers and poke bowls. You order takeout via phone or online and specify a pickup time. Pickup is especially convenient because there's a designated three-minute loading zone right in front of the store.
The first time I go is during opening week. I get the miso pesto ramen ($12) and beef gyoza ($5). You can add spice to your ramen, either in the broth or on the side; spice levels are 1 to 5 (5 being ghost chilies). I get level 2 on the side. Spices are free if they're level 3 or below.
Noodles are packaged separate from the broth and everything is clearly labeled. All I need is my own bowl.
The $5 gyoza doesn't transport well. Though it's tasty, I have to pan-fry it to achieve the delectable crispiness I want. My miso pesto ramen, however, is a winner. It sounds unconventional, but if you like cheese and pesto, I highly recommend giving this one a try. Don't let the green broth deter you.
Both miso and pesto flavors are strong, but neither overpowers the other. The char siu is tender and flavorful and the Parmesan cheese sprinkles add extra umami. I add my own Parmesan because I want extra cheese. It's been a while since I had ramen, and I didn't realize how comforting it would be. I happily slurp up my entire bowl. It turns out that level 2 spice is perfect—not too spicy but just enough to leave me sweating.
I still want to try the black garlic tonkotsu, which is Noods' most popular bowl. I get it on my second visit the following week, along with a poke bowl ($8) and side of garlic fried rice. I wasn't planning to get the fried rice, but for $3, I couldn't say no.
This turns out to be the best decision ever. The rice is addictive and oh-so-garlicky. The scent of garlic teases me all the way back to Salt Lake, and it's the first container I dig into.
When Noods first opened, they were giving away garlic fried rice with every order. It was so popular it got added to the permanent menu. This is a vegetarian fried rice with green and white onions. If you want meat, a char siu garlic fried rice option is available for $1 more. I like char siu, but I'm perfectly happy with the plain version. It's comforting and simple, and you can't beat that $3 price.
Spicy ahi and shoyu ginger ahi poke bowls cost $8 and come with a third of a pound of poke on white rice with furikake. It's a good find for the price and perfect to satisfy my poke craving. The fish tastes fresh and the spicy ahi sauce is creamy with just a hint of heat. The ahi is cut into large pieces, as are the white onions. It's only after I get home and post it on Instagram that I found out a new cook forgot to top it with furikake and green onions. Still good!
SEE ALSO: Our go-to: Poke bowls
This time, noodles and toppings for the ramen are arranged in a takeout soup bowl, so that's one less step in the at-home assembly process. Now I just need to pour in the hot broth.
I can see why this is a best-seller. The tonkotsu pork bone broth has a familiar, deeply comforting flavor made more savory by the black garlic oil. I love garlic, so I don't mind that that the aroma lingers for hours after I'm done. This bowl comes with green onions, char siu, aji tamago, menma, nori and garlic chips, which are fun to crunch on between slurps.
These aren't the most gourmet bowls you'll find, but Noods fits the bill for comforting ramen that's easy on the wallet. And definitely get that garlic fried rice and spicy ahi poke bowl.
3611 Waialae Ave., (808) 888-2115, noodsramenbar808.com. Open daily 11 a.m.-2 p.m. and 5–8 p.m.