What You'll See at the New 88 Mart in Downtown Honolulu
Downtown's Korean market opens with light groceries, bentos, drinks and soon, a self-serve ramyun bar at Executive Centre.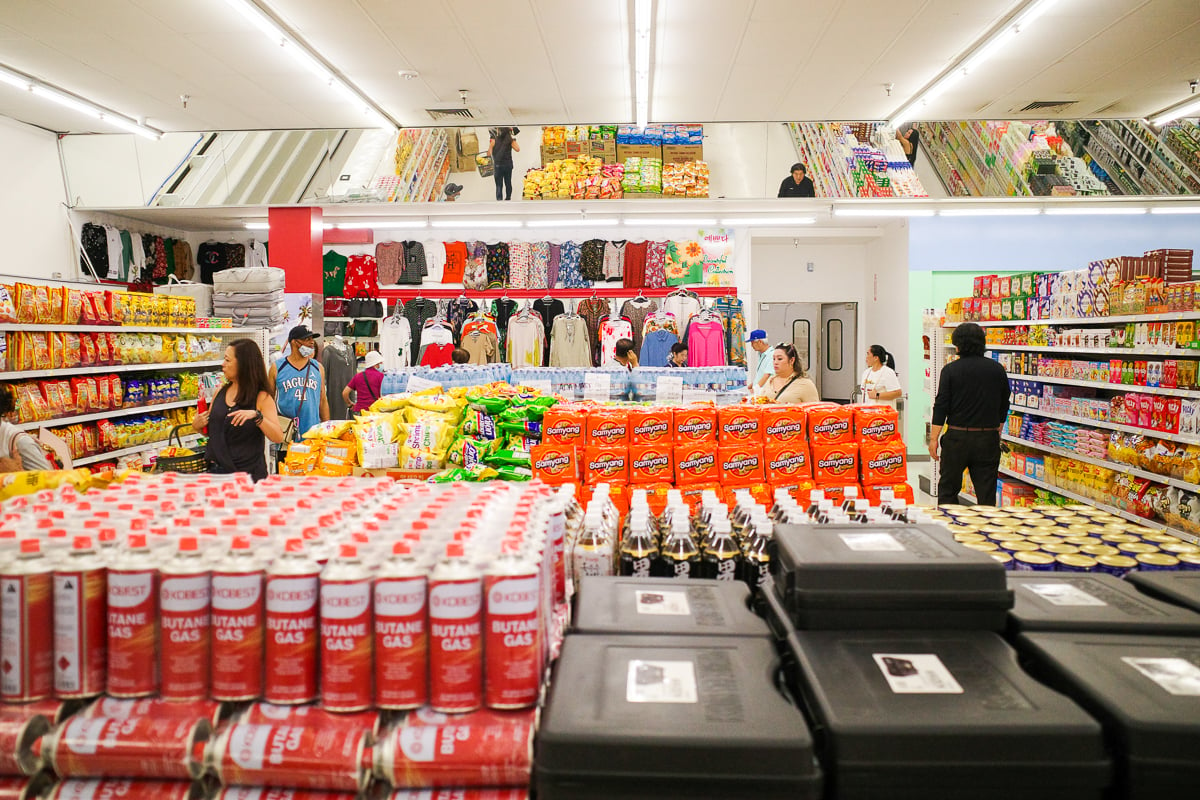 At last, 88 Mart, the successor to 88 Pal Pal Super Market from Ke'eaumoku Street, opened Wednesday, May 24, in the former Longs Drugs on Hotel Street. Construction on parts of the store continued as customers streamed in past a banner advertising the soft opening. Lines formed at the registers, and excitement filled the air.
88 Mart follows the opening of owners David Choi and Sara Lee's first business in the Executive Centre: Bishop 'Ono KAI, a restaurant in the former Hukilau Honolulu space. The menu at 'Ono KAI is a blend of Korean, American and Italian dishes created by chef Jung Dongwoo, who relocated from Daejeon, South Korea.
---
SEE ALSO: Ke'eaumoku's 88 Mart Is Opening a Supermarket and Restaurant Downtown
---
This market format differs slightly from the original store in Honolulu's de facto Koreatown. You won't find as much fresh produce or sliced meat for barbecuing, but more grab-and-go bentos, musubi, rice cakes and kimbap rolls. Asian snacks, pantry staples, beverages and home goods fill the aisles. There's also a wall of Korean instant noodles and soon, a ramyun bar with hot water machines to prepare a quick lunch on the spot.
I was excited to find the kim (roasted seaweed paper) that only 88 Pal Pal once carried. The sheets are individually wrapped so you can prepare convenience store-style triangle kimbap with crispy nori at home. Just make some rice, add tuna mayo in the middle and you're good to go for lunch on the go. I also found tempura fried pepper chips, which I'm told is a newish snack taking over pantries in Seoul. Thin slices of green pepper are battered and fried crispy—begging to be paired with an icy glass of somek, a soju and beer cocktail.
For the imo (aunties), clothing and fashions direct from Dongdaemun and K-beauty products are available. Some aisles have yet to be filled, and the ramyun bar I mentioned earlier is not up and running just yet.
As for parking, I am waiting on a response from management. For now, it's easiest and cheapest to park at one of the city's municipal lots at Ali'i Place or underground between Bethel Street and Nu'uanu Avenue. Although I think it's safe to assume most customers either work or live in Downtown or take public transit, which stops right in front of the store.
88 Mart has yet to achieve its full potential, but the buzz around its opening hints at a positive future for this part of Downtown Honolulu. With the revitalization of nearby Fort Street Mall and the soon-to-be AC Hotel across the street, the intersection of Hotel and Bishop Streets may once again be busy.
The two spaces at 1088 Bishop St. are owned by XPLUS LLC, which is owned by Duane Kurisu, whose aio Media Group includes HONOLULU Magazine and Frolic Hawai'i.
Open daily from 6 a.m. to 8 p.m., 1088 Bishop St., @88supermarkethawaii