39 seasonal pumpkin spiced treats to try on Oahu
Fall in love with pumpkin spice and everything nice this Halloween season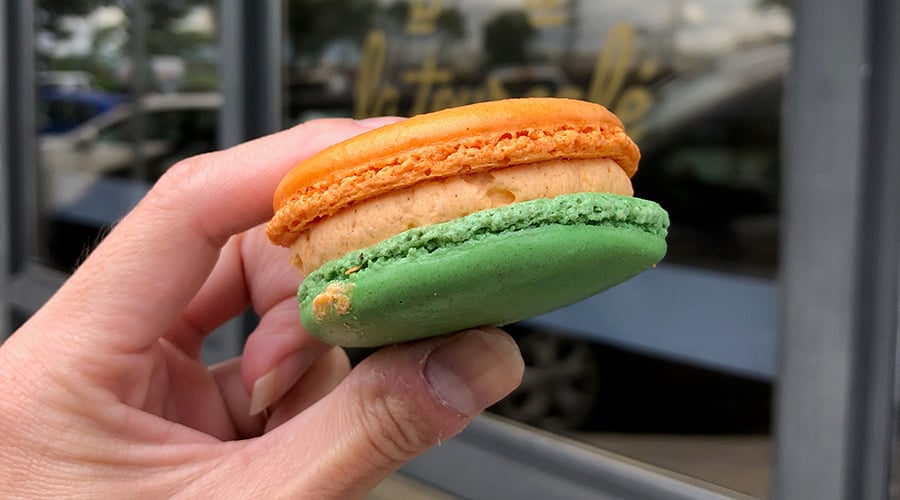 Pumpkin spice and everything nice: That's what fall is to me. Whether you're a diehard pumpkin spice latte fan or just enjoy the extra treats Halloween brings, scroll on to see where you can find these seasonal treats.
Pumpkin cheesecake macaron, pumpkin spiced latte kouign amann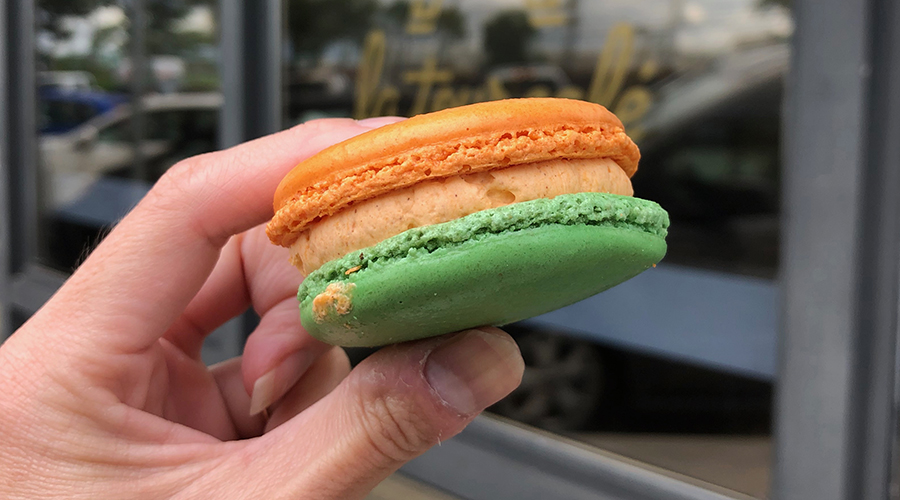 Where: La Tour Cafe, various locations
Cost: $2.20 per macaron, $4.90 for kouign amann
Details: The pumpkin spice latte kouign amann is filled with pumpkin custard. The seasonal macaron boasts a strong cheesecake flavor with a hint of pumpkin.
Pumpkin spice black milk tea
Where: Bee & Tea, 131 Hekili St., Kailua, 262-3808
Cost: Varies by tea size
Details: This pumpkin spice flavor is only available for a limited time.
Pumpkin malasadas
Where: Leonard's Bakery, 933 Kapahulu Ave., 737-5591
Cost: $1.30
Details: This is the flavor of the month for October at Leonard's Bakery.
Pumpkin crunch bread pudding, pumpkin cheesecake
Where: Rise and Shine Cafe, 95-1057 Ainamakua Dr., Mililani, 260-9312
Cost: $5.95 for pumpkin crunch bread pudding with ice cream; $5.50/slice or $35/whole cheesecake
Details: These cheesecakes come in huge slices, and each features a thick layer of fluffy pumpkin mousse. While this is an October special that you can find in the cafe's bakery case, you can actually order pumpkin mousse cheesecake all year long. It's available through pre-order only.
Pumpkin cheesecake pie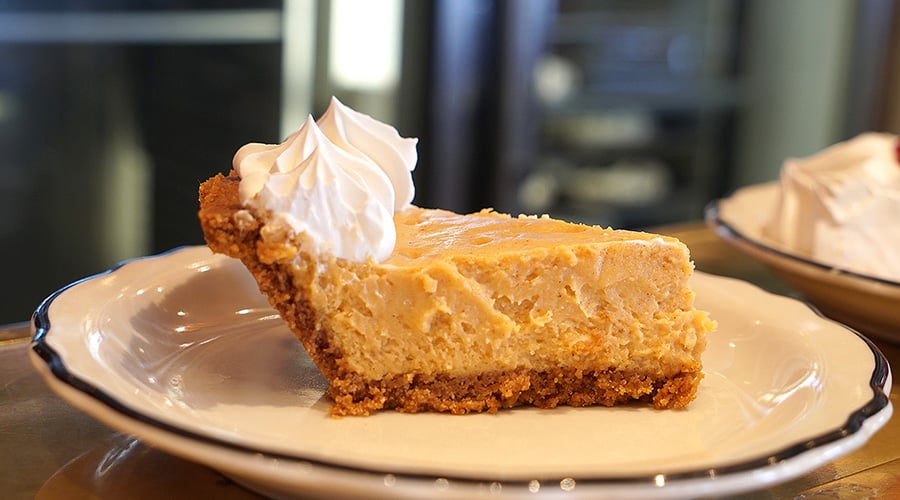 Where: Anna Miller's Restaurant, 98-115 Kaonohi St., Aiea, 487-2421
Cost: $5.49
Details: Anna Miller's pumpkin cheesecake pies are available year-round but they're ordered more frequently in fall. Slices are $5.49; the whole pie is $18.95 plus 60 cents for the pie tin deposit.
Pumpkin crunch latte
Where: Lappert's Hawaii, Hilton Hawaiian Village Waikiki Beach Resort, 2005 Kalia Rd., Waikiki, 943-0256
Cost: Varies depending on latte size
Details: You can get this seasonal pumpkin crunch latte iced or hot at Lappert's Hawaii; Available through October.
Pumpkin spice Dole Whip, Pumpkin spice latte, Pumpkin spice shave ice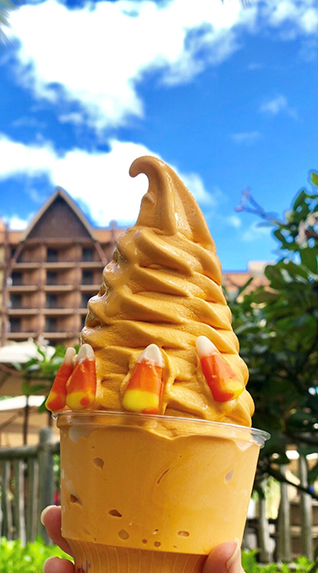 Where: Aulani, a Disney Resort, 92-1185 Aliinui Dr., Kapolei
Cost: $6 for Dole Whip, $6.75 for shave ice, $5.50-6.50 for latte
Details: These seasonal treats at Aulani are available through December, so you don't have to rush to enjoy them. The seasonal Dole Whip is topped with candy corns and can be found at Aulani's Ulu Cafe. Aulani's pumpkin spice latte is at the resort's Wailana Coffee Bar and is an espresso and steamed milk drink with pumpkin flavor and comes topped with whipped cream and cinnamon. You can get the pumpkin spice shave ice at Papalua Shave Ice or Wailana Pool Bar. It's a Mickey-shaped shave ice with pumpkin syrup and condensed milk.
Pumpkin crunch, pumpkin scones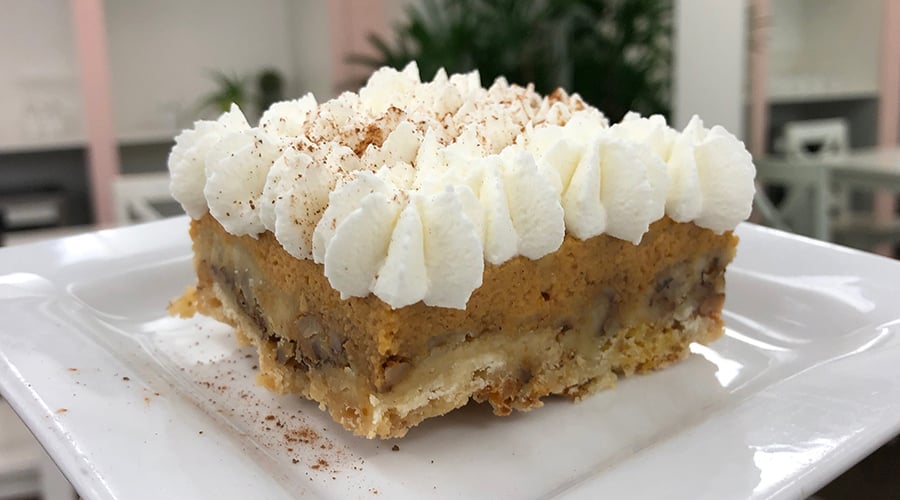 Where: Burgers on Bishop, 745 Fort St., Downtown, 586-2000
Cost: $5
Details: Pumpkin crunch is available from now thru November at Burgers on Bishop. This pumpkin crunch has a soft yet crunchy, walnut-studded crust and a creamed pumpkin center with housemade whipped cream and dusted cinnamon on top. Pumpkin scones are available on random days through the fall season as well. If you want one of these seasonal treats, go early in the day; Burgers on Bishop often sells out.
See Also: There's a new burger place on Bishop Street
Charcoal and pumpkin spice treats
Where: Banan (University, Kahala and Kailua locations only)
Cost: Varies
Details: Banan has a special October menu created with Halloween in mind. Pictured from left to right above: The Zak-o-Lantern is a pumpkin spice smoothie with activated charcoal almond milk; black sesame Banan has black sesame butter blended with local bananas; and The Basic Witch is a fresh ginger lemonade made with local honey and darkened with activated charcoal.
Chocolate-covered pretzels and Oreos
Where: Choco le'a, 2909 Lowrey Ave., Manoa, 371-2234
Cost: $2.99 for a bag of three pretzels, $3.49 per Oreo
Details: Choco le'a's chocolate-covered pretzels are a hot commodity. They're only available during Halloween and select seasonal occasions. They come three in a bag and are covered with dark chocolate and festive fall sprinkles. The chocolate-covered Oreos feature Halloween designs like pumpkins, bats or mummies. Both treats are available while supplies last.
Pumpkin spiced bread
Where: Chocolate + Vanilla Bakery, 1115 12th. Ave., Kaimuki, 737-2462
Cost: $6.99 for two
Details: This bread features pumpkin spice, pumpkin and chocolate chips and is available for through November.
Pumpkin spiced waffle
Where: Double Three, 1284 Kalani St., Kalihi, 650-2733
Cost: $9.80
Details: This seasonal waffle will only be available from Oct. 14 to 31. Double Three will also feature a special Halloween bubble waffle sundae from Oct. 25-31.
See Also: Watch the making of Kalihi's new bubble waffle sundaes
Pumpkin caramel cupcakes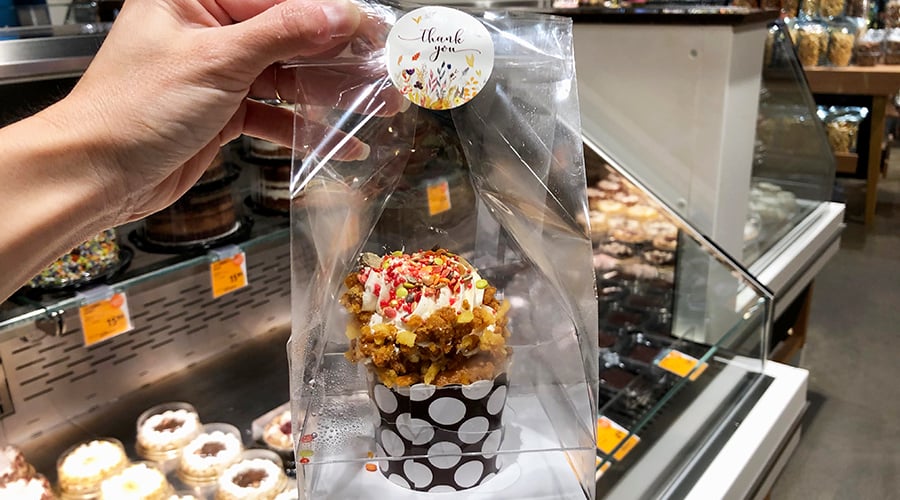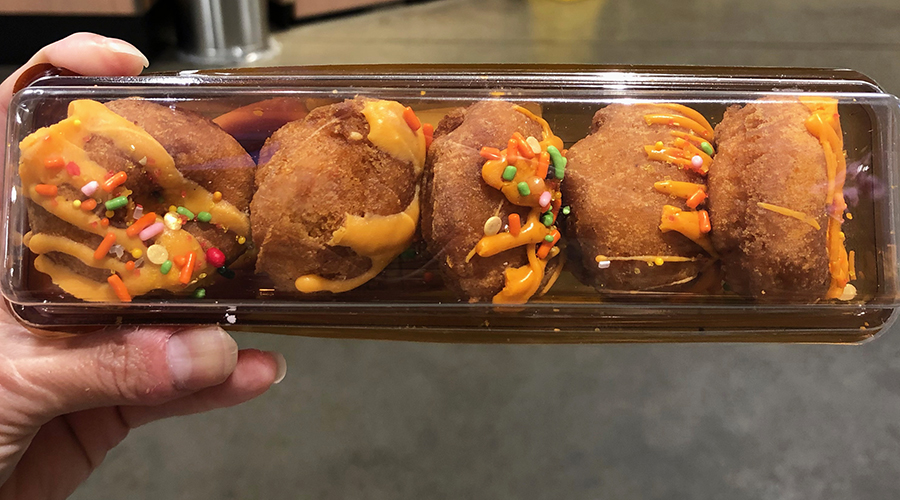 Where: Foodland Farms Ala Moana, 1450 Ala Moana Blvd., 949-5044
Cost: $2.99 for pumpkin caramel cupcakes; $3.59 for pumpkin spice mini donuts
Details: The pumpkin caramel cupcakes are filled with pumpkin custard, topped with a caramel whipped cream and garnished with gold sprinkles. These pumpkin-themed treats are available only at Foodland Farms Ala Moana through October.
White chocolate pumpkin shortbread cookies, Cinnamon apple shortbread cookies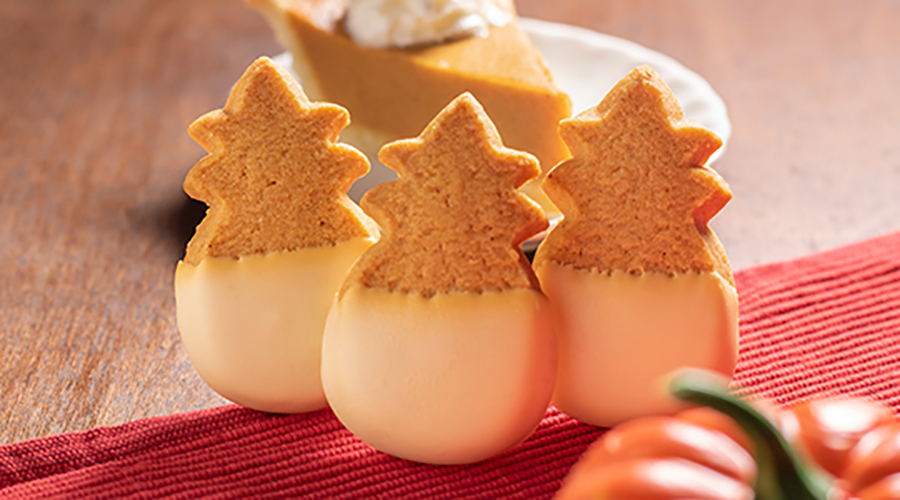 Where: Honolulu Cookie Company, various locations
Cost: Prices vary per cookie box
Details: These fall flavors are available at Honolulu Cookie Company stores through November.
Halloween-themed cupcakes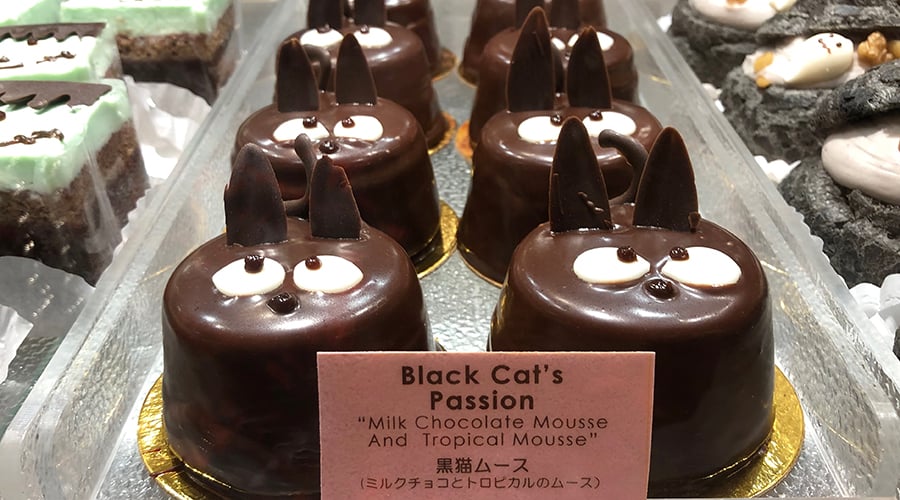 Where: Kulu Kulu Cake, various locations
Cost: $4.25-5.95
Details: Kulu Kulu Cake has several treats all decked out in Halloween decor. They include the Black Cat's Passon ($5.95) made with milk chocolate mousse and tropical mousse; strawberry chocolate mint Frankenstein ($4.75) and the adorable ghost sweet potato puff ($4.25).
Assorted Halloween cakes and cupcakes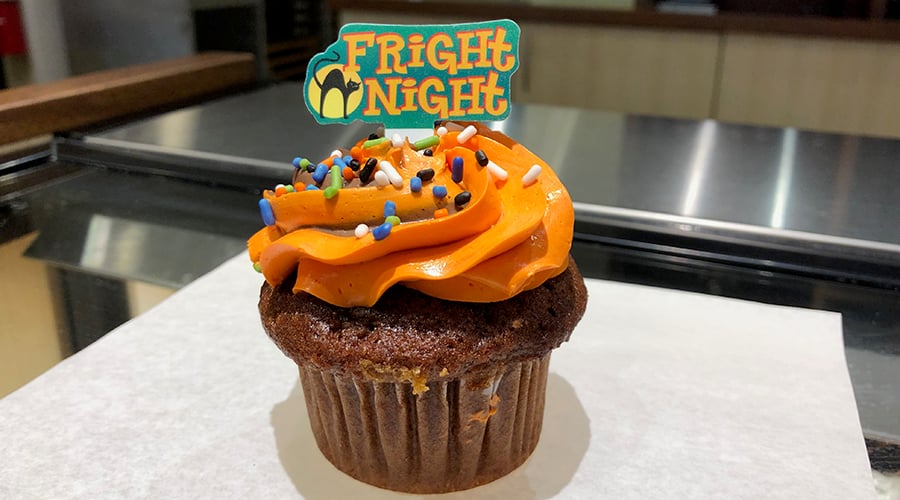 Where: Liliha Bakery, various locations
Cost: $2.99 for cupcakes, $7.55 for pumpkin bread loaves, assorted prices for full-sized cakes
Details: Halloween cupcakes are available at Liliha Bakery in chocolate and vanilla flavors ($2.99 each). The local bakery even has themed Halloween cakes at the Nimitz Highway location; prices vary depending on flavor and cake size.
Pumpkin and milk chocolate mousse crepe cake
Where: Malu, 661 Keeaumoku St.
Cost: $5.75
Details: This light, fluffy crepe cake has a mousse filling with two layers. The bottom layer is a milk chocolate mousse and the top layer is a pumpkin spice mousse. It's available every day at Malu Honolulu through October.
See Also: Malu pairs quirky kimbap, kawaii dessert in one shop
Pumpkin crunch gelato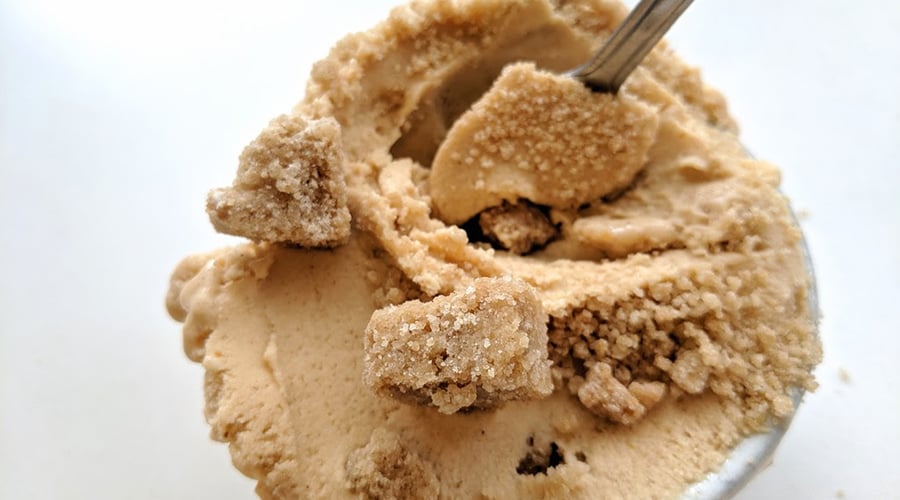 Where: Via Gelato, 1142 12th Ave., Kaimuki, 732-2800
Cost: $4-7 depending on gelato cup size
Details: October brings different pumpkin flavors each week at Via Gelato. Pumpkin crunch is featured right now. It has a pumpkin base filled with shortbread cookie chunks. Two more pumpkin flavors will be featured in the weeks leading up to Halloween with Pumpkin crunch will returning the last week of October.
Pumpkin cream cheese scones, M&M Halloween cake bomb, Trick or Treat ice cream
Where: Pipeline Bakeshop & Creamery, 3632 Waialae Ave., Kaimuki, 738-8200
Cost: $5 for Cake bombs; $3.50-6.50 for ice cream, $3.85 for scones
Details: Pipeline just launched a seasonal pumpkin cream cheese scone flavor last week and will debut its Halloween flavors next week. Items will be available on random days through the fall.
Split cups
Where: Taste Tea, various locations in Kaimuki, Waikiki, Ward, Waipahu and Ewa (exceptions: Pearlridge and Waikele locations)
Cost: $6
Details: For a limited time, you can get spooky-themed split cups that feature two flavors. Toppings not included and blended drinks are ineligible. Split cups available while supplies last. If you're wondering what the Halloween-esque orange and white flavors are, they're Thai tea and molten tapioca milk.
Pumpkin spice snickerdoodle cookies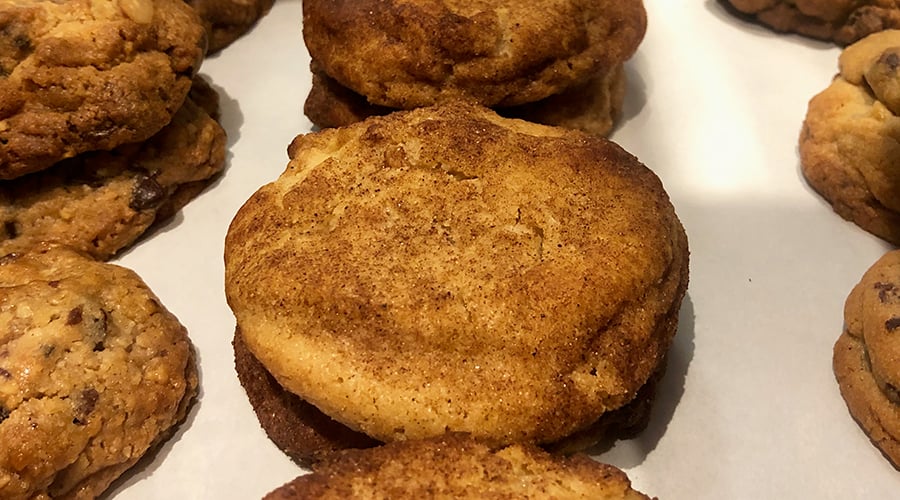 Where: The Cookie Corner, various locations
Cost: Around $1.82 (price depends on weight)
Details: This fragrant, seasonal cookie is available at The Cookie Corner stores through November.
Pumpkin mac crunch
Where: The Sugar Hut, 87-070 Farrington Hwy., Waianae, 722-7539
Cost: $5
Details: This square treat features a pumpkin pie filling, a butter crust filled with crushed macaron shells and whipped cream cheese frosting. The Sugar Hut's pumpkin mac crunch squares are available all year long, but they're especially popular during Halloween. The Waianae bakery has a smorgasbord of seasonal treats like caramel apple pie, cookie butter and pumpkin spice cream puffs ($2.25 each) and Halloween macarons ($2.25 each) in flavors like midnight mocha, Twix, cookie butter pumpkin Spice, pumpkin cheesecake, caramel apple pie and Butterbeer toffee. Macaron flavors rotate daily and there will be more Halloween treats leading up to the holiday. Insider tip: If you're buying macarons in the store, you can get one dozen for $22 and take advantage of a slight discount.