Zesty Orange Cookie Cups
Perfect for a tea party—or potluck!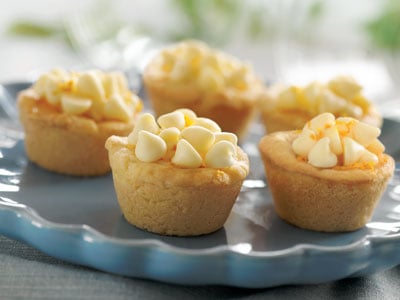 Zesty Orange Cookie Cups
These Zesty Orange Cookie Cups are simple to
make and are just-the-right size to serve with tea.
Ingredients:
1 c (Cup) butter, softened (2 sticks)
0 c (Cup) granulated sugar
2 c (Cup) all-purpose flour
2 c (Cup) Nestle Toll House premier white morsels (12-ounce package)
2 (Unit) large eggs
14 oz (Ounce) Nestle Carnation sweetened condensed milk (1 can)
0 t (Teaspoon) to 3/4 teaspoon orange extract
1 T (Tablespoon) grated orange peel (1 medium orange)
Instructions:
Heat oven to 350° F. Grease 48 mini-muffin cups.
Beat butter and sugar in medium mixer bowl until creamy. Add flour; beat until mixture is evenly moist, crumbly and can be formed into balls. Shape dough into 1-inch balls. Press each ball onto bottom and up side of prepared muffin cups to form wells. Place five morsels in each cup.
Beat eggs in medium bowl with wire whisk. Stir in sweetened condensed milk and orange extract. Spoon almost a measuring tablespoon of mixture into each muffin cup, filling about 3/4 full.
Bake for 15 to 17 minutes or until centers are puff ed and edges are just beginning to brown. Remove from oven and gently run knife around each cup. While still warm, top each cup with eight to 10 morsels. Cool completely in pans on wire racks. With tip of knife, remove cookie cups from muffin pans. Top with grated orange peel just before serving. Store in covered container in refrigerator.
Preptime: 45
Source: Family Features
Cooktime: 15 minutes
Ready time: 1 hour