Your guide to Saturday's Night Market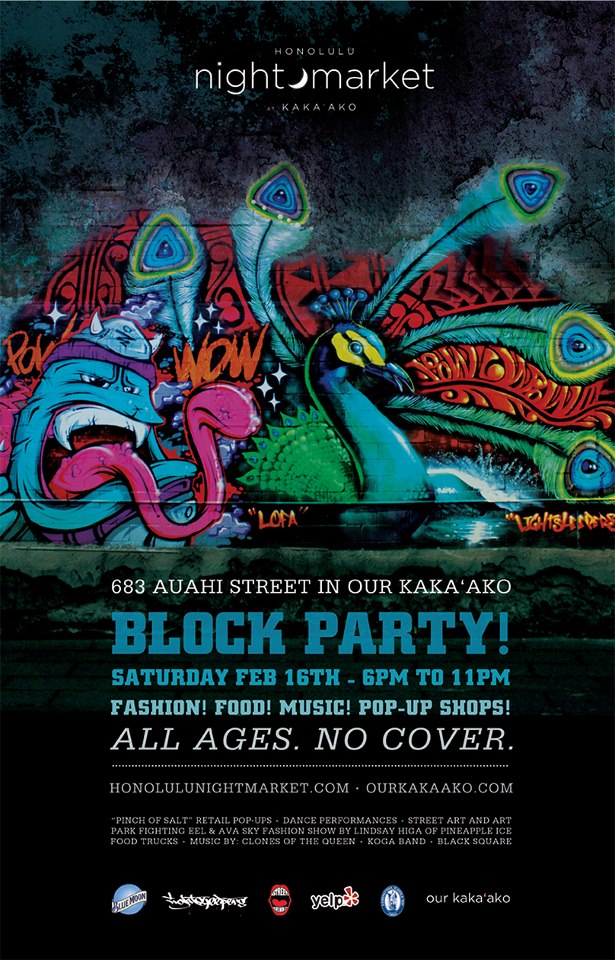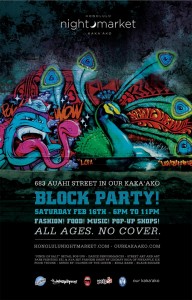 It keeps getting bigger and better: Honolulu Night + Market, the block party celebrating all things street, lights up Kakaako this weekend with major new twists. Pow Wow's 100 graffiti artists will be in the house, their giant wall art viewable all through the 'hood, and this time, for the first time, there's no cover charge.
So what can you expect? First, come to Auahi Street between Coral and Keawe. The different parts of the streetfest will be along this block and in the big parking lot in the middle of it.
Second, stuff to eat, drink and buy: 13 food trucks and street food vendors, a 21-plus bar with well drinks and cocktails, and 18 pop-up shops including Andy South, custom-painted high tops and sneakers, lots of jewelry and treats for pets. The numbers are up from the last Night Market in December, when eight food vendors and 17 retail booths kept 2,500 people happy — but wait, we're not even finished.
Pow Wow's murals, which started transforming blank walls and drawing crowds all over Kakaako on Monday, reach their climax Saturday. Stroll through the 'hood and you'll see them. Wild tribal stuff. Crazy abstracts. And shaka duck. The 100 artists from Hawaii and all over the world will be on hand, with exhibits and parties happening right around Night Market. Full schedule here.
Plus there's a fashion show by Fighting Eel, Black Square plays live, Samadhi's gorgeous aerialists twirl down silk curtains, and if that's not enough, look quick, because around you there'll be street performers and fire dancers too.
Instagram contest!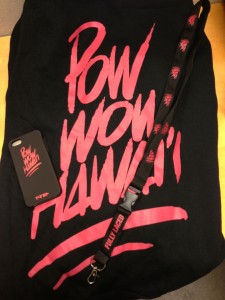 And hey! Instagram contest. This time the prize is a Pow Wow Power Package with a Pow Wow 2013 hoodie, Pow Wow laniard and Pow Wow iPhone case (total value $85). To enter, just come to Night Market, pick up a contest form at the main entrance and Instagram photos that reflect the following messages:
"All great changes are preceded by chaos."
"Don't grow up; it's a trap."
"If the music is good, you dance."
"Laugh until your stomach hurts."
Don't forget to include the #OurKakaako hashtag on your photos, and to follow @OurKakaako on Instagram. We'll be posting our favorite photos on Nonstop on Sunday morning, and will name one winner whose photos best reflected the messages.
What: Honolulu Night + Market
When: Saturday, Feb. 16 from 6 to 11 p.m.
Where: Auahi Street between Coral and Keawe streets
Admission: FREE
Parking: On-site and street parking, including Eat the Street lot one block away
THE FOOD
ALSO, new food vendor Casbah Events. Stay tuned…
THE ENTERTAINMENT
Black Square (onstage at 10 p.m.)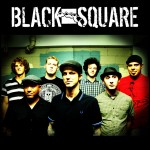 Contact: @BlackSquare808 on Twitter
About: Black Square's sound is a blend of ska and reggae delivered with the urgency and intensity of punk rock. Black Square captures the uniqueness of their sound with tracks that range from punk to dub all the while sounding coherent. The band tours the mainland consistently and has released the cds "Black Square," "Onward," "One Glass of Water" and "End the Cycle." Sample their music here.


Fashion show by Fighting Eel (onstage at 8:30 p.m.)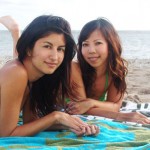 Contact: www.fightingeel.com
About: Fighting Eel unveils its Spring 2013 collection and its unreleased Ava Sky collection in a fashion show styled by Lindsey Higa of Pineapple Ice. Fighting Eel's Rona Bennett and Lan Chung combine their distinct personal styles and love of fashion and vacation to create a blend of sexy and simple, uncomplicated yet feminine, each piece versatile and easily worn with either high heels or flip-flops.


CoXist Lounge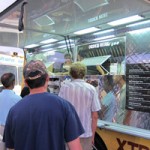 Contact: 331 Keawe St.
About: Tucked between Keawe and Auahi, fresh, edgy event venue CoXist hosts a Night Market lineup starting with Dancers Unlimited from 7 to 9 p.m., the wild Cherry Blossom Cabaret from 9:30 to 10:30 p.m. and finally, Professor Pandemonium.




THE SHOPPING
Allison Izu: Clothes for women 5'6″ and shorter, to fit and flatter
Aloha Sand Co.: High-quality images using Hawaiian sand on T-shirts and other textiles
Andy South: The Project Runway star sells pieces from her collection at Andy South Atelier
Avant Pop HI: Limited edition T-shirts, buttons, stickers, 3D printed objects, letterpress pieces and random decor
Barrio Vintage: Vintage clothing and accessories, forward and intriguing
Calvin and Susie: Naturally healthy gifts and treats for pets
Coradorables: Children's clothing and accessories, made in Honolulu with love
Ecolicious: Tees, women's clothes, totes and bags made with organic and recycled materials
Eden In Love:From Ward Warehouse, casual to office wear, bags and accessories
Fluro Swimwear: Locally made swimwear in hand-selected prints and colors, to mix and match
Genuine Guava: One-of-a-kind, original design bags with a vintage flair
Little Circles Everywhere: Whimsical art creations — with lots of circles — from a girl and her paper
Mango Luxe: Affordable jewelry for the classy island girl
Nueve Salon: A blow-dry bar, massages and general pampering
Noteworthy: Upscale, street-contemporary boutique items for men
Ocean Dreams Hawaii: From Waianae, ocean-inspired jewelry featuring shells and beach glass
Schaper: From Waialua, custom Schaper, NSP and South Point boards
TAPS Prints: Limited-edition and custom-designed images on classic canvas high-top and low-cut sneakers
Treehouse: Coming soon