Your guide to pickup and delivery of local snacks and essentials
How to support local and get nearly everything your kitchen and belly need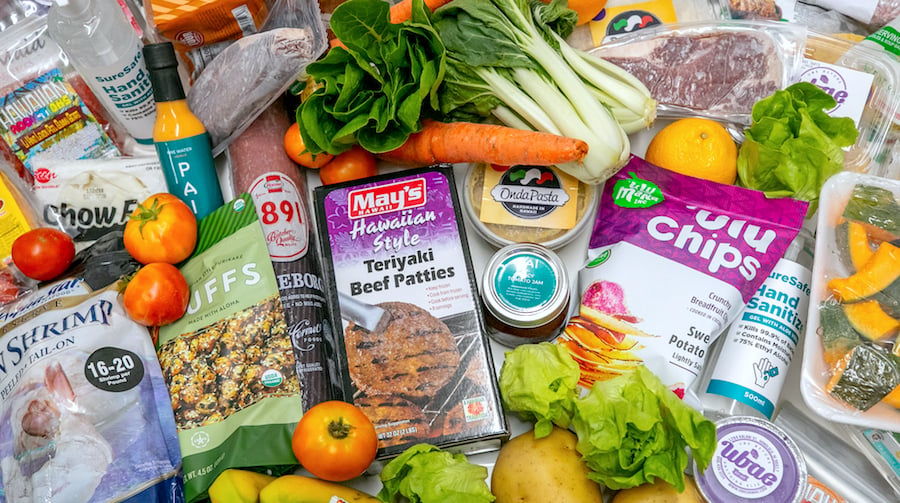 Maybe you're not comfortable venturing out these days. Maybe you're tired of scrolling through Instacart looking for fresh local produce and snacks. Lucky for you, options for local delivery and pickup are increasing, not just for Island-grown fruits and vegetables but for everything from local fish and meat to chocolate and hot sauce.
Scroll below for a roundup of where you can buy local stuff online for pickup and delivery.
See also: Essential eats: Here's what farmers markets are doing now
808 Organics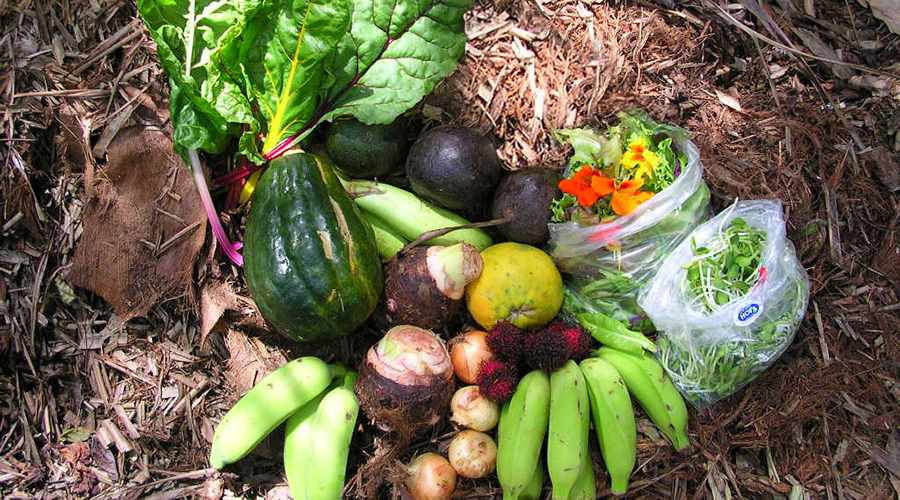 What: 808 Organics produce boxes come in different sizes and options, all with ingredients designed to make meal planning and prepping easier. Selections for family and individual boxes, greens boxes and fruit boxes vary depending on what's available and in season from local farmers.
Individual boxes: Lettuce, apple bananas, kale, sprouts and avocados with in-season fruits or vegetables like carrots, citrus, broccoli and papaya; serves 1-2 people; $28 per box
Family boxes: This is a larger version of the individual box and serves 2-3 people; $38 per box
Fruit boxes: Can include apple bananas, papayas, mangoes, lychee and other seasonal items; $28 per box
Greens boxes: Usually includes sprouts, avocados, leafy lettuce and cooking greens; $26 per box
Select a box type, decide on your subscription length, choose how often you want a box (weekly, bi-monthly, once a month) and select a pickup/delivery location. There is a one-time $5 registration fee; pay via credit card or PayPal.
Where to order: 808organics.com.
Chef Mavro / Island Olive Oil Company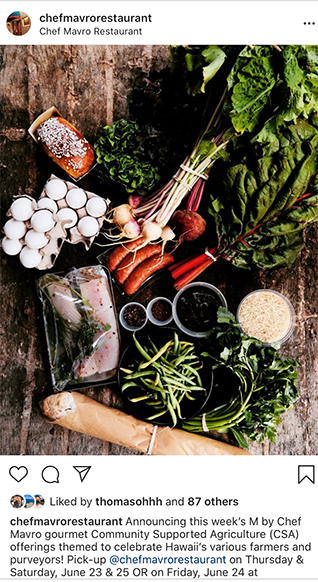 What: Chef Mavro Restaurant and Island Olive Oil Company are collaborating on a $140 weekly gourmet "M" CSA box with all-local products from Hawaii's farmers, fishermen and purveyors. Contents can change each week but have included Kualoa Ranch ground beef, Peterson's Upland Farm extra large eggs, Maui Farmers zucchini and green bell peppers, Mohala Farms fresh herbs and Pupukea Gardens aquaponic lettuce. Boxes come with a housemade baguette from Chef Mavro Restaurant, housemade restaurant sauces, a featured dessert and more.
Prices vary, since products change seasonally. There are two pickup options: Chef Mavro Restaurant on Thursdays and Saturdays from 10 a.m. to 5 p.m. or Island Olive Oil Company Kailua on Fridays from 10 a.m. to 5 p.m. All the sauces, produce and box contents are local products.
Where to order: Online at mbychefmavrorestaurant.com or call 944-4714.
See also: These 4 Oahu egg farms sell direct to customers
da CHEFS box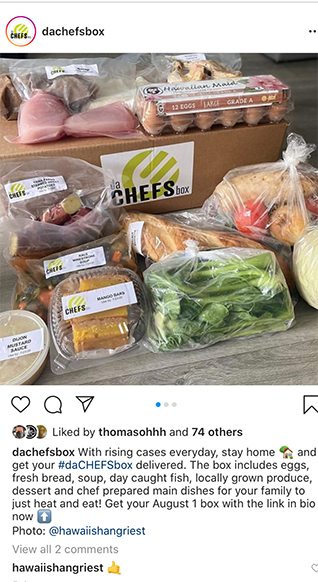 What: Da CHEFS box by ChefZone features pre-cooked main dishes, fresh fish, fresh local produce, local eggs, fresh-baked bread and a family-size dessert: enough ingredients for up to five healthy home-cooked meals for a family of four. Boxes include fresh, locally sourced ingredients and produce and cost $135. Previous boxes have featured day-boat fresh fish, Oahu Fresh eggs from Eggs Hawaii and fruits and vegetables from Aloun Farms.
Where to order: Order online at chefzone.com and choose curbside pickup at ChefZone or home delivery. Pickups are behind ChefZone from 9 to 11 a.m. on the Saturday you select. You must bring the your emailed order confirmation number. Delivery is between 9 and 11 a.m. on a designated delivery date. Delivery fees are shown when you order online.
Farm Link Hawaii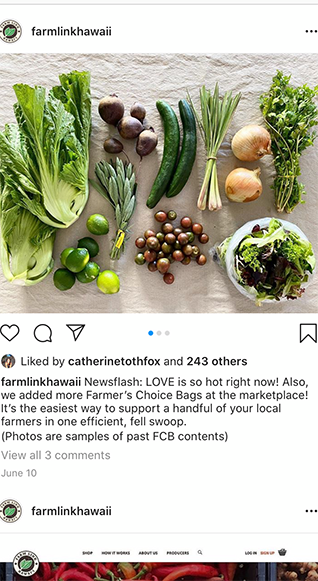 What: This Oahu-based online food marketplace and delivery hub works with more than 75 Oahu farms to ensure each bag has a variety of high-quality produce. You order online and place an order by 6 p.m. Sunday for Wednesday delivery or pickup, or by 6 p.m. Wednesday for Saturday delivery or pickup, and pay by credit card. Buyers pay a flat $15 delivery fee ($50 minimum order); there are no fees for the majority of pickup sites.
Where to order: farmlinkhawaii.com.
FarmLovers Express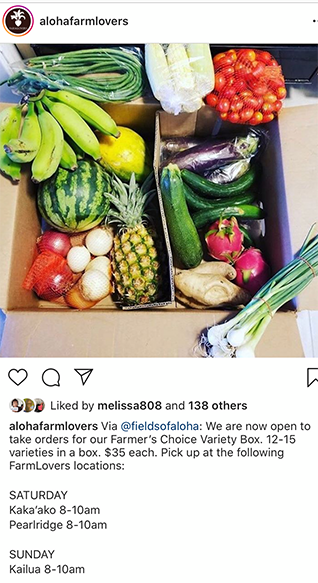 What: Order a variety of local produce in advance for curbside pickup at these farmers markets:
Waimea Valley: Thursdays 2-6 p.m.
Pearlridge Uptown (by Macy's): Saturdays 8 a.m.-12 p.m.
Kakaako (Ala Moana Boulevard and Ward Avenue): Saturdays 8 a.m.-12 p.m.
Kailua (Pali Lanes): Sundays 8 a.m.-12 p.m.
Where to order:
Call the farmer of your choice and order by end of day Wednesday for pickup at the farmers markets on Saturday or Sunday, OR
Check out the featured menu posted on FarmLovers Markets' Instagram and contact specific farmers for produce. For more info, visit farmloversmarkets.com.
See also: Why you need to shop at farmers markets now
Foodland / Foodland Farms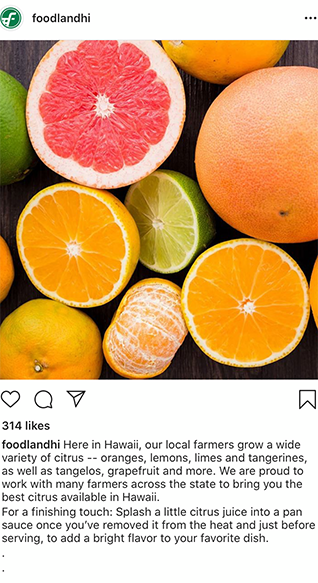 What: The local grocery chain features fruits and vegetables from local producers like Aloun Farms, Kauai Fresh Farms, Ho Farms, Frankie's Nursery, Kumu Farms, Kunia Country Farms, MA'O Organic Farms and others. Also available: Foodland's Maikai brand snacks like Kaki Mochi, Maui onion mustard and trail mix with names like Kapakahi and Hemajang; and prepared foods like the famous poke and chicken wings from in-store counters.
If you buy locally grown produce from Foodland, you can take advantage of the store's ongoing Eat Local Today program. You get 5 Maikai Points or 5 HawaiianMiles when you buy one or more local produce items every time you shop.
Where to order: When you shop for your groceries online, free curbside pickup is available for any order of $30 or more. The store's Foodland To You program is currently offered at:
Oahu: Foodland Farms Aina Haina, Ala Moana, Ka Makana Alii and Pearl City; Foodland Kailua, Mililani and Sack N Save Stadium
Maui: Kihei; Foodland Farms Lahaina
Big Island: Mauna Lani
See Foodland's website for more details.
Forage Hawaii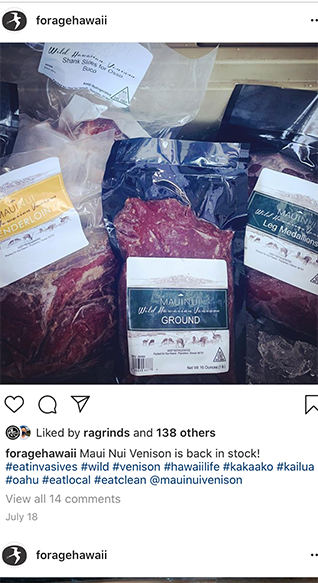 What: Forage Hawaii distributes top-quality USDA-certified and inspected meats through Oahu farmers markets, all of it raised in Hawaii. Choose from local grass-fed beef, lamb, chicken, pork, wlld venison and even wild Big Island boar. Meats are sold individually packaged in frozen, vacuum-sealed bags.
Updates on weekly cuts are posted on the Forage Hawaii website. Sign up for the newsletter to get the latest updates.
Where to order: Email info@foragehawaii.com with your name, phone number, desired farmers market pickup location (Kakaako Saturday or Kailua Sunday), and number of cuts/quantity.
Kahumana Organic Farms and Cafe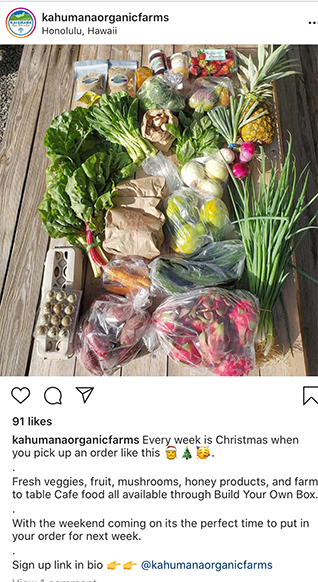 What: Your weekly box of fresh local produce reflects what's fresh each week at Kahumana Organic Farms. Fresh harvest boxes contain vegetables and fruit or all fruit; prices vary with box size. Expect seasonal tropical fruits and vegetables like arugula, cherry tomatoes, cilantro, cucumbers, mango, coconut, papayas, apple bananas, lychee and more sourced from growers on Oahu's Leeward Coast.
On the Kahumana website, select a box size (half share or full share), choose your frequency (weekly or bi-weekly), upgrade with additional items like 'ulu flour, farm fresh hummus or macadamia nut pesto, then choose pickup or doorstep delivery. Doorstep delivery to Waianae, Makaha, Nanakuli, Kailua, Enchanted Lakes, Lanikai and Aikahi costs $10. Pickup locations include Kahumana Organic Farms & Cafe (free), Kalapawai Market in Kapolei ($5), Kakaako Farmers Market ($5), Rokaru Shabu Shabu in Pearl City ($5) or Ka Waiwai Collective ($5). See Kahumana.org for more info.
Where to order: Online via the Kahumana website.
Keo & Company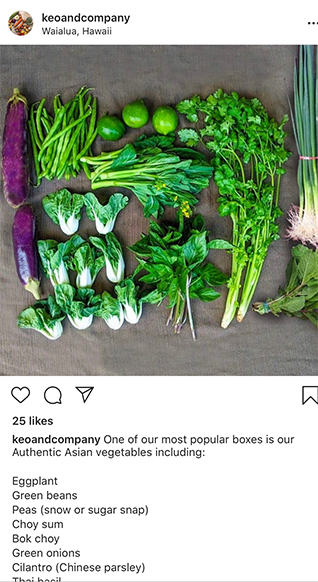 What: This service delivers products from local farms and businesses to your doorstep without delivery fees or required membership. Aside from fresh produce, you can find things ranging from Hawaiian Chip Company sweet potato and taro chips to Ko Hana Hawaiian honey. Deliveries are on Thursdays; $30 order minimum.
Where to order: Online via Keo & Company's website.
Kolea Farm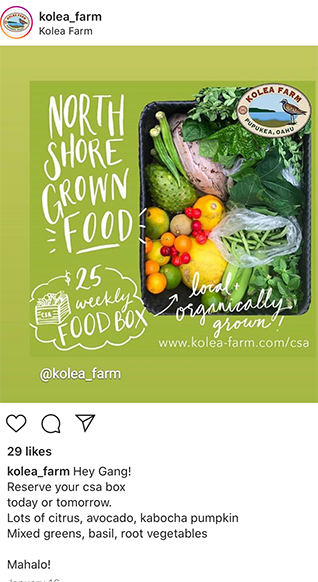 What: Joining Kolea Farm's CSA program is free. Customers come to the farm weekly to pick up fruit and vegetable boxes for $25 each. Previous boxes have featured avocados, kabocha pumpkin, mixed greens, basil and root vegetables.
Where to order: Fill out the CSA program form on Kolea Farms' website.
Local I'a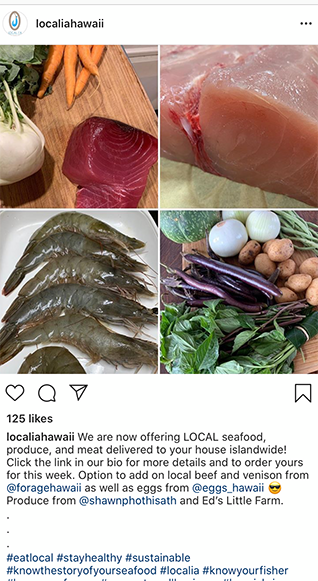 What: If you want locally sourced, in-season seafood, look no further than Local Ia Hawaii. Local I'a is a distribution and subscription-based seafood business. You can sign up for a seafood subscription, preorder for farmers market pickup or order the new all-in-one box that has enough assorted local produce from Ed's Little Farm to feed a family, two pounds of fresh sashimi-grade ahi or fresh local fish and a dozen local eggs.
Preorder and curbside pickup will be available farmers markets where Local I'a booths are located; the company will be in touch with fresh fish availability a day before your scheduled pickup. For more info about pickup locations, visit the Local I'a website.
Where to order: Sign up for the seafood subscription via the Local I'a website. To preorder for farmers market pickup, you'll need to fill out a preorder form on the Local I'a website.
Lokahi Kailua Market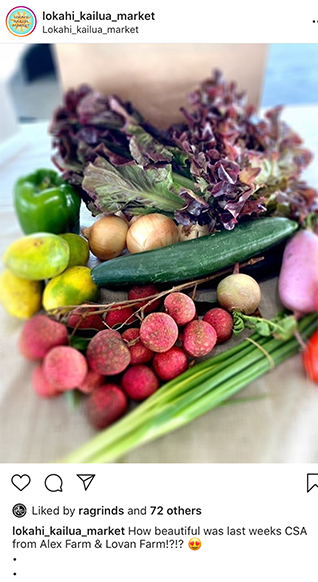 What: The Lokahi Kailua Market offers flat-rate CSA bags and weekly themed artisan bags. This farmers market is on Sundays from 9 a.m. to 12 p.m. at 340 Uluniu St. Opt for a CSA box (cost varies) or an artisan Malama 'Aina bag that includes items from five vendors.
Where to order: Order online via Lokahi Kailua Market's website.
MA'O Organic Farms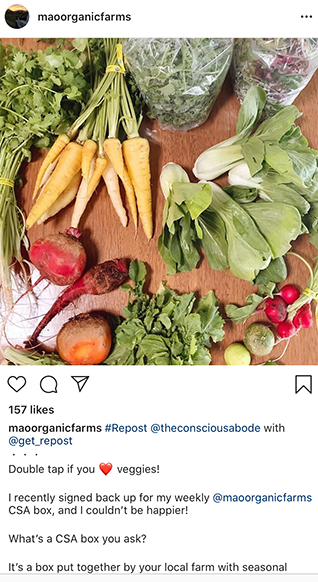 What: Mao Organic Farms' CSA boxes offer fresh, USDA-certified organic produce straight from the Waianae farm to the community. Choose between a 4-box plan for $128 ($32 per box) or 8-box plan for $224 ($28 per box); plan costs are pre-tax and do not include the $15 one-time membership fee.
Where to order: Order online via Mao Organic Farms' website.
Mari's Gardens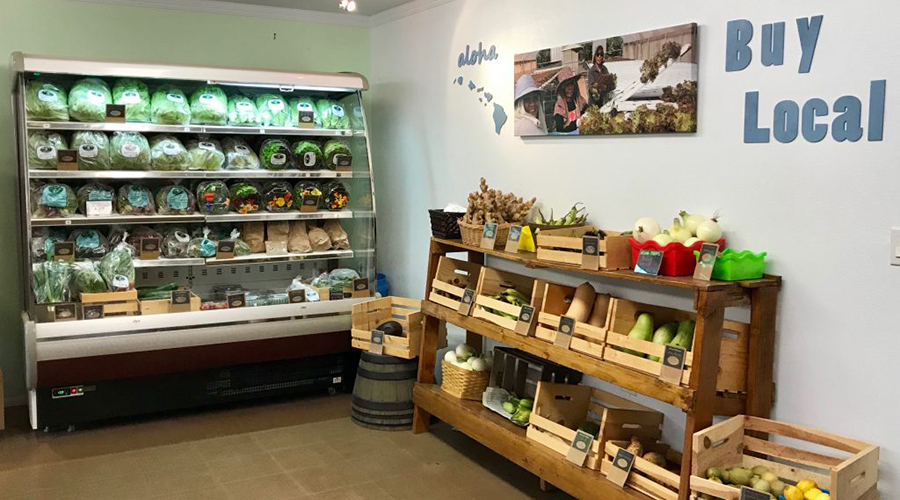 What: This isn't an official CSA box, but you can choose your own assortment of fruits and vegetables from Mari's Garden and other local farms and order online for pick-up. Products include bell peppers, carrots, cauliflower, coconuts, cucumbers, Okinawan spinach, microgreens and more. You can even add local products like Manoa Honey, eggs from Peterson Farms and Manoa Chocolate to your order.
Where to order: Order online via Mari's Gardens' website. Produce is currently only sold online through curbside pickup until further notice.
Mohala Farms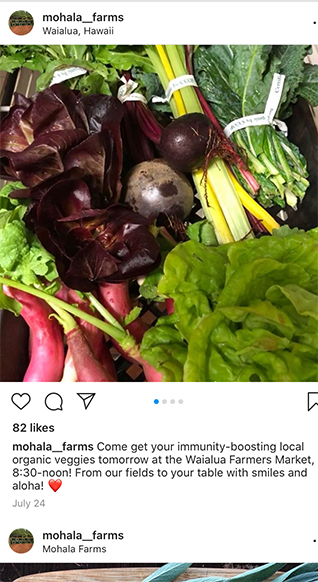 What: Mohala Farms' CSA boxes come in small ($15) or large ($25) sizes. All included produce is 100% organic and boxes feature a diverse supply from the farm. Box contents can include anything from arugula, turnips, radishes and okra to lilikoi, papaya, lemons, limes and avocados. Boxes are available for pick-up on Thursdays from 4:30 to 6 p.m. at Church of the Crossroads on University Avenue in Moiliili.
To participate in Mohala Farms' CSA subscription program, you must subscribe for a minimum of three months. Customers must pay the full amount at the beginning of the period or on a monthly basis. The annual $25 fee helps cover the cost of seeds, gas, tote bags and other expenses.
Where to order: For Mohala Farms' CSA box inquiries call 988-7374 or 478-8469 or email info@mohalafarms.org.
Oahu Fresh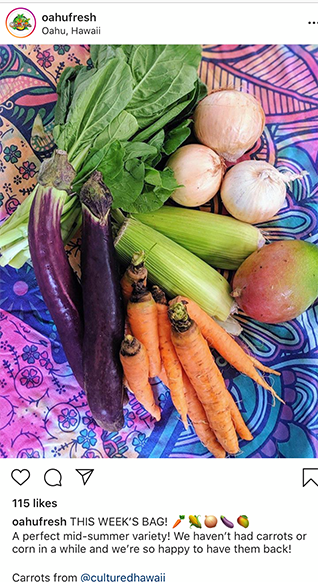 What: Oahu Fresh features weekly bags of farm-fresh produce that includes locally grown items like sweet potatoes, lettuce, tomatoes, papayas, bananas, corn and more. Previous bags have contained local products like corn and onions from Aloun Farms, mango and choy sum from Kahumanu Organic Farms, round eggplant from Ho Farms Hawaii and mushrooms from Small Kine Farm.
When you sign up on the Oahu Fresh website, you can choose a subscription plan to start your membership. You can have your order delivered to you or choose from various pickup locations around the island.
Where to order: Online at oahufresh.com.
PGS Hawaii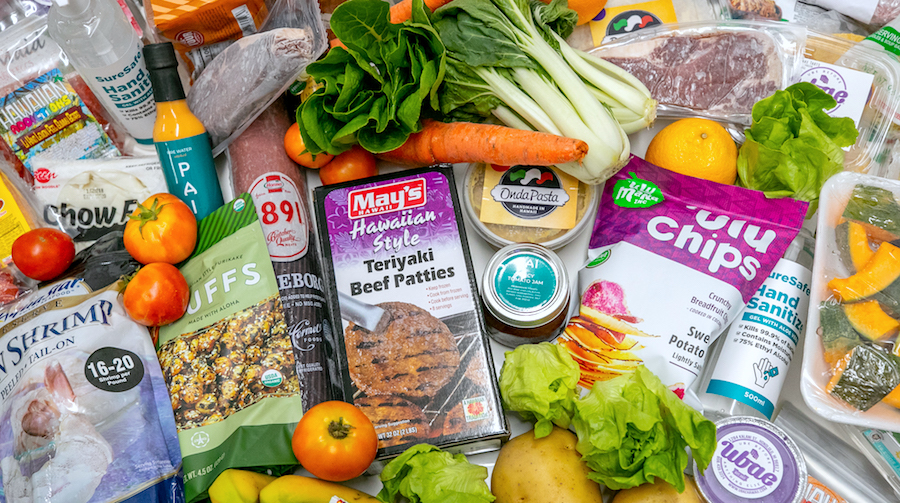 What: Panda General Store is a local commodity delivery service. Whether you're looking for fresh produce or want to buy bread from local companies like La Tour Bakehouse, this delivery service has you covered. Products are based on availability and may be substituted as needed with items of equal value. PGS products range from fresh pasta, bread and condiments to protein, salad, veggies and fruits boxes. These boxes cost $35 to $45 and products are based on availability. Whether you want fresh produce from Ho Farms and Small Kine Farms or desire ube tarts and cheesecakes from UBAE, there's a wide variety of products to choose from.
All you need to do is create an account on the PGS Hawaii website and browse vendors to start shopping. When you're ready to check out, click your cart to review your order. Once your order is placed, you'll receive a confirmation email that includes details about your delivery date and time. PGS offers free delivery across Oahu for orders over $50.
Where to order: Online via the PGS Hawaii website.