Your Guide to Mochi in Hawai'i: How to Eat it, Where to Buy it and More
Honolulu's mochi makers combine Japanese tradition with unique, only- in-Hawai'i touches.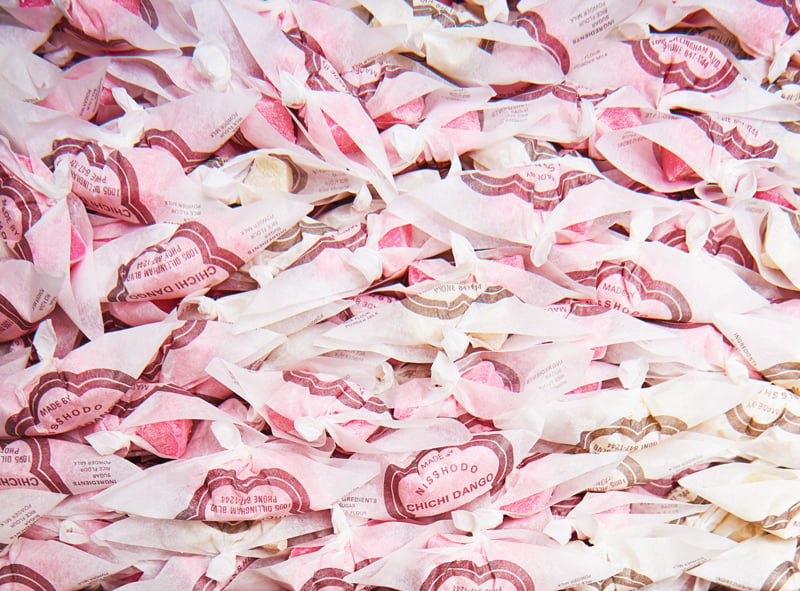 This article first appeared in the March 2017 issue of HONOLULU. It was updated in March 2019. 
Hawai'i loves mochi. We eat it as a snack, bring it to potlucks, give it as gifts and wedding favors. Perhaps more than anywhere in the world, we've adopted Japan's sticky rice treat as our own and evolved it.
Pink and white chichi dango, liliko'i cheesecake daifuku, even the nouveau 'ulu-spice vegan butter mochi—Island-style mochi says as much about our food culture as it does about our increasingly entwined identity as a people.
Now that spring is in the air, Girls' Day themes dominate Honolulu's mochi shops. Look for colorful pink and green treats (symbolizing cherry blossoms and young leaves) to mark the occasion on March 3. With this as an excuse to sample as much as we could, we visited five diverse mochi makers to piece together this look at mochi in Honolulu today.
SEE ALSO: Where to Find Mochi and Other Sweet Treats for Girls' Day in Honolulu
Nisshodo Candy Store
In 'Iwilei's warehouse district, in the spot where a Japanese TV crew showed up at Nisshodo Candy Store, third-generation owner Mike Hirao recalls the moment he discovered something. "They had never heard of chichi dango," he says. "They thought it was a Hawai'i thing."
It was a bit lonely, that moment: the realization that the country that spawned Nisshodo's sweets—from pillowy mochi stuffed with fillings to the floppy-soft rectangles of pink and white chichi dango—didn't recognize its signature item. Hirao corrected the TV crew: Chichi dango was indeed from Japan, from a part of Hiroshima called Shobara. His grandfather Asataro Hirao, who opened Nisshodo in 1918, discovered it on a visit after World War II, when donations of powdered milk flooded the impoverished country.
That's how the decidedly un-Japanese ingredient got into his chichi dango. To this day, powdered milk gives it a rich creaminess that's helped elevate it to iconic status. People take it to Neighbor Islands. Foodies from the West Coast to New Jersey seek it out when they get off the plane. Nisshodo's chichi dango is so popular that one woman's primary job is to wrap the 6,000 pieces the shop produces each day. Around Girls' Day, that volume can nearly triple, and then, "We get help for her," Hirao says. "Sometimes we have to sell them naked. That's the only way we can keep up with demand."
So the TV crew was right after all. Chichi dango is a Hawai'i thing. It belongs to us now. And it's the same with our entire mochi-verse: The way we buy the sweet orbs at supermarkets, order trays for potlucks, give it as Girls' Day gifts—mochi is pan-cultural, as much for everyday snacking as for special occasions. In some ways, the story of mochi ingraining itself (ha!) in the pantheon of local food tracks the story of us, of the melding of distinct identities into something uniquely Hawai'i. But there's far more to it than that.
1095 Dillingham Blvd., Bldg. I-5, (808) 847-1244, nisshodomochicandy.com
---
Saturday Grandma's Mochi
Editor's note: Please note, Made in Hawai'i stores have since closed.
It makes sense that it took a retired city Summer Fun director to come up with liliko'i cheesecake mochi. It's not that much of a stretch, really: Try something new, watch people's reactions, keep the winning ideas. Which is how Saturday Grandma's fat, juicy Kula strawberry mochi came to anchor Honolulu's most exuberant line of Willy Wonka-esque sticky rice treats.
"I just had an aha! moment: Whatever is good in a pie makes a good mochi," says Don Akiyama, the former city Parks and Recreation manager who heads Saturday Grandma's. "That's how we started. Chocolate-cream haupia, liliko'i cheesecake, pumpkin cheesecake—these are all pies."
"I just had an aha! moment: Whatever is good in a pie makes a good mochi."
Akiyama didn't start Saturday Grandma's, he took it over from Mō'ili'ili's mom-and-pop Taniguchi Store when it closed in 2000. The fact that he'd only made jams and jellies until that point was no deterrent. He asked people how to make haupia. He Googled recipes. With cheesecake, he taught himself and experimented until he got the right texture—not too squishy, not too firm, but just right against the yielding mochi.
Unfettered by tradition, Akiyama used his pie epiphany as a starting point and kept going. He concocted assortments for chocolate lovers, cheesecake lovers, haupia lovers. He pinched all his fillings inside identical pillows of big, white mochi and sold them in plastic takeout containers.
In Hawai'i, people notice when you stuff their favorite desserts inside mochi. At Christmas and New Year's they order Akiyama's trays for parties. For Mother's Day they buy his best-selling fresh strawberry mochi, the berries enrobed in red bean paste. On Valentine's Day, creamy chocolate ganache coats the heart-shaped strawberries. For Girls' Day, he creates three-packs of things kids like: Oreo-cookies-and-cream mochi, strawberry and liliko'i chichi dango, milk-chocolate truffle mochi.
"The expression of 'wow, 'ono!' is a high for us. I enjoy making mochi and seeing people's reactions to what we make," Akiyama says.
Sort of like Summer Fun? "It's the same kind of reward."
​2071-A S. Beretania St., (808) 947-9022; 98-718 Moanalua Road, Unit A18, Pearl City, (808) 484-0052
SEE ALSO: 9 Ways to Get More Mochi in Your Life
Minamoto Kitchoan
"Mochi is an old thing, but in Hawai'i it becomes totally different, totally local." Yayoi Akana is musing out loud. There's an unintended irony in what the office manager of Minamoto Kitchoan, the boutique Japanese confectionary at Ala Moana Center, is saying. Amid the displays of traditional yokan and castella sponge cakes are matcha green tea truffles, pineapple cream-cheese manju, shimmering orbs of jellified fruits—sweets your Japanese grandma would be hard-pressed to recognize from the old country.
And the mochi! In summer, the display cases hold mango mochi, bursting with the intensity of ripe fruit, and the signature white peach mochi, from company orchards where a few chosen fruits on each tree are cultivated to perfection. In the fall, there's kuri mochi, fresh chestnut paste cradled in thin layers of red bean and pillowy mochi. Around Valentine's Day, there's chocolate mochi with soft ganache centers. And, for Girls' Day, sakura mochi wrapped in pickled cherry leaves and topped with salted cherry blossoms.
Minamoto Kitchoan is where the arc of evolution has brought mochi today. Japanese mochi, that is.
"Confectionary stores are very competitive in Japan and we have to survive in that market," Akana says. The chain does well: It has more than 250 high-end shops in Japan and nearly a dozen more from Singapore to London, and added a Kāhala Mall kiosk this past year. "Changing our products keeps people excited. You can sense the season when you come to the shop. You can eat things in their most perfect state, when they're at their most delicious. You won't get bored."
Brisk sales and Minamoto's electromagnetic quick-freezing techniques mean mango and white peach mochi are available year-round. At home, I brew a steaming cup of bitter green tea and peel back the wrapper on a pale pink puff of white peach mochi. It's bouncy and peach-nectar sweet. It tastes like the heart of summer.
My Japanese obaachan would have loved it.
​Ala Moana Center, (808) 947-0870; Kāhala Mall, (808) 734-2220, kitchoan.com
---
Juicy Brew
Beet mochi: That's all it takes to understand the power of butter mochi. You'll find the violently hued squares at Juicy Brew if you're lucky, because, like the rest of the vegan and vegetarian-friendly menu, the mochi selection changes daily. Some days it's cassava, some days 'ulu spice, other days ginger or chocolate banana or liliko'i. "Everyone loves mochi. It just seemed like a fun way to use local fruit and vegetables," says chef Jennifer Hee. "When I tried beet mochi, it was bright pink and I put blueberries on top. People were like, that's so fun!"
Hee makes her mochi with vegan butter and no eggs. Offered alongside vegan breakfast burritos, hijiki salads and chickpea stews, it's as close to healthy as mochi can get. That's the thing about butter mochi: A mashup that borrows mochiko rice flour from one culture, butter from another, coconut milk from a third, it owes nothing to tradition. Mix, pour, bake—it can become anything.
Like a vegan, sustainable, locally sourced treat. "Everyone gets excited about it and when it sells out it's like the end of the world," Hee says. "They're like, I came here for the mochi!"
You see? That's power.
3392 Wai'alae Ave., (808) 797-9177, juicybrewhawaii.com
---
Fujiya Hawai'i
A block from Nisshodo, across Kapālama Canal at Fujiya Hawai'i, Akira Nakajima doesn't look like a mochi maker. Boyish and observant, he scribbles frequent notes, eyes widening in bursts of delighted surprise. He looks pretty much like what he is: an international management consultant whose life took an abrupt turn when he left his native Japan to take over the Kalihi mochi and tea cookie shop.
Nakajima is an unlikely Pied Piper of local Japanese sweets. The first time he heard of Fujiya was when a Japanese friend who'd bought the business asked him to run it. Nakajima saw the faded storefront and factory and was immediately struck by a sense of age. Old shop, old product lines, old equipment prone to breakdowns.
But the marketer in him saw an established brand with loyal customers. Fujiya had opened in 1958, when mochi shops abounded in Honolulu's Japanese neighborhoods; now it was one of two survivors, struggling to stay relevant in a world of trendy snacks and higher-end mochi. Nakajima had spent years in Tokyo and Shanghai strategizing marketing plans for clients' products. He'd been waiting for the day he could produce something of his own. And, while he didn't know Hawai'i—he'd been here twice—and didn't speak much English, he understood one thing with absolute clarity. "I thought it was very interesting. Some items come from Japan, the mochi and chichi dango and senbei (tea cookies). But it's not Japanese," he says. "Fujiya has local spirit. I thought, if I take over Fujiya, this will be a match between Japanese and local."
He was already thinking beyond O'ahu, where Fujiya's snacks were sold at various stores. He was thinking Neighbor Island, Mainland, Asia. The irony never occurred to him: the storyline of a mochi shop in Hawai'i reverting with near-whimsical circularity generations later to investors from a new Japan. Two years ago, Nakajima rented an apartment on Kalākaua Avenue and got to work.
"Fujiya has local spirit. I thought, if I take over Fujiya, this will be a match between Japanese and local."
In age-old Japanese style, he started from the ground up and learned to make everything the factory made: wafer-thin senbei, jellied red-bean yokan and Fujiya's entire line of traditional, fresh-fruit and peanut-butter mochi. He experimented with different packaging and expanded the wholesale business. He put Fujiya on Instagram, started a Facebook page and revamped the website, writing everything himself. He packed samples and set up at food fairs. Still struggling with English, he pitched articles to Japanese media.
It meant 15-hour days, seven days a week. On the Facebook page, results began to show. There were triumphant photos of Japanese articles touting Uacoco senbei, a new line of tropical-fruit-and-coconut wafers in all the colors of the rainbow. Dean & DeLuca at the Ritz-Carlton Waikīkī picked it up.
Soon Nakajima was posting photos of Japanese tourists at the Waiakamilo store. More and more were finding their way there, flashing shakas over purchases of Hawaiian-style senbei. Interspersed were thank-you posts to locals. "Dear valued customer Joann & Bronson," he wrote under a photo of their red-bean mochi wedding favors. "Congratulations! Wishing you the best of things in your marriage!" Under the same photo he wrote in Japanese: "Hawai'i locals give mochi as wedding favors!?"
What's so strange about that?
Nakajima hasn't had much time to reflect. The question makes him pause. "In some ways, Fujiya's customers know Japanese culture better than Japanese do. Maybe 30 or 40 years ago, we Japanese gave mochi as gifts at celebrations. Now that's almost gone. But local people have kept this tradition," he says. "I'm happy we can understand this about each other. But a little disappointed with myself. I also have forgotten my own old Japanese culture. In Japanese we say urayamashii (envious). That's how I feel."
There are bigger lessons in here, tucked between sweet layers of red beans and rice. Nakajima might think about them later. Girls' Day is coming up. He has lots of mochi to make.
454 Waiakamilo Road, (808) 845-2921, fujiyahawaii.com
---
Where to find mochi?
These days there's a type of mochi that matches nearly every taste. Here are some of our favorites. Tell us if we missed any by emailing us at letters@honolulumagazine.com.
​Choco le'a
Gourmet mochi truffles made with European and Hawaiian chocolate, Nisshodo chichi dango and creamy ganache, in assorted flavors.
2909 Lowrey Ave., (808) 371-2234, chocolea.com
Fujiya Hawai'i
Sakura mochi, chichi dango, other mochi and snacks.
454 Waiakamilo Road, (808) 845-2921, fujiyahawaii.com
Fukuya Delicatessen
Colorful chichi dango and other traditional mochi.
2710 S. King St., (808) 946-2073, fukuyadeli.com
Happy Hearts
Elegant, made-to-order mochi with fillings like peanut butter, chocolate haupia and hazelnut coffee haupia.
Natsunoya Tea House, 1935 Makanani Drive, (808) 382-5714, happyheartsmochi.com
Kansai Yamato
Assorted mochi in flavors like mango and black sesame. Sold at Nijiya, Don Quijote, Longs Drugs, Wal-Mart, Times and other grocers.
On Facebook at Kansai Yamato Corp
Minamoto Kitchoan
High-end sakura mochi and other traditional and contemporary Japanese sweets.
Ala Moana Center, 1450 Ala Moana Blvd., (808) 947-0870; Kāhala Mall, 4211 Wai'alae Ave., (808) 734-2220, kitchoan.com
Mochi Lab
Butter mochi muffins with fillings like chantilly, bananas Foster, salted caramel, black sesame.
At farmers markets around Honolulu, (808) 744-9141, mochilab808@gmail.com, mochilab808.com
Nisshodo Candy Store
Pink and white chichi dango and other traditional mochi.
1095 Dillingham Blvd., (808) 847-1244, nisshodomochicandy.com
CLOSED: Saturday Grandma's Mochi
Strawberry and liliko'i chichi dango, big daifuku mochi with assorted fillings.
At farmers markets around Honolulu; also at Made in Hawai'i Foods, 2071-A S. Beretania St., (808) 947-9022; 98-718 Moanalua Road, Pearl City, (808) 484-0052, madeinhawaiifoods.com
---
How to eat mochi
Jeffrey Yoshida, whose grandfather helped create Fujiya Hawai'i, grew up making thousands of pounds of mochi every New Year's. He went on to define himself away from food, becoming a successful fashion designer in New York City and Honolulu. It was only recently that Yoshida found himself drawn to mochi again—butter mochi, which he likes to experiment with. Here are his mochi musings as told to HONOLULU:
The logo of Fujiya was the shape of Mount Fuji with a boat in it. I thought about how the founders treasured and held onto memories of their homeland in their life here. They kept that symbol and put it in their logo. It's about treasuring who we are and where we're from.
In New York, I started to treasure Hawai'i and where I'm from. I think as human beings we need to remind ourselves of who we are at our core. Little things we eat that remind us of our parents and grandparents—those little reminders are important.
Something about receiving the box beautifully wrapped with the ribbon and opening it up, it's just lovely. I remember how pretty it was. I remember giving it to people, how the kids would fight over their favorite ones.
That's the joy in receiving something like mochi as a gift. It's nostalgic. It brings back memories. And it's very perishable, so you need to eat it and treasure it in the moment of freshness. It's ephemeral in that way. It reminds you to enjoy things while you have them.