You Voted: Here's Your Top 5 Ramen Shops on O'ahu
A longtime Kapahulu staple takes the top spot by a landslide. Did your favorite shop make the cut?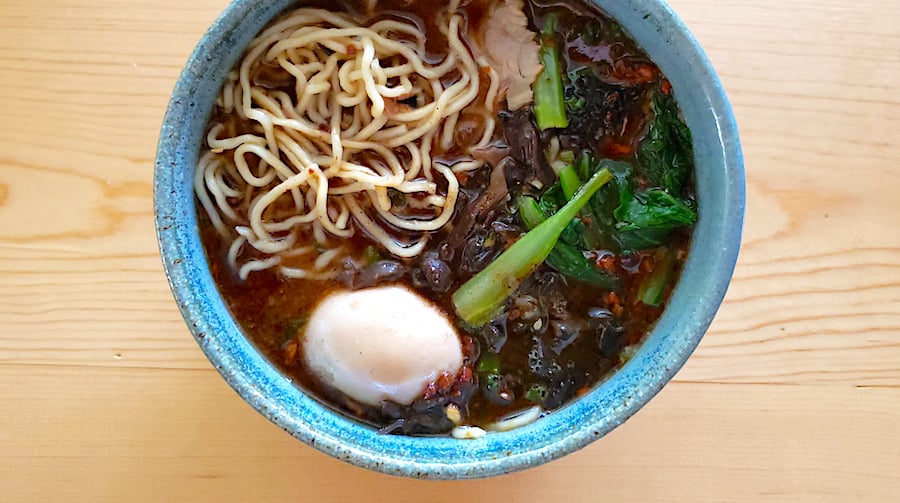 Last week's bout of wind and rain had us seeking comfort in steaming hot bowls of broth, noodles and loads of toppings, a.k.a. ramen! So we asked you to name your favorite ramen shops on O'ahu. From silky pork bone soups with skinny noodles to bowls flecked with corn and knobs of butter, ramen comes as varied as the people who enjoy it. On O'ahu, we're lucky to have a plethora of options, with most found within the metro Honolulu core.
Three of Your Top 5 spots are less than a mile and a half apart (ramen crawl, anyone?), but the No. 1 shop took us by surprise with more than 26% of the total vote. Also surprising was that a decent number of write-in votes lobbied for spots that serve saimin. If you're looking for the results of that poll, we posted them last month.
---
SEE ALSO: You Voted: Here's Your Top 5 Saimin Spots on O'ahu
---
Without further delay, these are your favorite ramen shops on O'ahu.
No. 5: Golden Pork Tonkotsu
View this post on Instagram
Opened in 2015, Golden Pork is actually one of the newer shops on this list. As your fifth most popular ramen shop, they must be doing something right. Hint: It's the broth. Pork bones are boiled and the broth is strained and reduced for 23 hours to create the chain's hallmark velvety rich tonkotsu broth.
1279 S. King St., (808) 888-5358, golden-pork-tonkotsu-ramen-bar.business.site, @goldenpork_hi
---
No. 4: Junpuu
View this post on Instagram
Chances are you've driven past this hidden gem near Thomas Square without even knowing it. But with a reputation that earns it the No. 4 spot, Junpuu has a loyal following that started from its days at the original Shirokiya food court (RIP). Fans keep coming back for bowls balanced with heat, flavor and toppings, like the spicy tan tan men or the black garlic tonkotsu.
1010 S. King St., (808) 260-1901, junpuuramen.com, @junpuu_hawaii
---
No. 3: Wagaya
View this post on Instagram
In the heart of Mō'ili'ili, Wagaya has all the cozy vibes fit for ramen. Home-style with a Tokyo edge, Wagaya has a bit of everything, from cold hayashi and light shoyu ramen to a flavor-packed porky tonkotsu. With a hair under 10 percent of the total vote, a slim 2% margin over Junpuu boots Wagaya into your top three ramen shops.
2080 S. King St., (808) 949-0670, wagayahawaii.com, @wagayahawaii
---
No. 2: Goma Tei
View this post on Instagram
With locations at the most popular shopping malls on O'ahu, Goma Tei is the only ramen eatery in Your Top 5 with multiple shops. But come on, we know those silky slices of chashu pork and rich, nutty broths with house-made noodles are hard to resist.
Multiple locations, gomatei.com, @gomateihawaii
---
No. 1: Tenkaippin Ramen
View this post on Instagram
In the top spot, Tenkaippin Ramen from Kyoto is as O.G. as Japanese ramens get on the island. Opened in 2000 on Kapahulu Avenue, this shop predates the ramen craze of the last decade. It earned its reputation on its collagen-laden kotteri chicken broth that's more of a gravy than a soup. In recent years it faced closure, but fervent ramen slurpers came out in full force to make sure that didn't happen. With 26 percent of the total vote, it looks like they showed up again to make Tenkaippin your favorite ramen shop on O'ahu.
617 Kapahulu Ave., (808) 732-1211, @tenkaippinhawaii