Readers Poll: Here's Your Top 5 Meat Jun on O'ahu
How do the results stack up against Frolic Hawai'i's own Top 5?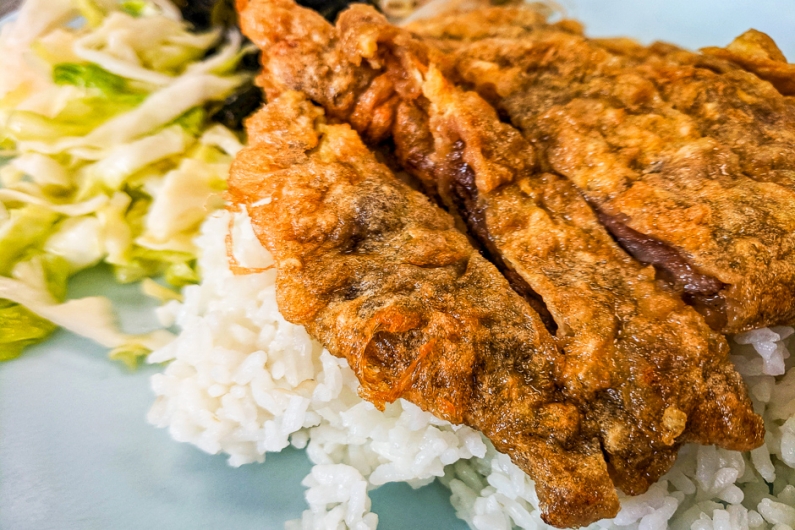 Thinly sliced beef is marinated, dipped in egg batter and shallow-fried until golden—though seemingly simple, meat jun is an enigma. In Hawai'i it's a Korean takeout staple, in the rest of the country it's next to impossible to find, and in Korea, where it's called gogijun, you're more likely to find it at parties rather than at a restaurant. Kim Chee 1 in Kāne'ohe is credited with introducing meat jun to Hawai'i; if you grew up eating it, you can pretty much consider yourself a bonafide local.
After the major shade that Frolic's Jason Chin and Gregg Hoshida got for their Top 5 meat jun ranking back in June, last week we asked you to vote for your favorite meat jun on O'ahu. We collected 1,397 votes in three days, with more than half going to just three restaurants. Here's the breakdown:
No. 5: Kim Chee 7
Kim Chee 7 is the restaurant in the Kim Chee franchise that serves the 'Aiea-Pearlridge area. It earned 60 votes—4% of the total. A regular plate is $15.95.
98-150 Ka'onohi St., Suite B112, 'Aiea
---
No. 4: Kim Chee II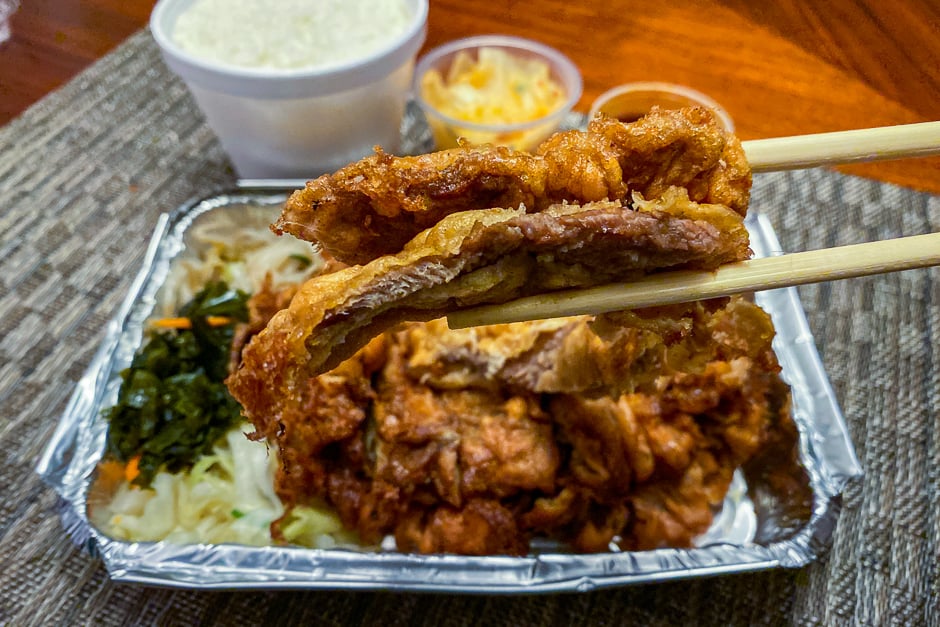 Stepping into Kim Chee II is like entering a time warp to 1979. An order of meat jun is $13.90 and comes with three slabs of beef that could easily feed two. It earned 5% of the total or 68 votes.
3569 Wai'alae Ave, Suite 104, Kaimukī
---
No. 3: Soon's Kal Bi Drive-in
Soon's Kal Bi Drive-in is a Salt Lake institution whose strong following is represented with 177 votes or 13% of the entire poll. Here, the meat jun is paper-thin and comes with a very eggy batter; it's $10.98 an order.
898 Ala Liliko'i St., Salt Lake
---
No. 2: Dong Yang Inn
Dong Yang's $11 meat jun plate is so massive, it needs a rubber band to hold it shut. It's also close second with 270 votes or roughly 20% of the total.
546 Olive Ave., Wahiawā
---
No. 1: Young's Kalbee
With 281 votes, Young's Kalbee's $13.40 meat jun plate is definitely up there with its kalbi. It made Frolic's ranking at No. 3, but among our readership, it's No. 1, baby.
99-084 Kauhale St., Suite A2, ' Aiea
---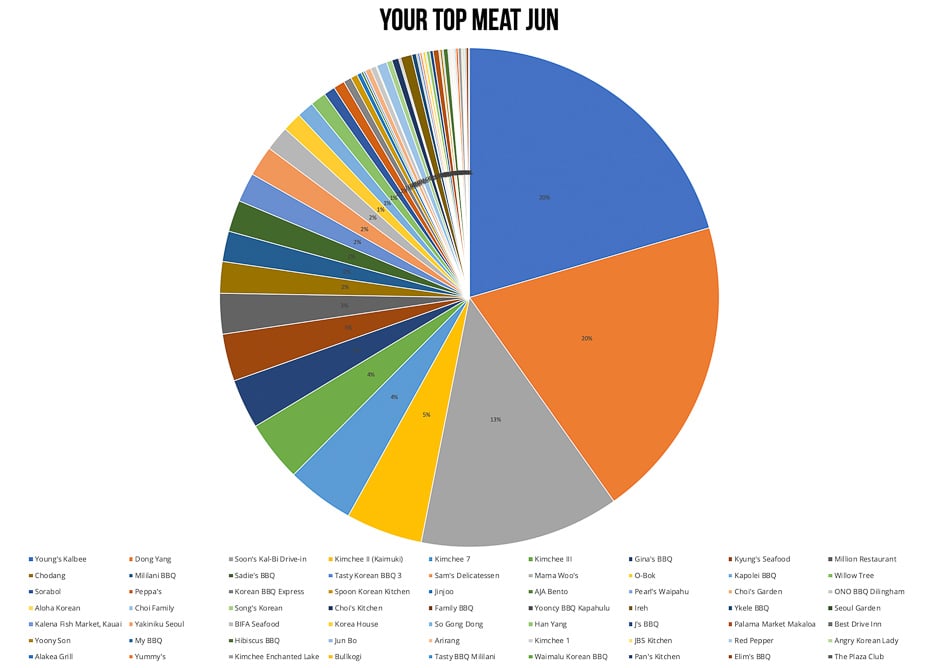 How does your list compare to Frolic's ranking of 18 meat juns? See Best meat junbeat meat jun: Our Top 5