Best Meat Jun: Our Top 5
We checked out 18 places to find the best egg-wrapped beef on O'ahu.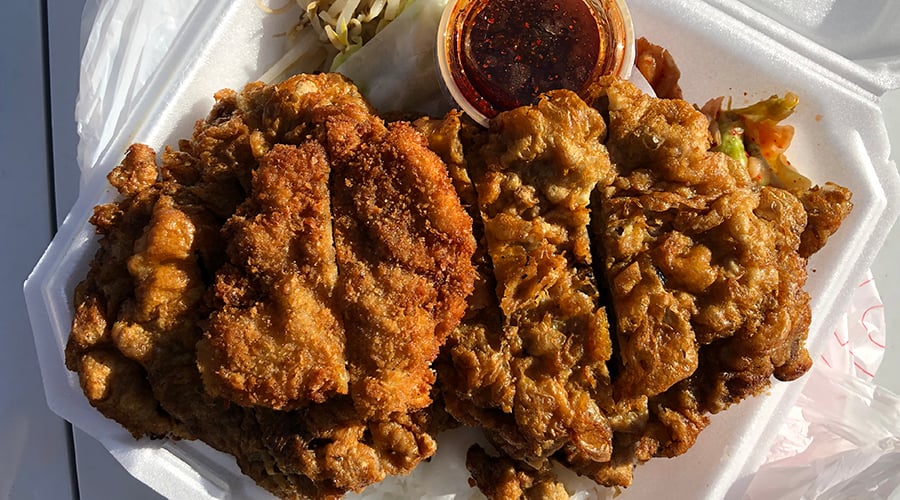 Note: This ranking generated so much feedback, we did a poll asking you to vote for your faves. Here are the results: Your Top 5 meat jun.
Meat jun is a uniquely local dish found throughout Hawai'i. It's Korean, but it doesn't exist in Korea or anywhere else Korean immigrants have settled. It seems no one has a clear answer on how this dish came to be: thin, marinated slices of beef dipped in flour and egg batter and pan-fried. Usually served with a shoyu and vinegar-based sauce, meat jun is piled high on the plate lunch, a succulent, meaty-eggy.feast.
In our quest for the best meat jun in Hawai'i, we discovered a few things. To be as objective as possible, we agreed on the following criteria:
The flavor of the meat is primary. About half of the places marinated their meat, some better than others. A few tasted like they weren't marinated at all. We preferred the marinated ones, especially those that didn't need a sauce to enhance the flavor.

Batter matters. The texture of the egg batter varied a lot. Some were light and crisp, others rigid and chewy, and some were almost like an omelet. At a few spots the batter didn't stick to the meat, acting more as an envelope than a flavor partner.

We liked a 50-50 ratio of meat to batter. The ratios of the places we tried varied greatly from paper-thin all the way to chewy teri-beef like thickness.

Finally, while initially we cast a wide net and considered all types of Korean restaurants, in the end we refocused our search on places that do a large volume of takeout. Many of these spots built their businesses on the popularity of their meat jun. We didn't hit up the sit-down restaurants much, especially those that pride themselves on more traditional dishes, because meat jun isn't a traditional Korean dish. We love both types of restaurants equally, but agreed that the takeout joints are how we fell in love with meat jun, and it's the reason we keep going back.
We didn't take into consideration portion size, price, rice or sides, but focused solely on the quality of the meat jun itself. What we found to be our favorites might surprise you.
No. 5: Kim Chee III
An elder statesman in the pantheon of local Korean restaurants, Kim Chee III hasn't skipped a beat in moving from Young Street near Thomas Square over to King Street by Stadium Park. Consistently thick and tender with a slight char on the batter, the meat jun is delicious and the plate a great value. Parking can be a little tough if you go on weekends.
Kim Chee III, 2239 S King St., Mō'ili'ili, (808) 944-3434, kimchee3.net
No. 4: Chodang
Old-time loyalists know Chodang as the restaurant with the $5 meat jun plate, which put them on the map years ago. Make that, quite a few years ago. Chodang's meat jun plate is now $8.90 but still cheaper than most. While the meat is tender and tasty, it's thinner than we like, and compared to other places the batter did come up a little short. Still, this meat jun plate hits the spot after a long day of shopping at Ala Moana.
451 Pi'ikoi St., Suite 110,  Ala Moana, (808) 591-0530
No. 3: Young's Kalbee
While Honolulu seems to be the hub for great Korean food, the top of our list is dominated by places in the suburbs. Young's, tucked away in 'Aiea Town Square, has a fierce and loyal following and was one of the places most mentioned when we were doing our research. Although much has been said about their wonderful kalbee, the meat jun lived up to the hype with juicy, thicker cuts and a flavorful egg coating to match.
99-084 Kauhale St., Suite A2, 'Aiea, (808) 488-0251
No. 2: Jin Joo
One of O'ahu's old-school Korean places, Jin Joo continues to deliver solid Korean fare, including their meat jun. It's tender and well-flavored, with a good balance between meat and batter. While not on most people's radar (townies, we're talking to you), this one is worth a stop if you are close by.
98-020 Kamehameha Highway,  'Aiea, (808) 488-3355, jinjookorean.com
No. 1: Tasty Korean BBQ 3
Without question our top choice, Tasty Korean BBQ 3's meat jun delivers a crisp texture with the perfect ratio of batter to meat. It's extremely tender yet thick enough to feel substantial with each bite. The flavor is outstanding one of the few meat juns that's so well marinated, it doesn't need a sauce at all. We could go back again and again and never order anything else.
46-047 Kamehameha Highway, Kāne'ohe, (808) 247-2388
For the record, here are the 18 places we tried:
Honolulu
Chodang Restaurant
Choi's Garden
Gina's Barbecue
HMart
Kim Chee Restaurant 2
Kim Chee III
Kyung's Seafood
Mama Woo's BBQ
Pālama Supermarket (Kaheka)
Pālama Supermarket (Pālama)
Peppa's Korean BBQ
Sam's Delicatessen
Soon's Kal-Bi Drive In
Yummy Korean Bar-B-Q
Leeward O'ahu
Jin Joo
Young's Kalbee
Windward O'ahu
Tasty BBQ
Central O'ahu
Dong Yang Inn