You have until May 5 to get these Mad Dumplings at Disney
Bulgogi beef bowls, pork belly fries and longanisa dumplings without Disneyland Park admission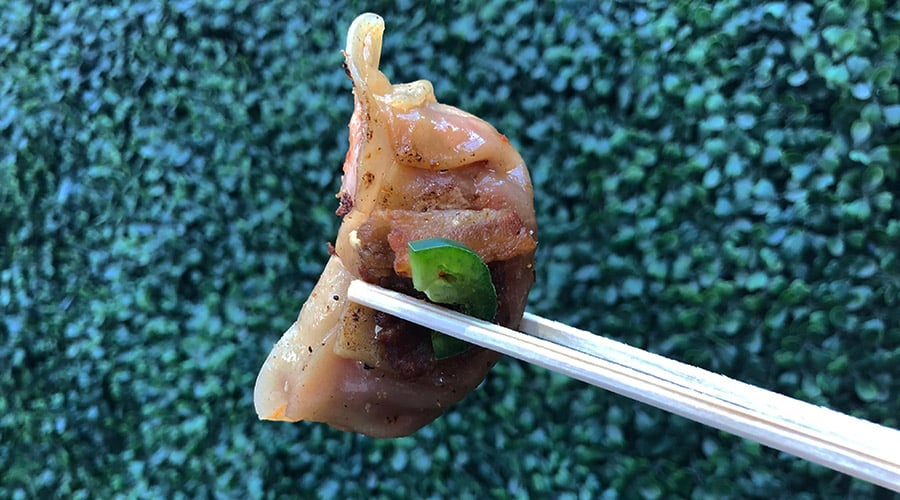 Disneyland Park and Disney California Adventure Park aren't the only places for amazing food in Anaheim.
More dining options have recently popped up within the Downtown Disney District. With renovations of older restaurants came an influx of newcomers like San Diego's Ballast Point Brewing Company, a two-story restaurant and bar which opened in January; Portland-based Salt & Straw, which opened last October; and soon-to-open New York-based Black Tap Craft Burgers & Beer.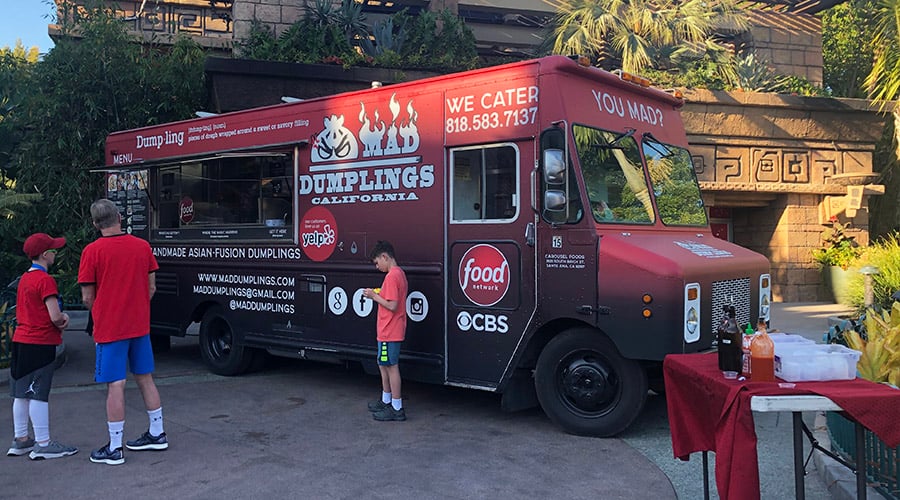 These newer dining options also include food trucks. There are usually three trucks each week on a rotating line up near the Downtown Disney entertainment stage. The food trucks usually open around 3 p.m. and stay open until midnight.
Mad Dumplings food truck is one of the regulars. This food truck first came to the Downtown Disney area last October, and if you haven't tried them yet, you have a few more weeks — Mad Dumplings will be leaving the Downtown Disney District after May 5, but will still be roaming through Orange County. You might recognize them from Andrew Zimmern's 'Big Food Truck Tip' Food Network show. They were the winner of the Huntington Beach episode, which aired last September. You can find Mad Dumplings' daily schedule and hours on their website.
As you can probably guess, this Chinese-inspired food truck is famous for their dumplings, but they aren't your typical Chinese potstickers. They feature four flavors — the Vintage, longanisa, fried chicken and the Mac (mac and cheese) — along with rice bowls and loaded fries.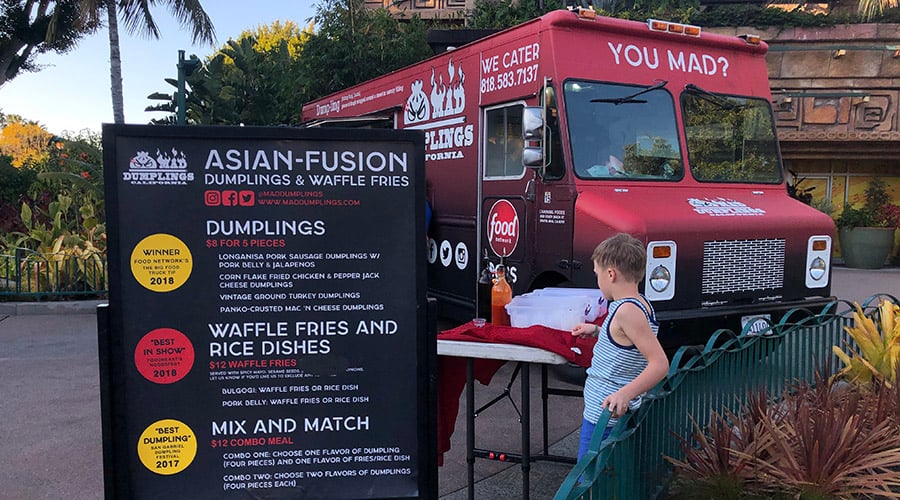 Dumplings come with six pieces per order, but the combo deals are your best bet if yoo want try a little of everything. For $12, you get four dumplings (any flavor), a partial order of waffle fries and a partial order of one of the rice dishes.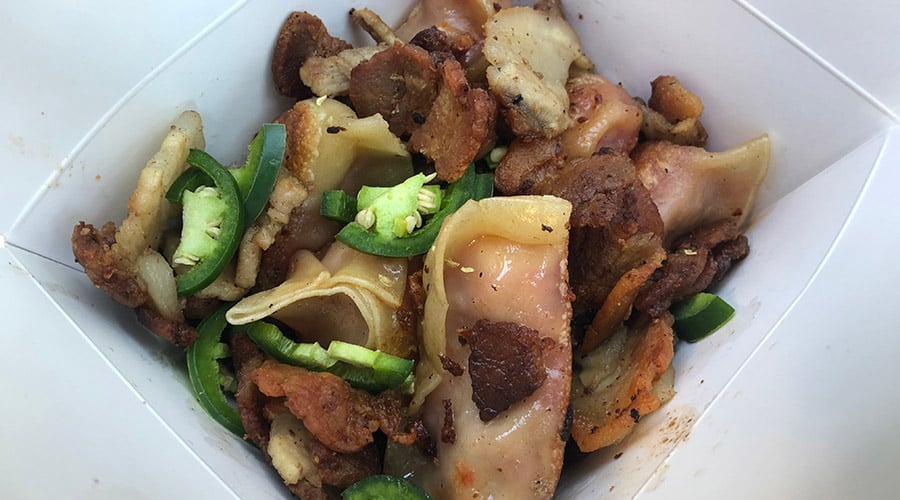 These savory dumplings come topped with grilled pork belly and jalapenos for added texture. They're ultra juicy and flavorful, to the point where I can't stop eating — even when my mouth is burning from the spicy sauce. These turned out to be my fave of all the dumplings we tried.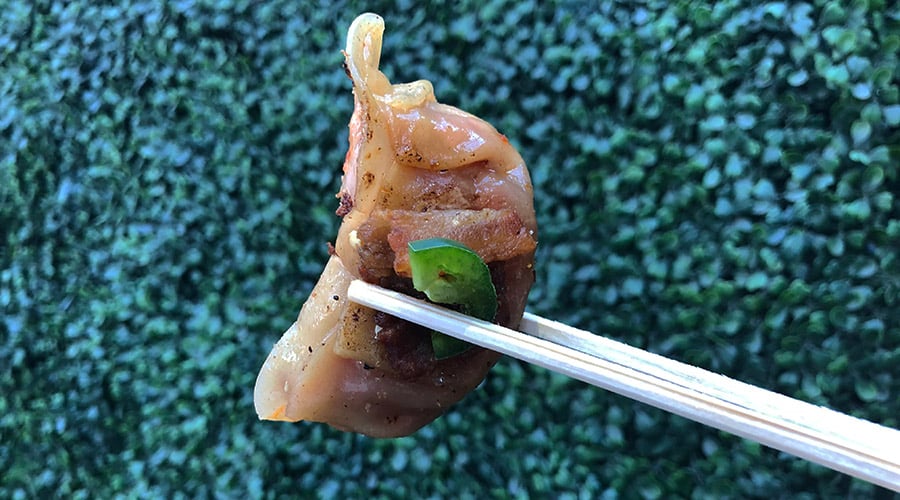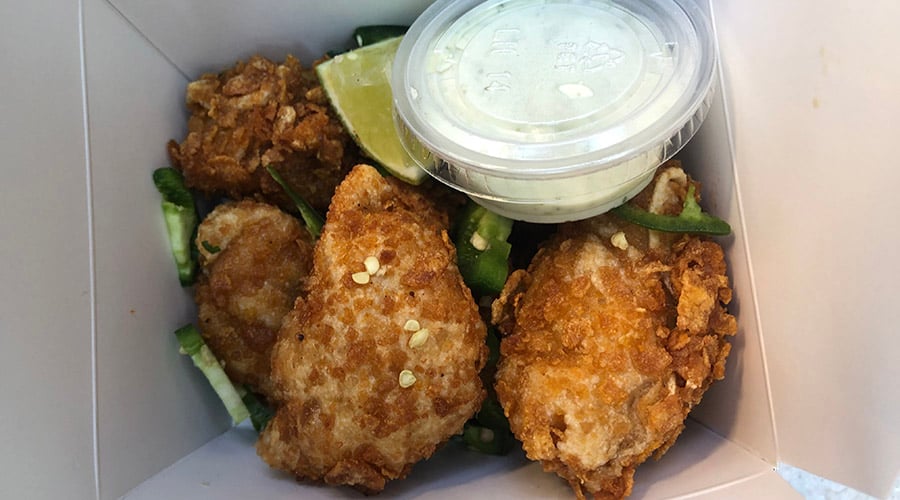 These fried chicken 'dumplings' are OMG-good. They're basically fried chicken fritters, not traditional dumplings. Real corn flake cereal is used to make that crust, which delivers a satisfying crunch with each bite. These tender chicken bites are so flavorful that you won't even need the accompanying cilantro aioli dipping sauce.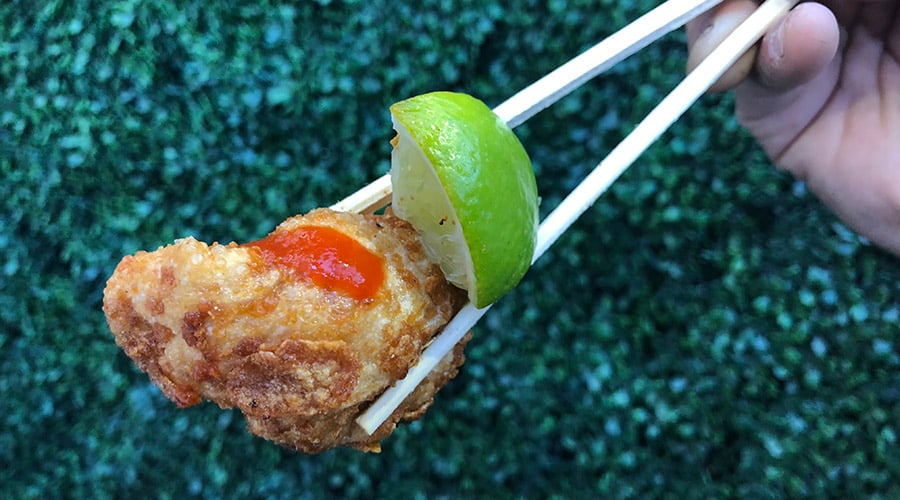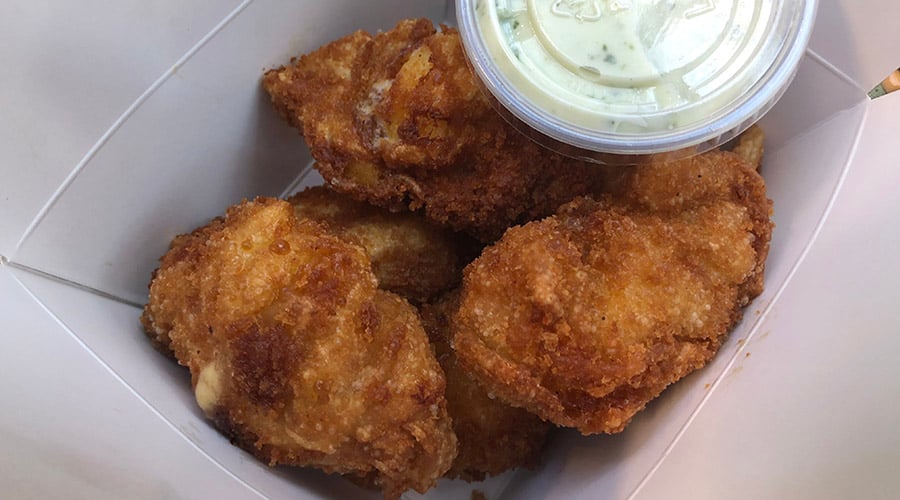 The molten cheese inside these mac and cheese dumplings is oozing and gooey. The panko crust doesn't have as much flavor, but it's nothing the accompanying cilantro aioli dipping sauce can't solve. This is the same creamy dip the fried chicken dumplings are served with.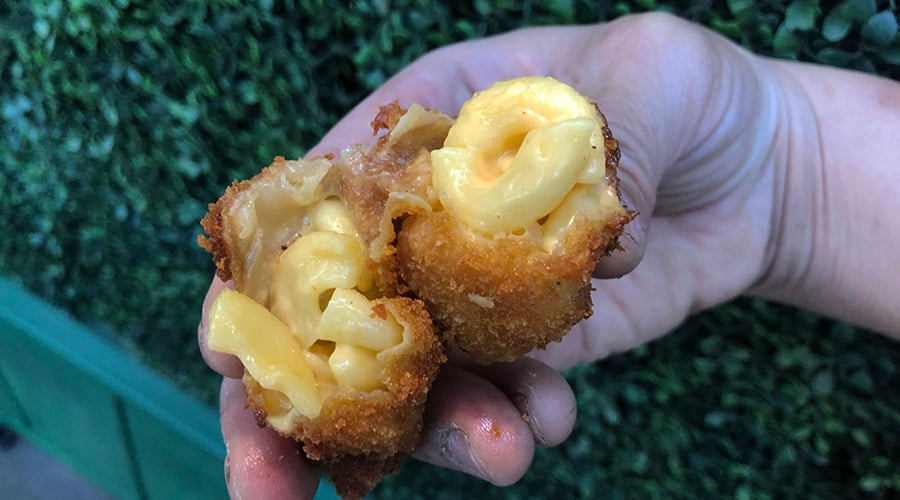 The only dumpling we didn't try was the Vintage, a twist on the traditional Chinese dumpling since it's made with ground turkey and Chinese chives. I'm sure it's tasty, but if I'm treating myself on vacay, I'm ordering the most indulgent options.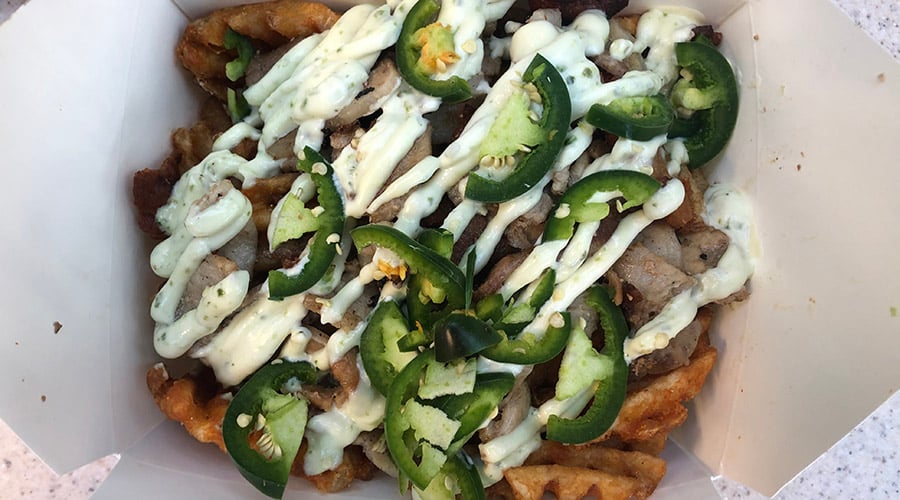 The waffle fries are golden brown, nicely crisp on the outside and full of potatoey goodness on the inside. They're downright addictive, especially with that sriracha aioli drizzle. I love pork belly, but these pieces are tougher and slightly overcooked — not thick, juicy and tender as I was expecting. I could have had an 'off' batch though, since I read raving reviews from other bloggers about this dish.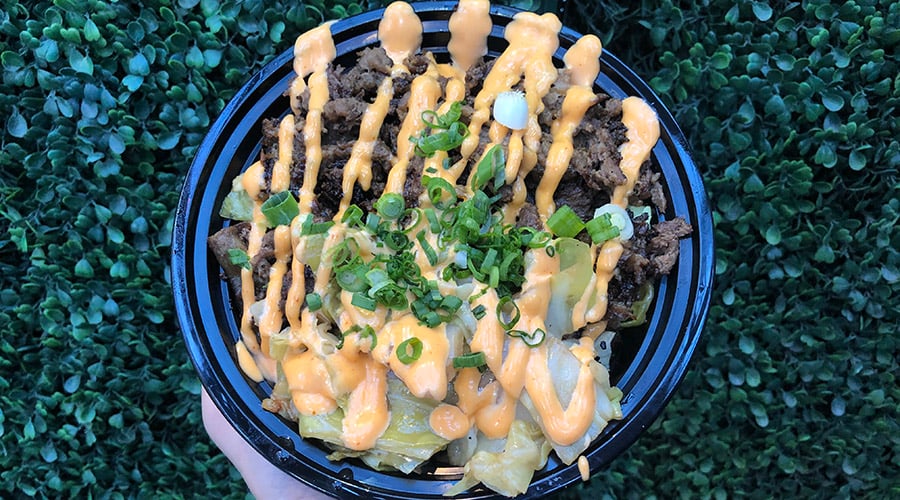 If you have to choose one entree with a few dumplings on the side, get the bulgogi rice bowl. The thinly sliced steak is perfectly offset by the veggie-flavored rice. This entire dish is a flavor explosion that just works — plus that flavored rice assures you that part of the bowl is healthy.
Mad Dumplings
Instagram
818-583-7137
https://www.maddumplings.com/
Current location: Downtown Disney District, 1580 Disneyland Dr., Anaheim