Worth the drive to Wahiawa: Koko Chicken Plus
Korean-style fried chicken and other delicious chicken things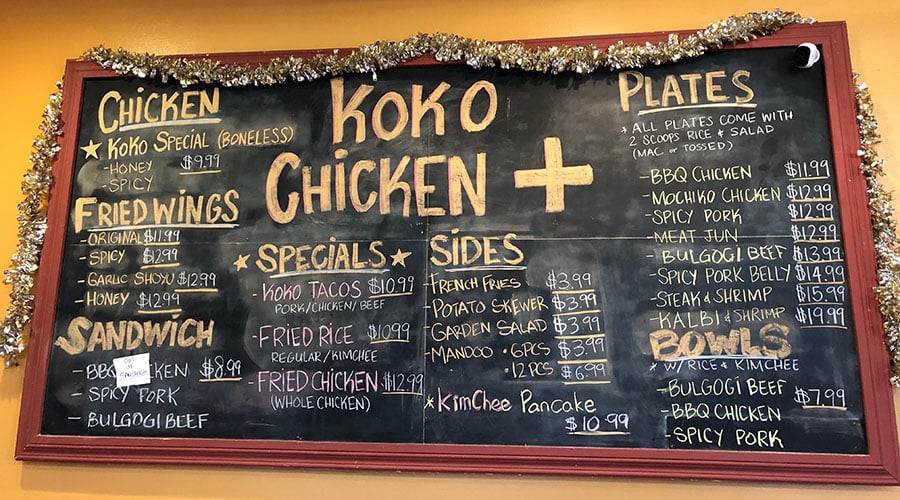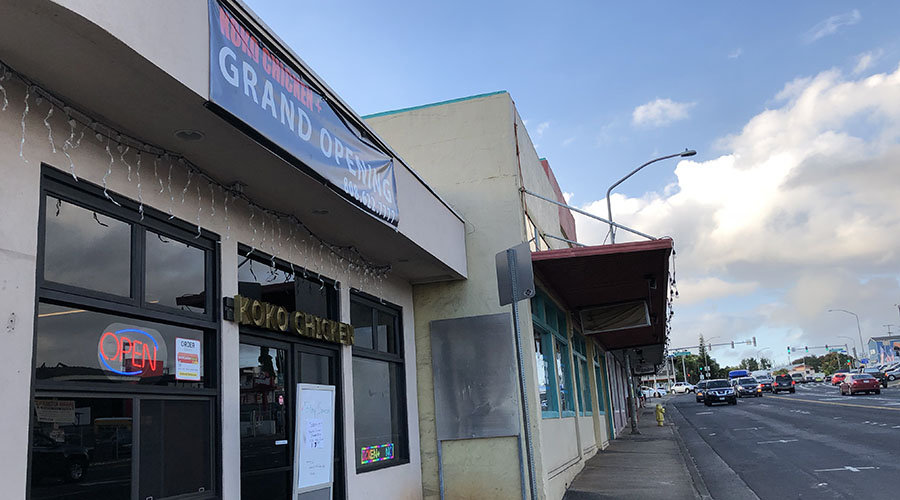 Koko Chicken Plus can easily be missed if you're not looking for it. It's right off Kamehameha Highway just a few doors down from Uber Tarts. From the street, it's totally unassuming. The windows look dark, but the sign says "OPEN" so I park in the adjacent lot.
The restaurant just opened in November. I'm expecting a smaller spot that's designed for grab-and-go, but what I find instead is a spacious, brightly lit restaurant.
At 6 p.m., it's empty. But the friendly lady at the counter is quick to reassure me.
"Takeout very popular later on," she says. "You're still early. Whatchu like?"
I had seen tantalizing photos of the Koko Special boneless fried chicken, so I know I want the honey chicken. But the lady insists I order some of the fried wings as well — despite the fact that this is dinner number two for me, since I came straight from a food truck festival.
"The garlic shoyu fried wings is our best seller," she says. "It has good flavor. You like garlic? You'll like this."
When it comes to fried food — or anything with garlic — I don't need much convincing. Plus, I'm all the way out here in Wahiawa … so I might as well go for it.
"So, why is this place called Koko Chicken Plus?" I ask.
She chuckles. "The owner said that's the sound chickens make — cockadoodle doo! 'Koko Chicken.'"
I must look doubtful because she nods her head vigorously. "It's true! I was there. Take a seat. We make your order now."
Everything at Koko Chicken is made to order, so I take a seat, enjoy the chicken-themed décor and wait. A family of four comes in and another customer picks up a takeout order. Before I know it, my food comes out on two platters. I swear, chicken pieces are still sizzling.
"Very hot – be careful," the lady warns. But once I take a whiff, I can hardly wait to dig in.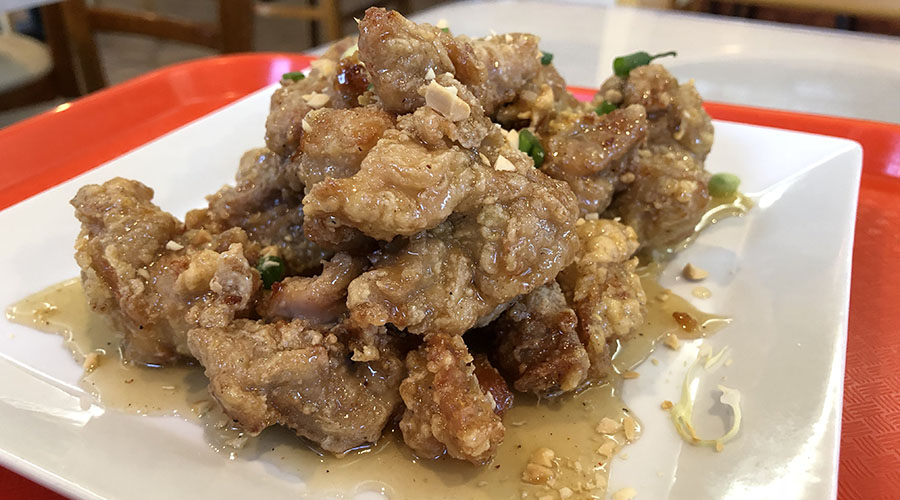 Each piece is fried to a perfect crisp — not too crunchy, but definitely crispy — and the order has a decent portion of chicken. But the addictive part is the honey sauce — the chicken is literally swimming in it. I enjoy the distinctly sweet aftertaste and the stickier texture. The peanuts atop the chicken offer a welcome additional crunch.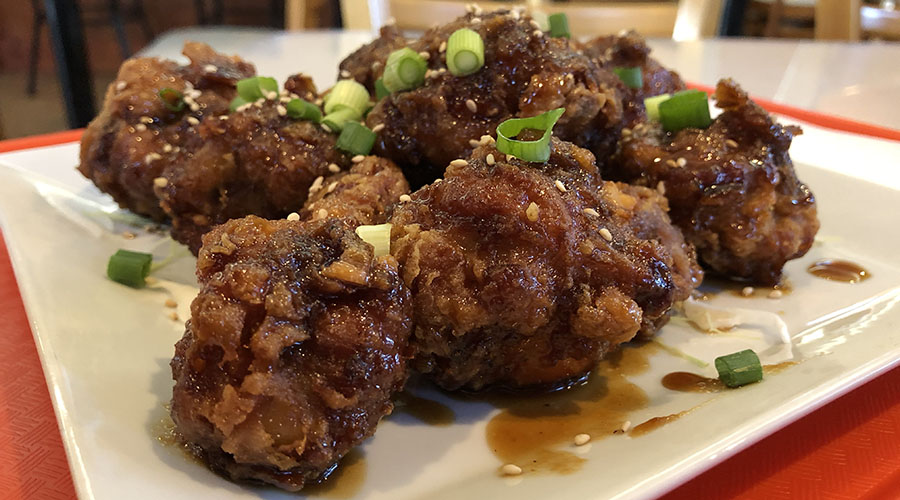 After my delicious boneless chicken experience, I'm ready to get down and dirty with the wings. The garlic flavor's not as strong as I thought; instead, the shoyu is dominant. Each bite tastes better than the last and I gnaw at the bones to get every last bit of meat. I can't quite put my finger on why these wings are so addictive. There's something subtly sweet, like cinnamon or nutmeg. Whatever it is, it leaves me wanting more, and I forget all about my first dinner.
I get takeout containers for the leftovers. On my way out, the lady waves goodbye and tells me to get the meat jun plate next time.
"Of all the plates, it's the best!" she says.
I know I'll be back.
Koko Chicken Plus
71 S. Kamehameha Hwy.
Wahiawa
622-7777
Daily 11 a.m.-9 p.m.